There's nothing like going on a long-awaited family vacation to escape the hustle and bustle of everyday life. But let's be honest – the cost of a family trip tends to add up quickly. Everything feels painfully expensive these days, which is why many families are choosing to stay home. 
But worry not friends, here's the good news for both parents and kids. Whether it's summer break, spring break, or a long weekend, you can still spend time as a family, have loads of fun, and make enough memories to last a lifetime. How, you ask? With a family staycation!
That's right friends… you don't have to break the bank to give your family the fun-packed reset they've been looking for! Here are some fantastic family staycation ideas that your kids will love:
Family Staycation Ideas
Have a themed movie night.
The Larkin family loves our movie nights. In fact, we enjoy them so much that we made our own outdoor movie theater. That said, you don't need a full set up like ours to enjoy an epic family movie night. Actually, creating your own movie night setup can be part of the fun! 
I love this idea: pick a theme and make a whole night of it. You can do an ocean theme and watch Finding Nemo or Finding Dory. Or go with a Hawaiian theme and watch Moana or Lilo and Stitch.
You can set up a projector in your backyard or just use the TV in your living room. Add your own decorations, homemade snacks, and plenty of cozy blankets. It's a staycation idea the whole family can get behind! 
Go camping in your backyard.
Another family-friendly way to have fun at home is by camping in your backyard. Set up a tent and grab some sleeping bags. If you have a firepit, you could even roast some s'mores! Just don't forget the flashlights – you'll want to use them as props as you tell spooky stories!
Create your own water park.
Water parks are popular family vacation destinations during the summer months. But you can avoid the crowds, skip the lines, and save money by making your own water park at home. All you need is a bit of creativity and a hose.
A tarp, sprinklers, and a kiddie pool come together to make the ultimate slip-and-slide. A blow up pool and dozens of plastic balls work as a funtastic ball pit. Even water balloons will entertain your kids and keep them cool on hot summer days. Shop more of my favorite water play items on Amazon Shop, HERE. 
Visit a local amusement park. 
If you're looking for a thrill and want to get the family out of the house for a bit, look into visiting a local amusement park. A lot of parks will let you bring your own snacks and drinks, so you only need to pay for tickets. This staycation idea is great for families with older kids. 
Host a family game night.
A family game night is another great staycation idea. If your family loves playing games, grab a few board games or make up your own. You'll be entertained for hours. Shop board games below!
Explore your hometown like a tourist. 
When was the last time you explored your hometown? Even then, you probably didn't go about it like a tourist. Doing just that is a great way to make memories as a family without having to leave your hometown. 
Do some research ahead of time to find out what tourists like to do when they visit your area. Then go do those things together. Check out nearby museums or popular restaurants. Go sightseeing and see your city in a different light. You can spend however much money or time you want and still have fun together.
Go on a scavenger hunt.
Scavenger hunts are a load of fun for kids of all ages. There's no wrong way to go on a scavenger hunt. You can create your own or find one online. You can do it at home or you can go on a city-wide scavenger hunt. The possibilities really are endless!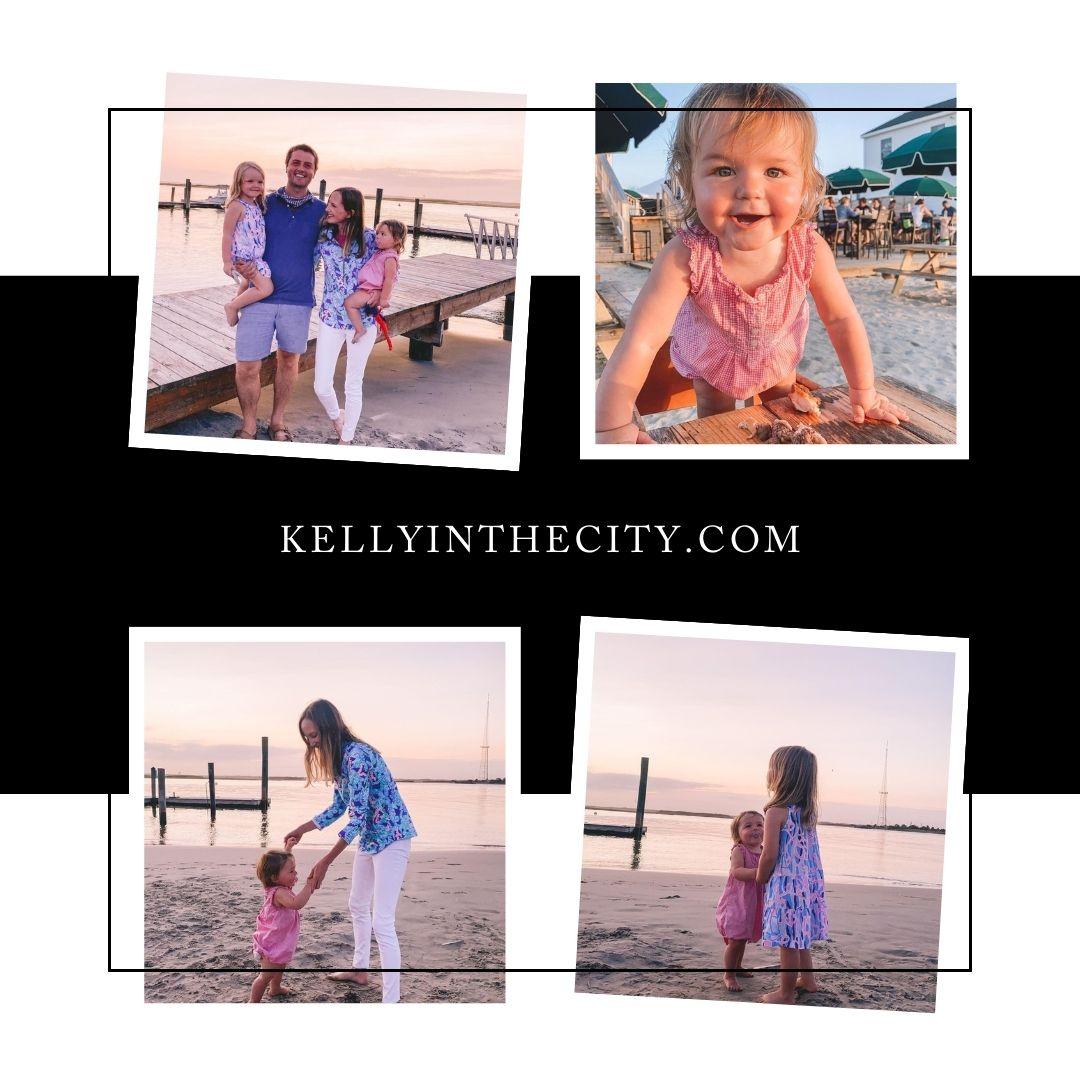 Take a hike in a local park.
Is your family in need of some fresh air? Encourage everyone to put down their devices for a bit and spend time in a local park. Go on a hike and keep the conversation going about everything you see, hear, and smell. 
Stay a night in a local hotel.
Take the kids and stay in a local hotel to get in vacation mode without ever leaving your hometown! Try to find a kid-friendly hotel that offers activities for kids. Your kids will love the adventure and you and your partner can take advantage of the opportunity to unwind for a bit. 
If you have a Great Wolf Lodge closeby, you can treat the whole family to a staycation they'll never forget. For those of you in the Chicago area, the Four Seasons Hotel Chicago offers an abundance of kids activities. They also have a pool that's open year-round.
Host a cooking competition.
If you or your kids enjoy spending time in the kitchen, consider hosting a cooking competition. This is such a fun way to enjoy a new experience and learn a little bit in the process. Pick a recipe and turn it into a "who made it best" competition. You would be surprised by how much fun the whole family can have in your own kitchen.
Have a spa day.
Here's a staycation idea that you can really enjoy. Have a spa day at home with DIY facials, bubble baths, massages, and more. Spoil your kids and yourself with a manicure or pedicure. Everyone will feel super refreshed after just a few hours!
Do arts and crafts as a family.
Celebrate creativity by doing arts and crafts as a family. You can use what you have at home to create unique sculptures or artwork. Or you can purchase supplies ahead of time, like canvases and art sets. There are even complete arts and crafts sets available online ( like this one, this one, and this one ) to take the hassle out of gathering supplies! 
Volunteer together.
What better way to spend time as a family than by volunteering together. A few simple acts of kindness can go a long way. Volunteer at a local soup kitchen or pet shelter. Or, clean up your local park or city center. This is such a great way to give back to your community and spend quality time together as a family. 
Have an indoor or backyard picnic.
Kids love picnics! You can head out to the backyard or, if it's a rainy day, set up a picnic blanket in your living room. Your kids are sure to get excited about this one. Make sandwiches and snacks and pack them into a cute basket. Add a few sweets – maybe even some ice cream – and a few books. The time will fly by as you chow down and chat away!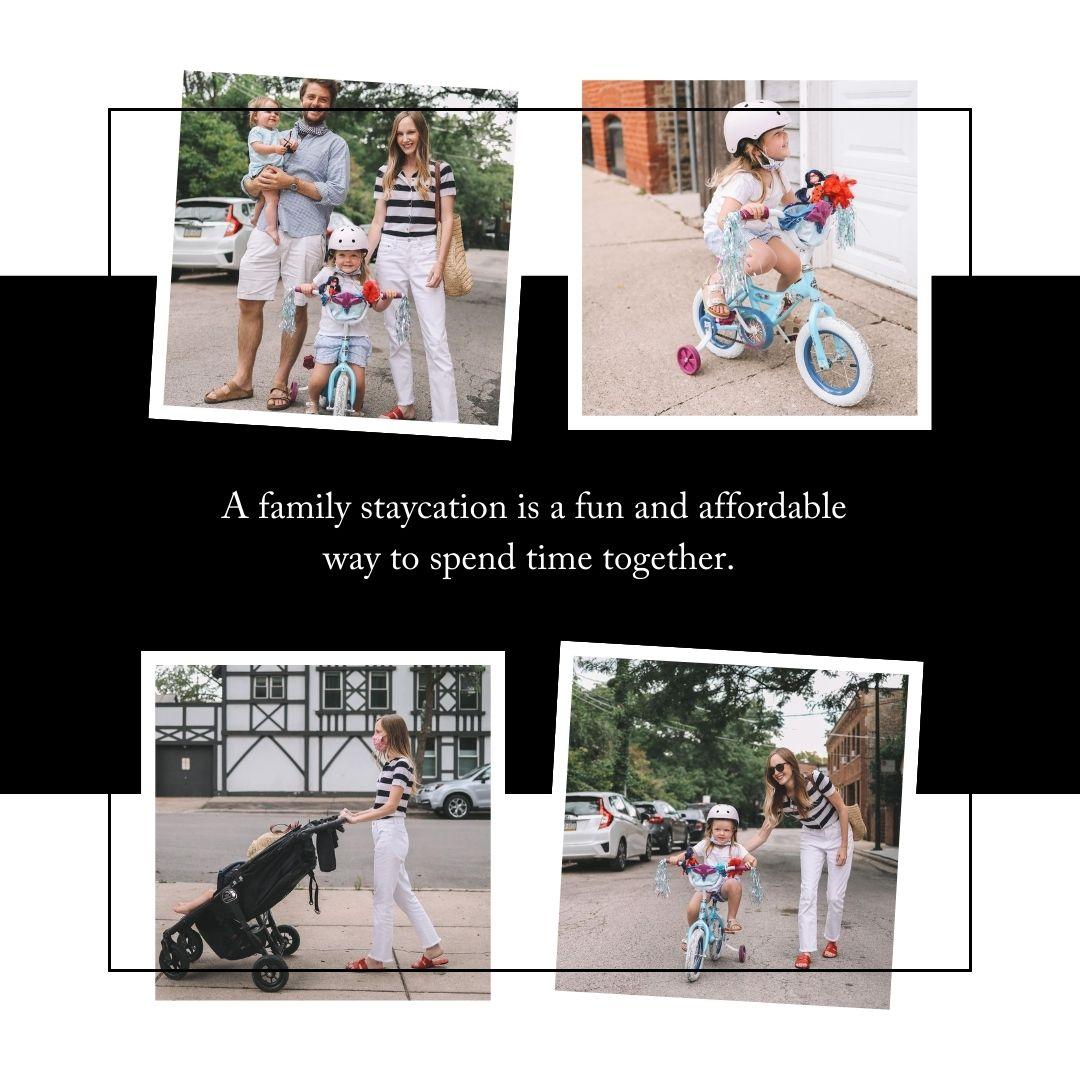 A family staycation is a fun and affordable way to spend time together. 
Staycations are fantastic opportunities for families to spend time together. There are so many great ways to connect and make memories, without ever leaving your hometown. For a lot of these ideas, you don't even have to leave your house! 
Which staycation idea do you think your family would enjoy the most? Which one would be the most exciting for you? Leave a comment and share your thoughts!
For more family related content, like a list of things to do in Chicago at night, head over to the blog.
Shop the Post