Chicago is a bustling city filled with towering skyscrapers, museums, and so much more during the day. But at night, the windy city transforms into an entirely different world!!!
Mitch and I really enjoy making the most of all that the city has to offer, especially when it's something that we can involve our girls in. 
There are plenty of nighttime attractions in every Chicago neighborhood, so if you're wondering how you can spend your time in Chicago once the sun goes down, I've got you covered. 
Here is a round-up of the best things to do in Chicago at night, whether you are going out alone, with your partner, or with your kids.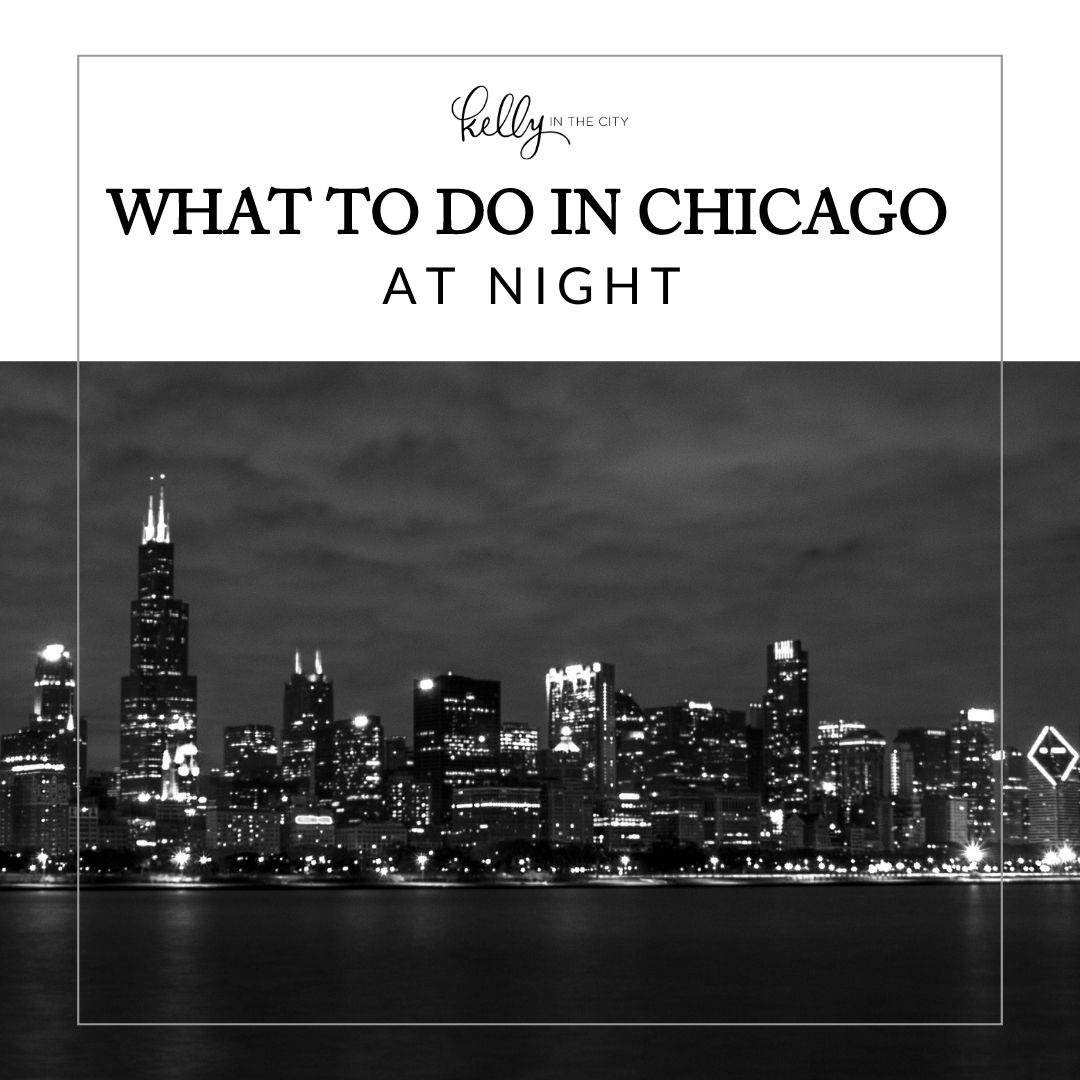 What To Do In Chicago At Night 
Is Chicago Safe At Night?
With statistics about Chicago's murder rate circulating in your head, you might be wondering just how safe the city is at night. Fortunately, for the most part, it comes down to common sense. 
Like any big city in the United States, there are good areas and bad areas. One of the easiest safety tips to remember is to stay away from those bad areas. 
In general, you want to avoid walking around the city in the dark by yourself. You should always be aware of your surroundings. As long as you stick to the right parts of Chicago, you don't have to worry about your safety.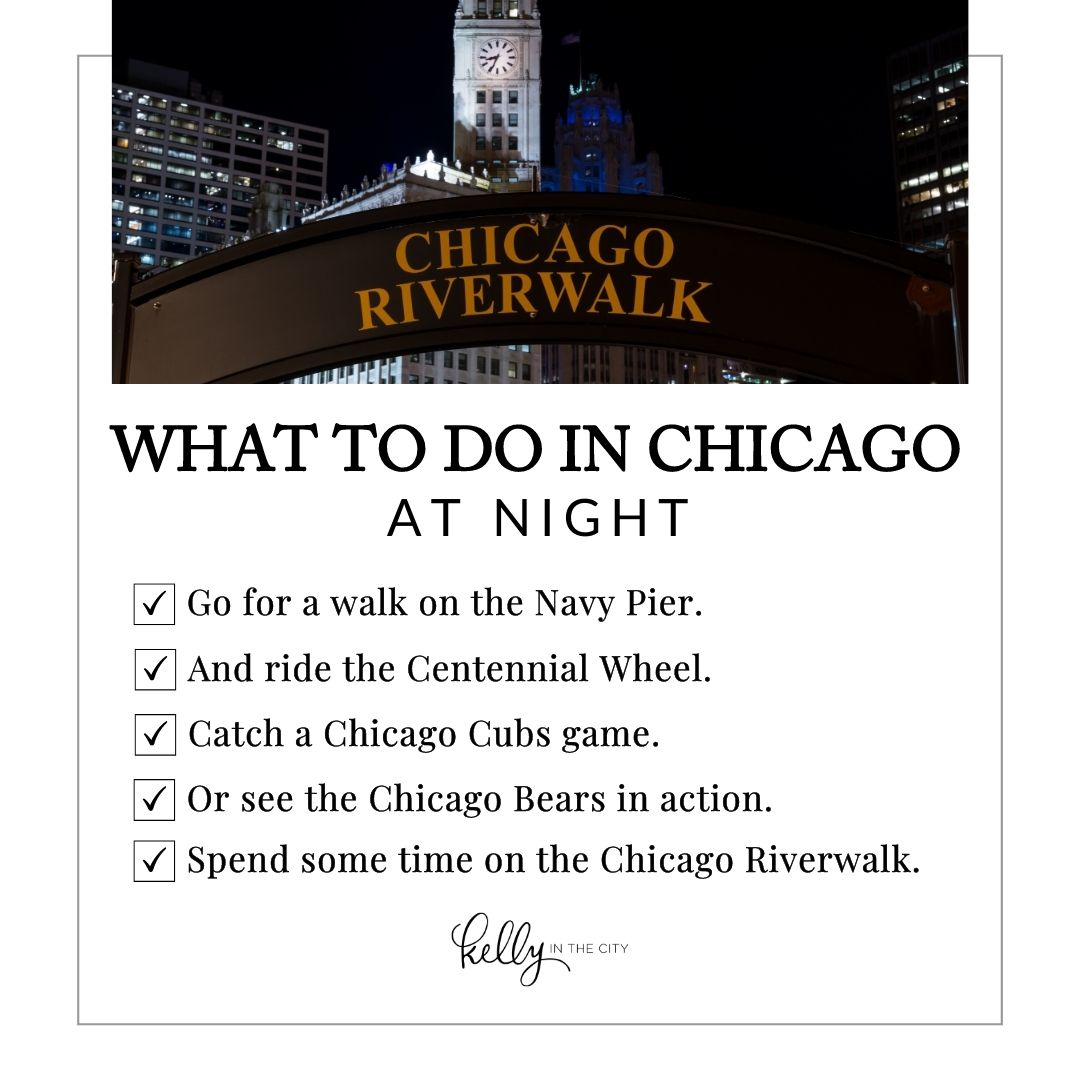 Go for a walk on the Navy Pier.
The Navy Pier covers six city blocks and offers some of the best views of Chicago. It's undoubtedly one of the best places to go for a leisurely evening stroll. It's free to enter and there is plenty to see. You might even catch fireworks if you visit during the summer or a holiday spectacular if you're there during the winter. 
Click HERE for directions to the Navy Pier. 
And ride the Centennial Wheel. 
A visit to the Navy Pier at night isn't complete without a ride on the city's iconic Centennial Wheel. The huge ferris wheel offers breathtaking, 360-degree views of the windy city and Lake Michigan. You can even ride the wheel in the winter, since the 8-passenger gondolas keep you warm and protected from the elements as you ride into the sky. 
Click HERE for directions to the Centennial Wheel.
Catch a Chicago Cubs game.
Whether you're a Cubs fan or not, spending an evening inside Wrigley Field is almost as exciting as the game itself. If you're looking for a way to entertain your whole family, consider making a trip to see the Major League Baseball team in person, at home. 
The Chicago Cubs' season runs from April to October and most evening games start around 7:00 PM. 
Click HERE for directions to Wrigley Field. 
Or see the Chicago Bears in action.
More entertainment for sports fans can be found at Soldier Field. There, you can catch an NFL game and cheer on the Chicago Bears. Half the fun is tailgating before the game, which makes each game an all-day event that continues well into the night. 
When the Bears aren't at home, you can also catch a Major Soccer League match. Soldier Field is also home to the Chicago Fire Football Club. (Speaking of all these sports, if the sport's fan in your life has a birthday or special occasion coming up, be sure to check out my gift guide for sports fans!)
Click HERE for directions to Soldier Field. 
Spend some time on the Chicago Riverwalk. 
There are several places in the city that are especially lovely at night, but few compare to the Chicago Riverwalk. Go for a leisurely, late-night walk on the 1.25-mile pathway. Or, find a spot to take in gorgeous views of the river as you listen to live music and sip on a glass of wine. 
Click HERE for directions to the Chicago Riverwalk.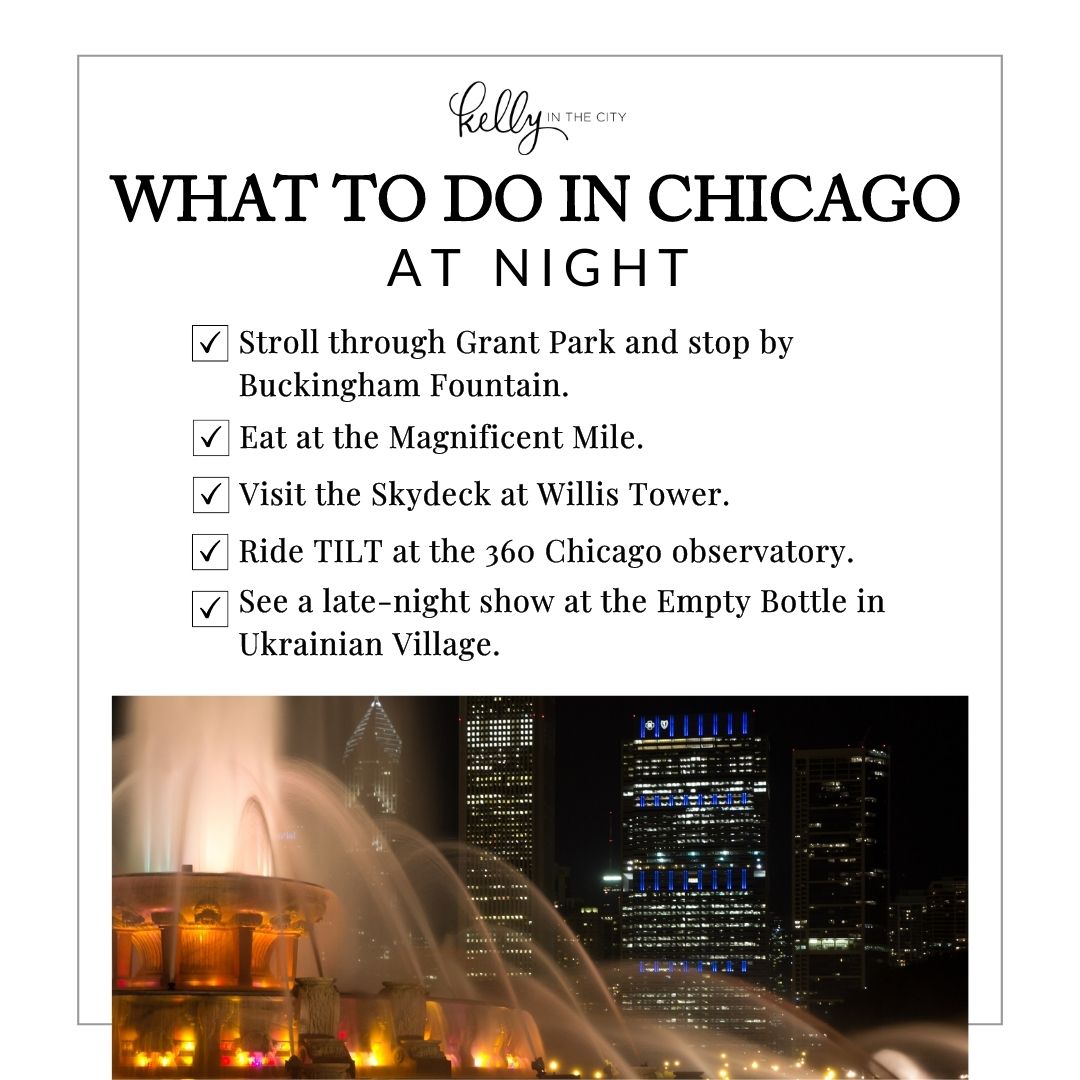 Stroll through Grant Park and stop by Buckingham Fountain. 
Grant Park in Downtown Chicago is an expansive urban green space situated beside Lake Michigan. Inside Grant Park, you'll find Millenium Park, Maggie Daley Park, and Buckingham Fountain. 
Buckingham Fountain is truly a sight to behold. It's one of the largest fountains in the world and runs as long as temperatures are above freezing, usually May to October. The reason it's worth seeing at night is because every 20 minutes until 11:00 PM, you can catch a fantastic water display. Once the sun goes down, lights and music become a part of the display, which shoots water 150 feet into the air. 
Click HERE for directions to Buckingham Fountain. 
Eat at the Magnificent Mile. 
The Magnificent Mile on Michigan Avenue is a wonderful place to enjoy an evening meal. With nearly 300 restaurants to choose from, you can easily find exactly what you're craving. It's a great place to find authentic Chicago deep-dish pizza.
Click HERE for directions to the Magnificent Mile. 
Visit the Skydeck at Willis Tower.
Willis Tower, which used to be known as the Sears Tower, was the tallest building in the Western Hemisphere for 41 years. It's still one of the most recognizable pieces of the Chicago skyline. But the main attraction once the sun goes down is actually inside the Willis Tower – on the 103rd floor, to be exact. There, you can take in the breathtaking views like never before thanks to the unique Skydeck attraction. 
Click HERE for directions to Willis Tower.
Ride TILT at the 360 Chicago observatory.
The 360 Chicago Observatory is located on the 94th floor of the former John Hancock Center. It offers panoramic views of the Magnificent Mile from 1000 feet above. And TILT, an attraction truly unlike anything else, will make you feel like you're falling off the edge, despite being safely contained within the building. 
Click HERE for directions to 360 Chicago. 
See a late-night show at the Empty Bottle in Ukrainian Village.
Any Chicagoan will tell you that seeing a live-music show is one of the best ways to spend time in the city once the sun goes down. There's no better place to do just that than The Empty Bottle. 
The Empty Bottle has been a Ukrainian Village staple since 1992. It's the best place in the area for fantastic live shows and cold, cheap beer. 
Click HERE for directions to Empty Bottle.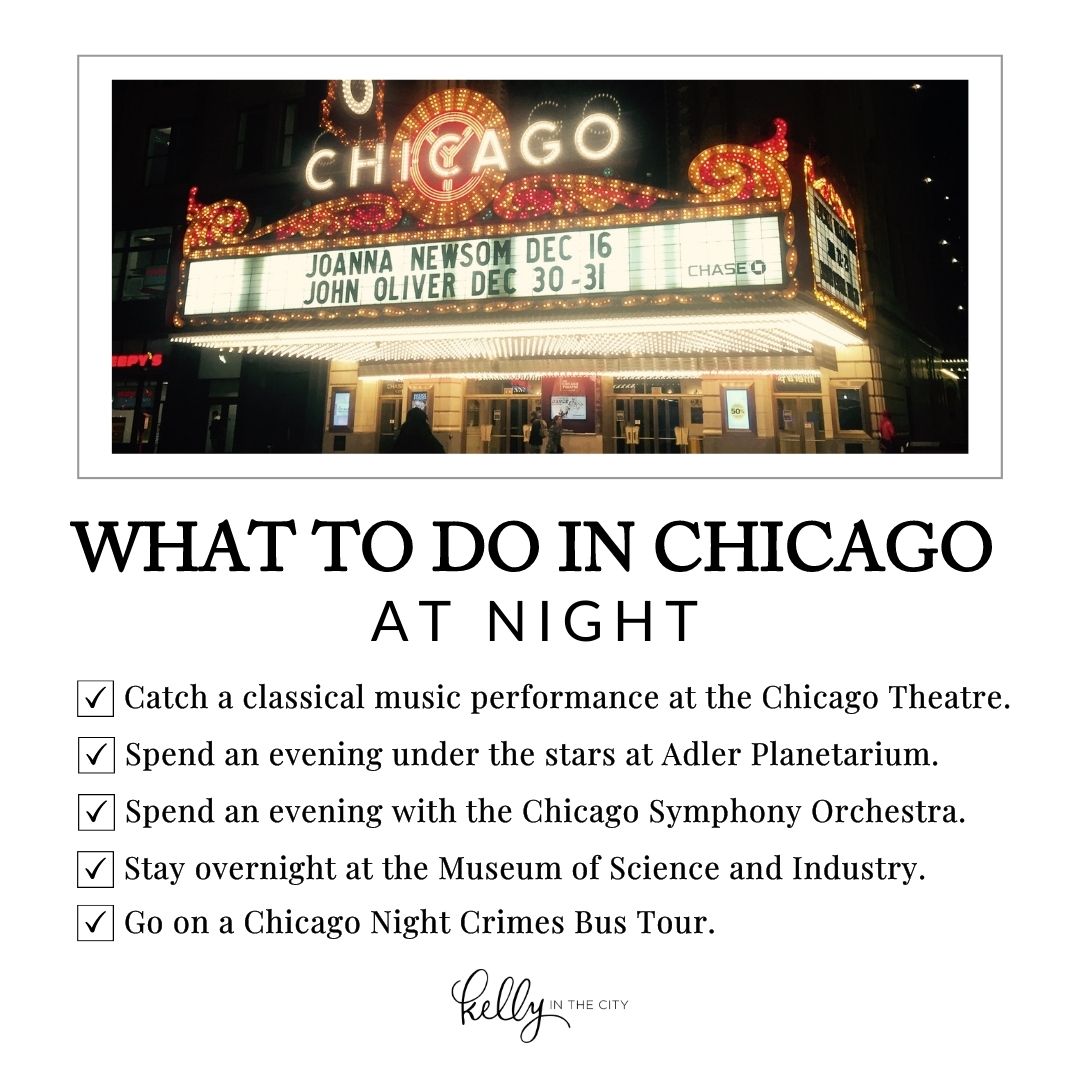 Catch a classical music performance at the Chicago Theatre.
Whether you're a local or a tourist, The Chicago Theatre is a great place to spend an evening. There, you can see all kinds of performances, from comedy shows to musical performances. Plan ahead by checking the theater's website for a list of performances, showtimes, and prices. 
Click HERE for directions to the Chicago Theatre.
Spend an evening under the stars at Adler Planetarium 
The Adler Planetarium is a museum dedicated to astronomy and space. It usually closes at 4 PM but on Wednesday nights, visitors are treated to Adler at Night. During this weekly event, Adler Planetarium is open until 10 PM. Plus, if you're an Illinois resident, you can get in free all day (or night) on Wednesdays! 
Get your tickets for Adler at Night online before you go. 
Click HERE for directions to Adler Planetarium. 
Spend an evening with the Chicago Symphony Orchestra. 
The Chicago Symphony Orchestra is one of the greatest orchestras in the world. More than 150 concerts are held in Orchestra Hall every year. There are plenty of afternoon shows, but the best classical performances usually start later in the evening. It's truly one of the best places to go for a musical experience unlike anything you've heard before. 
Click HERE for directions to The Chicago Symphony Orchestra. 
Stay overnight at the Museum of Science and Industry.
If the thought of staying overnight in a museum thrills you, consider attending a Science Snoozeum at the Museum of Science and Industry. Throughout the evening, after all the regular visitors have gone home, you can explore the museum, participate in a scavenger hunt, catch a film in the Giant Dome Theater, and then fall asleep beside your favorite exhibit. 
The Snoozeums are for children ages 6-12 and an adult chaperone. One chaperone for every 5 children is required. Pre-registration is required to participate in the next Science Snoozeum so plan ahead!
Click HERE for directions to the Museum of Science and Industry.
Go on a Chicago Night Crimes Bus Tour.
True crime is such a popular topic these days that it's no wonder the Chicago Night Crimes Bus Tour is such a popular way to spend an evening in the big city. Whether you're just visiting Chicago or you live here, this bus tour is something you have to experience for yourself.
The 2.5-hour night tour takes you around the city and teaches you all about notorious mobsters and the darker history of Chicago. The tour is led by a charismatic, entertaining guide that will have you oohing, aahing, and rolling with laughter. 
There is so much to do in Chicago, even after the sun goes down!
I would love to hear how you've spent some of your evenings in the windy city. Have you tried any of the experiences mentioned above? Or maybe your favorite thing to do wasn't included. If so, I'd love to hear about it!
P.S: Chicago Restaurant Week is coming up and will be here before we know it! Trying out a new restaurant is the PERFECT thing to do in Chicago at night! 
If you're wondering which spots are a must-visit and you're as excited as Mitch and I are about the great deals & yummy food, see my Chicago Restaurant Week Guide, HERE. 
And finally, if you're curious about Chicago weather and what you should pack, here's my Chicago Visitors Guide for Every Season. It includes packing lists and outfit inspiration for every season!
To read more about the windy city from my perspective, head over to the blog.