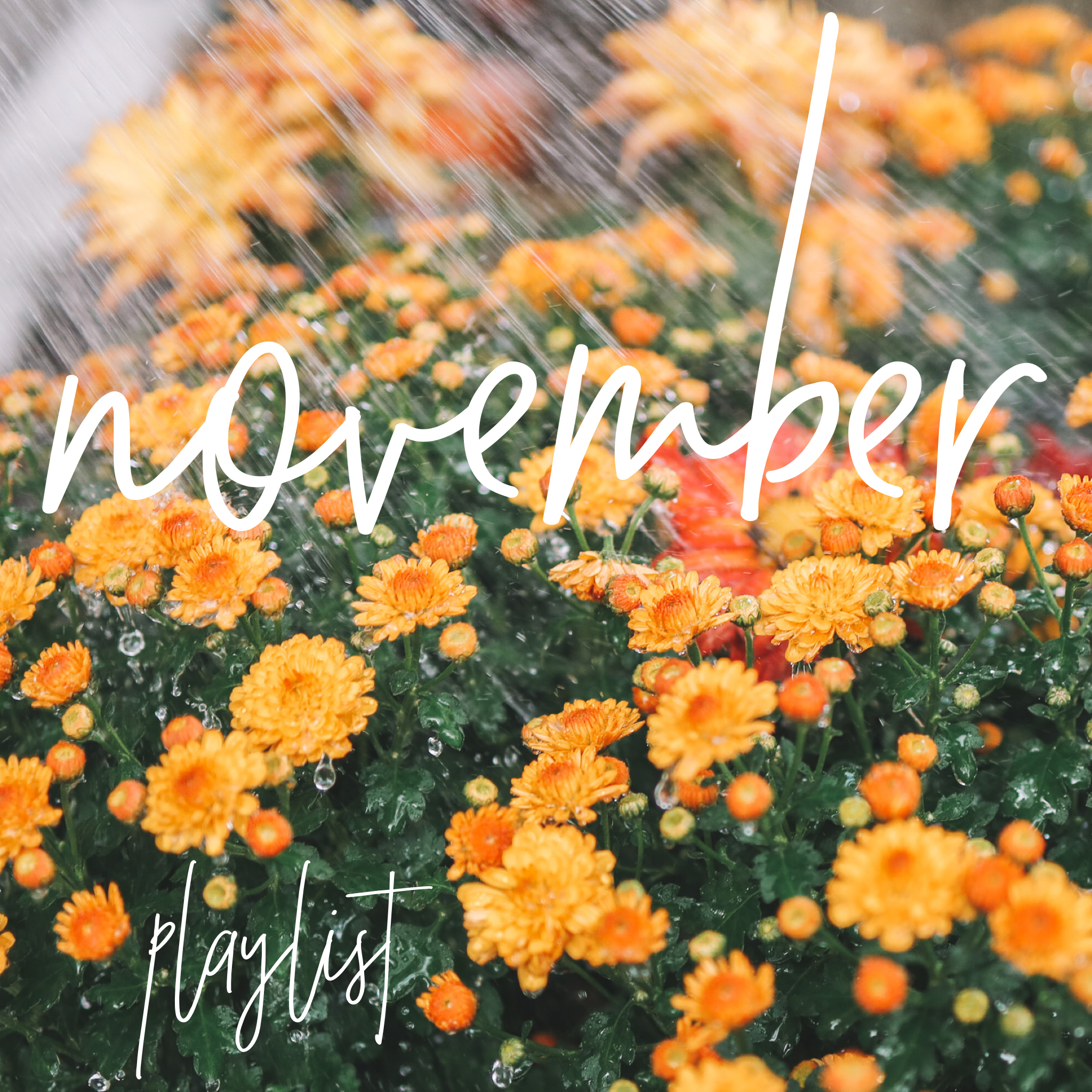 Blast! (I love that word. I say this a lot, but I've always felt like a British girl trapped in an American's body. I JUST WANT TO BE BRITISH. 😂)
I've been keeping up with making Spotify playlists, but the holidays did me in… and I totally forgot to publish them in November and December. Oh well; picking up where we left off. Here's the one I made in November!
If you're new to this series—here are my playlists for June, July, August and September—I highlight a few songs from each playlist and explain why I love them or what meaning they hold for me. :)
"Beyond" by Leon Bridges: I adore this song. 😭 When it came out, I remember thinking about how I would've loved to dance to it with Mitch at our wedding. (Instead, we settle for late-night waltzes in the kitchen with peanut butter smeared on our clothing and cheerios stuck to the bottoms of our feet.) And then IT WAS THE SONG USED IN CARLY'S WEDDING VIDEO and I really cried. Seriously, watch the video. Unless you have an upcoming Zoom meeting and would prefer not to look blotchy for it. ;) But it's the sweetest, and so unbelievably beautiful. (I also believe that Carter Fish, the photographer, kind of surprised Mike and Carly with the video; Carly had asked her to take a few clips but wasn't expected THIS!) Mitch and I were sad that we couldn't be there due to COVID, but the video truly captured the essence of the day and made us feel like we'd been there. ♥️
"Do You Love Me" by Guster: Guster will always remind me of John, my best friend from high school. We went to a lot of shows together, and then I had my mind blown when I was given the opportunity to interview the band later in life. (I cried, haha. Are we sensing that I'm a very emotional human?) John actually drove up to Fairfield for the show, too, and I quoted him in the article! Anyway. The lines from "Do You Love Me" really bring me back to those times:
We were young, twenty-one
All those years ago
In came the fascination
Everything was out of control
Alive, untried
From thickets and from thorns
Out came a revelation
Everything was out of control
"Little Baby" by M.Ward: This one reminds me of bringing Emma home, and those first few months with her. Mitch has always been a big fan of M.Ward, and we saw him play in Chicago—at a very packed (seated) City Winery show—while I was pregnant. This one was on repeat in 2016/2017, and it's crazy that Emma turns five this year!
"Time Bomb" by The Format: Did you know that before the band "Fun" was "Fun," they were "The Format"?! I listened to them a lot when I lived in New York, and "Time Bomb" is one of their very best tracks. (The demo is my favorite!)
"Falling Water" by Maggie Rogers: Are you guys obsessed with Maggie Rogers, too?! I love everything she puts out. She also really looks like my mother did in high school/college. I sent her photo to my family recently, and everyone was like 😮. Anyway, Maggie Rogers is phenomenal. Listen to "Love You For A Long Time," "Light On," "Alaska" and "Falling Water" to get started. The songs are beautiful and they also lift my spirits.
"Girl on TV" by Chloe Moriondo: This girl is a TEENAGER. I can't get over her voice. I found her through another artist I follow who'd mentioned her, and I'm frankly astonished by her talent. I feel a bit like I'm reverting to my high school self, but I so appreciate her music. She just covered Fleetwood Mac's "Dreams" and wow. (I think covering "Dreams" or making videos to it is a thing right now, haha. Why? Not sure. I mean, I love the song and I'm here for it, but someone please enlighten me.)
"Identical" by Phoenix: Phoenix might be my favorite band of all time. They came out with this song in 2020—it was featured on the "On the Rocks" motion picture soundtrack—and I freaked out. You should, by the way, watch "On the Rocks." Mitch and I loved it. We watched it a few months ago but it still comes up in conversation regularly! It's a comedy, but it does a great job diving into some deeper subjects in a very honest yet heartwarming way. Highly recommend.
"The Man" by Taylor Swift: Who doesn't adore this song? Leonardo DiCaprio, I suppose. ;) The double standards, [wo]man…