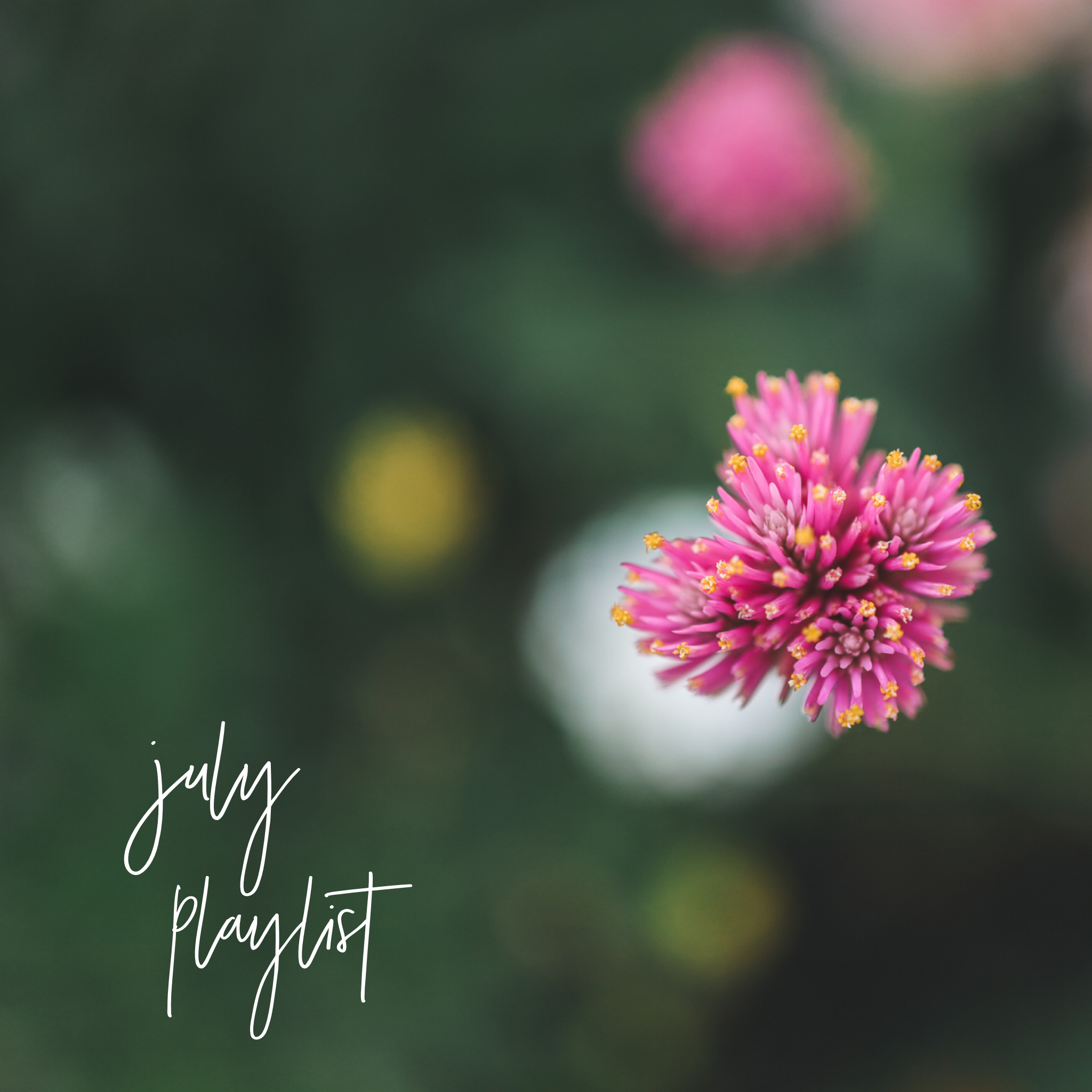 I'm back with another playlist!
The artist I'd really like to draw attention to is Phoebe Bridgers. I'll probably never stop talking about this #sorry 🤦‍♀️, but it came out last year that my (former) favorite artist, Ryan Adams, did some abhorrent things to women. As an admittedly obsessive fan whose memories were so entangled in his songs, it hit like a ton of bricks. Since dropping him, though, I've found new-to-me artists who rose up from the abuse. One of them is Phoebe Bridgers, and I'm obsessed with her song "Motion Sickness," which is about her relationship with him. Please give it a listen; she's amazingly talented and the song has deeply impacted me.  (#2 on the the July Playlist.)
Hey! Idea. (That just came to me. I should really start considering thinking posts through before I sit down to write them. 😆) Maybe I'll highlight a few songs every month that are particularly meaningful to me. Ooooh! And I can only write for as long as the song is. For example, if I'm writing about the song "California Stars," I have 4 minutes and 59 seconds to write and then I have to stop.
YES. Boom. Here we go.
Hmmm… but which ones to pick before Lucy wakes up from her nap…
This blog is becoming ridiculous. 😉
"California Stars" by Billy Bragg, Wilco: This brings me back to when I was falling in love with Mitch. It was one of those songs on repeat because I was just so profoundly happy and I couldn't possibly express that with my own words. I don't even think it's a love song, haha. Or maybe it is? But we flew out to California that summer to visit my Air Force friends AnneMarie and Betsy, and we made a video of our travels set to it… and I don't know. Every time I hear it, I'm transported to that time. It was on our wedding CD, too! (As our favor, we gave everyone a CD with our meaningful songs on it. I know. So hokey but I was all.about.it.) Once the pandemic is over, Mitch and I would really love to take an adults-only trip out there again… and maybe stay in Carmel-by-the-Sea? Somewhere like that!
"Only You" by Joshua Radin: Only 2:29 for this! Ahhhhh. Okay, so at our school in the Bronx, one of the teachers decided to start a guitar class for the kids. It was awesome; he had a bunch of guitars donated and I couldn't believe how far the students advanced in such a short period of time. Anyway, the teacher was able to get some awesome artists in to talk to the kids and play for them…. and Joshua Radin was one of them. I was a fan, so I stood in the back of the room and quietly freaked out the whole time while he played. I remember thinking "IS THIS REAL LIFE?!" — and then I reverted to my own middle school self and couldn't even build up the courage to go talk to him. Great job, Ms. Larkin. Bah. Out of time!
"Father and Daughter" by Paul Simon: I cry every time this song comes on. We change the lyrics to "There has never been a father who loved his daughter(s) as much as I love you" so it's about both Emma and Lucy. But it makes me think about how lucky the girls and I are to have Mitch. He really is the best husband and dad in the world, and though he came from very humble beginnings, he create this dream life for us. And as I write this, he's letting Emma put a zillion bows in his hair. ;) He'd do anything for our kids. I hope so, so much that he dances to "Father and Daughter" with the girls at their weddings, if they choose to marry. Oh no. Here it comes. I'm crying. Of course. Maybe this was a bad idea, hahaha. As long as one and one is two…
"Answering Machine" by Matt Nathanson: I used to go to Nantucket every summer to visit my aunt and uncle. (We were supposed to go this summer, but the pandemic put a wrench in that plan.) Patrick, my brother, went out there one May to keep my cousin, Chase, company while he worked at Vineyard Vines. (The rest of the family would arrive on the island later.) Patrick brought along a mix CD, and this was the first song on it. And that CD stayed in the red Jeep for YEARS. I wouldn't be surprised if it was still in there! So for the longest time, every time I would get into the Jeep, it would play… and it was such a comforting, happy thing. There was another song, too… I think it was "Come on Get Higher" (also by Matt Nathanson). Yes! Take me back.
If you're still reading, thanks for staying with me. 😜
Any songs you've had on repeat lately?
Happy listening!