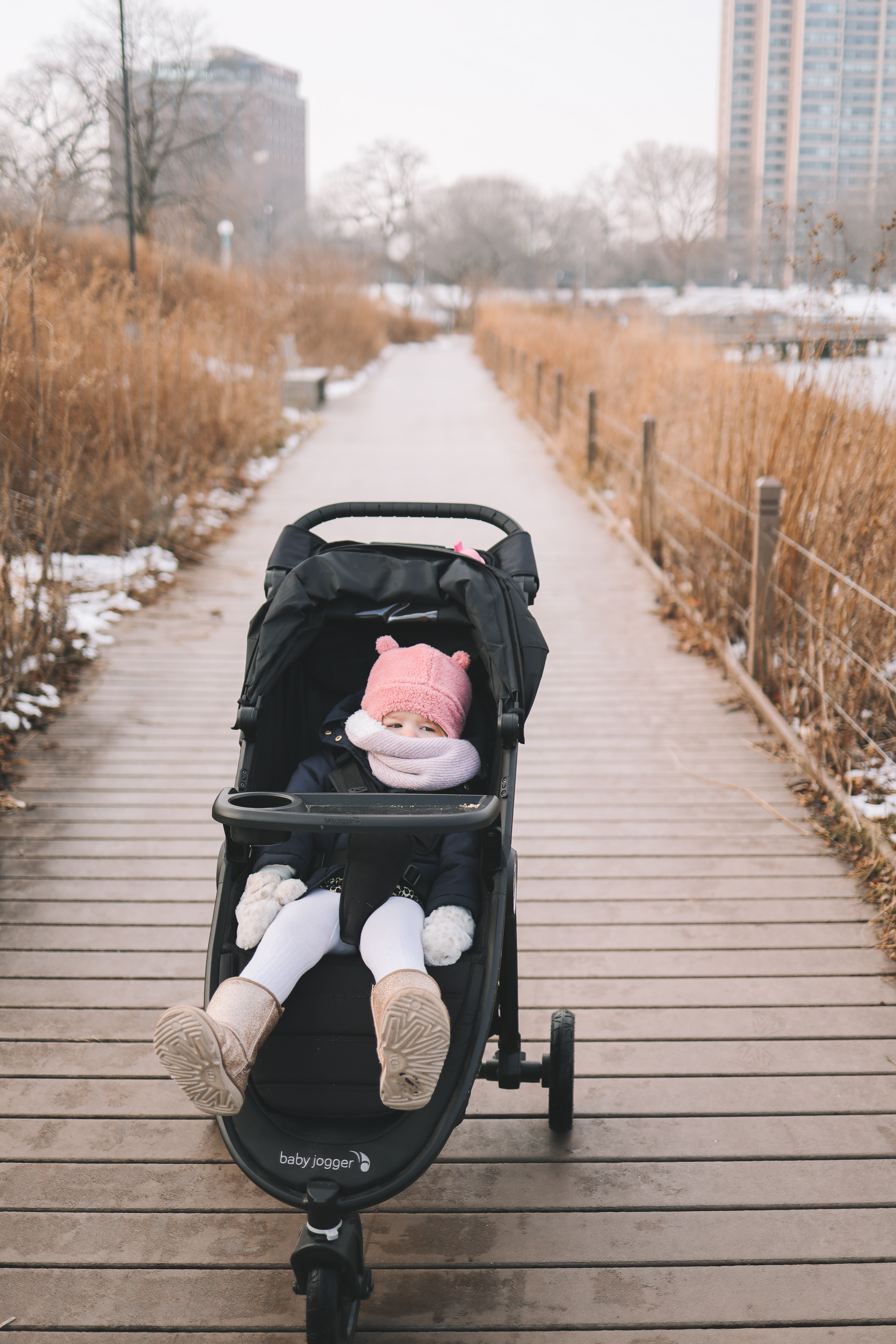 Baby Jogger Stroller (Favorite stroller of all time! It basically pushes itself.) / Crewcuts Puffer / Velvet Leopard Dress / Girls' Uggs (These waterproof Uggs are our favorite.) / My Uggs / Lucy's Hat (Love this one, too!), Mittens and Snood (This is our favorite, though!) / Water Bottle / Camera + Lens
THE SUN CAME OUT!
Joy. Truly, haha.
I received a few questions last week regarding my current camera gear, so I thought I'd share that info today! I've been shooting with this small mirrorless Canon camera for the past few years, and am ridiculously in love with it. The lens I primarily use is this extremely small and lightweight 35mm lens, which is amazingly sharp. I honestly prefer it to my L-series lenses, which is wild! I edit my photos by hand in Lightroom, though I don't do too much to them these days.
I'm hoping to share more photography posts this season as it's a relatively slower one for me, so let me know if you have specific topics you'd like to see here! ♥️
Anyway, I snapped these on a recent walk through Old Town and into Lincoln Park. (The park itself. Definitely confusing, haha. Lincoln Park is a neighborhood but it's also a literal park on the shores of Lake Michigan.)
A few thoughts:
I love the character of Old Town. We live on the border of two neighborhoods, and it's one of my favorite parts of our home! I love wandering the streets as Lucy hums "Wheels on the Bus" to herself, and that yellow house? My all-time favorite. It stands alone, and is always is direct sunlight. Imagine how happy it must be inside, too!
I don't hate having to wear a mask these days. Woo-ee. Obviously they're annoying and one more thing to think about. But A) they save lives and B) they keep me warm! It's also nice to be able to run out first thing in the morning and not have to worry about looking presentable. What? I said it. 😆
Lucy's really fighting me on mittens. HELP! I know I've been at this parenting thing for a long time, but I've never quite mastered the whole mitten battle. I need mittens that don't.come.off. Does anyone have any suggestions?! Miracle products?! I need you.
I highly recommend this baby/toddler hat. It's great because for the life of them, they can't get the thing off. Lucy also weirdly doesn't seem to mind it! It's also adorable. I call her my little polar bear when she wears it. :) Comes in white and brown, too. And it's only $10!
I'm living in these Uggs, but I really wish they were waterproof. UGH. (Or UGGH. Hahaha.) I've been considering these waterproof Uggs. But my Ugg collection is growing, haha. If you're considering them as well, just know that they run small. I think you're supposed to order a full size larger!
I'll leave you with these snaps: