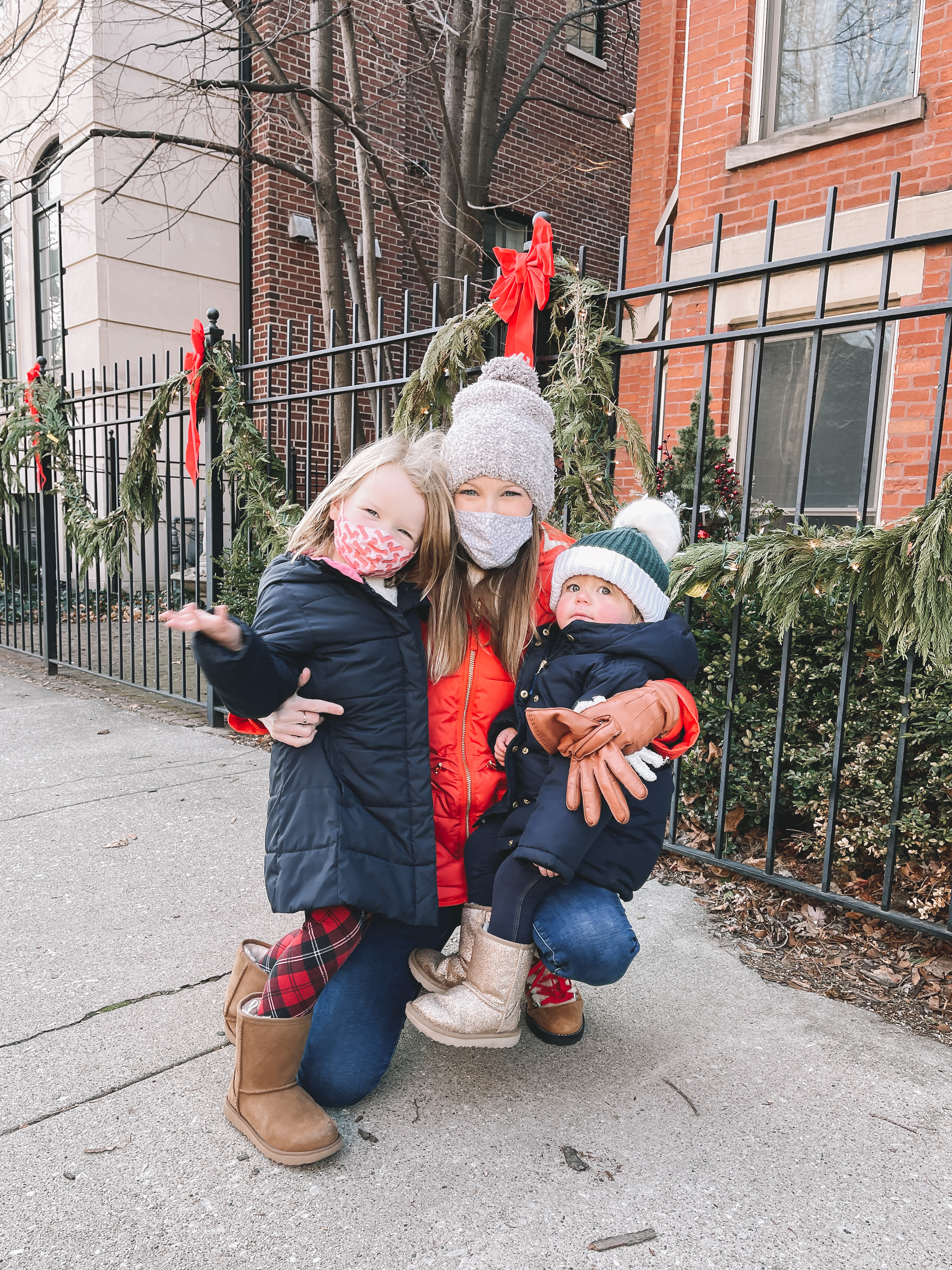 Face Masks / Chateau Puffer Jacket (ON SALE! Full Review Here.) / Softest Non-Itch Hat / Girls' Puffer Jackets / Lucy's Everyday Leggings / Kids' Waterproof Uggs (Lucy's are hand-me-downs!) / J.Crew Factory Cozy Jeans (THE BEST.) / Nordic Boots / Leather Gloves
Well, THIS POST is a long time coming!
It took me a while to find an awesome face mask that I swear by. I tried a LOT! But nearly a year later, I have a favorite: Little Flower Fabric, which you can find on Etsy. This goes without saying, but wearing a mask is of the utmost importance, especially now… and finding one that works for you is ridiculously important, too.
I stumbled upon these a few months ago while looking for better options, and they're so good. I really can't recommend them more!
A few things you should know:
So many of them feature Liberty London fabrics. They're beautiful! I honestly don't get bummed about wearing them because they're so pretty, haha. What a world, huh? But gosh; Liberty fabric always makes me happy, and reminds me of getting lost in London with my mom. One day, I'd really love to go back with you, Mom! How much fun would it be to go with the girls?! (Okay. Just texted Mom about this, haha. She's in. YAY.)
They're comfortable and soft. Like, very soft. Softest I've tried. Again, I just don't mind them at all… and that's crazy to me. Let's be serious: Wearing someone on top of your mouth and nose is [WILDLY IMPORTANT but also] weird, and I think it's very normal to generally not enjoy the feeling. These masks, though, are the comfiest I've ever tried.
They stay on my face while talking. This was a huge issue with nearly all other masks I tried in the past. While I don't normally run into too many people while walking, whenever I did run into someone, I found myself constantly tugging up on my mask trying to prevent it from falling down. (No matter the size of the mask!) The ones from Little Flower Fabric, however, do not fall down while talking. Such a nice change.
They don't rub my makeup off. This is silly, but every time I'd take my mask off, I'd look like a hot mess. 😆 I won't say that I look great after having worn this mask, but I look a hell of a lot better in Little Flower masks, that's for sure, haha.
They keep my skin blemish-free. Woo-ee. I really struggled with my skin (specially along my jawline) for a while there. It was enough to make me not want to leave the house just so I could exist mask- and blemish-free. Not sure what about this one helps my skin, but I'm loving it. (Though *definitely* wash yours after every use. I throw all our masks into the wash every day. It means owning a few more, but it's worth it.)
They come in kids' sizes, for both girls and boys. Get them! Emma's never really complained about masks—funny how kids have been so much better than so many grown men and women, right?!—but she always asks for the Little Flower Fabric masks and is bummed if one isn't available.
They come in a NOODLE PRINT. For kids AND adults. I know. It's very exciting.
They wash well. I've accidentally dried them, and they don't shrink like crazy. So that's amazing!
Note: One suggestion I have is keeping your clean masks in a basket by the front door! It makes life a lot easier, especially with little kids. I throw the days' masks in the laundry every evening, and when they're clean/dry, I simply dump them in the basket. Grabbing one on our way out has never been easier, whereas it used to entail shouting "WHERE IS MY MASK?!" 😆