The amount of thought that goes into a gift is part of what makes it special. For sports fans, this rings very true. There's so much more to give the sports fan in your life than just tickets to see their favorite sport in action. (Although that would be totally amazing!)
Instead, consider how much your sports loving friends and family will appreciate the effort you put into picking out a unique sports gift just for them.
There are a ton of useful and unique gifts out there for sports fans. So, today I'm sharing a guide on what gifts the sports fans you know would love to receive this holiday season!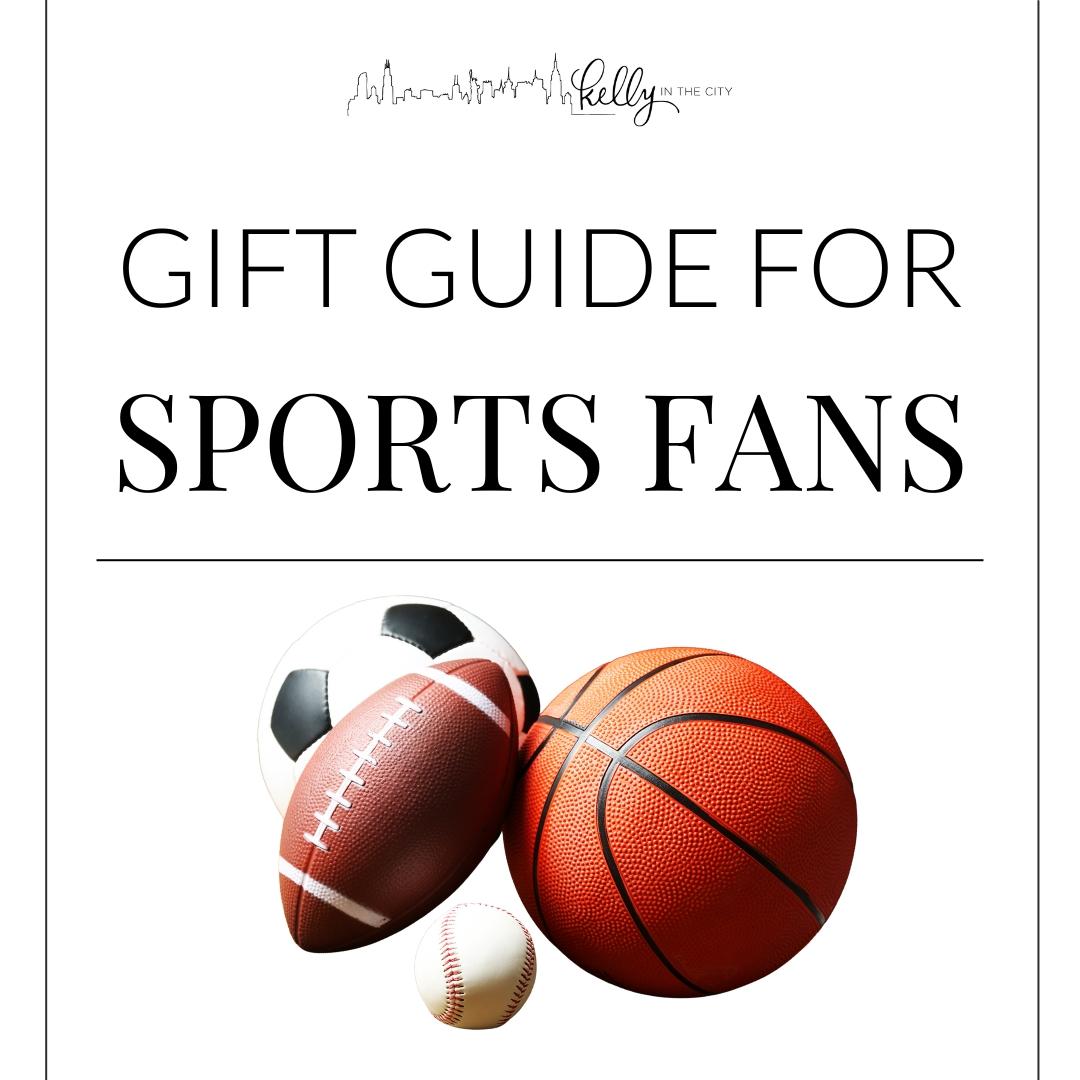 Gift Guide For Sports Fans
A New York Times Custom Football Book is a fantastic gift idea for longtime, loyal football fans. When you order a custom football book, you'll receive a personalized sports journalism collection that spans the history of your chosen NFL team. You can even have the book embossed with the recipient's name.
The reprinted coverage inside the book is pulled straight from The New York Times's archives. This book's recipient will be able to flip through pages featuring some of the most memorable moments. As well as newsworthy games and unforgettable MVPs.
If you ask the biggest baseball fan you know, they'll tell you that the ballpark of their favorite team is just as iconic as the team itself. These pint glasses feature an overhead map of a famous MLB stadium in the team's two main colors. You'll also find the team logo in the bottom of the glass. Even Yankees and Red Sox fans would agree that this is a fantastic gift idea.
These Football Greatest Plays Coasters are great for the sports fan who prefers to support their favorite sports team in a more subtle, understated way. Each coaster is laser etched to show a memorable, game-changing moment in the history of their favorite football team. The slate coasters are available as a set of four.
Thanks to you, the golf fanatic in your life will be able to strengthen their short game from home. The portable Putt-A-Bout Par Three Putting Green is a kidney-shaped mat with a slight incline at the end. It features a high-quality putting surface and non-skid backing. And it's designed to lay flat, even after it's been rolled up and put away. This putting green is the perfect gift for the golfer in your life.
These NHL Game Used Hockey Stick Bottle Openers make great gifts for hockey fans. Each bottle opener is made from an authentic section of your chosen NHL team's game-used, carbon fiber hockey sticks.
When you purchase an NHL Game Used Hockey Stick Bottle Opener from Uncommon Goods, you'll see that it's engraved with the team name. And it even includes a holographic label to tell you more about the history of that particular stick.
These bottle openers are officially licensed by the NHL. They arrive in a gift box that also contains an authentication instruction card. So convenient for the holiday season.
Is there someone on your gift list that loves hockey, enjoys grilling, and only wishes that they could somehow combine the two? You're about to make that hockey fan's dream come true. This Hockey Sticks BBQ Set is crafted from repurposed hockey sticks. Each set includes a spatula, bottle opener, fork, and tongs.
To surprise the baseball fan in your life, consider giving them hand crafted Home Plate Cufflinks. These American-made cufflinks use actual vintage stadium seat wood from Fenway Park in Boston. They are set in hi-grade surgical steel or 24kt gold plated brass, depending on preference.
Each pair of cufflinks comes with a Certificate of Authenticity. As well as a unique serial numbered hologram that is database registered to ensure authenticity.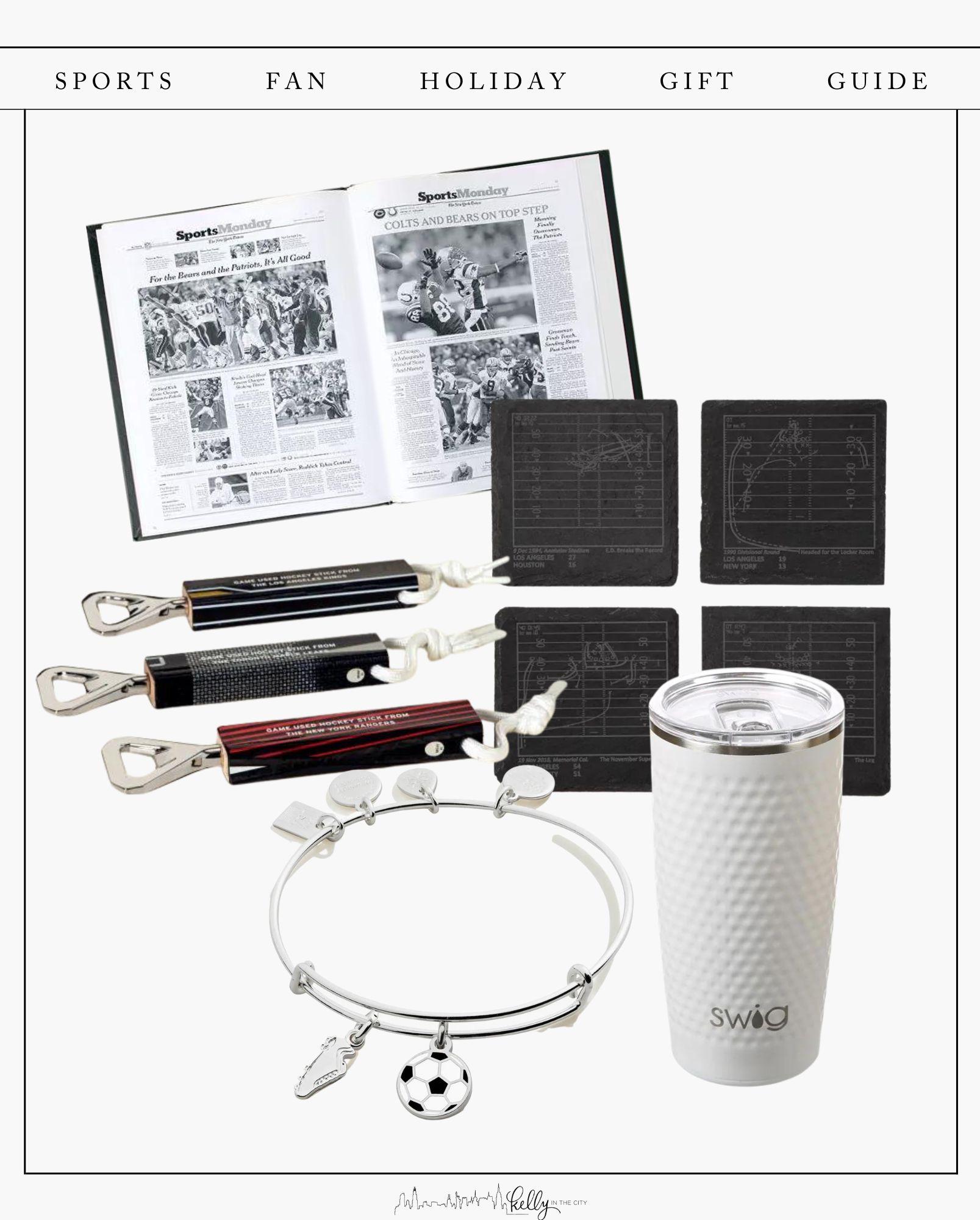 This Basketball Hamper from Pottery Barn Teen is a great gift idea for one of the younger sports fans on your gift list. Or even for an older friend or family member who would love to be able to throw their laundry around like a basketball.
Mount the backboard on the wall. Then place the faux-rattan hamper on the ground in front of it and you're ready to play. The Basketball Hamper is made of polyester, rattan, and MDF veneer with a metal frame.
The Team USA Soccer Duo Charm Bangle from Alex + Ani would make a great gift for a friend or family member who is a loyal fan of the USA soccer team. This expandable wire bangle features a soccer ball charm and a cleat charm, and it's available in silver or gold.
Any avid golfer can tell you about some of the quirkier golf ball markers they've seen. But I'm confident that none of them would compare to this one. The Land Shark Golf Ball Marker designed by artist Nikki Heikkinen and sold through Uncommon Goods, is sure to make a lasting impression. It's made in the USA from thick stainless steel and would make a great gift for a playful sports fan with a good sense of humor.
Here's another great gift for a golfer or golf fan. The Golf Ball High Ball Tumbler from Swig Life promises to keep your drink hot for up to three hours. And cold for up to 12!!! This tumbler is perfect for sipping a beverage on the golf course, enjoying a drink at home, and everything in between.
The Swig Life Golf Ball High Ball Tumbler has a nonslip, scratch-free, and noise-free silicone base. Plus a BPA-free lid with a removable slider. It's condensation free, non-breakable, and made of stainless steel.
What football fan wouldn't love a custom jersey to show their support for their favorite NFL team? You can order a custom men's, women's, or kid's jersey for any NFL team, to surprise the biggest football fan you know. Then, it's up to them to decide if they want to wear the high-quality Nike jersey, or frame it like the treasure that it is.
Here's an impressive gift for a fan of NCAA sports. This handmade NCAA Stadium 3D Wall Art features a unique 3D stadium design that was made from five separate layers of engineered wood. The team logo, featuring the official team colors, is recessed into the wood surface for an authentic 3D effect.
There are 48 teams available. The wall art arrives ready to hang or sit on a shelf.
This Igloo Limited Edition NFL Cooler gives sports fans a neat way to show support for their favorite NFL team. They'll be able to flash their favorite team color and logo as they reach for an ice-cold beverage. Then, they can simply slide the tent-top closed to secure the cooler as they carry it to their man cave for kick off.
Each officially licensed cooler is made in the USA.
An ESPN+ Gift Subscription is the perfect gift for sports fans. All you have to do is purchase the subscription. Then, the recipient will receive an email containing your gift and instructions on how to redeem it. Once redeemed, they have a full year to enjoy live sports and ESPN originals.
You're never too old to wear a friendship bracelet. Especially if that bracelet is made from an actual game-used NFL jersey. When you buy your favorite, football-loving friend a Real NFL Uniform Friendship Bracelet, you're giving them a truly unique memento that they'll cherish for a lifetime.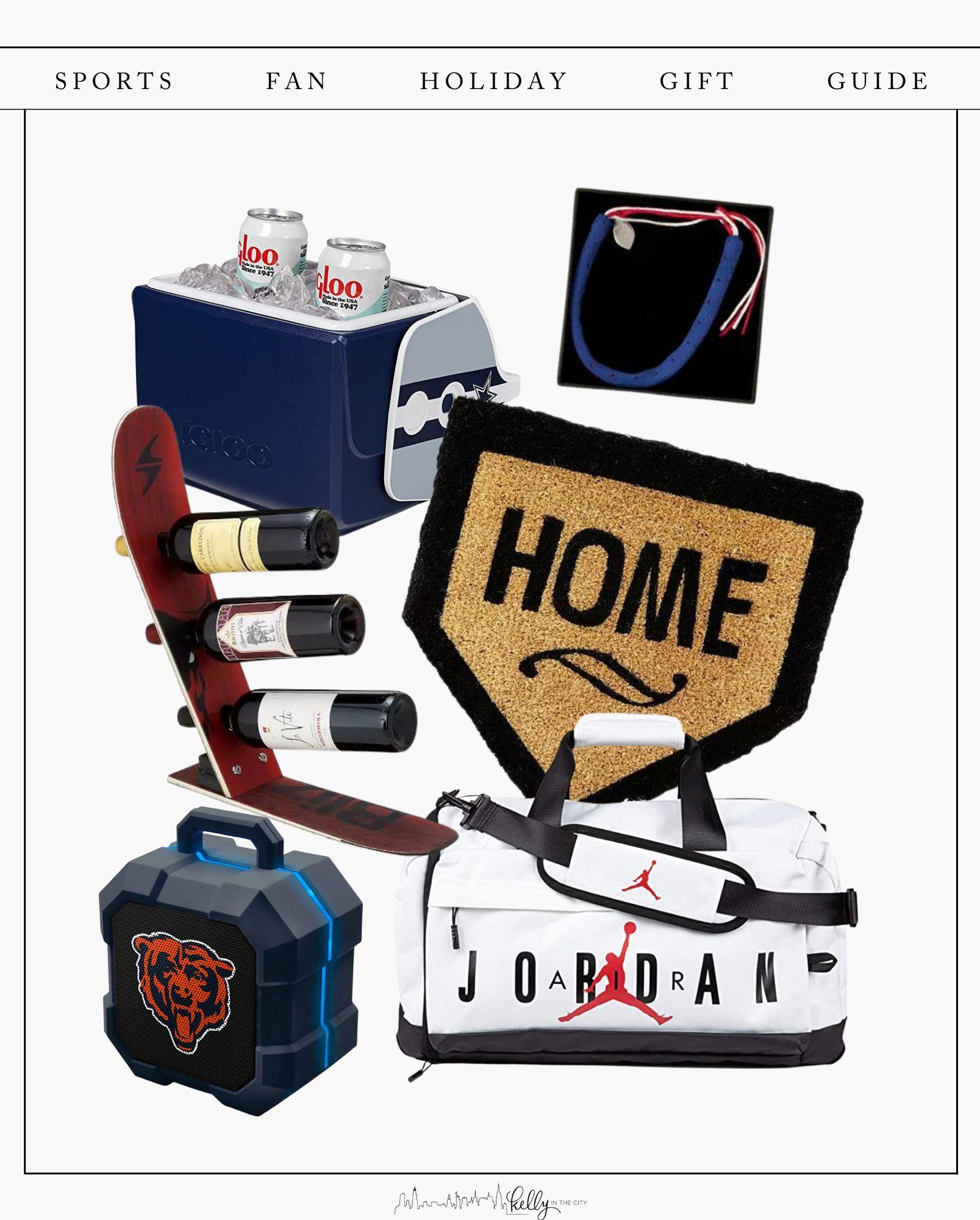 This Baseball Decanter and Glasses Gift Set is a gorgeous gift option for a baseball and booze loving sports fan.
The glass decanter looks like a baseball bat and can be filled with the spirit of your choice. It pours right from the handle! Each gift set includes a stand, a bat decanter, and 4 glasses. You can also have the decanter engraved for an extra, personal touch.
Everyone could use a solid duffel bag. And this Nike Air Jordan Velocity Duffel Bag is perfect for the sports fan on your gift list.
The Air Jordan Velocity Duffel Bag has enough space to carry everything you need for a workout or shoot around. In addition to the main compartment, there is a front zip pocket and small storage pockets. Perfect for keeping your phone, keys, and wallet easily accessible.
Homefield Apparel is a family-run business based in Indianapolis that has become mega-popular in college sports in the last few years. Through Homefield Apparel, you can get clothing items from the vintage collections of more than 100 schools.
These vintage collections aren't available anywhere else. So there's a good chance that when you buy the sports fan in your life a shirt from Homefield Apparel, they won't run into a bunch of other people wearing the same shirt.
With the help of Fathead, you can get the sports fan on your list a wall decal of their favorite player or team's logo. Fathead has hundreds of officially-licensed designs. So you can surprise the person on your list with a top-quality decal they will love. There are literally dozens of sports and hundreds of product options available, so you're sure to find something they will love.
If the sports fan on your list is especially enthusiastic about a specific player on their favorite team, consider surprising them with signed memorabilia. Sports Memorabilia is a website that sells authentic, autographed items from current and former players. You can purchase an autographed ball, a signed poster, and so much more.
New Era offers headwear for MLB, NBA, and NFL fans. They know all-too-well that a sports fan can't have too many hats. Consider getting a baseball cap or a pom knit beanie with a team's logo on it to help the sporty person on your list put their team support on full display.
This NFL Shockbox wireless Bluetooth speaker from Soar is a great gift idea for just about any NFL fan. It's super portable and lightweight, yet provides impressive quality sound. It's Bluetooth compatible which means you can wirelessly connect it to nearly any Bluetooth enabled device.
To really kick things up a notch, there are multiple color LED lights that move to the beat of the music. And if you happen to get a call while playing music through the speaker, it has a microphone so you can use it as a speakerphone!
This officially-licensed NFL product can play music for over five hours in a single charge. Plus, it's rechargeable – the micro USB charging cable is included. Simply select the team logo you want displayed on the speaker and you're ready to order!
What better way to tell people who come to the door that a baseball fan lives there than with a Home Plate Doormat? This cute, clever doormat is made of ultra-durable tufted coconut fiber. It's weather resistant and can be washed off with a hose or scrubbed clean with a brush for easy maintenance.
You'll be hard-pressed to find a more creative way to display your favorite wine and share your love of skiing at the same time. This Snow Ski Wine Rack is the perfect gift for a friend or family member who loves to hit the slopes and then recover at home with a glass of wine.
The Snow Ski Wine Rack is made of reclaimed skis that have distinctive markings proving their authenticity. With this rack, the bottles of wine are stored on their sides, as is recommended for maintaining the integrity of the wine.
Which item from this list would you love to receive?
Or, if you're not a big sports fan, perhaps you can share which item you would enjoy gifting the most. I can't wait to hear from you!
For more of my gift guides and all the info you need on making the most of the holidays, head over to the blog.