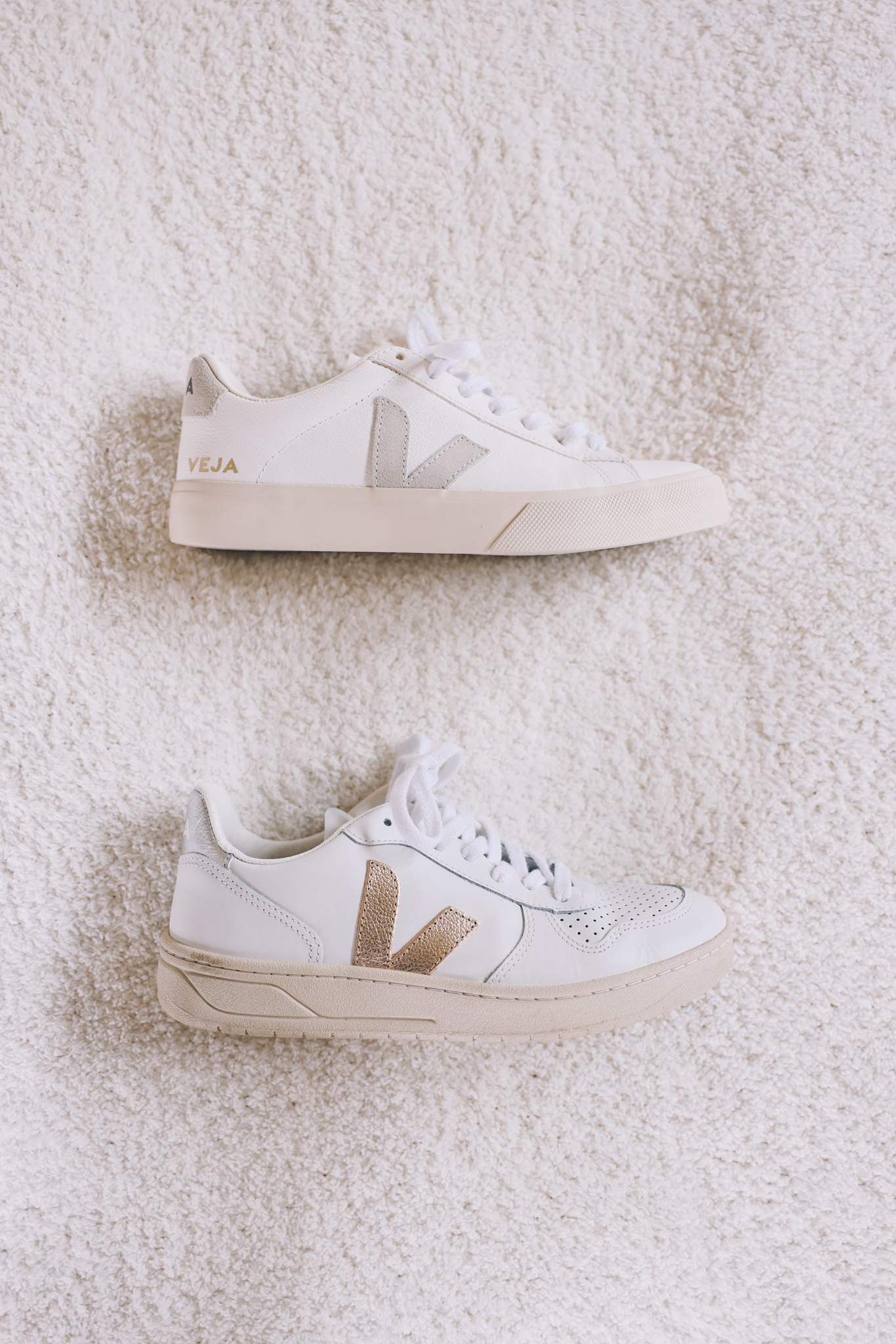 Veja. It's a sustainable French sneaker brand that caught my attention this past fall when shopping for my five-year-old daughter's back-to-school shoes. We were just looking for gold sneakers and ordered Vejas simply because they looked the nicest. And then they arrived, and Emma and I adored them. (So much so that I ordered my youngest a pair, too!) Fast forward a few weeks later, and my two (very hip) cousins came to visit from New York City—and both walked in the door wearing Vejas. So I obviously took a deep dive and decided to test out a couple of adult styles: the Campo and the V-10. You know: For the sake of this blog. 😉
(Before we go any further, this is SUCH a great deal on the Campo in new condition. Love the white sneaker with the black "V.")

What you should know about the Veja brand
Pronounced "Vey-ja" with a roll of the "j," Veja was founded in the early 2000s in Paris and was the world's very first sustainable sneaker brand, with materials ethically sourced from Brazil. All sneakers are made there, too! (Fun fact: The Portuguese-Brazilian translation of the word Veja is "look," meaning to look beyond the sneaker; look how they're made.) Celebrities were quick to sport the signature "V" logo, but the company really caught the attention of the world when Emma Watson wore the sneakers in 2016 and Megan Markle wore them in 2018. The shoes' sleek, minimalist design and the importance the company placed on transparency, ethical sourcing and social responsibility were a winning combination. (Keep in mind that the brand's dedication to sustainability is why the price tag is high. Deals can, however, be found for both new and pre-loved sneakers. And my feeling is that the company would definitely approve of buying pre-loved given that they're so aware of their environmental footprint! See below for more on this.)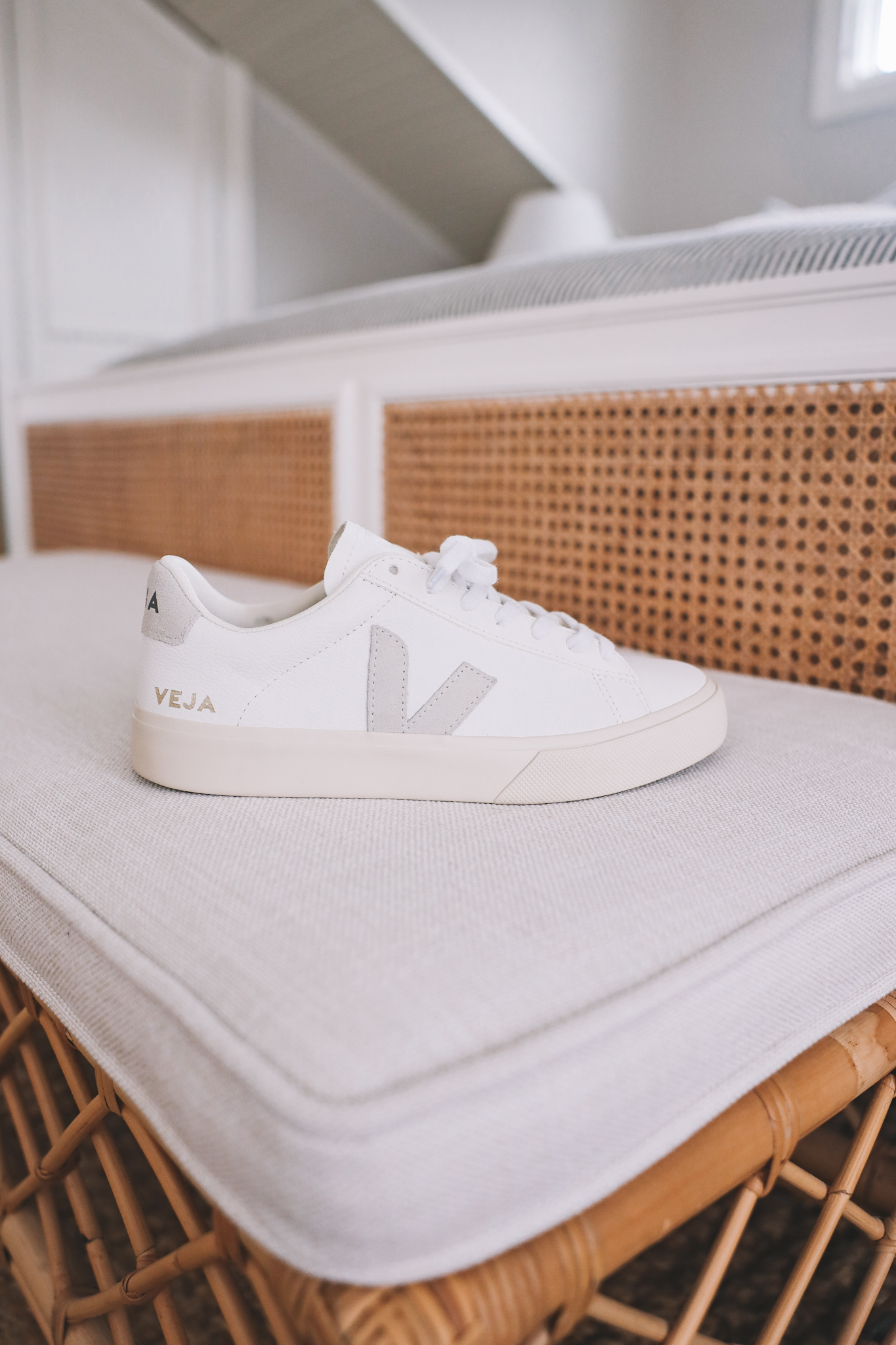 Veja Campo Sneaker (Check out this deal on eBay!)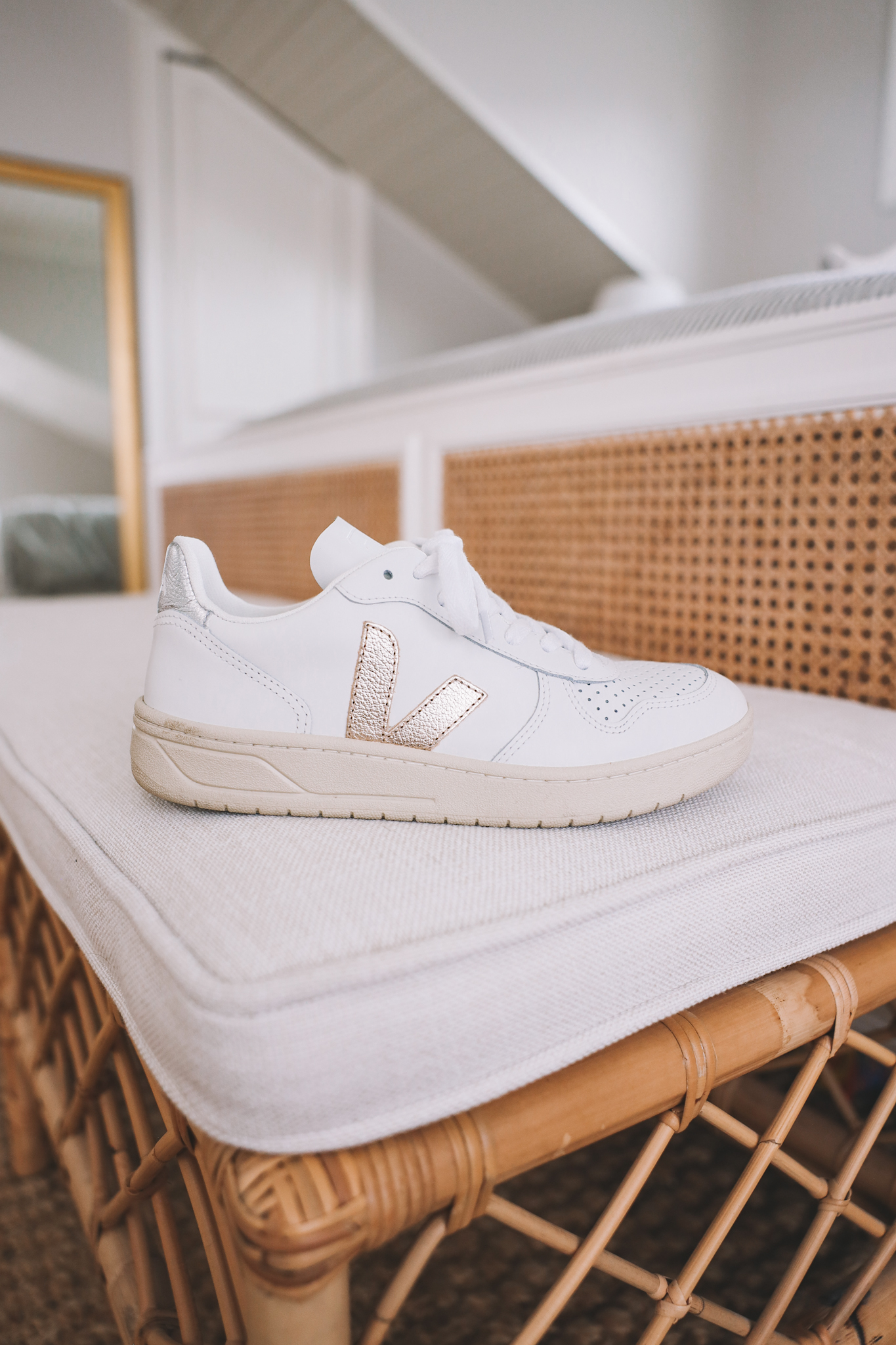 The styles + what I own
While browsing, it became very clear that the most popular Veja styles are the Campo, Esplar and V-10, with the V-Lock (velcro) getting an honorable mention. Just going off appearance, I was drawn to the Campo and V-10 styles, probably because those were the shoes my cool cousins were wearing and recommended. 😜 So I ordered those. I think all four styles, however, are fantastic choices. You really can't go wrong!
Where to find popular styles/colors
Because Veja sneakers are so "in" right now, popular styles—notably the Campo and V-10 sneakers—in common sizes can vanish pretty quickly. And when you've fallen in love with a product, that can be disappointing! Then there's the issue of that steep price tag: Veja sneakers run around $160. This is because of the company's dedication to sustainability, but it is a lot for sneakers.
Solution: eBay. I've been using eBay, today's sponsor, to track down hard-to-find, out-of-stock and pricey products for years… and I honestly can't think of a single time when I wasn't able to find what I was looking for. Heck, just last night I used it to buy a singing Bluey stuffed animal, which is the "IT" holiday toy for youngsters this year. CHRISTMAS IS SAVED! Note: eBay is a great place for holiday shopping, especially if you have a particular product you're looking for. If you know you need that silly singing Bluey stuffed animal, why pay outrageous markups when eBay exists?!
eBay is seriously the best. There are so many ways to sort through listings and find what you're looking for, but when shopping for Vejas, I recommend checking off condition, size and buying format on the left-hand side of the site. This will help efficiently narrow the results. Another tip would be to check back frequently. If you don't see what you're looking for at first, remember that new styles are constantly being added to the site. You never know when  your favorite Veja style could surface!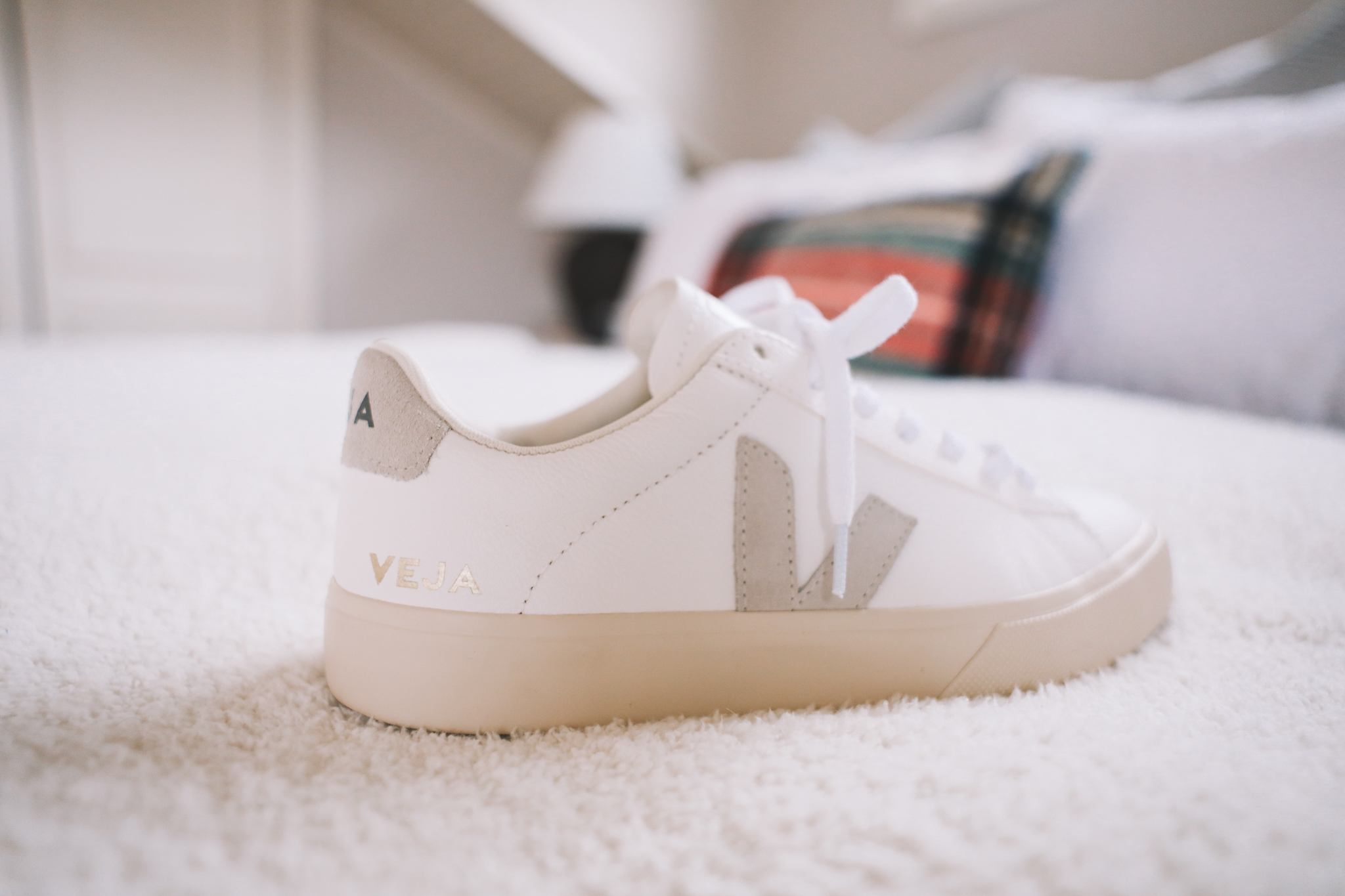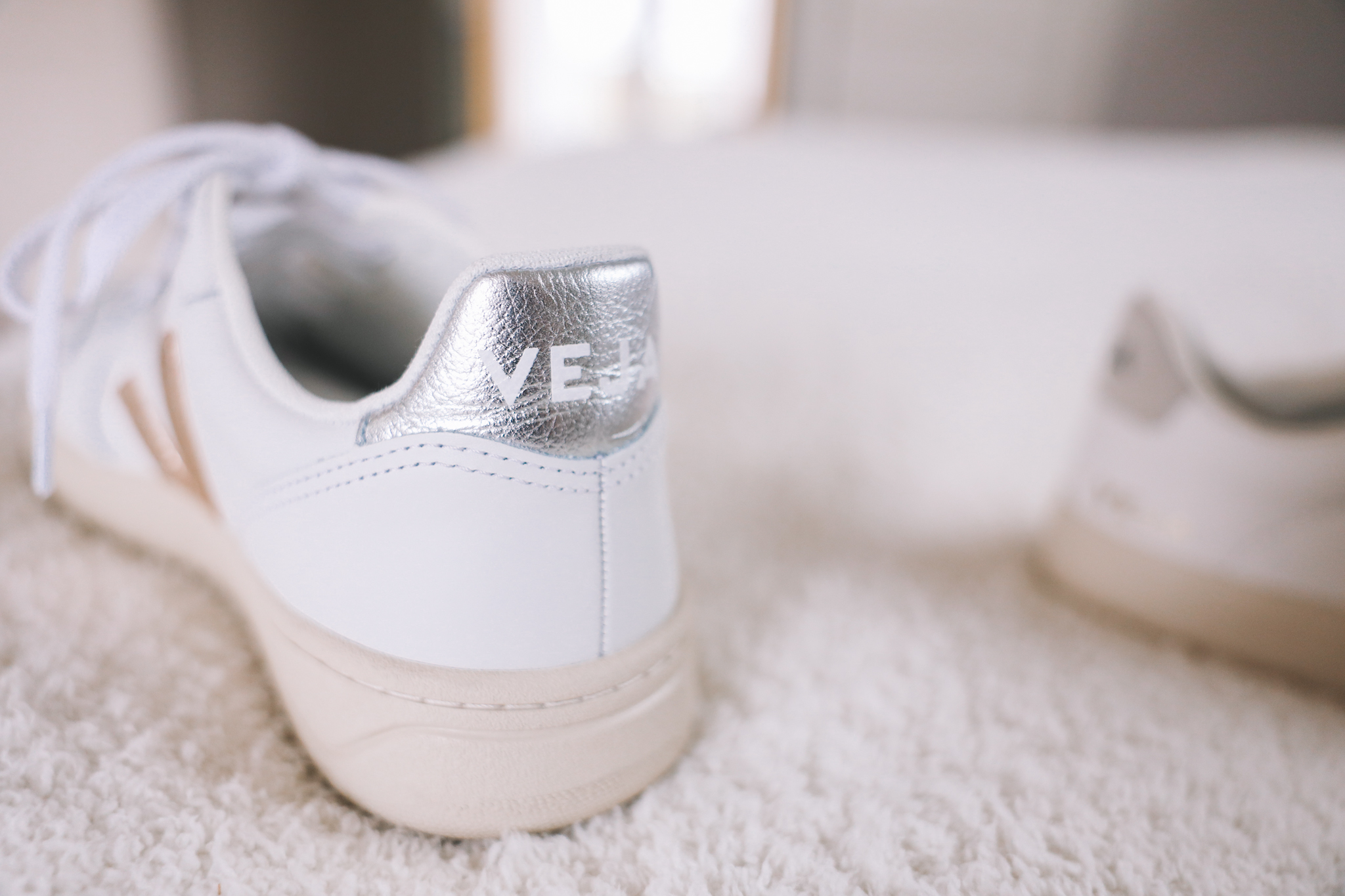 Aesthetics
The Campo: The Campo is very much like the classic Esplar sneaker, featuring a minimalist design but with a chunkier sole and textured leather instead of smooth. (I should note here that the Campo tends to be more difficult to find, which is why eBay can really come in handy!) I went back and forth between the two styles for a while, but my cousin Cassidy argued that the Campo is a little more in style right now, and the more substantial sole looks awesome when paired with jeans and dresses alike. The Campo seems to give all looks—even really casual ones—an elevated French style, too. What really did it for me, though, was learning that it's known to be comfier and more supportive than the Esplar. I went with the most neutral colorway: White with the taupe suede "V."
Check out this deal on a classic (NEW) pair of classic Campo sneakers!
The V-10: Made famous by Meghan Markle, the V-10 is sportier and even trendier than the Campo. This is what my cousin Olivia was wearing! The V-10 has perforated leather on the top, and the colorway I went with features both gold and silver accents. (It has a gold "V" logo and silver backing on the heel.) In my opinion, the V-10 sole is a little reminiscent of "dad sneakers," which I didn't love at first but now really do. The V-10 was designed in honor of Veja's 10-year anniversary.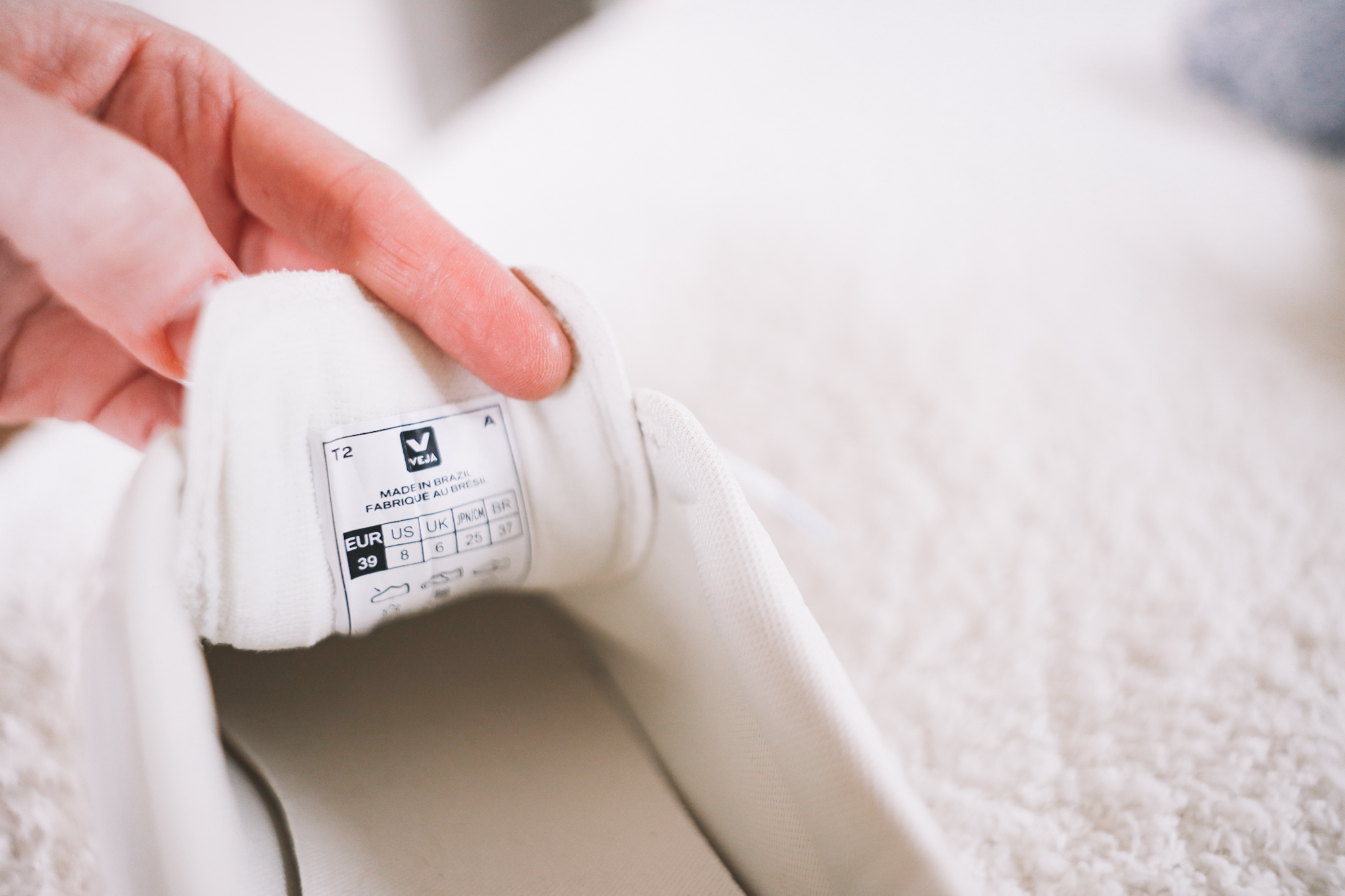 Veja Campo Sneaker Sizing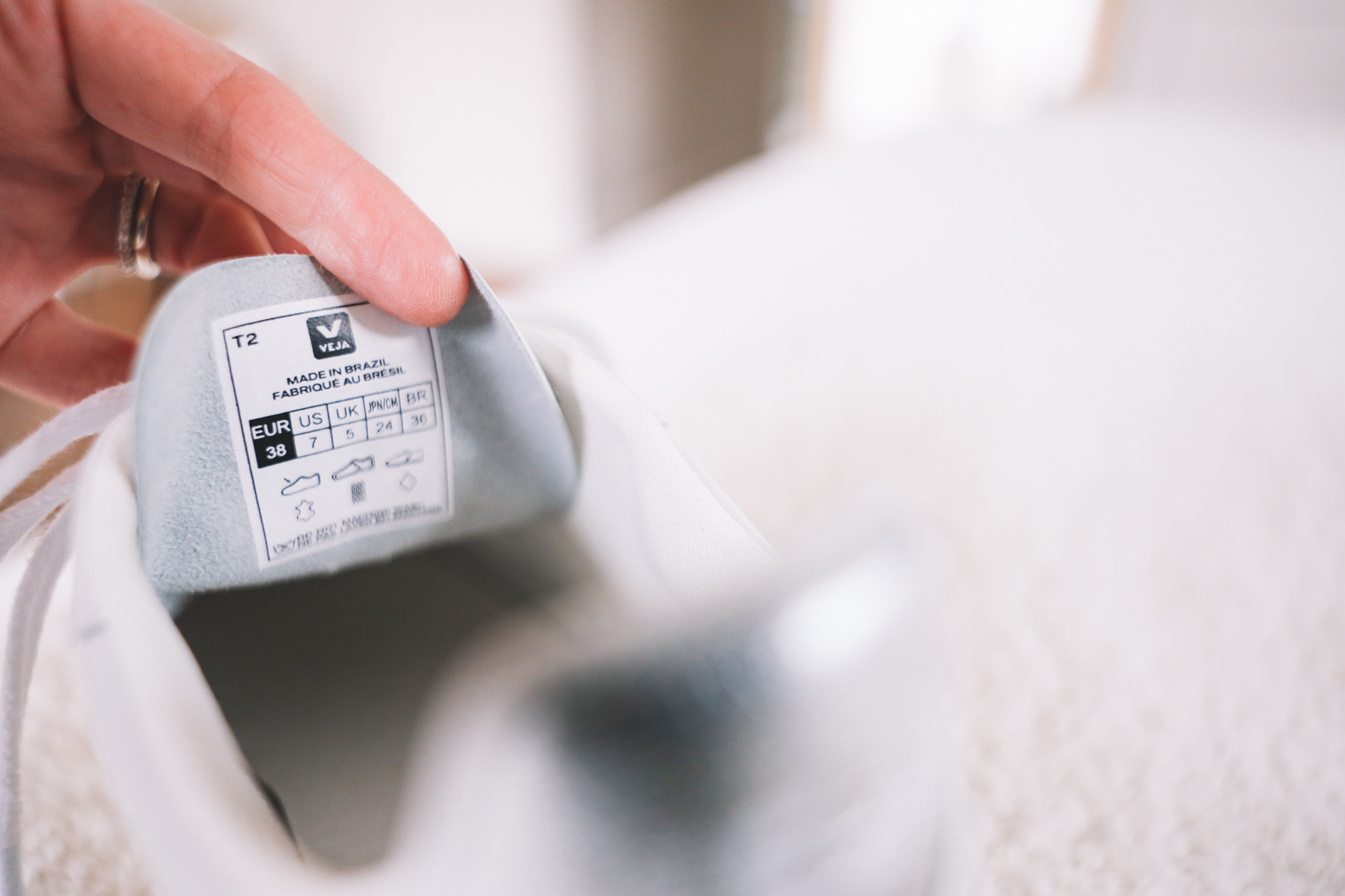 Veja V-10 Sneaker Sizing
Sizing
Veja sizing can be tricky, and unfortunately varies from style to style. Also, the brand does not carry half sizes, which makes it even harder on the ".5" people of the world like myself. ;)
My usual size: True 7.5, but I sometimes order a size 8 in sneakers for added comfort.
My Veja Campo size: EUR 39 (US 8)
Thoughts: In my opinion, the Campo runs pretty TTS. Again, I wear a size 7.5 in flats but will sometimes wear an 8 in sneakers. Because Veja does not carry half sizes, I went with size EUR 39, which the brand says is a size US 8. (Though it can also work for people with size 7.5 feet.) I tried both EUR 38 (US 7) and EUR 39 (US 8), and the 39 was definitely the right call. While they're certainly roomy, they aren't overly so… and don't toes hit (or hurt) like they did in the smaller size.
My usual size: True 7.5, but I sometimes order a size 8 in sneakers for added comfort.
My Veja V-10 size: EUR 38 (US 7)
Thoughts: The V-10s run big. I ordered the EUR 38 (US 7) and the EUR 39 (US 8), and the 39s were flopping off my feet. The 38s were a much better fit. Still roomy, too!
Left: Veja Campo Sneaker / Right: Veja V-10 Sneaker
Comfort + break-in time/tips
It would seem that Veja's biggest criticism is that upon first wear, their sneakers tend to feel stiff, and that the long tongue can dig into the ankle. Below are some workarounds.
The importance or breaking in Veja sneakers at home:
What's important to remember here is that nine times out of 10, canvas sneakers are comfier than leather straight out of the box—even when they're made of the highest quality leather. Such is the case with a lot of Vejas styles; I was frankly horrified as to how stiff the V-10s were out of the box, for example 😆, but they softened up fairly quickly. All it really takes to break in Vejas is wearing them around the house for a day or two before doing any substantial walking. And I have extremely sensitive feet. I also recommend bending them every which way. I know that this is usually the last thing we want to do with new shoes—we want to keep them brand new-looking for as long as possible!—but I promise that it doesn't compromise aesthetics in any way. It just helps the break-in phase along.
This goes without saying, but another option here is buying pre-loved, as those sneakers are likely already broken in. (And typically about a third of the price of new ones.) You can obviously also buy new on eBay!
How to handle the long tongues:
Do a quick Google search and you'll find lots of complaints about Veja's long tongues that can dig into ankles. A quick solution is to simply move the tongue to the outside of the sneaker. When I first read about this, I assumed it would look ridiculous. But now I take note when I see people wearing Vejas around Chicago, and I notice the pushed-over tongues all the time. I too wear mine like that and have never had an issue with my ankles! Another option is to have the tongues cut down by a cobbler. ( If you're in Chicago, I recommend Village Cobbler on Armitage in Lincoln Park.) I've yet to do that, but I might!
Top: Veja Campo Sneaker / Bottom: Veja V-10 Sneaker
Why to leave the top two holes unlaced:
Trust me on this one. Do not thread the shoelaces through the top two holes. (See above photos for reference.) First, it looks better without them laced up too high. Think of it as a button-down shirt; you probably don't button it all the way up to your neck, even though there are available buttons and holes! Second, you want the top part of the sneaker to bend with you, and leaving the top holes unlaced aids in this. (Another tip would be to not thread the laces through the tongue, as you want the option of moving the tongue to the side.)
Campo comfort review: By far the comfiest. The v-10s arrived first, and like I mentioned before, they were really stiff out of the box. The Campos were a dream in comparison. They also seemed to offer more padding around the shoe and more cushioning in the footbed. (Note that this makes them a lot warmer than the V-10s, too. I will totally be wearing these during Chicago winters!) Oh, and unlike the V-10, the tongue is padded. That helps a lot! I did wear them around the house for a day before venturing outside with 'em, but they were good to go a lot faster.
V-10 comfort review: When I put these sneakers on for the first time, I was like, "Welp. These aren't going to work." I was surprised by how stiff they were since their soles looked like they'd be more forgiving than that of the Campos. But not so much. I am, however, amazed at the difference in comfort between then and now! Also, if you're someone who runs hot, I should mention that the V-10s do not retain as much heat as the Campos.
How to clean Veja leather sneakers
My Veja Sneakers are leather, which makes them a lot easier to take care of than my canvas sneakers. I simply use a baby wipe or soft scrub to clean the leather, and then a stain-remover pen to clean the threading. The shoelaces are machine-washable; just throw 'em in with some oxi and they'll come out looking new. (Or buy new ones.) My Campo sneakers do have some suede accents, and I've yet to need to clean those because the suede is neutral and therefore dirt isn't too noticeable. But some basic suede cleaner should do the trick.
Kids' sneakers
I bought my daughters the Veja Esplar sneakers in gold metallic, and they're both in LOVE. Emma, my oldest, complains about her feet hurting all the time—and not a single complaint about these. (A nice little surprise considering Veja adult sneakers take some time to break in!) The velcro means she can put them on herself, and the gold metallic color looks lovely with play clothes and dresses alike. Both girls can't get enough; they call them their "princess sneakers." In terms of sizing, I'd say they run a tad small. I went up a size for each of my girls. (But it was Lucy, my toddler, who needed the extra room the most—probably because toddler feet aren't as slim as little kid feet. Welp, that was a weird sentence I just typed, haha. She's a size 7.5, and we went up to a size 9 for her. As you can see in the photos, we can still only get the velcro halfway across her foot. Still so cute, though!)
Mens' sneakers
My husband, Mitch, has not yet tried Vejas. But I did ask him whether he'd wear them, and he said definitely. His favorite is the men's Campo.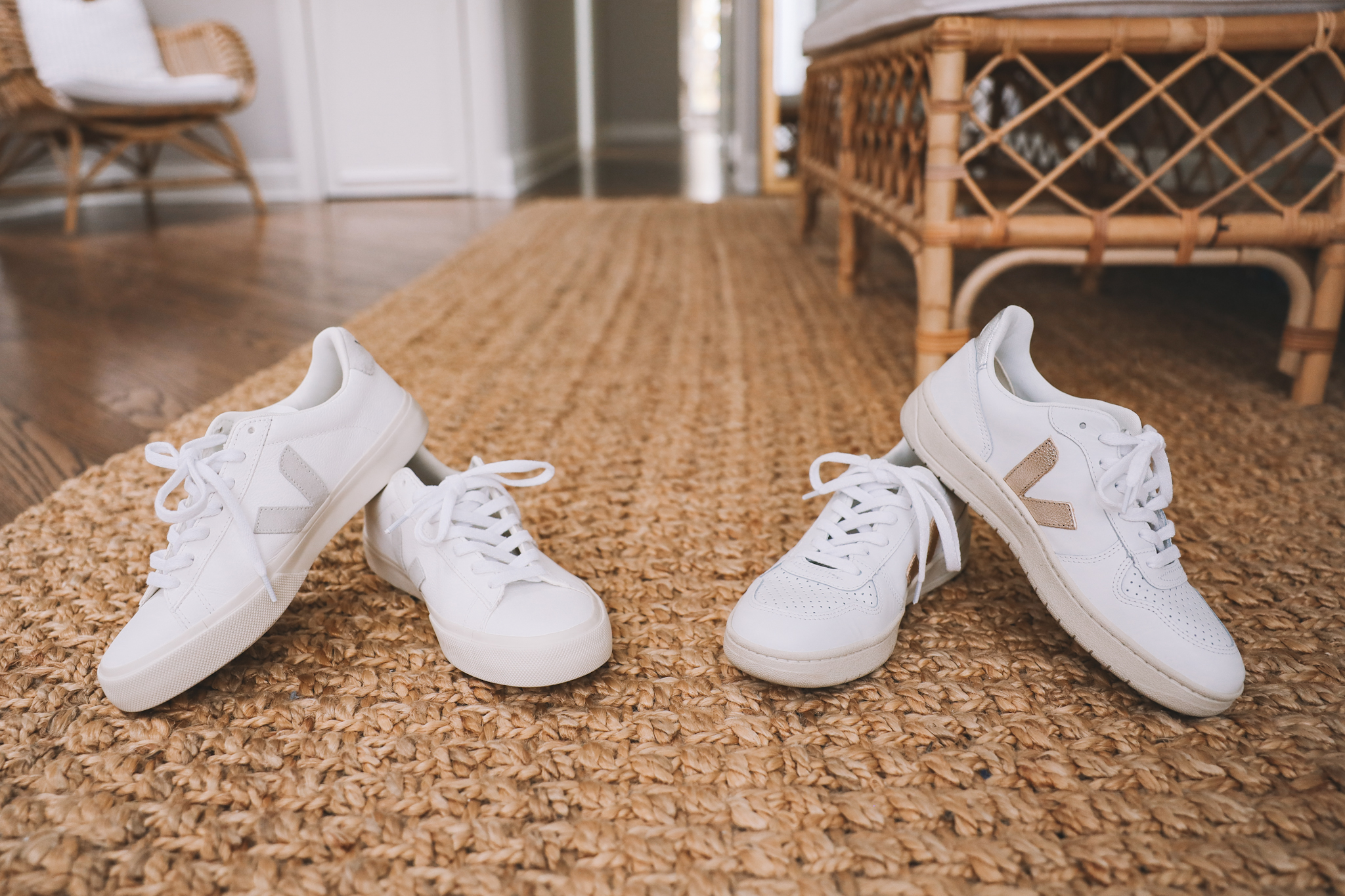 Left: Veja Campo Sneaker / Right: Veja V-10 Sneaker
Verdict
I love my sneakers, and I now understand why Veja has such a cult following. Are they the comfiest sneakers I've ever owned? No, but they're definitely my favorite sneakers I've ever owned. I love their minimalistic design and how they elevate my outfits, giving them a chic-casual French look. 100-percent worth the price tag—especially when buying on eBay! Questions? Leave them in the comment section below and I'll try my best to help!

This post is sponsored by eBay, but all opinions are my own. As always, thank you so, so much for supporting the brands that keep Kelly in the City up and running!