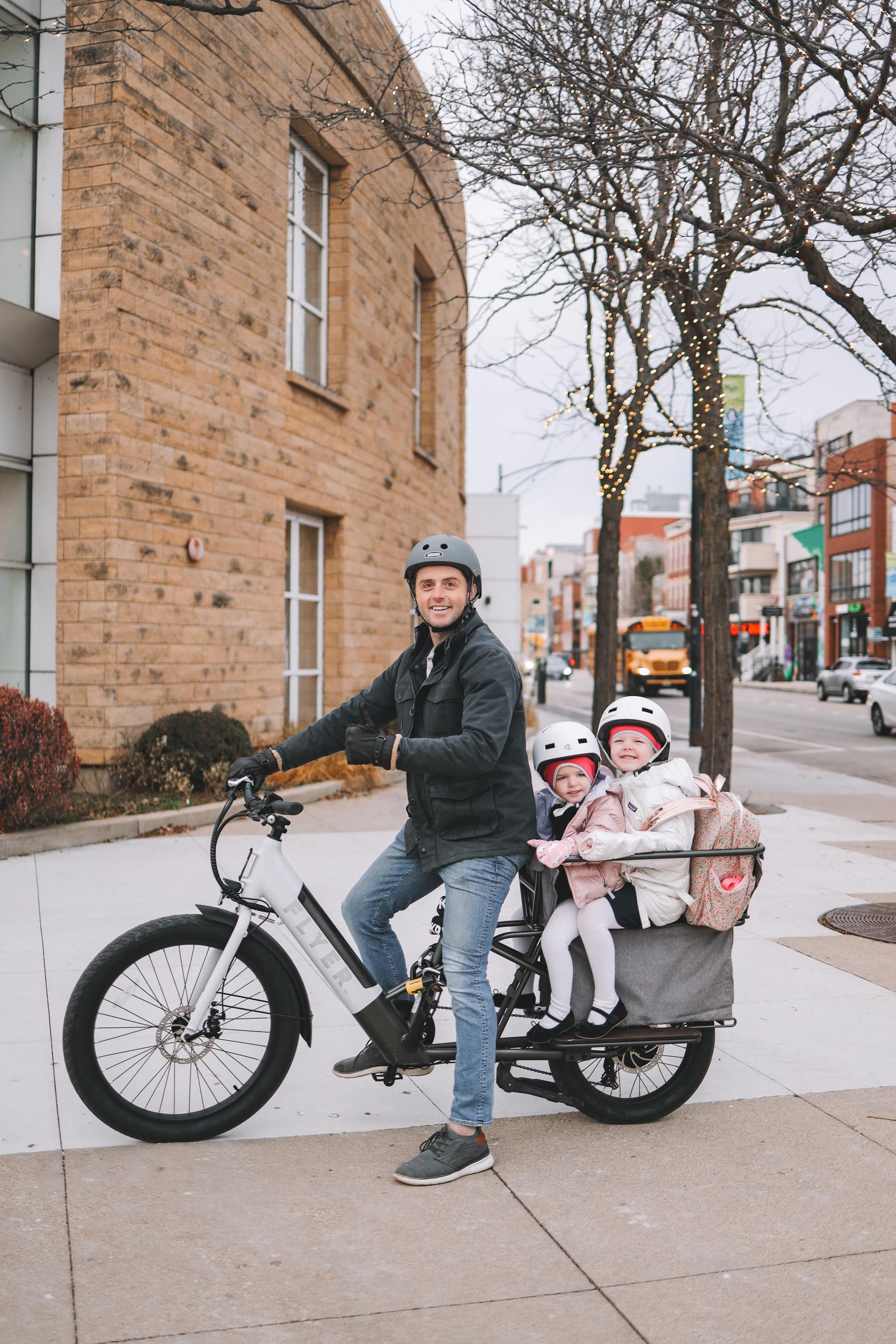 Radio Flyer is offering $500 off their M880 Flyer eBike for the holidays. More details below. (Radio Flyer eBikes are also on Amazon!)
Mitch here!
I'm so excited to share today's blog post because Radio Flyer and their fabulous new Flyer eBikes (also on Amazon) have truly changed our lives. I don't think I'm overstating things to say that this electric bike is the single greatest thing I've ever owned. (And Kelly says the same about hers!)
What are eBikes?
Electric Bikes (or eBikes) are bicycles with battery-powered motors. Of course, pedaling is a great thing for bikes that are used for exercise. (We have regular bikes, too, and use them frequently.) But when we want to use bikes for the same purposes as a car—getting places quickly and transporting people/stuff, for example—it's sure great to have the extra firepower that comes with the electric ones. Even cooler is that electric bikes can actually replace the need for cars for some people, depending on their situation. Additionally, they're a sustainable micro-mobility transportation alternative to gas-powered cars.
Compared to cars, eBikes are way more affordable and nearly hassle-free. You don't have to deal with drivers' licenses (good for Kelly, haha), insurance, city stickers, or parking tickets. You just get on your bike and go. There's no true traffic. No circling the block for parking. No expensive mechanics appointments. No gas stations. No oil changes. No battling to get your kids into car seats in the back of a dirty car. You just jump on the bike, put on your helmets, and go. And the kids laugh and squeal and love every second of the ride.
How we use them + why they've changed our lives
We've been riding our new Flyer eBikes for over a month now and I still cannot wrap my head around how life-changing they've been.
Like most parents, our days are filled by running to and from school, activities, playdates and sleepovers. It's a lot! But the eBikes make it all so much more enjoyable. We're outside, experiencing the city and interacting with our neighbors. Oh, and I can have my girls to school in under five minutes on the back of my FLYER eBike. FIVE MINUTES! Round trip in under 10. Drop-off and pick-up used to take forever on foot, on (regular) bike or in a car.  And it was a battle. Now, though, we're there in a flash—and the girls adore it. We rarely have meltdowns anymore while getting out the door because Lucy is excited to get on the bike.
We're lucky enough to live in a dense city with nearly unlimited places to experience, and these bikes have also increased our exploring range. Unless we wanted to get in the car (such a hassle in the city!), we used to be limited by the maximum possible walking distance with a stroller or by places close to the subway. Now, though, we go anywhere we want and have a blast while getting there. And thanks to some expert planning by Kelly, we're even comfortable doing so in the colder weather! (See below for her cold-weather biking essentials.)
There's no other way to put this: They've made us a happier family.
Safety
When Radio Flyer first sent us our eBikes, we were often asked by friends and family, "Is it safe?!"
And our truthful answer has always been, "We feel safer on the eBikes than we do while walking in the city."
As you might imagine, safety was top priority when we made the decision to switch to a more bike-centric lifestyle. In addition to researching and purchasing top-tier helmets, we also did a deep dive on the safety standards for biking with kids in the city.
Before our eBikes, we would need to get two little girls—one in a stroller and one either on foot or on a little pink bicycle—across multiple insanely busy city streets in order to get them around. It was terrifying—especially our "commute" to school—and we'd often have literal nightmares about it. Now, though, the Emma and Lucy are literally attached to me, and I don't have to worry about the danger of one of them accidentally veering off.
We plan our routes out, prioritizing those that are quiet and avoid car traffic, and then quickly and safely getting them across intersections in dedicated bike lanes when the coast is clear. Lastly, we strictly follow the Department of Transportation's bicycle safety guidelines when riding. Signals and all!
In terms of the physical bikes' safety features, they have Tektro lever brakes—the best I've ever used, intelligently working in tandem with the motor to cut off acceleration when the brakes are triggered. The bikes also have headlight and brake lights for improved visibility. We have zero complaints.
Btw: Lucy is 3.5 years old and above average in size, making her is 100-percent well-suited for the Kid and Cargo Carrier. (The sturdy kickstand provides a ton of support so that it doesn't tip over while she's climbing in and out, too.) However, for younger children, the highly rated Thule Yepp Bike Seat (which we used to own!) attaches right onto the carrier. It goes without saying but this is a safety must for younger children.

Radio Flyer eBike options
Radio Flyer is a 100-year-old company founded and based in Chicago. And while you might be familiar with their famous red wagons and bikes for children, Radio Flyer has been absolutely crushing it with adult eBikes as well.
The current eBike marketplace is pretty confusing, with a wide variety of bikes and price points. And as you might have guessed, the cheaper the bike, the lesser the quality—and many discount bike batteries have had safety problems this year. Luckily, our Radio Flyer eBikes are the best on the market. There's honestly no comparison! Their batteries are tested to the highest standards and are proven to be reliably safe. Radio Flyer has an eBike for each adult rider's needs, too. Sure, I'm biased, but I think these eBikes are also the best-looking bikes on the road!
Radio Flyer sells four varieties of eBikes: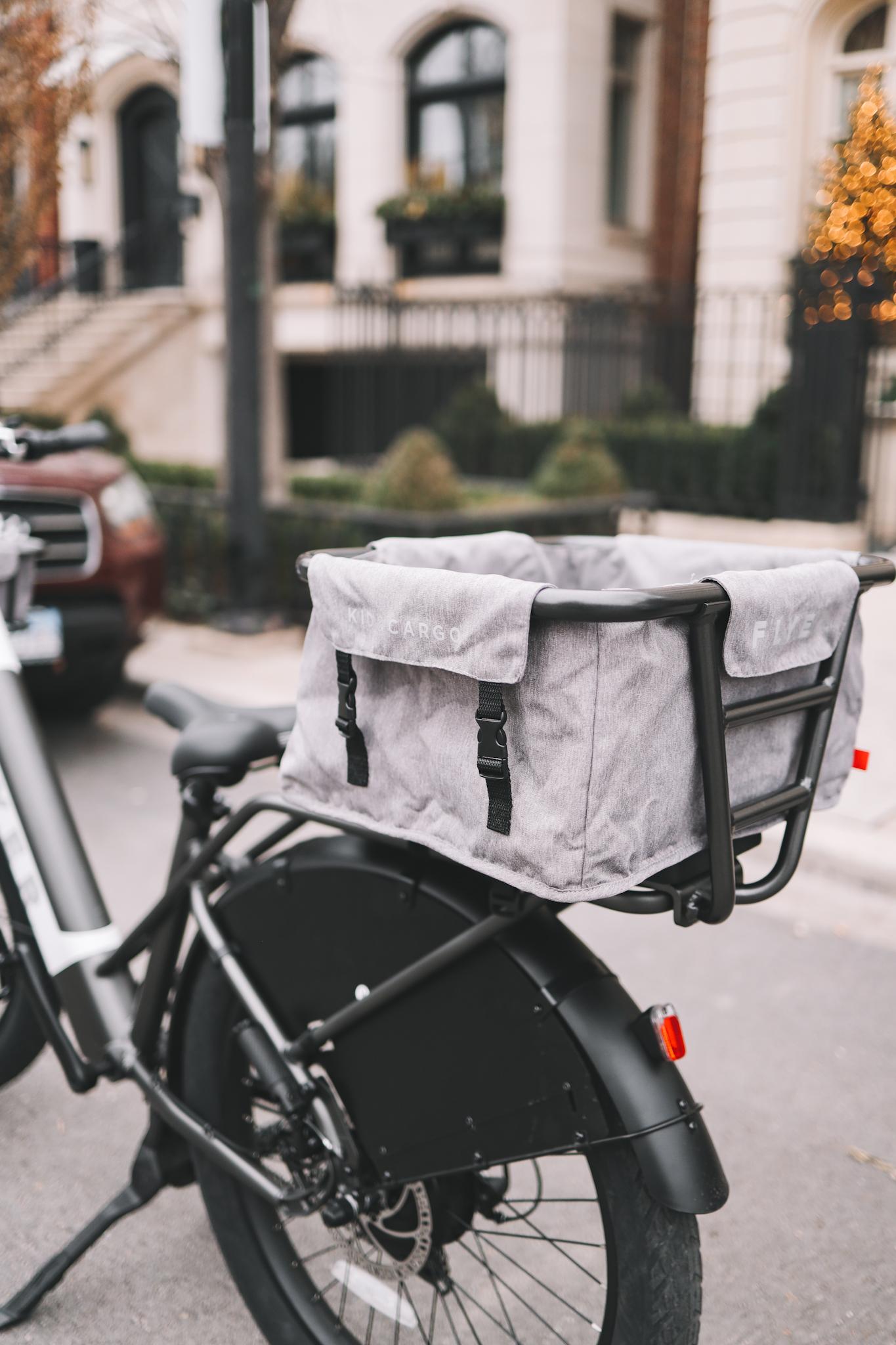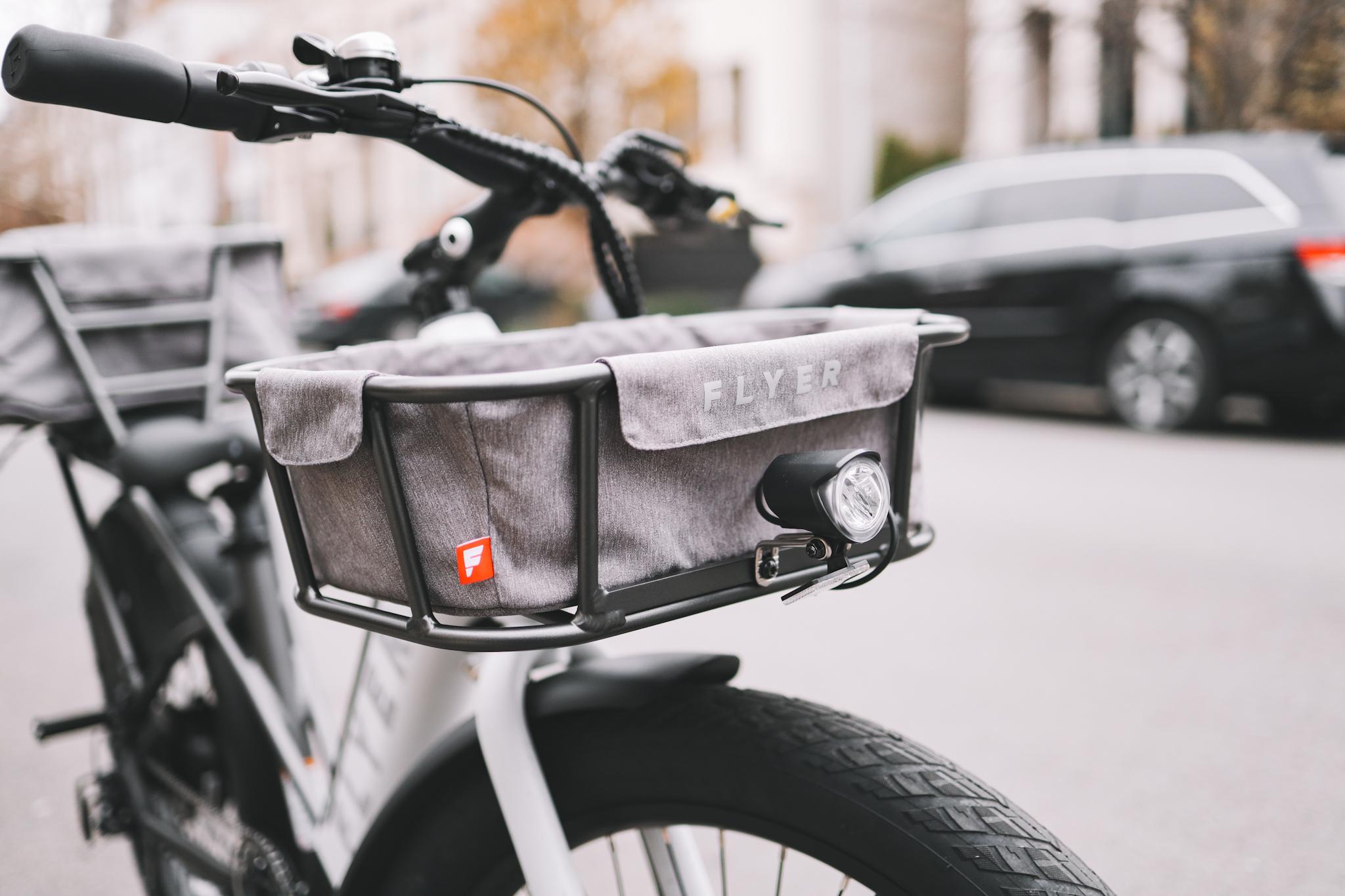 Accessories
Radio Flyer has accessories for nearly every possible use case imaginable with these bikes. Each accessory is custom made for Radio Flyer's electric bikes, and constructed to the highest quality standards. Here's what we're using with our bikes:
Kid & Cargo Carrier for 2 Kids: For use with the Flyer L885, this versatile basket easily adapts to fit cargo or kids. It's turned our L885 into a hauling machine and it easily replaces our SUV for most family outings. I love this thing. I could never be without it ever again. (Copying and pasting this from above, but I should note again that Lucy is 3.5 years old and above average in size, making her is 100-percent well-suited for the Kid and Cargo Carrier. However, for younger children, the highly rated Thule Yepp Bike Seat—which we used to own!—attaches right onto the carrier. It goes without saying but this is a safety must for younger children.)
Kid & Cargo Carrier for 1 Kid: For use with the FLYER M880, this smaller rear basket hauls cargo and unzips to comfortably fit one child. Kelly zips around Chicago with Lucy in tow thanks to this carrier. It's opened up the whole city to her since she doesn't have a driver's license!
Front Storage Basket: Lastly, we highly recommend this front storage basket for all eBikes mentioned in this post. It's an easy attachment that makes the bikes so much more functional. I also think it looks cool.
Locks: These are valuable bikes, and I'm not lying to you when I say that we cherish them. So I took the deep dive on the best locks and strategies for using them. We chose the Kryptonite New York Legend chain lock for its 10/10 rating and 15mm thick chain links. This chain wraps around the seat stem on the bike and you totally forget it's there. The chain lock weaves through the body of the bike and around the bike rack. We also use this Kryptolok Combination U-Lock to secure the front tire. Lastly, we remove the battery from the bikes when leaving them for extended periods and we have wireless tracking devices hidden on each bike because I'm obsessed with them.
Helmets: It took us a while to find helmets that we all loved, but we did it. I wear this Nutcase helmet (which Kelly says is fitting), Kelly wears this Retrospect helmet, and the girls wear these (size small) adult helmets because Larkins have huge heads and they sized out of the kiddo ones long ago.
Cold weather gear: The girls wear these ear warmer headbands or these ski masks, which both fit safely under helmets. They also wear these awesome fleece-lined seahorse unicorn mittens. (Though Emma has recently been refusing to wear mittens because they're "not cool." I'm sure she'll change her tune in January.) Kelly swears by this super squishy and incredibly warm Patagonia jacket for them. It's wildly comfortable and allows them to move (and thus get on and off the bike easily). Kelly wears this J.Crew puffer, this ear-warmer headband, this ski mask when it's really cold, and ski mittens—and she also plans on using these on her handlebars since she has Raynaud's. I wear a Barbour jacket and these gloves. Soon I'll switch to this warmer parka.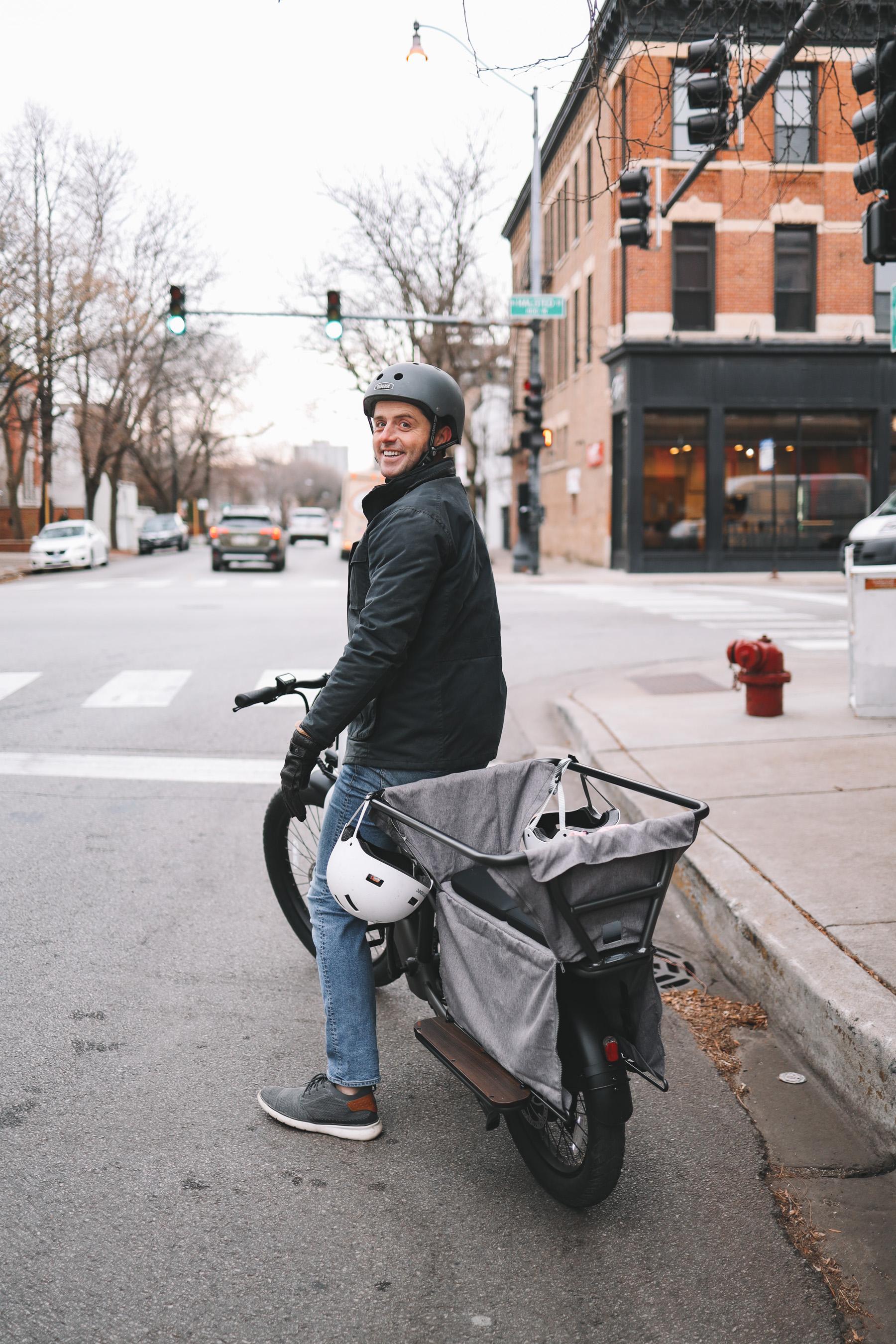 Holiday specials on FLYER eBikes
If you're still reading, you're probably getting the feeling that I should start a fan club for FLYER eBikes. 😉 But man. They provide endless adventure, help create happy memories, and make life a whole lot easier and more fun. They're also the perfect example of a sustainable micro-mobility transportation alternative to gas-powered cars.
Act now and get $500 off the Flyer M880 via this link. Radio Flyer is also offering free shipping. Bikes still arrive in time for Christmas, too!
…and as always,
Mitch. OUT!
Thank you to Radio Flyer for the best gifts EVER!