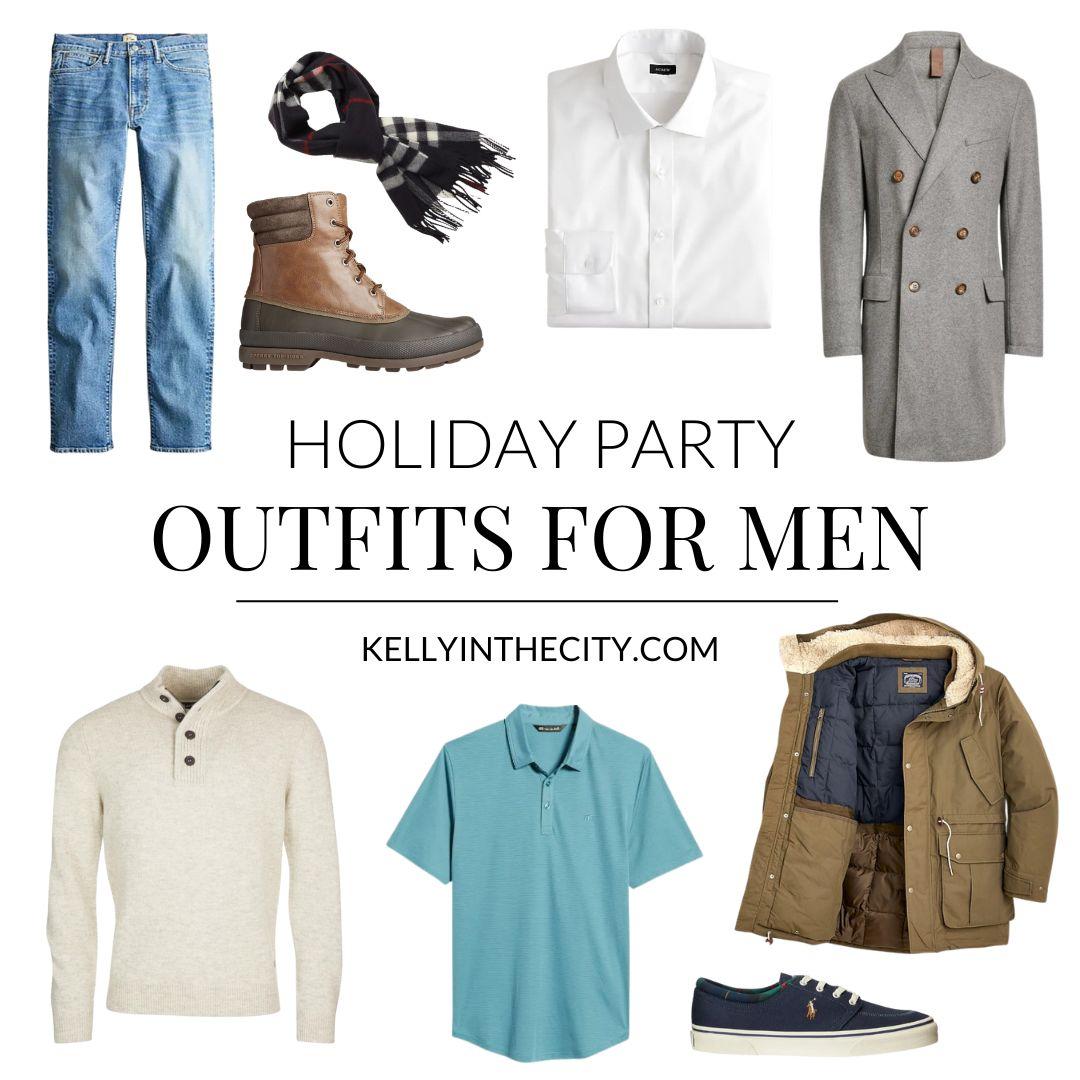 Putting together an outfit is always fun, but there's something extra special about styling party outfits for the holiday season. It's the perfect time to show of your personal sense of style with all your friends and family. So, show them just how unique your fashion sense is!
With so many festivities going on around the holidays, it's a good idea to have several outfit ideas in mind, so you're prepared for every occasion. Heck – some days you might even be hitting two holiday parties, and you might need a quick wardrobe change. It happens!
6 Holiday Party Outfits For Men
The thing is, this can often be more difficult for men, who find that dressing for holiday parties isn't exactly as fun as us ladies make it seem. To help all you couples out there this holiday season – especially all you gals who enjoy helping your significant other pick their perfect outfit – I'm sharing a round up of men's party outfits that work for holiday festivities. No matter what type of holiday party you plan on attending this year, there's an outfit here that's perfect for the man in your life. 
Pullover Sweater, Corduroys, And Boots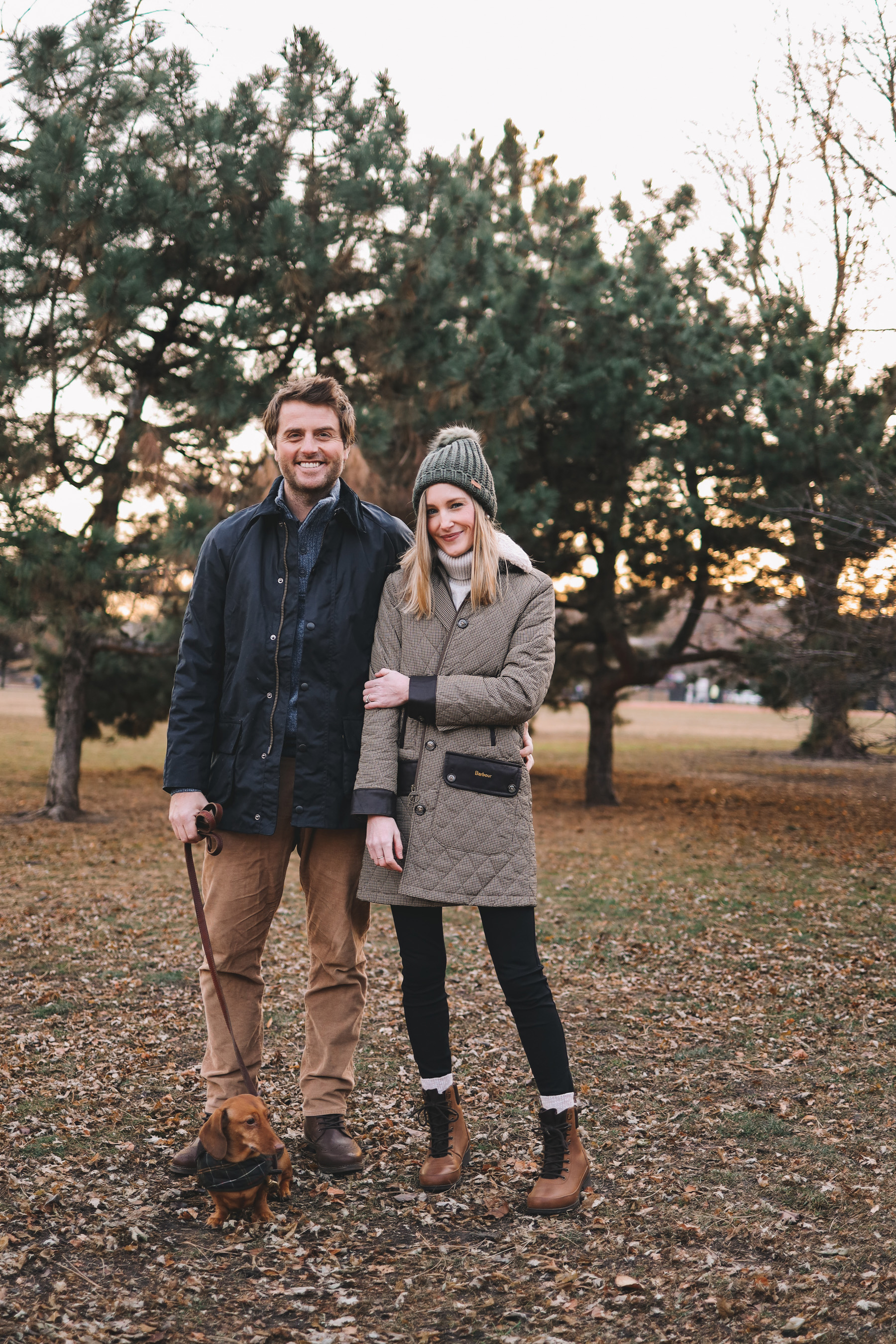 Bristol Waxed Jacket / Pullover Sweater (sold out but similar HERE) /  Corduroys / Boots (sold out but similar HERE)
Who says you have to sacrifice comfort to look stylish? For this look, I styled a tailored waxed jacket from Barbour with a classic pullover sweater, tan corduroys, and dark brown boots. This casual holiday outfit is perfect for nights out in frigid temperatures, thanks to the unbelievable warmth of the Barbour jacket. This is a classic, warm, layered look that any guy can pull off.
Parka, Flannel, Jeans, Duck Boots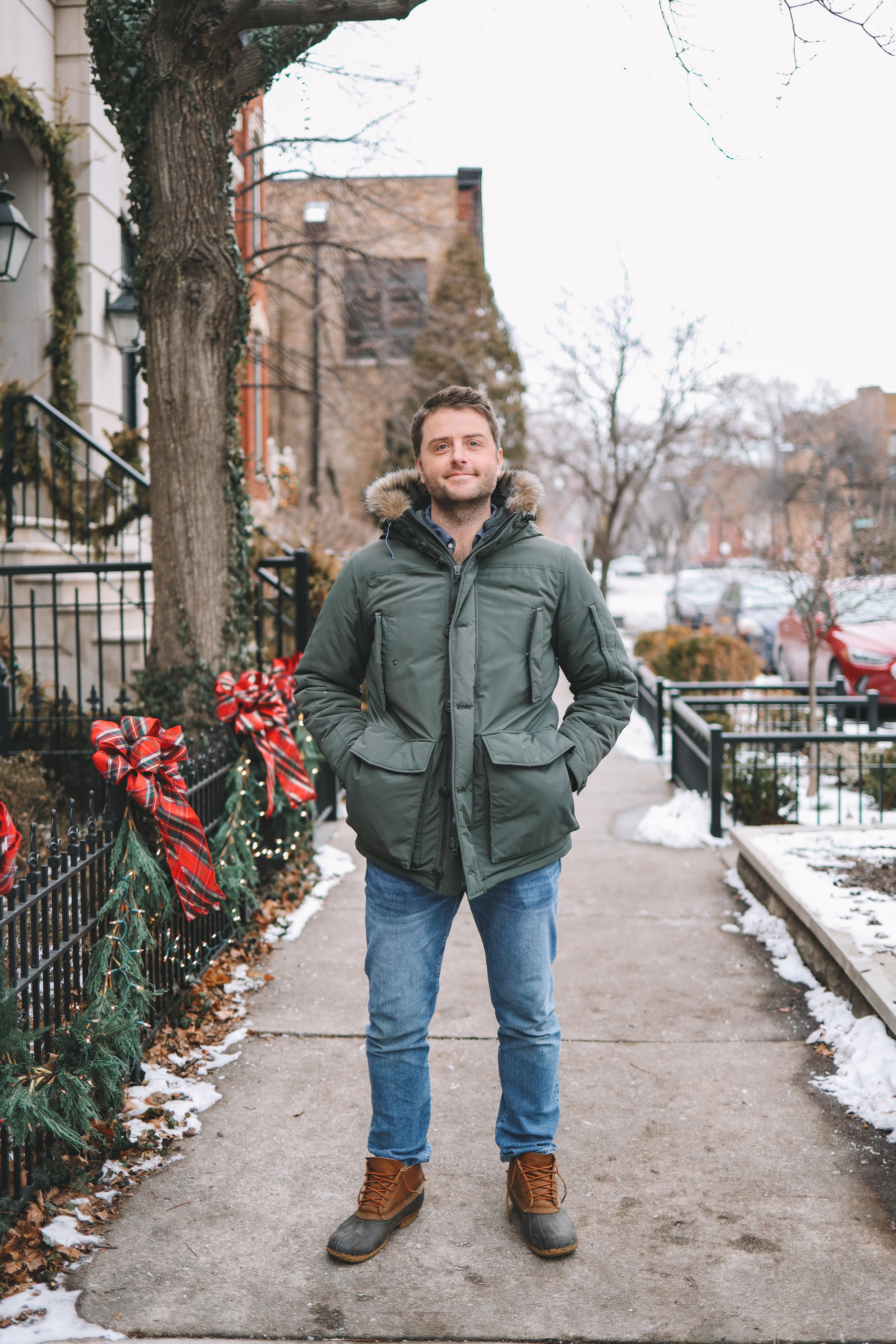 J.Crew Parka (sold out but similar HERE) / Barbour Flannel / Jeans / Duck Boots
For a super laid-back holiday get together with friends, particularly one that may involve spending a good amount of time outside, consider this outfit. A parka is a great way to stay warm even in the worst winter weather. And when you pair it with a flannel, you're sure to stay comfortable. Add your favorite pair of jeans and a solid pair of duck boots and you're good to go.
Collared Shirt, Dark Jeans, Polo Sneakers
TravisMathew Cotton Blend Polo / Mitch's Dark Jeans (sold out but similar HERE) / Mitch's Polo Sneakers (sold out but similar HERE) 
This is another great outfit idea for a more casual holiday party – specifically one that is mostly indoors this time. You really can't go wrong with a nice collared shirt. It's just so classic. For this look, I styled it with a pair of dark jeans and Polo sneakers, but swapped the Halloween-appropriate striped tee for a classic polo. You can throw on your favorite jacket for an extra layer, or keep it cool as is. Regardless, with this look, you look laidback and approachable. 

Navy Blazer, White Dress Shirt, Dark Khaki Pants, Brown Leather Loafers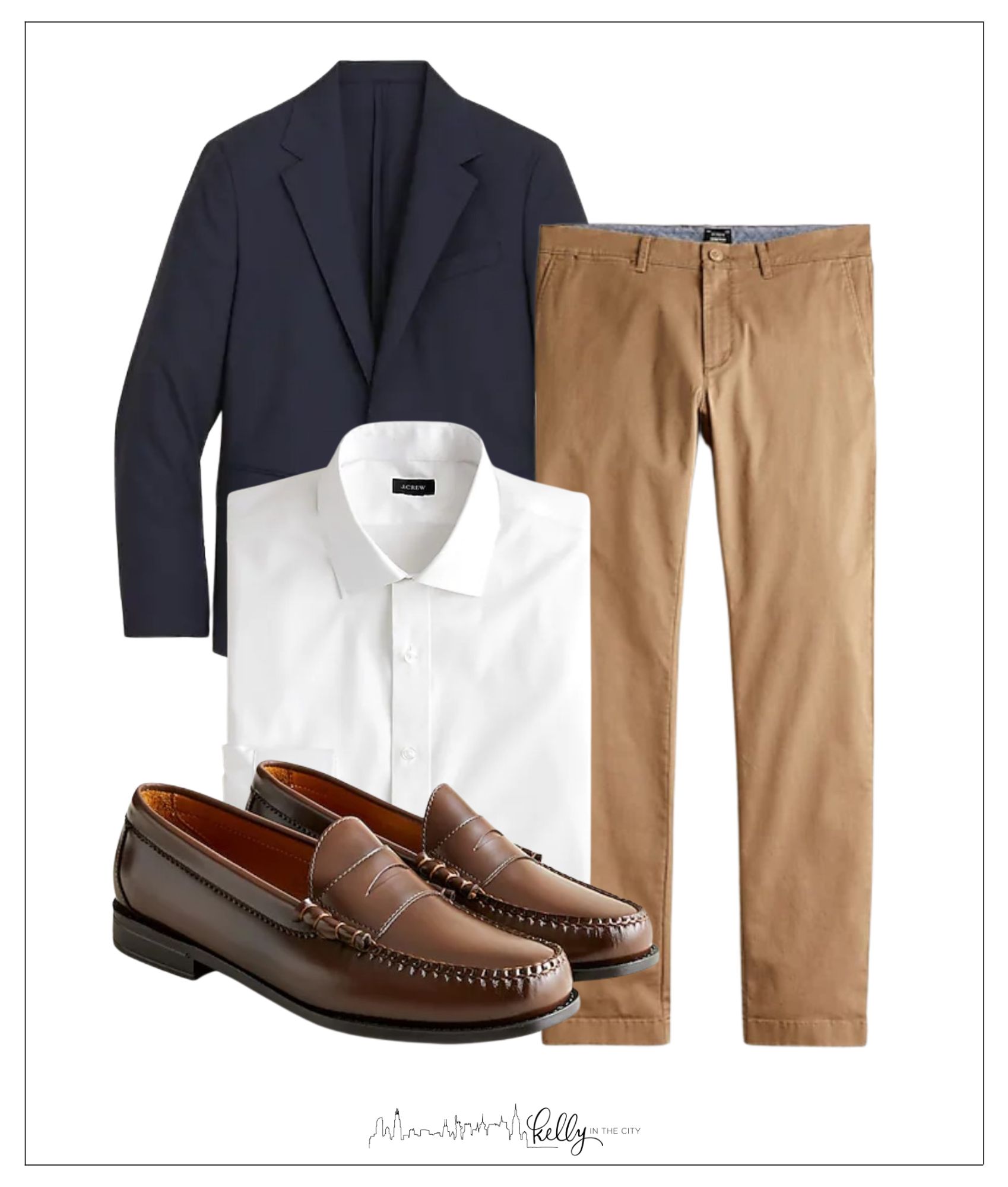 Navy Blazer / White Dress Shirt / Dark Khaki Pants / Brown Leather Loafers
For a more upscale holiday party, you'll want to pull out your favorite navy suit jacket or blazer. I love the way a crisp white dress shirt looks underneath a navy blazer. It's a preppy look that doesn't rely on a tie for a touch of class. So simple, yet so chic. The wrinkle-free, dark khaki pants paired with brown leather loafers take care of that. However, if you feel like this look is missing something, go ahead and add a festive tie or throw on a scarf for a bit of flare. If you're really trying to impress, don't be afraid to break out the cufflinks.
Black Dress Pants, White Cable Knit Sweater, Grey Topcoat, Scarf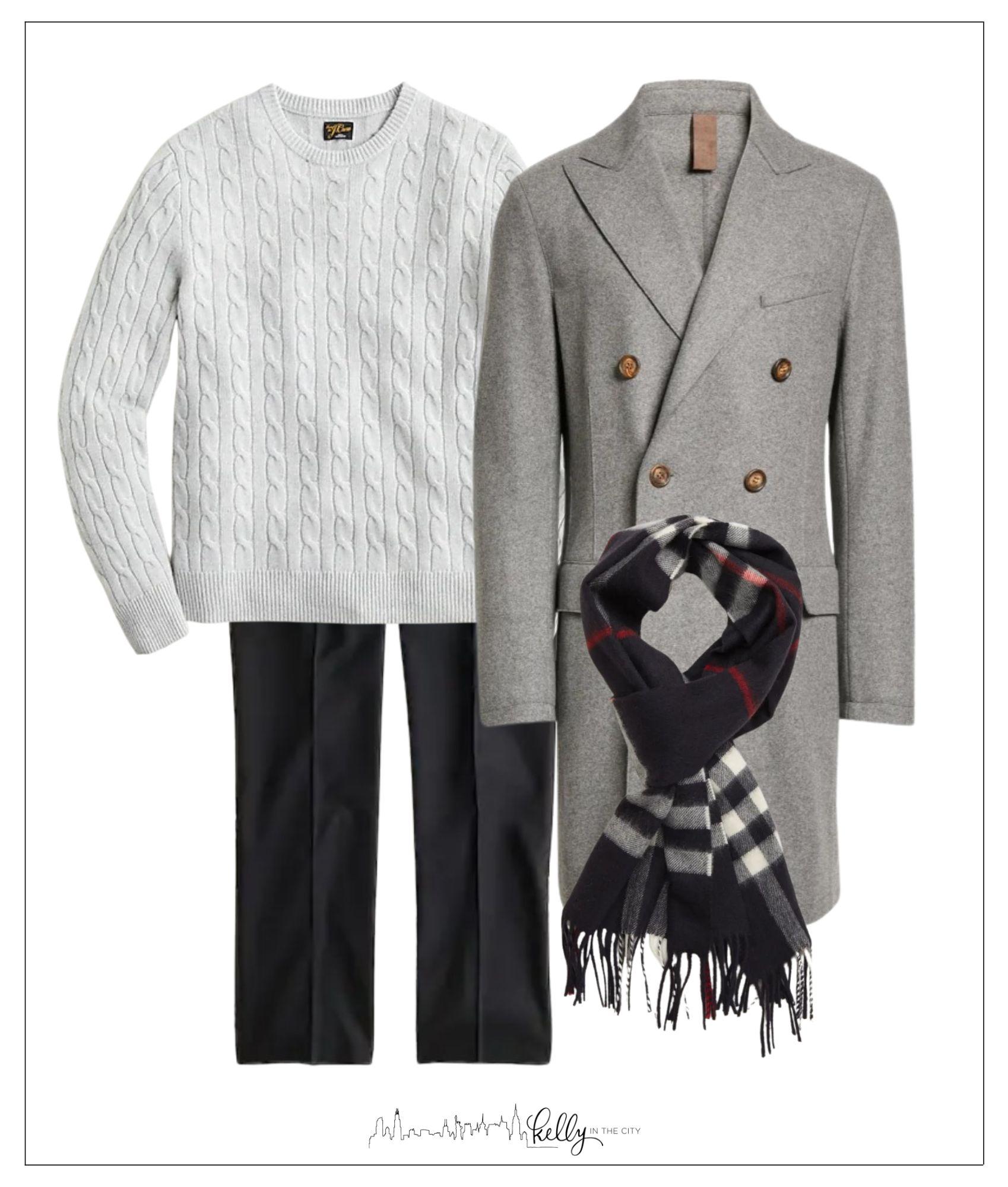 Black Dress Pants / White Cable Knit Sweater / Grey Topcoat / Plaid Scarf
Now here's a look that is sure to impress, which is why I love it for a work holiday party or the fancier holidays parties. A nice pair of black dress pants, a white cable knit sweater, and a grey topcoat is such a fantastic preppy combination. The scarf is the finishing touch that brings the whole outfit together. Plus, it provides that extra little boost of warmth you might need during the colder holiday months. Complete the look with your favorite pair of dress shoes and you're ready to impress. What I love about this outfit is the versatility. You can easily swap the black dress pants for tan pants, or for a darker, edgier look, opt for a black sweater or a black topcoat. 
Trim Fit Solid Wool Suit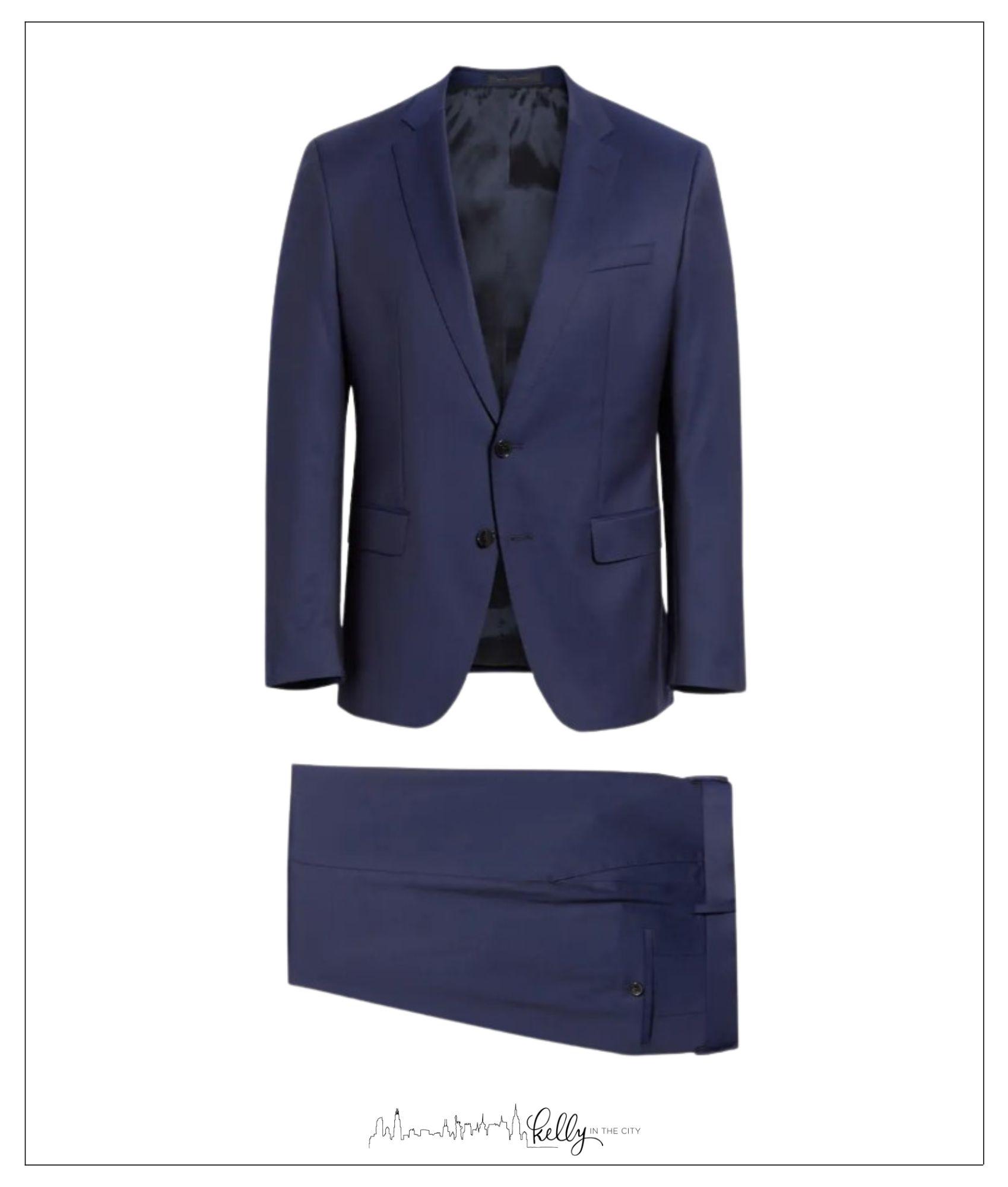 Some holiday parties require you to dress your best. For those occasions, I encourage you to reach for a tailored suit, or one that you feel most confident in. If you can't make it to the tailor or you simply prefer buying a suit off the rack, you can't go wrong with a trim fit, solid wool suit. I love the blue, black, or dark grey. Just make sure you have a crisp dress shirt and clean leather dress shoes to go with it. So cute and so very dapper. 

What's your favorite men's holiday party outfit?
Wishing you the happiest holidays from everyone here at Kelly in the City. But wait – I'd love to hear about the pieces that make up your favorite holiday party outfit for men! Share some of your holiday outfit essentials or head on over to the blog for more outfit ideas and tips on how to dress for any occasion.