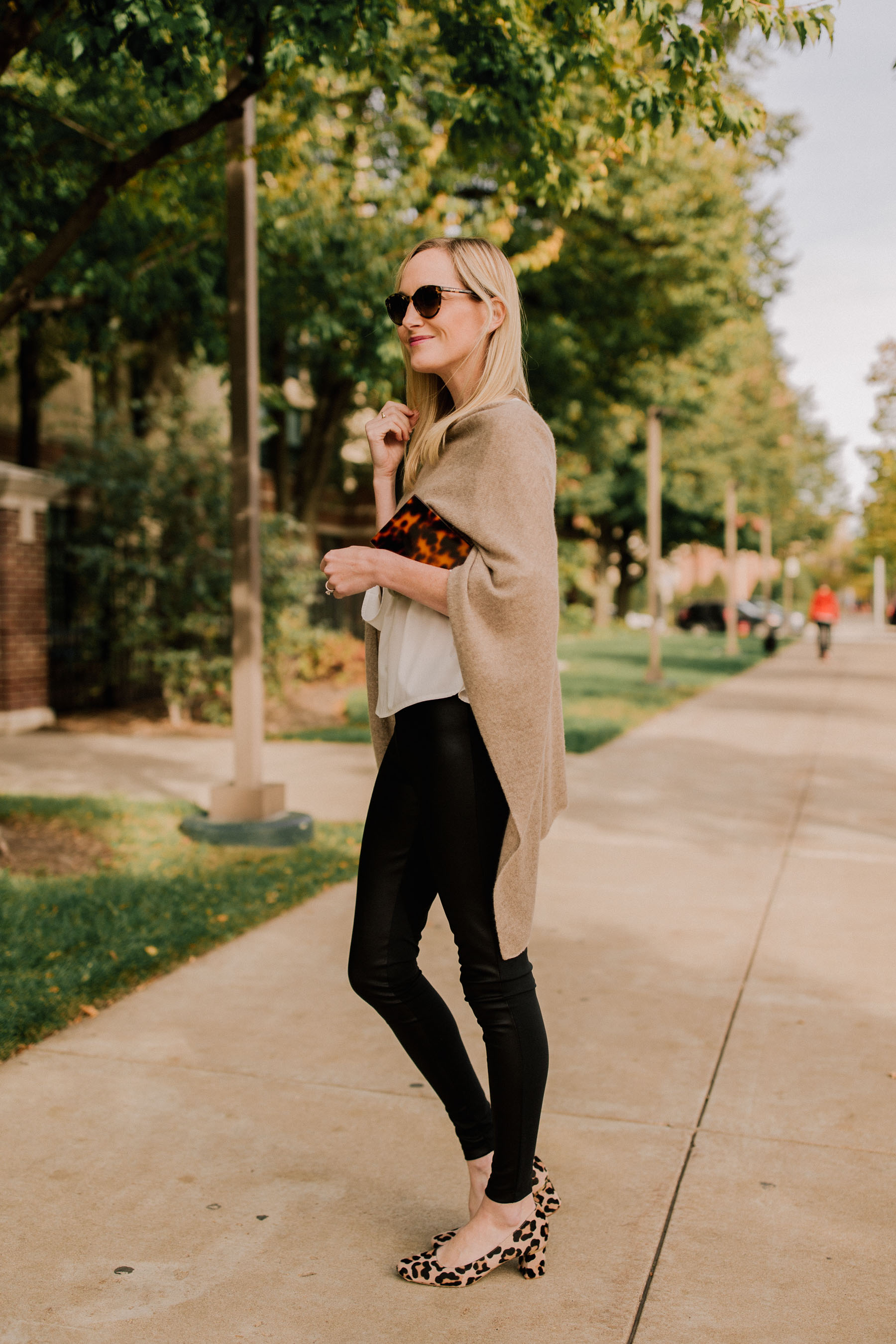 Cashmere Camel Poncho (One size fits all. Other colors here.), Leather Leggings (Size XS. Also love this pair!), White Bow Top (Size XS), and Tortoise Clutch c/o Tuckernuck (PS — Take 20 percent off your Tuckernuck order today through Sunday when you use code "OMG20.") / Leopard Pumps (Also love this pair from Tuckernuck!)
Some exciting news: The Tuckernuck Friends & Family Sale is ON! Now through Sunday, you can take 20 percent off your order when you use code "OMG20." It's such a great time to nab stuff that rarely gets discounted… and now that the weather is finally cooling down, I think we're all looking for for ways to update our fall wardrobes. :)
First, let's talk about this adorable poncho, eligible for the "OMG20" code. It's SO CUTE. In line at the coffee shop yesterday, a woman tapped me on the shoulder to ask me where it was from. On my way to the post office, same thing. And at the gym–yes, I'm the only person in Lincoln Park who goes to the gym to get computer work done, haha–a gentleman asked me where the poncho was from so he could buy one for his wife for her birthday. (Awww.) Kind of crazy! But seriously: it's that good. I throw it over crisp white tops, preppy button-downs, and flannel shirts… and it instantly classes up the look and adds some warmth. Don't you just love cozy, warmth clothing that makes you look somewhat chic?! (Btw, the poncho is "one size fits all," which makes it the perfect gift, too! And it's available in gray, black and charcoal.)
And then there are the leather leggings I'm wearing in these photos. I love that leather leggings are so in style right now. They add a ton of dimension to an outfit, yet they're as comfy as pajamas if you find the right pair. Before owning a pair of leather leggings, I assumed they'd be stiff and hard to walk in. These, though, feel just like ordinary leggings! (For sizing purposes, I'm wearing an XS here. I usually wear a size 25 in jeans and I'm somewhere between 105 and 110 pounds.) Oh! And very interested in trying this pair as well.
Lastly, the tortoise clutch. Holy preppiness. It actually has a chain that tucks inside, so the option to be hands-free is there if you need it. But I just adore this thing. Without a doubt, it's my go-to clutch this year! (Don't we think it could be dressed up for weddings and other formal events, too?!)
Other products to grab on sale with code "OMG20":
Cap toe pumps: They remind me so much of Chanel!
The classic ruffle sleeve gray sweater: Not sure how I haven't worn this on the blog yet, but it's a fall fave.
Navy suede leggings: As you know, I'm nuts about suede leggings this year. And this pair comes in NAVY!
This navy dress: It screams fall. Agree?
The perfect black sweater: And it's SUCH a deal!
A plaid wrap: That iconic print!
This suede top: It's #1 on my list. SO PRETTY.
A plaid scarf: The holidays are coming…
Lysse suede leggings: They're the best, and I wore this pair on the reg last year!
The goes-with-anything white bow top: I'm wearing it in these photos. And yes, Mitch tied all three bows like a champ.
The leopard midi skirt: Do you think I could pull this off?! Because I want to so badly…
Tweed bow mini skirt: I'm dying.
Navy reversible wrap: Two prints I adore wrapped up into one scarf.
This tortoise clutch: Perfection in a bag?
Remember: You can take 20 percent off your Tuckernuck order today through Sunday when you use code "OMG20."
Happy Friday, Friends!
Shop the post:
Cashmere Camel Poncho (One size fits all. Other colors here.), Leather Leggings (Size XS. Also love this pair!), White Bow Top (Size XS), and Tortoise Clutch c/o Tuckernuck (PS — Take 20 percent off your Tuckernuck order today through Sunday when you use code "OMG20.") / Leopard Pumps (Also love this pair from Tuckernuck!)
Remember: You can take 20 percent off your Tuckernuck order today through Sunday when you use code "OMG20."

SaveSave