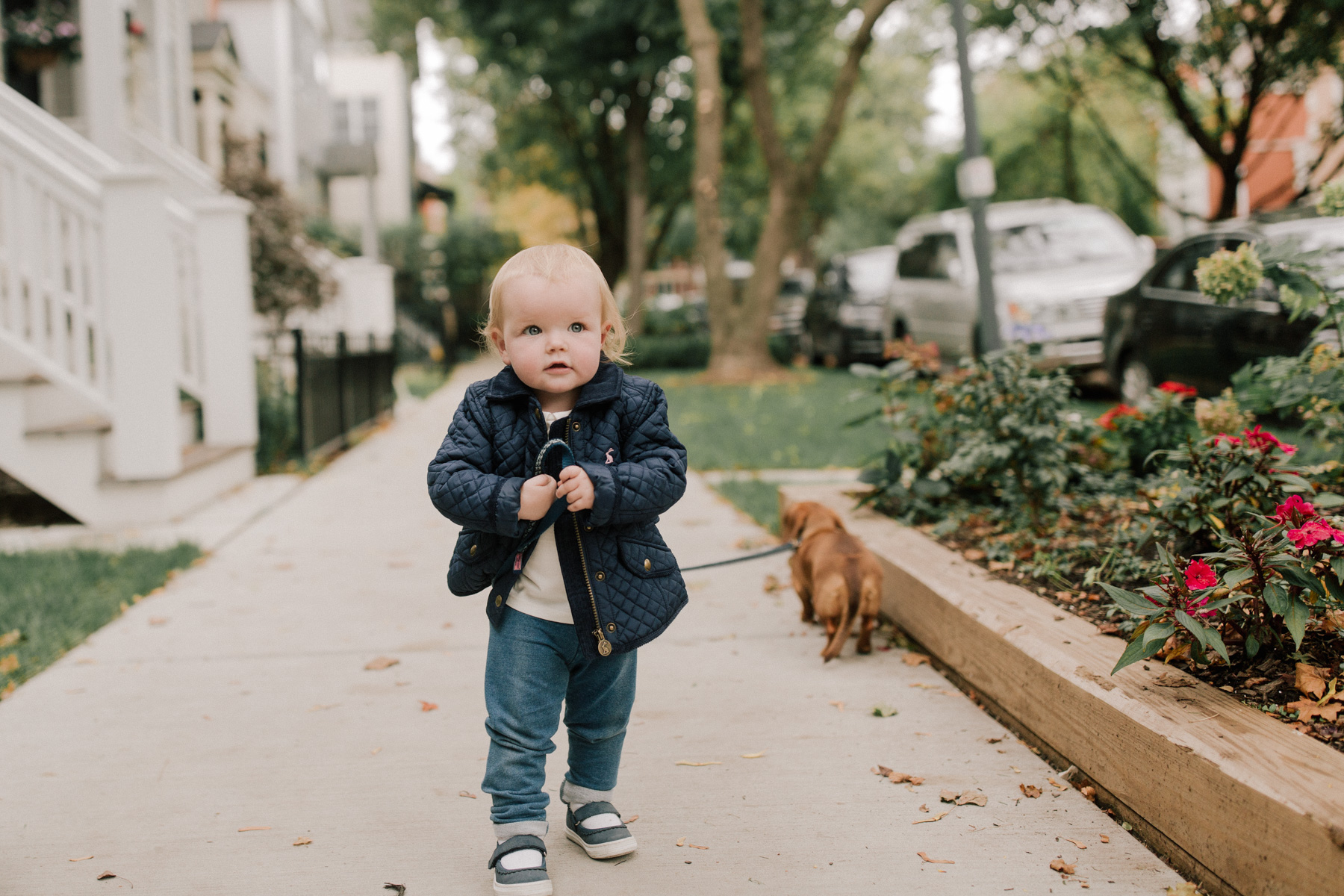 My Outfit: Dachshund Sweater / Suede Booties / Navy Blazer / Leather Bag
Mitch's Outfit: Button-Down / Tweed Blazer / Jeans / Boots
Emma's Outfit: Quilted Jacket (In pink here; Smaller navy sizes here.) / Jean Leggings (All c/o Joules)
Use code "NOODLE20" to take 20 percent off your full-priced purchase.
Over the last week, Mitch and I definitely got caught up in the magic of New York, and we found ourselves almost doubting our decision to move away. Maybe it was because we found it surprisingly easy to slide back into life in the Big Apple. (Despite being parents–something we weren't while we lived in NYC–we instantly felt a sense of comfort, familiarity and ease upon returning.) Or maybe it was because we were, in reality, on vacation–not living our old lives, which were spent working and commuting, and, if we're being honest here, struggling. (Because New York is a hard place to live!)
But here's the thing: it's easy to forget about the stuff that essentially forced us out.
We love Chicago. I don't think we could leave… which you know, because I stress it ad nauseum. It's good to us in ways that New York simply wasn't, and we know, in our heart of hearts, that the Windy City is the right city for us. At least until we're old. Because we're totes retiring in New York. ;)
Still, I think it's okay to miss home. It's hard, but it's okay. So do you guys mind if Mitch and I team up and take today to talk about some little things we ADORE about Chicago in the fall? We're not playing the comparison game; much of this stuff totally applies to NYC. But our favorite season is a nice little reminder that life here is absolutely fabulous. 😊
Joules
Before we start, though, let's talk about our outfits… because oh my GOODNESS. Everything's from Joules, which I actually featured in one of my very first blog posts. ( <– Super embarrassing, but my love for the brand runs deep!) First, let's talk about the dachshund sweater. Dachshund sweaters are hard to find, and this one is perfect. I love the pretty orangey-red color, and I love that the dog looks exactly like Noodle. (Side note: It took roughly 15 minutes to get Noodle to look at the camera, haha.)
And my bag?! It's stunningly beautiful. The leather is gorgeous, and I can't get over how much it holds. While it's not a baby bag, I love it's large enough to hold everything that I need–and Emma needs–for the day. And the tweed blazer! The quality is out of this world, and it's almost more like a jacket, which I love, considering Chicago typically gets pretty cold on the earlier side. As for the navy booties, they're unbelievably comfy (all hail the low heel height!) and they go with 99 percent of my outfits. :)
If you guys have been following along with us on Insta Stories, you've probably noticed that Mitch wears this blazer on the reg. If you too are with a guy whose closet is nearly entirely made up of blue button-downs, this blazer goes with 'em all! I did, however, convince Mitch to try this shirt, which isn't blue but that he's reached for several times this month. :) I love how fall-y it looks, and that it's super soft. Girls get all the soft sweaters; guys should have some cozy clothing, too… right?! Finally, the boots. Mitch had been searching for classic brown boots for fall that are somewhat dressy for the longest time, and this pair looks amazing! They're super warm but he can still wear them to dressier events. Win-win!
As for Emma's quilted jacket, I can't even tell you how many questions and compliments we've received about it. It's adorable, but if you're looking for another size or color, fear not! Joules carries a lot of varieties. Here's the pink one, and here's the navy in smaller sizes. And here are ALL the quilted jackets for your fam. See what I mean?!
Overall, though, Mitch and I are crazily impressed with Joules' quality as well as the brand's classic styles. Over our 14 months of parenthood, we learned that clothing a family is expensive. But investing in styles that are timeless? SO helpful. :) I can't wait to see what the company comes out with for the holidays! (PS: Use code "NOODLE20" to take 20 percent off your full-priced Joules purchase!)
And without further ado…
10 Little Things We Love About Fall
Coffee walks: My ideal fall day would be spent wandering our neighborhood in cozy sweaters and comfy jeans, with pumpkin-flavored coffees in hand. Mitch and I have some of our best talks on these walks, and the theme is always how lucky we are. I love that! -Kelly
Students return to DePaul University: For some reason, Kelly and I always live near college campuses. NYU in Manhattan, Stevens in Hoboken and DePaul in Chicago. It could be an underlaying obsession with youth culture disguising our fear that as we physically depart from campus, we will symbolically depart from our youth, leaving only our regretful memories to bare the brunt of middle-aged mundanity. Or it could be that private schools typically churn out nice neighborhoods. Either way, it's nice to have the students back. The summers get lonely! But don't let this comment prevent me from rejoicing when they leave again in the spring. -Mitch
Lincoln Park Zoo Fall Fest: The zoo has the best fall activities. There are mazes, pumpkin patches, markets, rides, and fall-themed exhibits. Fun for the whole family, and only a quick walk from our house. :) -Kelly
Trick or treaters at our front door: Our front door opens to the street, and while that might not seem like a feature worth mentioning, we LOVE it and are very grateful for it. It's also fantastic for the fall. We currently have no less than 12 decorative gourds on the front stoop. We have two fall wreaths delightfully dangling in the front windows, and from where I sit, I can count nine fall themed candles in the windowsills. So to celebrate our front door, my little family is throwing our Third Annual Halloween party, during which we party with our friends and hand out candy to the cute kids who swing by. (Noodle chooses to hide from the doorbell in the basement.) It's an awesome day. -Mitch
All the front stoops: When it comes to seasonal decorating, I can't get over how "all out" our neighbors go. #frontstoopgoals, for sure. Walking past 'em just makes me happy! I put out a ton of pumpkins this year, but next year, I'm hoping to replace our front stoop all together. :) We'll see, though! -Kelly
Watching the Cubs during the Playoffs: If you're reading this post, you're in the future. But as of "press time," the Cubs are still in the playoffs. There's still a chance that my boys (Javy, Kyle, Kris, Anthony, etc.) can win three games in a row against these super-human Los Angeles Dodgers players, to repeat as World Champs and make everything right in the world. I've watched dozens of hours of baseball in the last week, and I'd love to watch dozens more next week. Though I doubt I'll get the chance. 😭 -Mitch
North Shore wanderings: One of my most anticipated weekends of the fall is our annual trip to the North Shore. I love city life, but it's refreshing to get out of it every once in a while and wander more suburban-like neighborhoods. The North Shore has a lot of charm, and its residents seem to love the fall as much as I do! -Kelly
The Larkin Family Fantastically Flippin' Fabulous Fall Fun Fest: I'm a lucky dude. As a guy who lived most of the last decade separated from his family by about a thousand miles, I fully appreciate that I can jump in the car and be with my parents, brothers, nieces and nephews in a few hours. Our fall tradition involves shoving as many alliterative "F" words in a row and piling into my parents' house for a long weekend full of pumpkins, bonfires, s'mores and touch football. Emma doesn't know what she's in for. -Mitch
Apple Cider. Just. Apple Cider. -Mitch
Dressing Emma: I LOVE having a little girl. I also love how much Emma enjoys dresses, shoes and purses. (Hey. I can't help it if she cries upon seeing a basketball!) But seriously. Little girls' clothing is the cutest, and a huge thank you goes out to Joules for outfitting Emma in the sweetest looks this season! 
What little things do you love about your neighborhood/town/city during the fall?!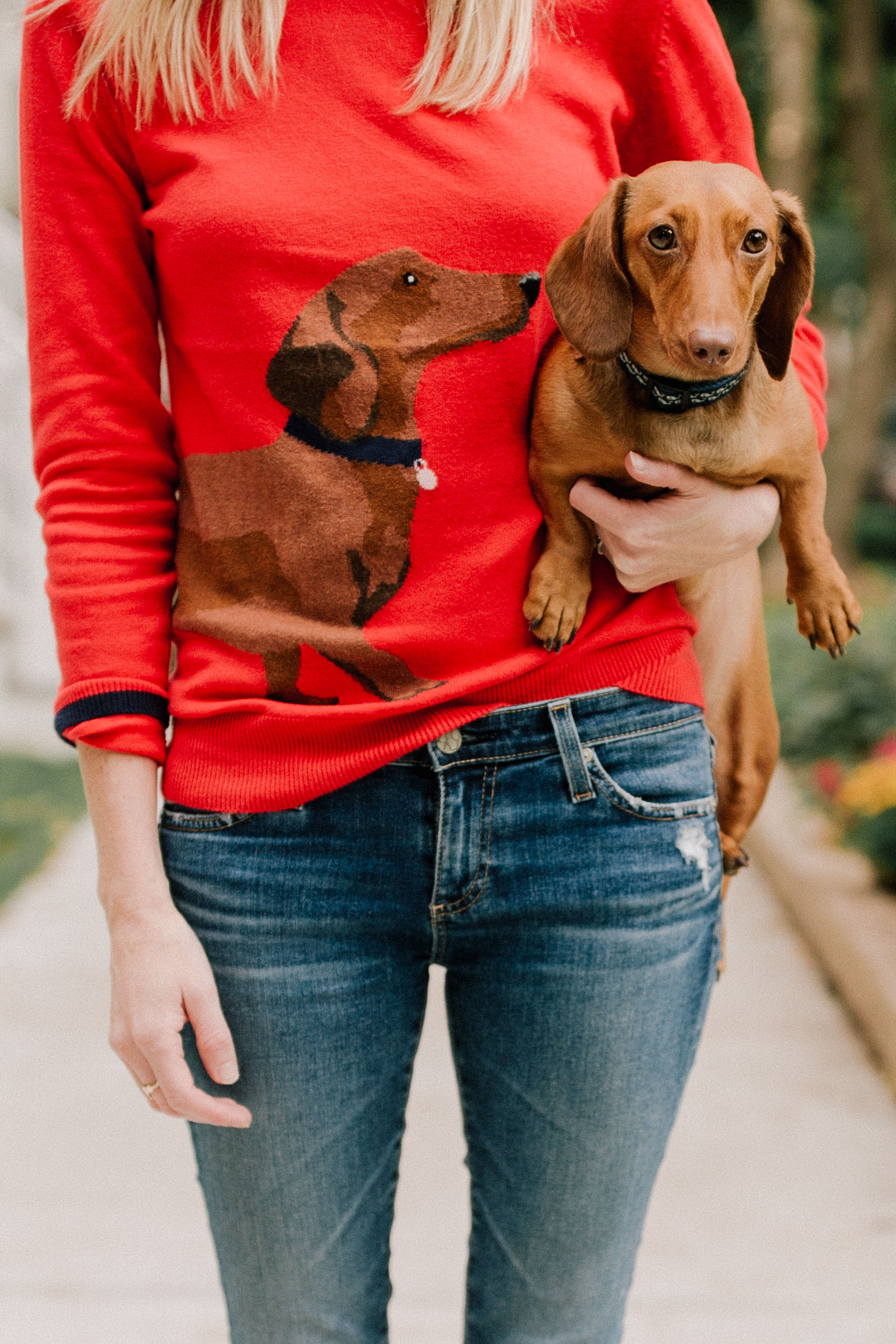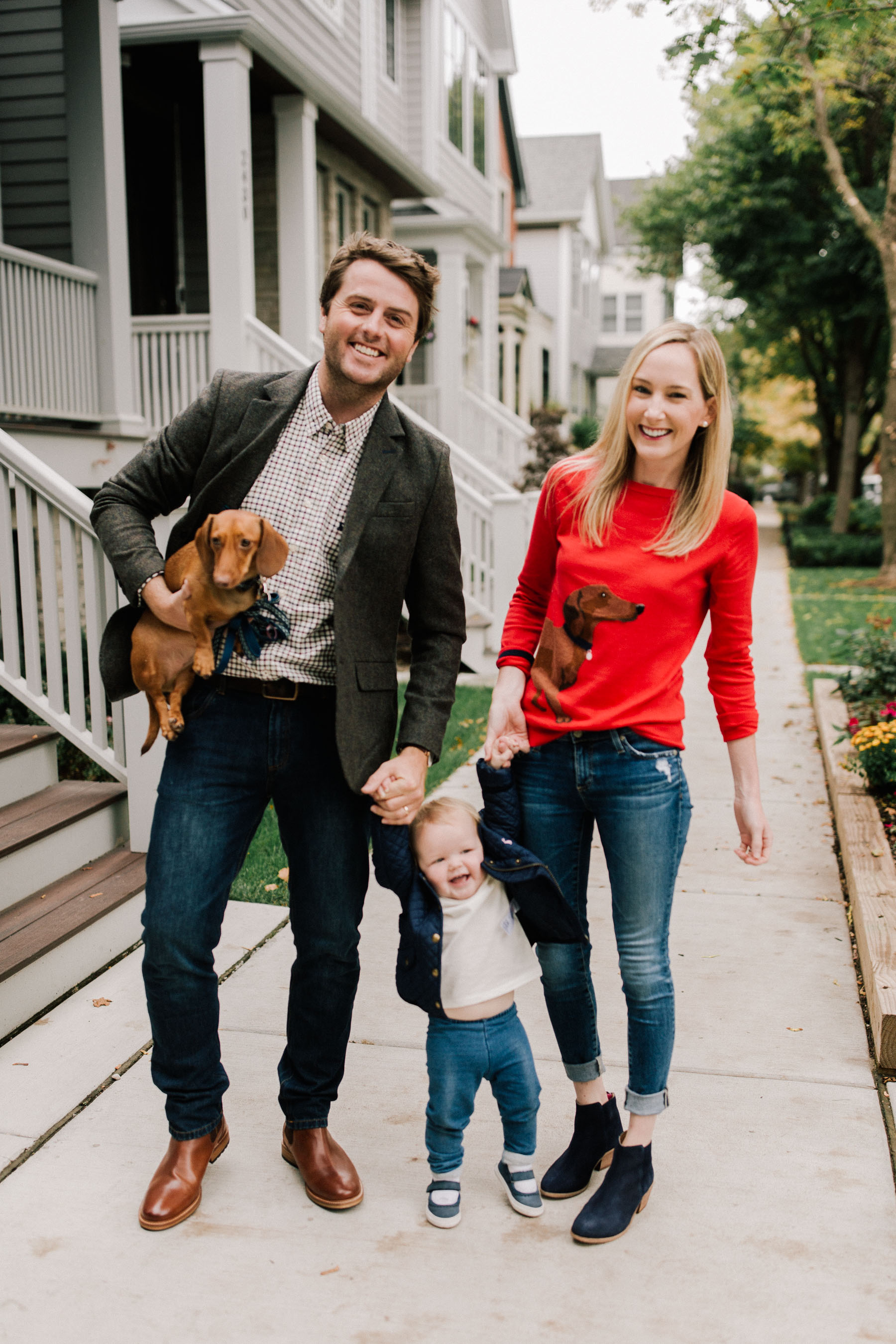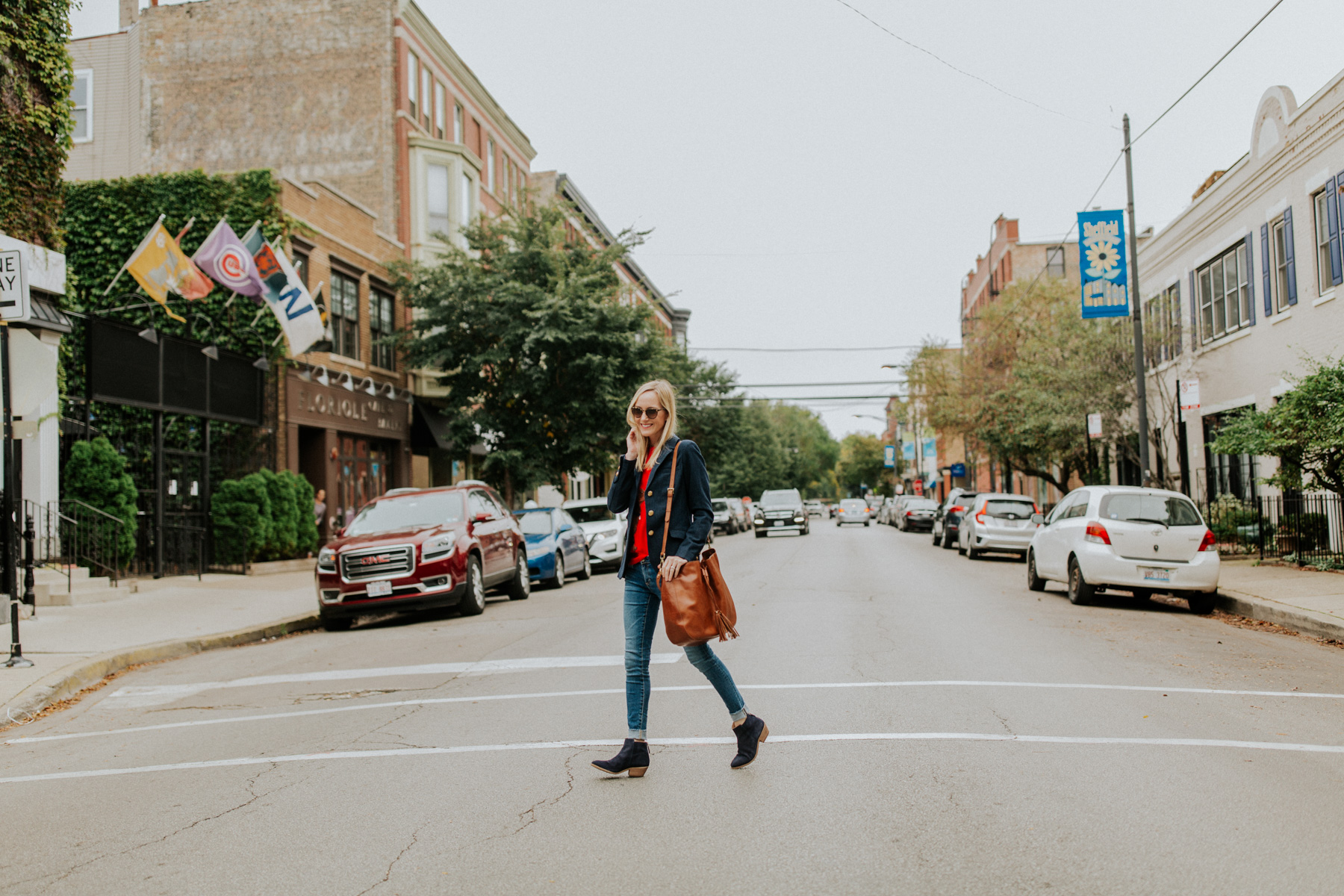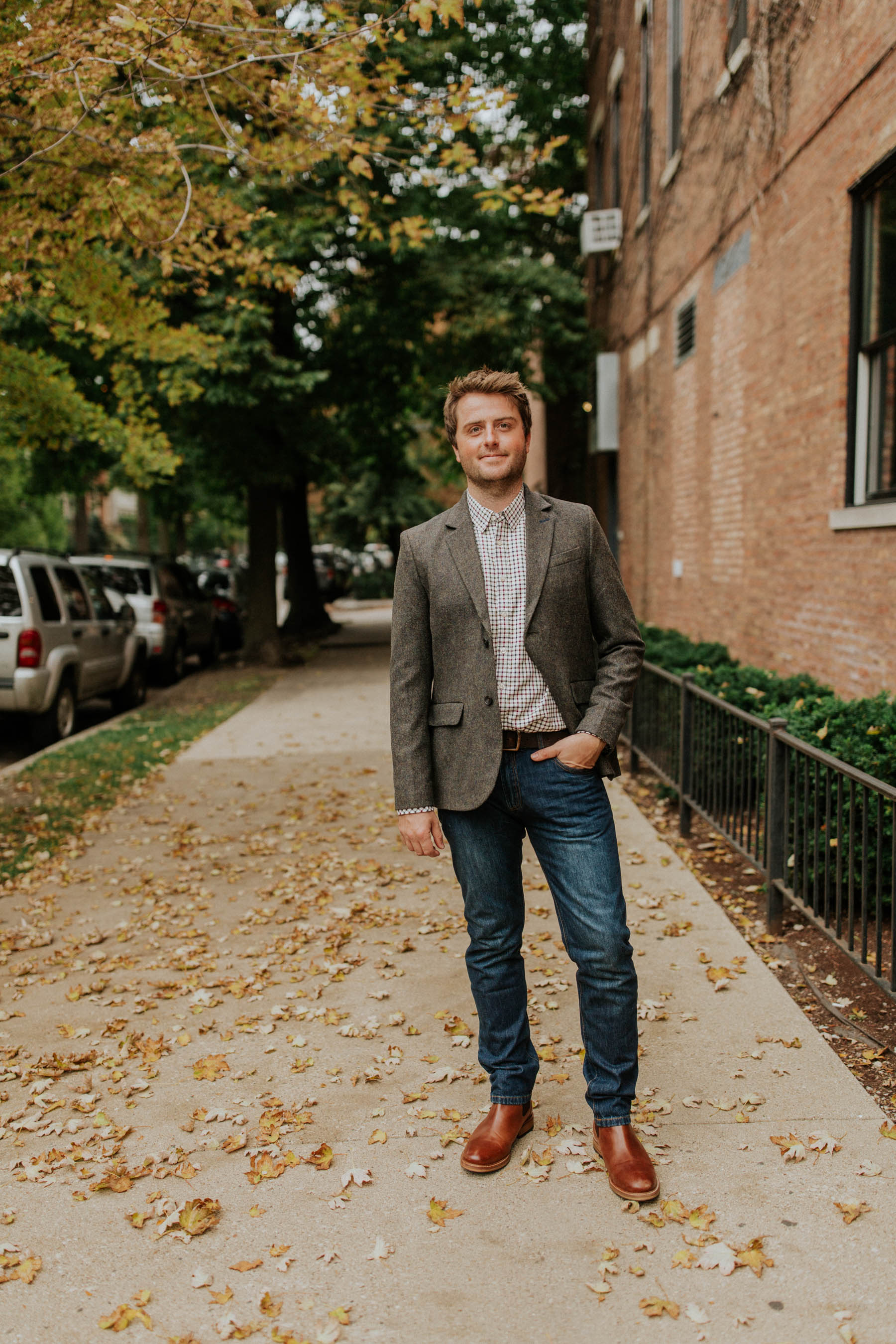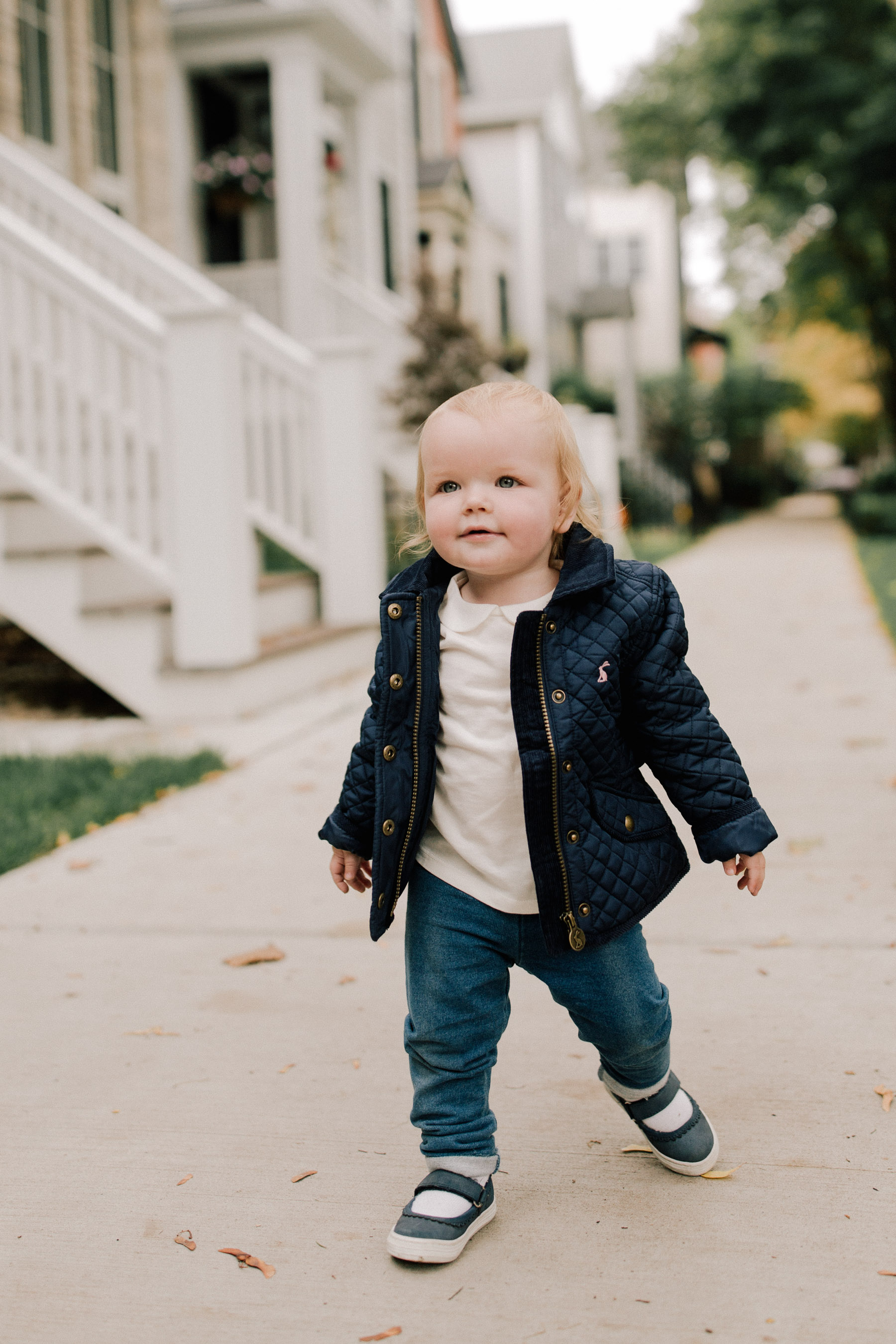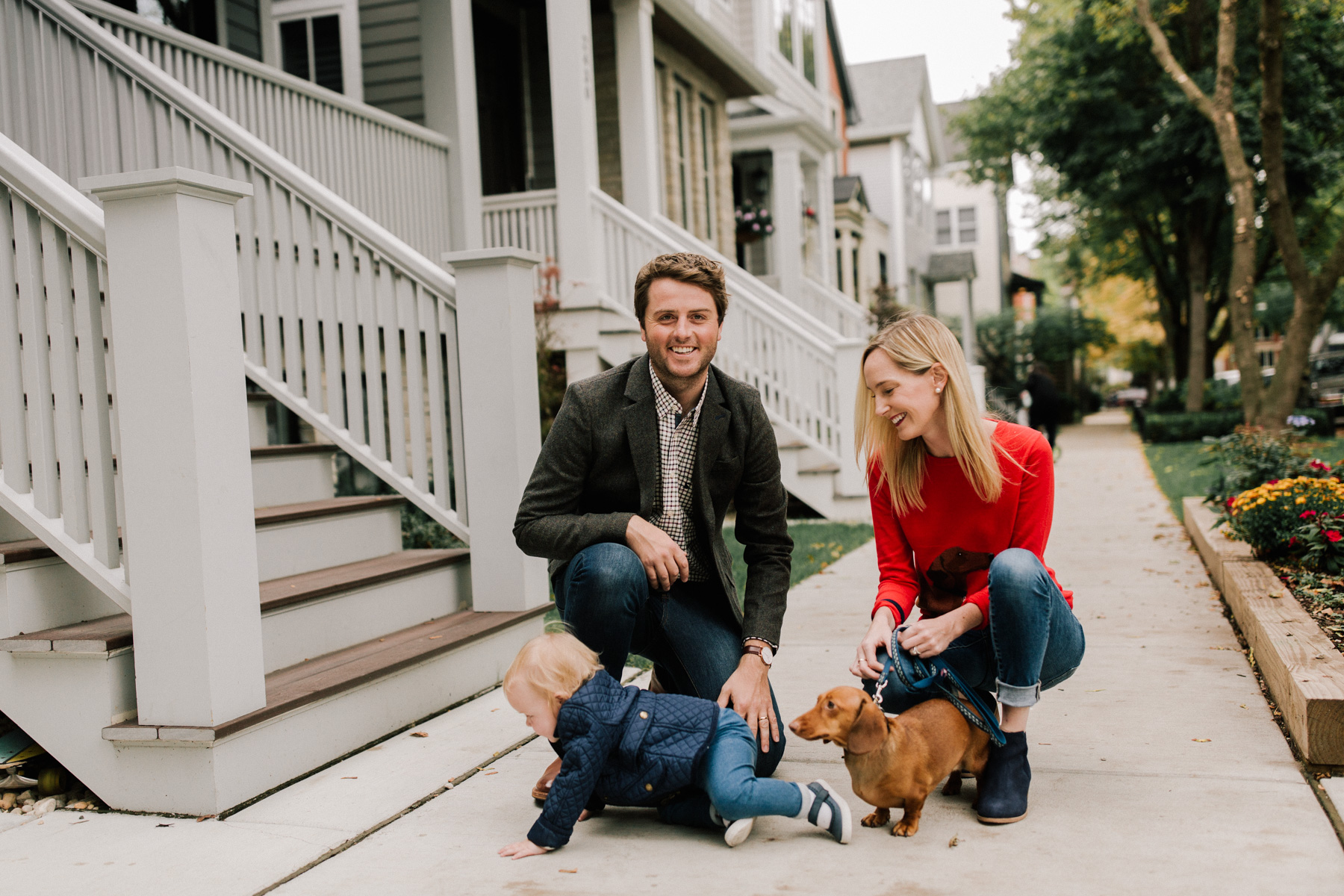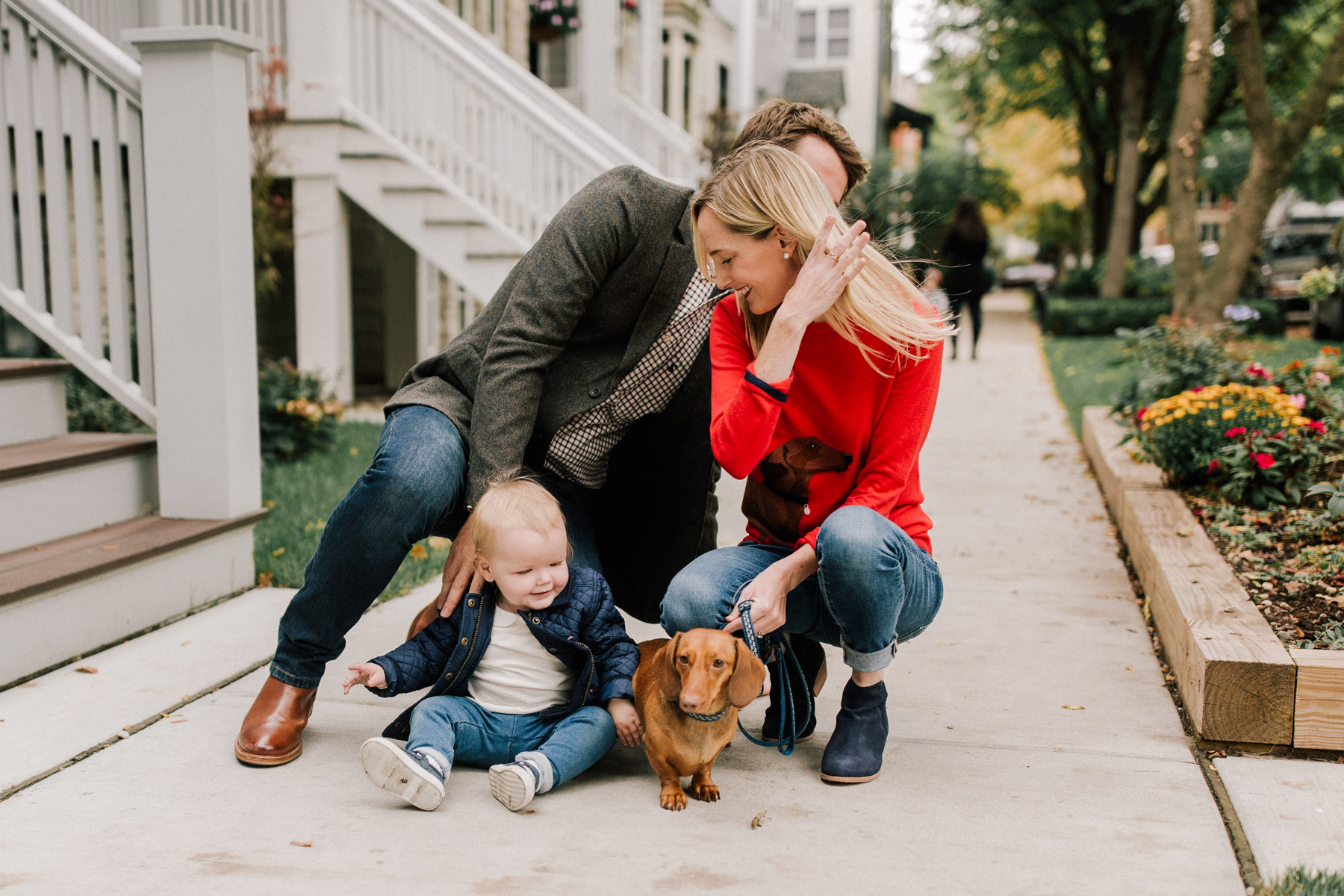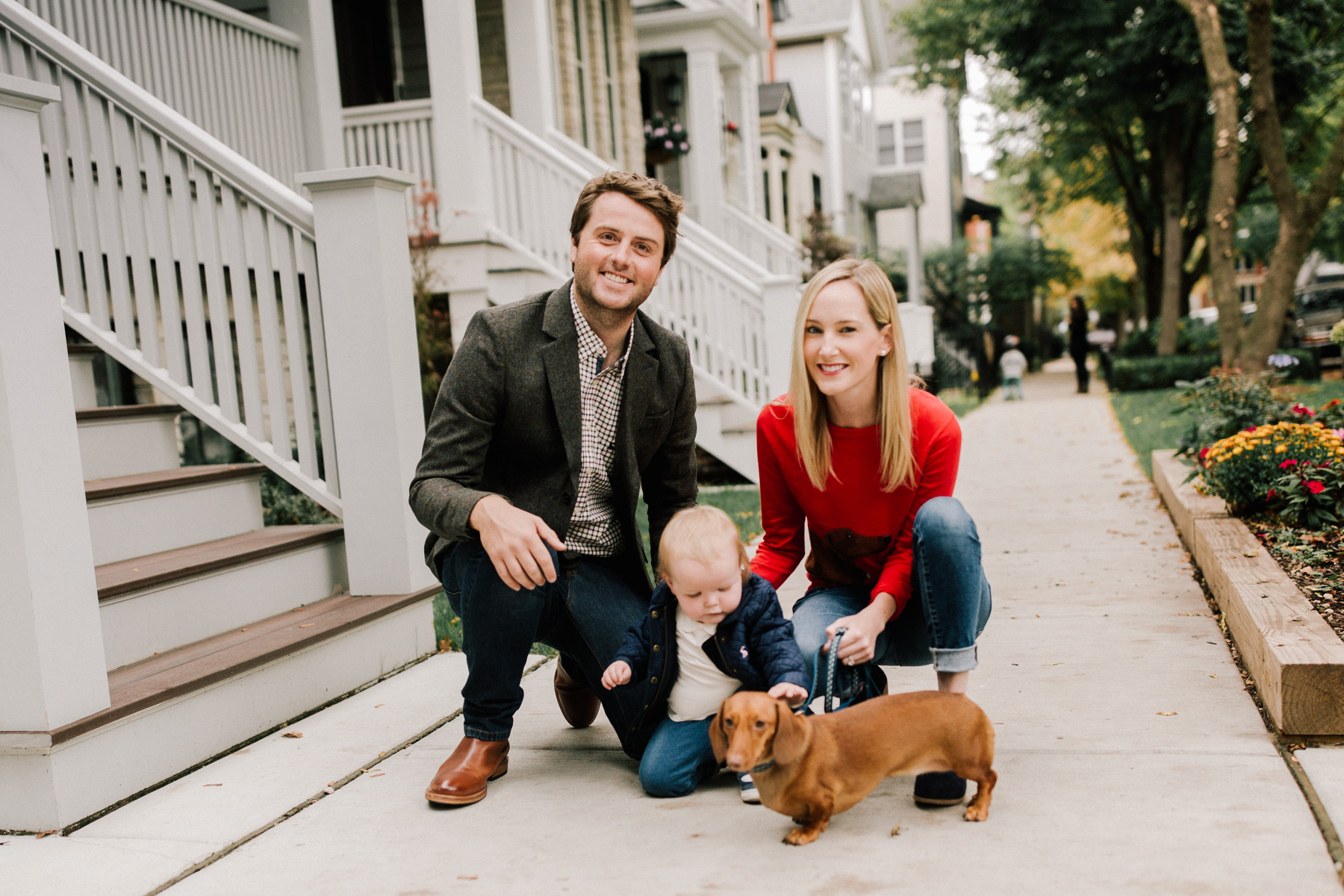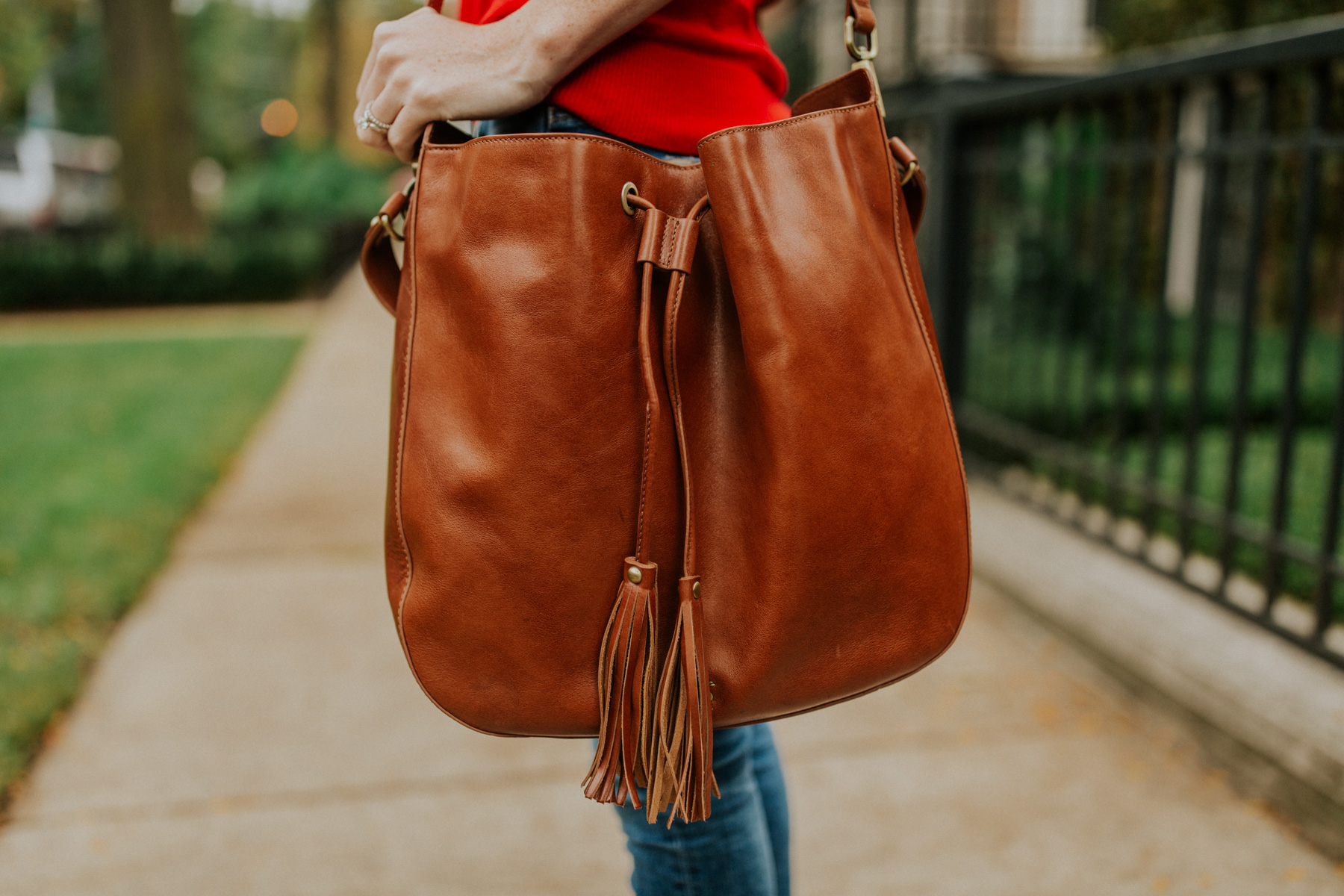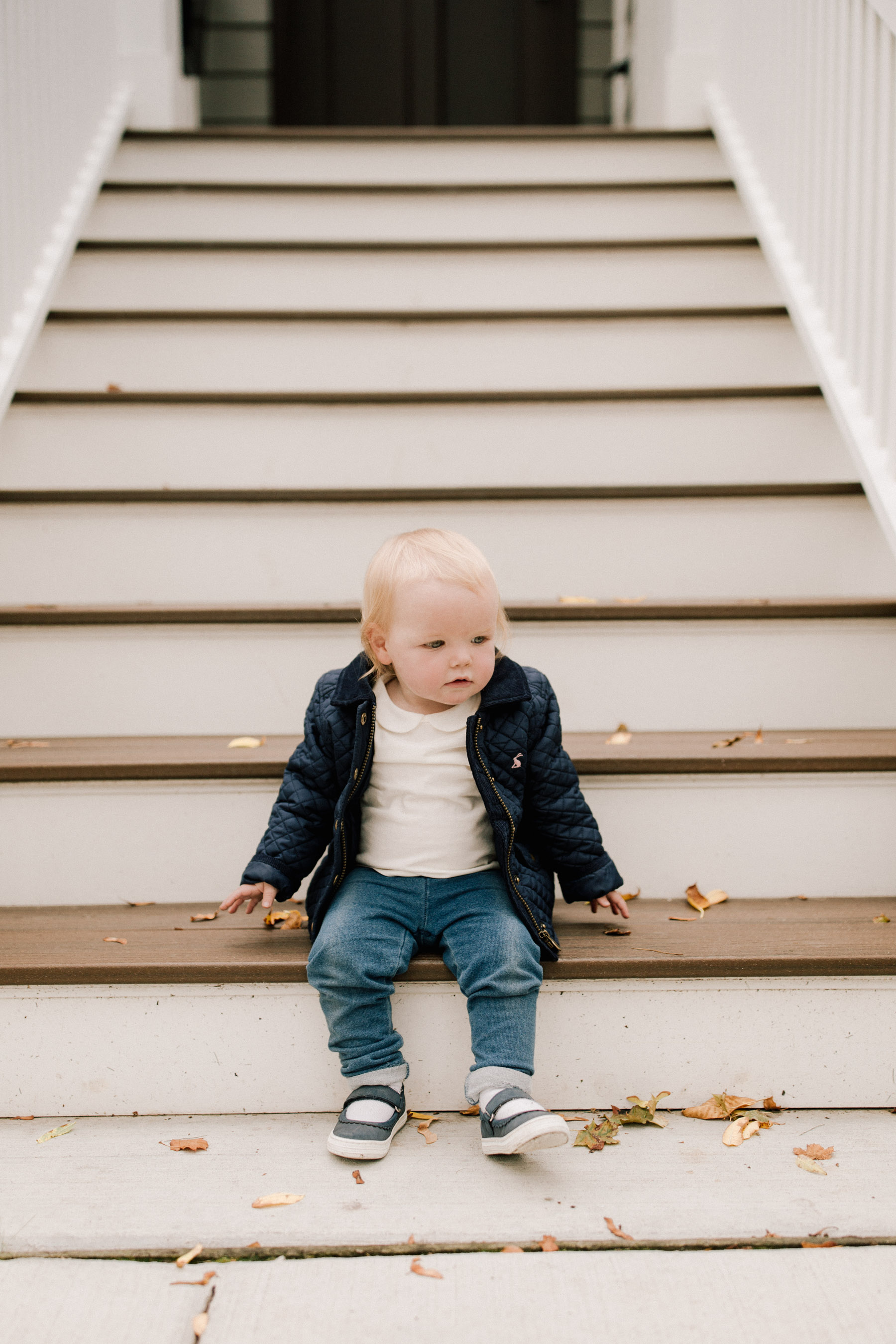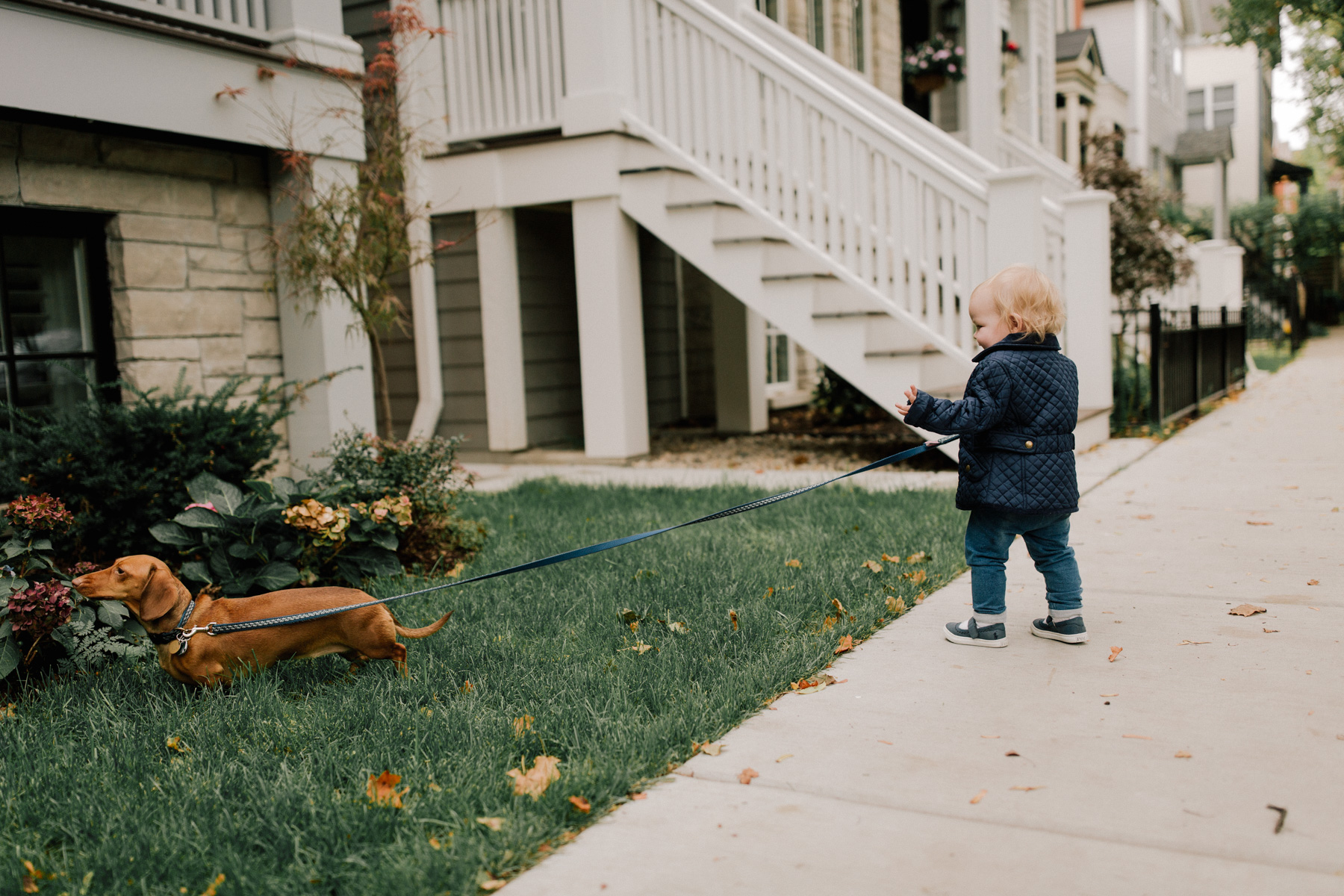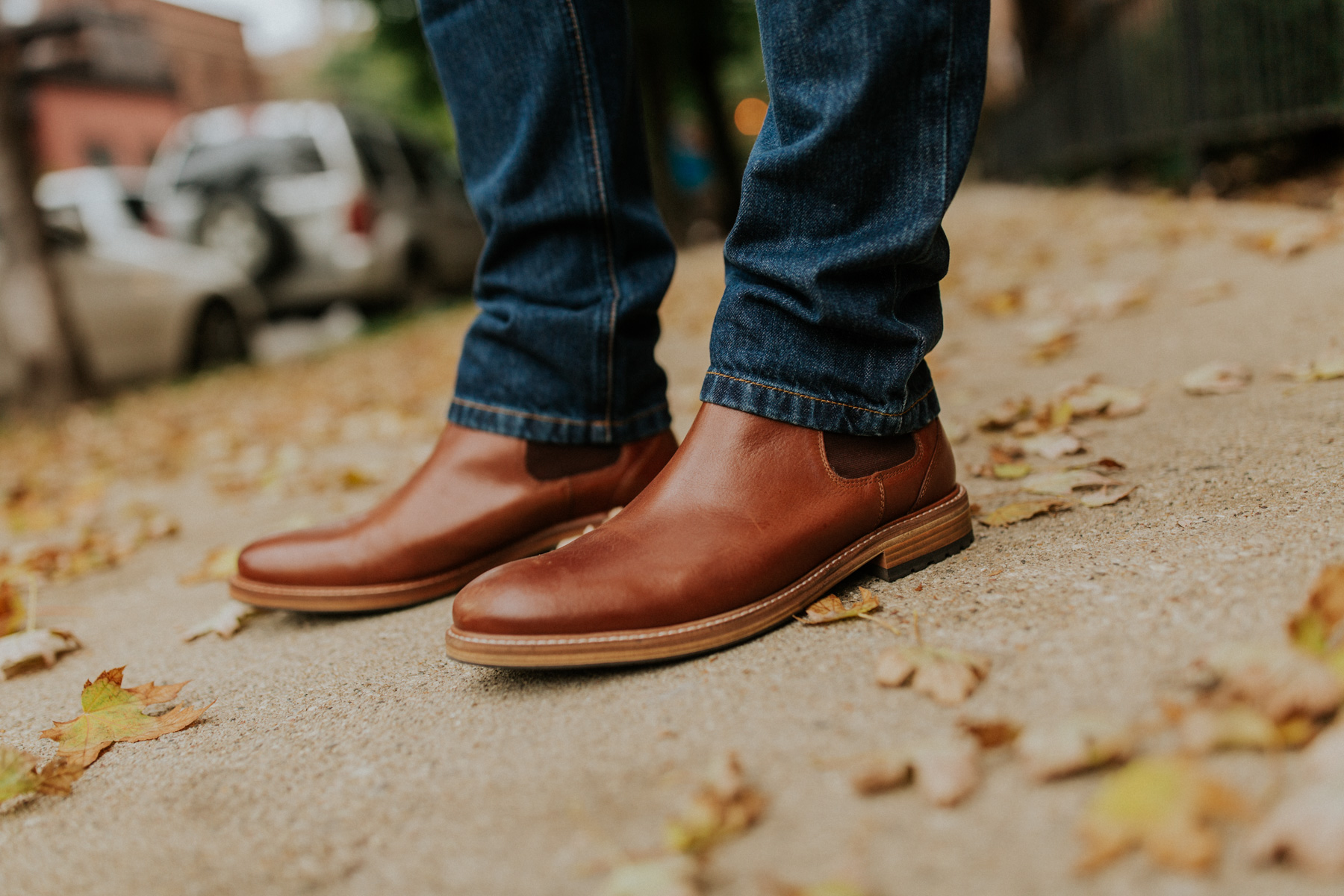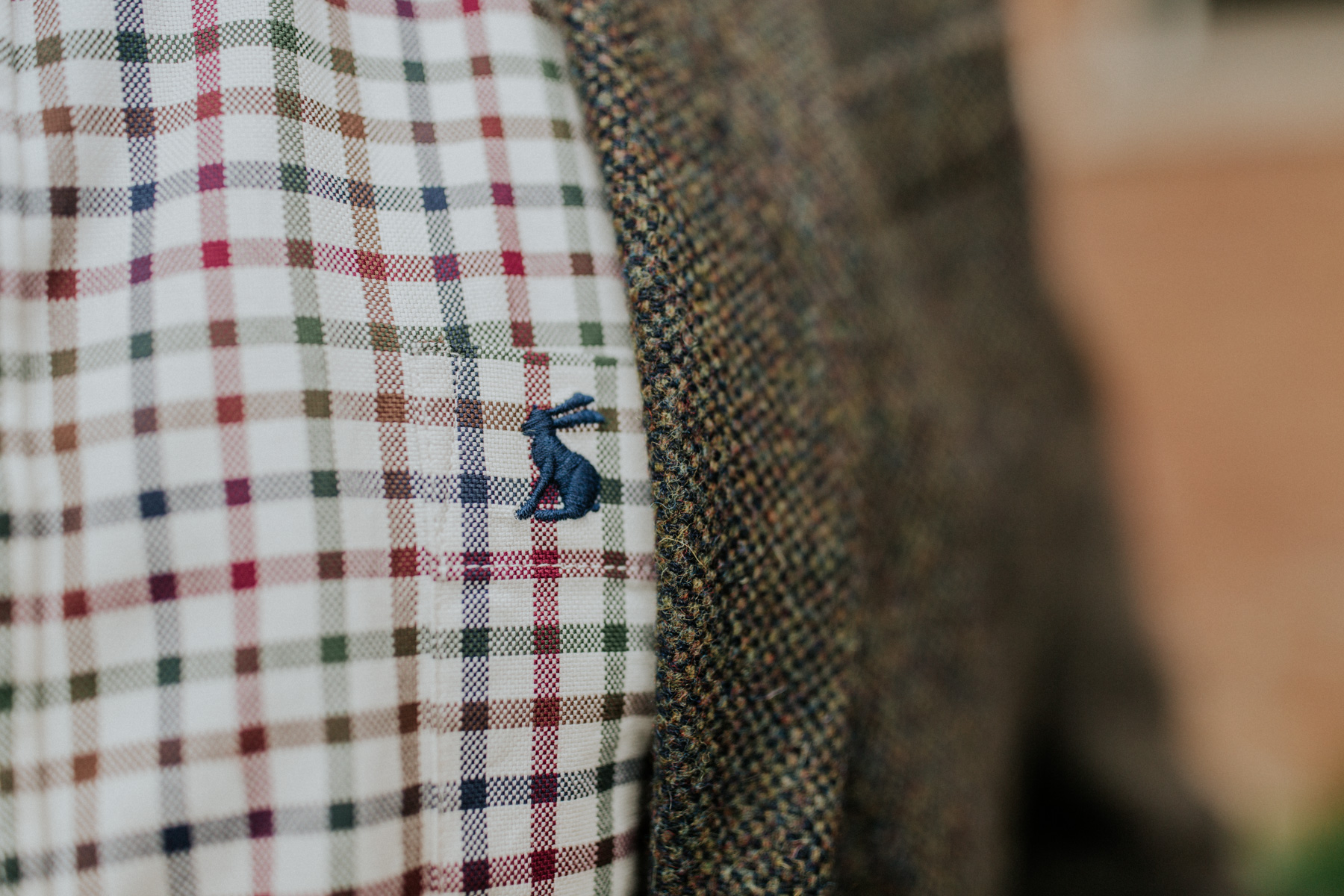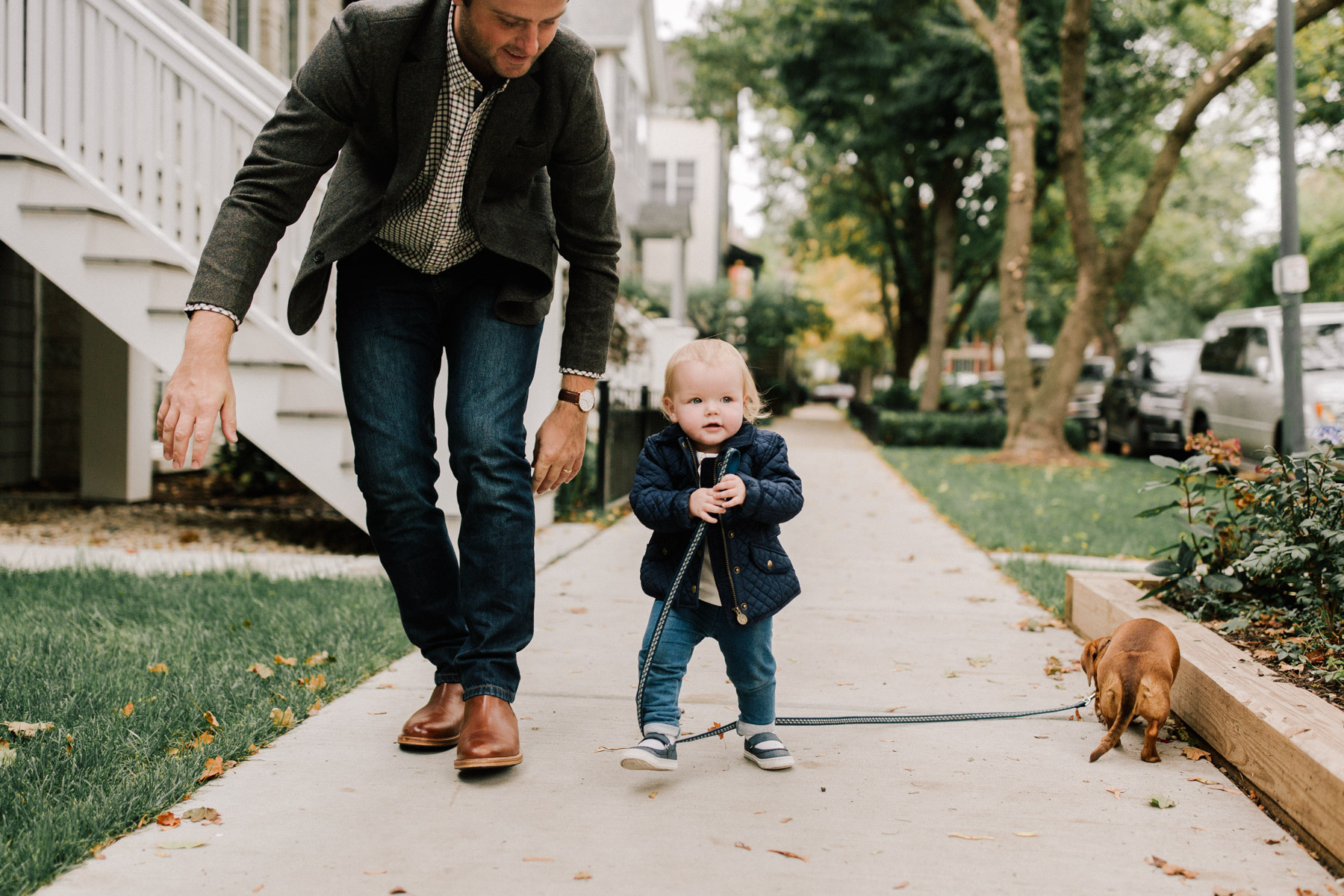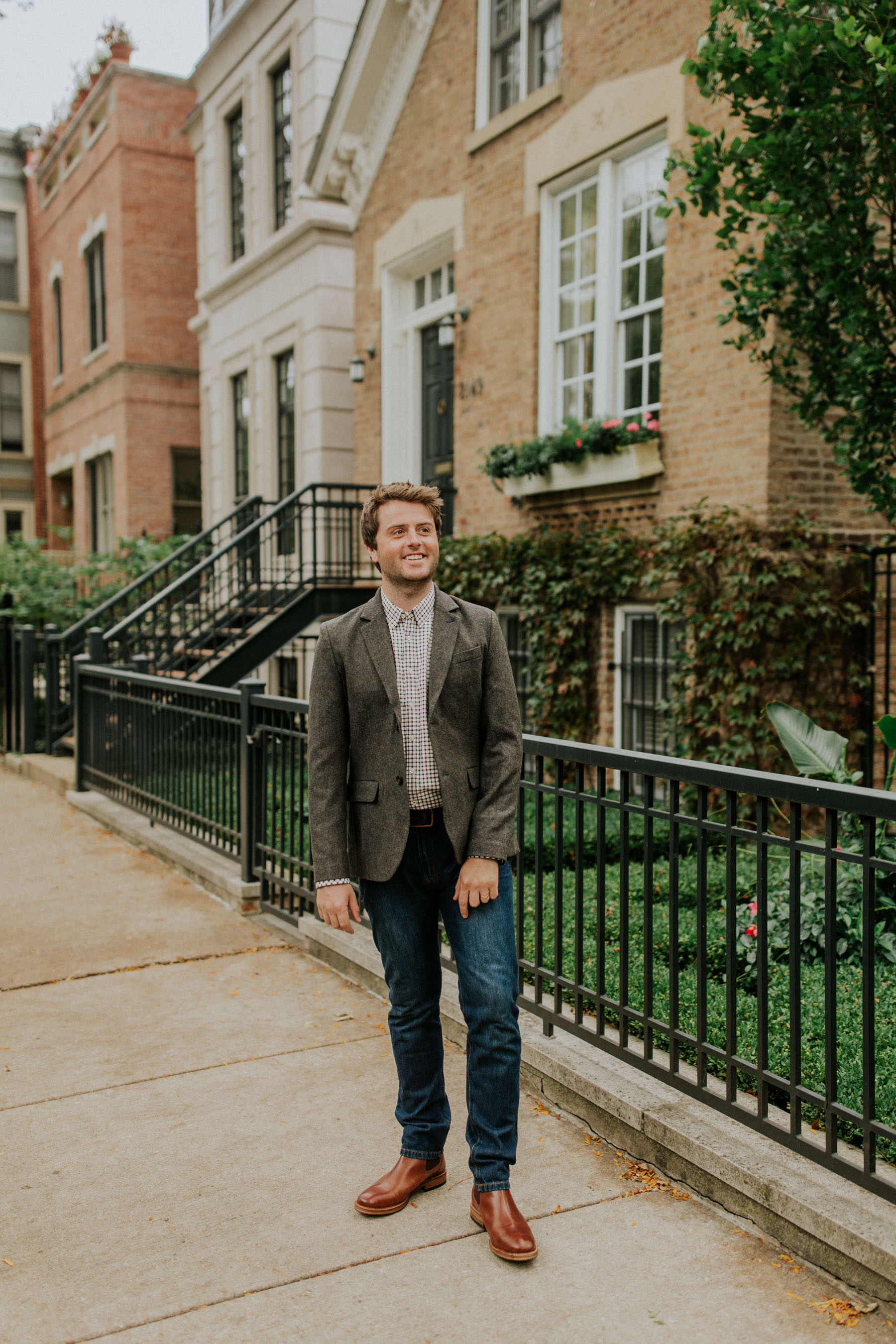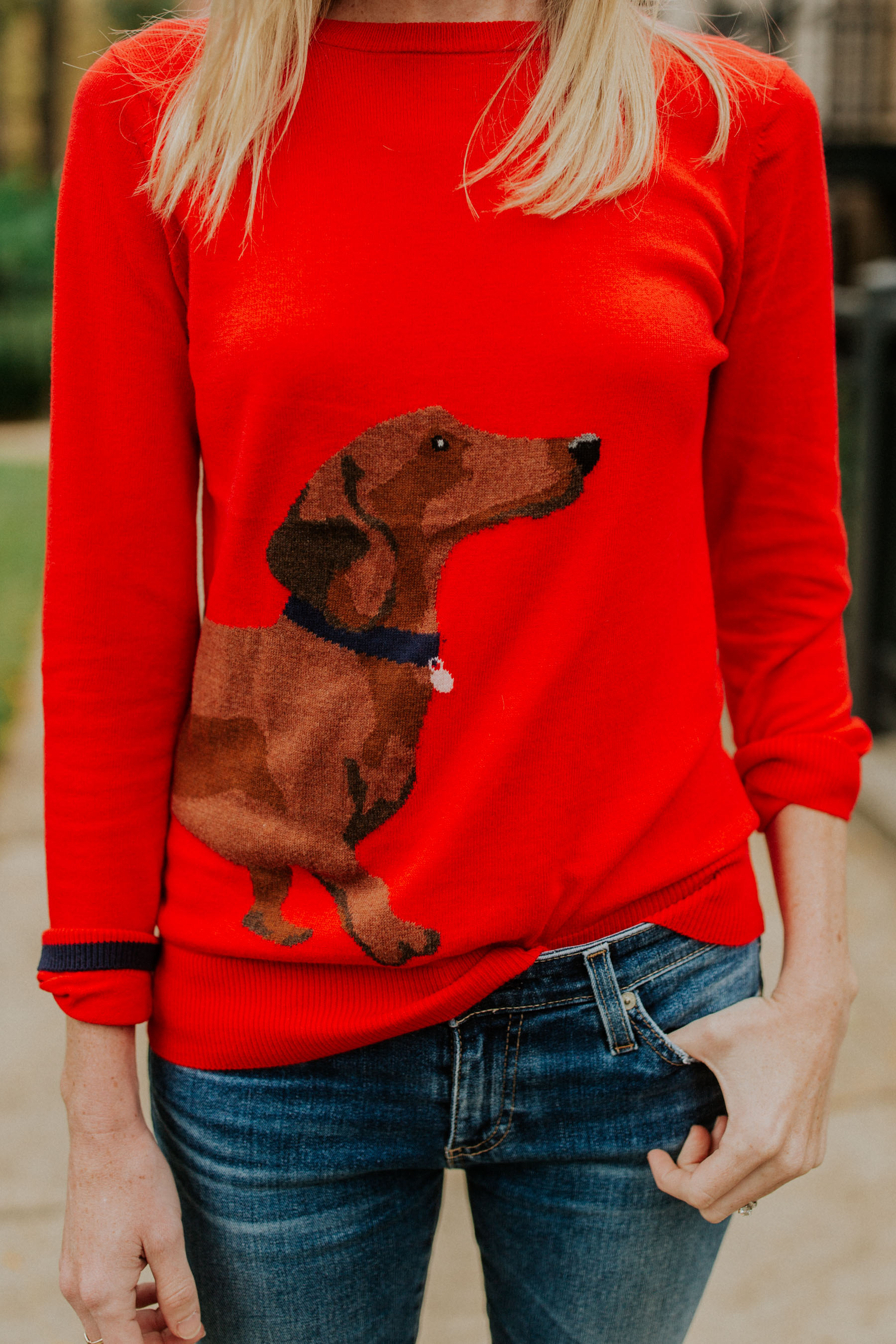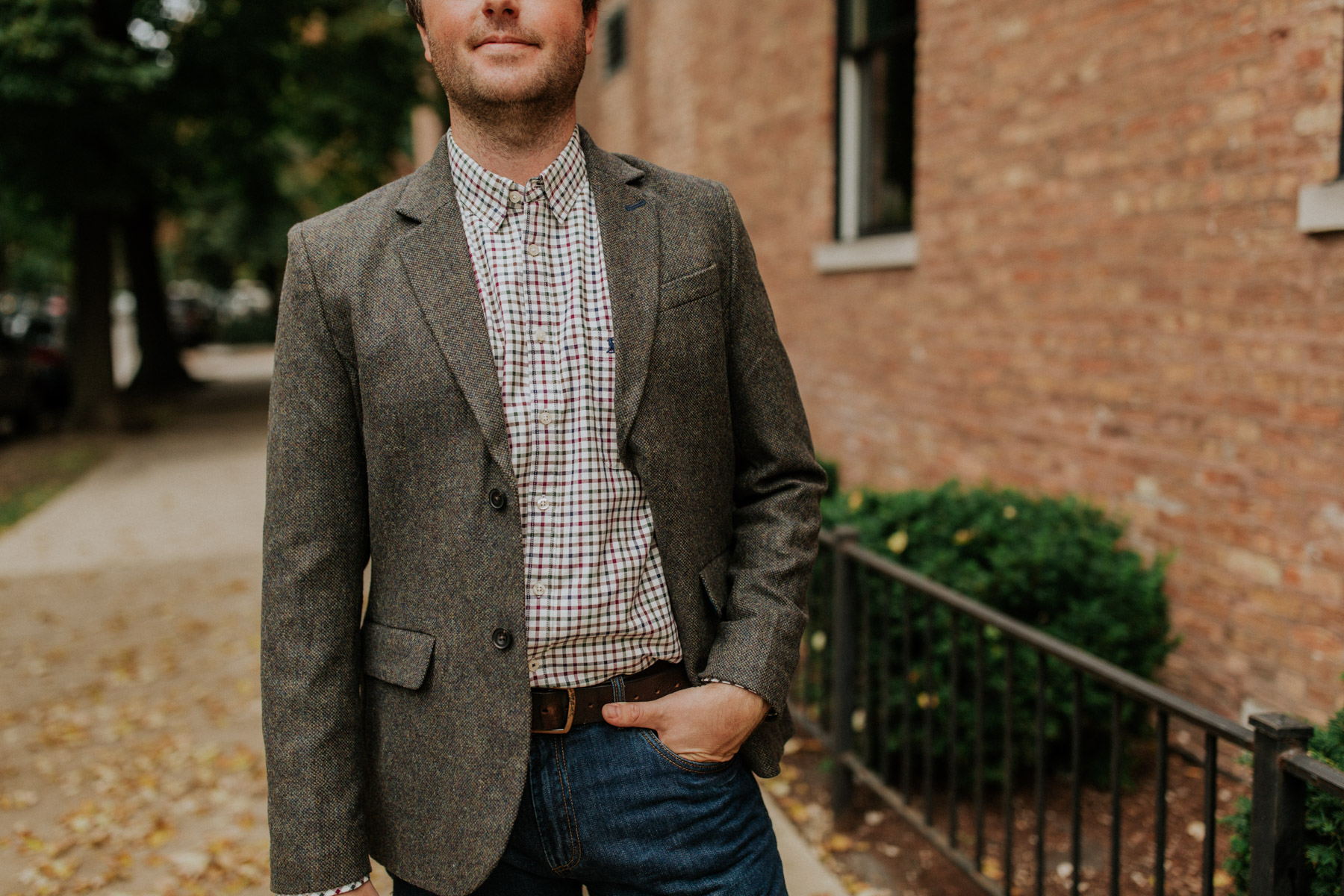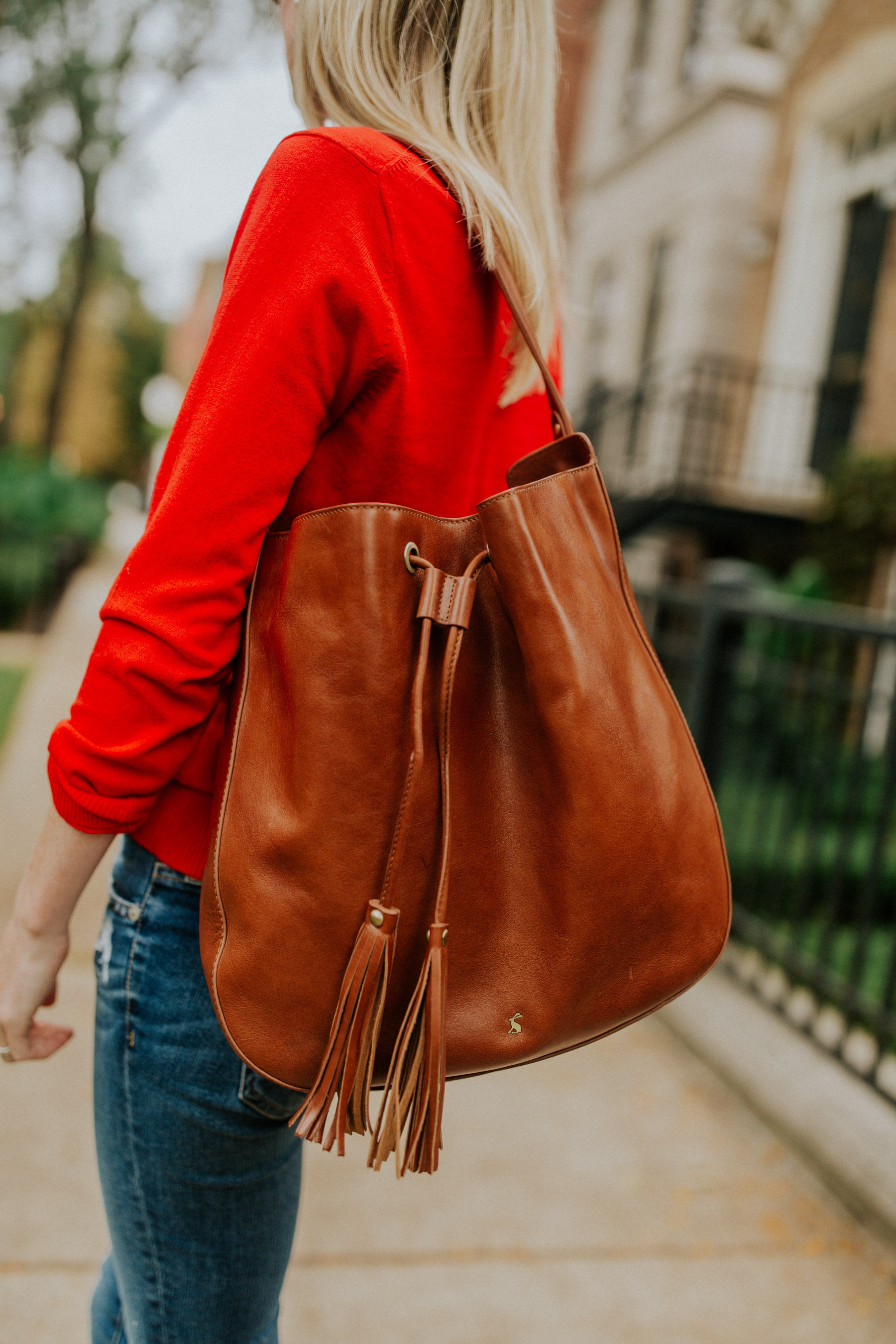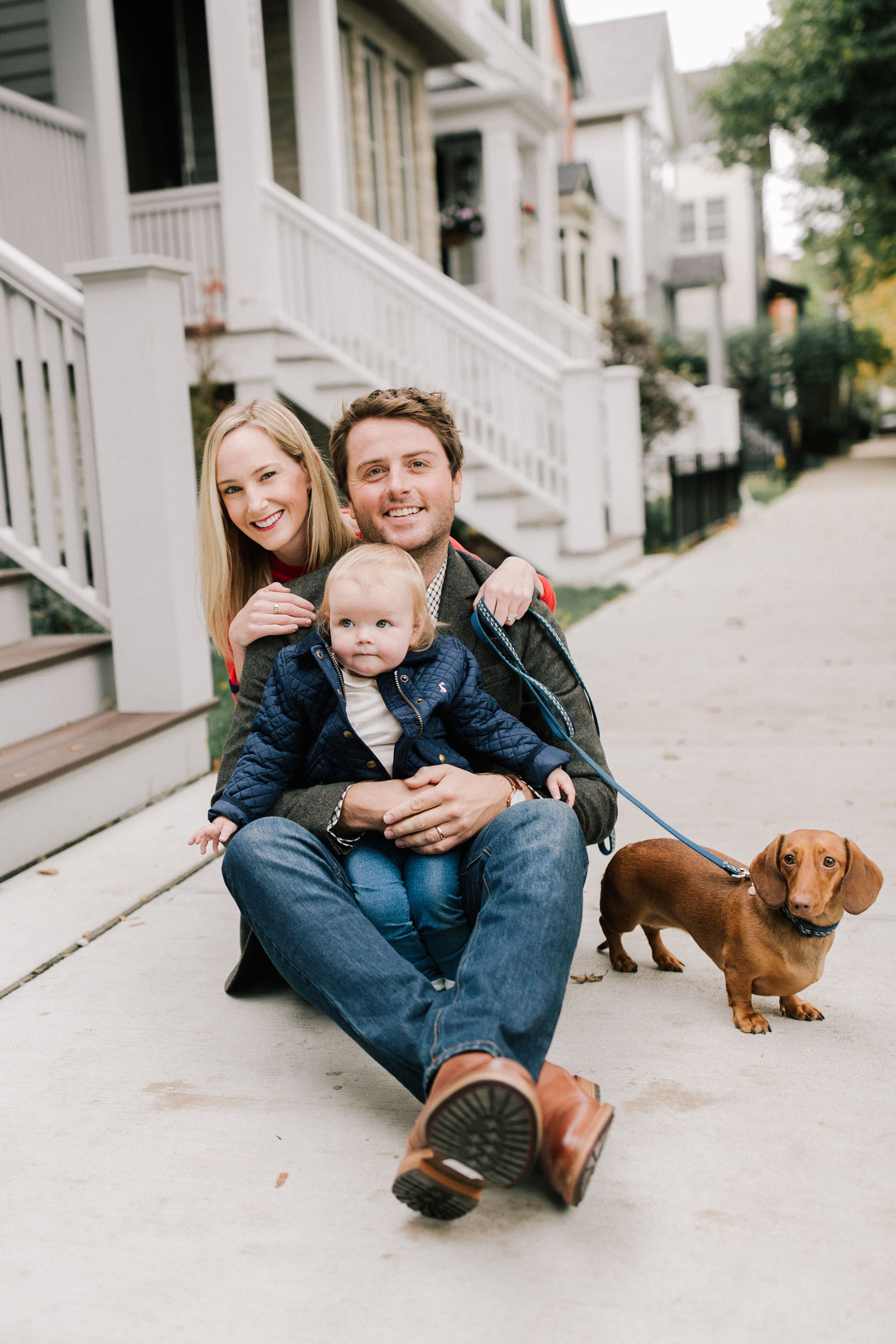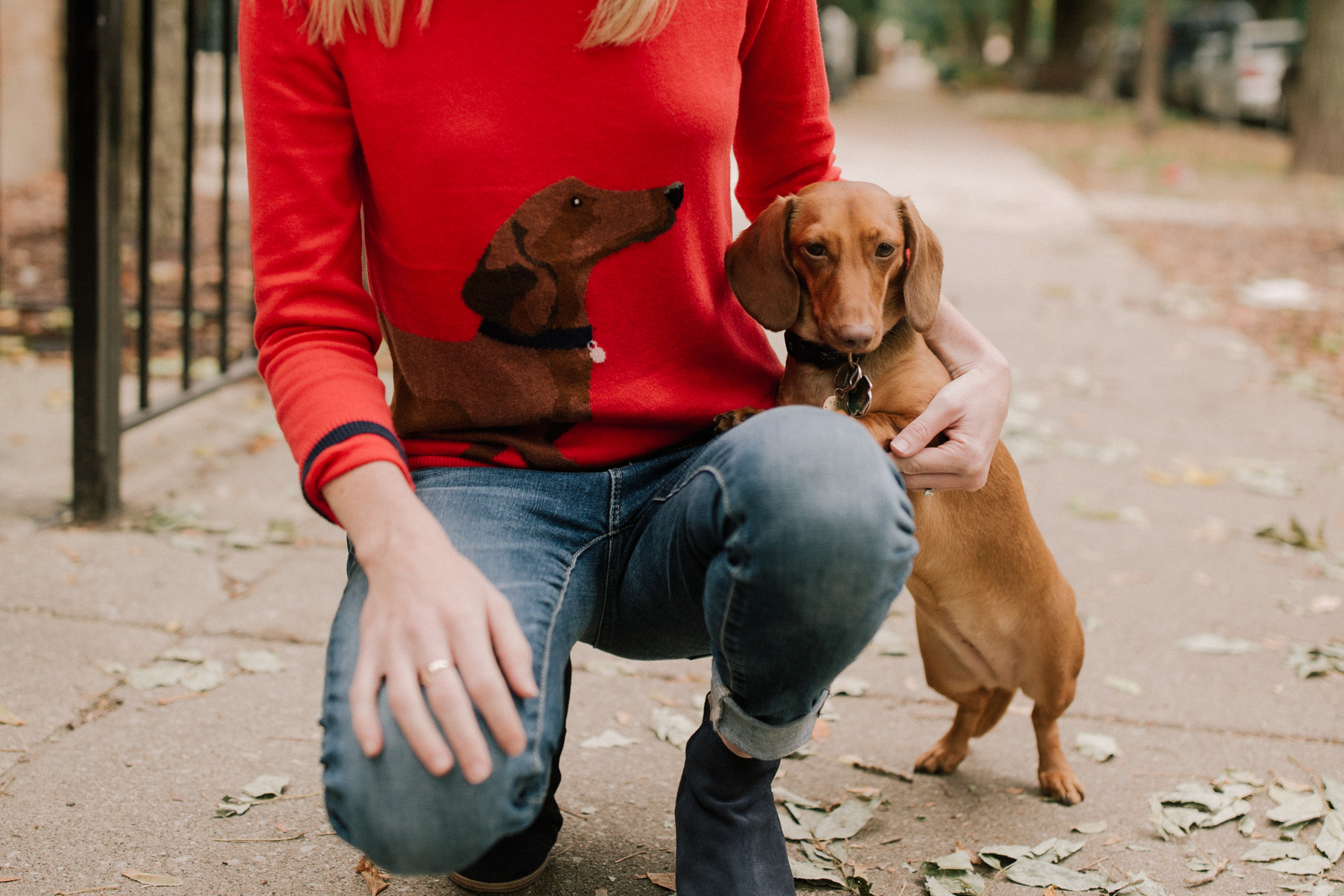 Shop the post:
My Outfit: Dachshund Sweater / Suede Booties / Navy Blazer / Leather Bag
Mitch's Outfit: Button-Down / Tweed Blazer / Jeans / Boots
Emma's Outfit: Quilted Jacket (In pink here; Smaller navy sizes here.) / Jean Leggings (All c/o Joules)
Use code "NOODLE20" to take 20 percent off your full-priced purchase.
This post was sponsored by Joules, but all opinions are our own. As always, thank you so much for supporting the partnerships that keep Kelly in the City up and running!
SaveSave