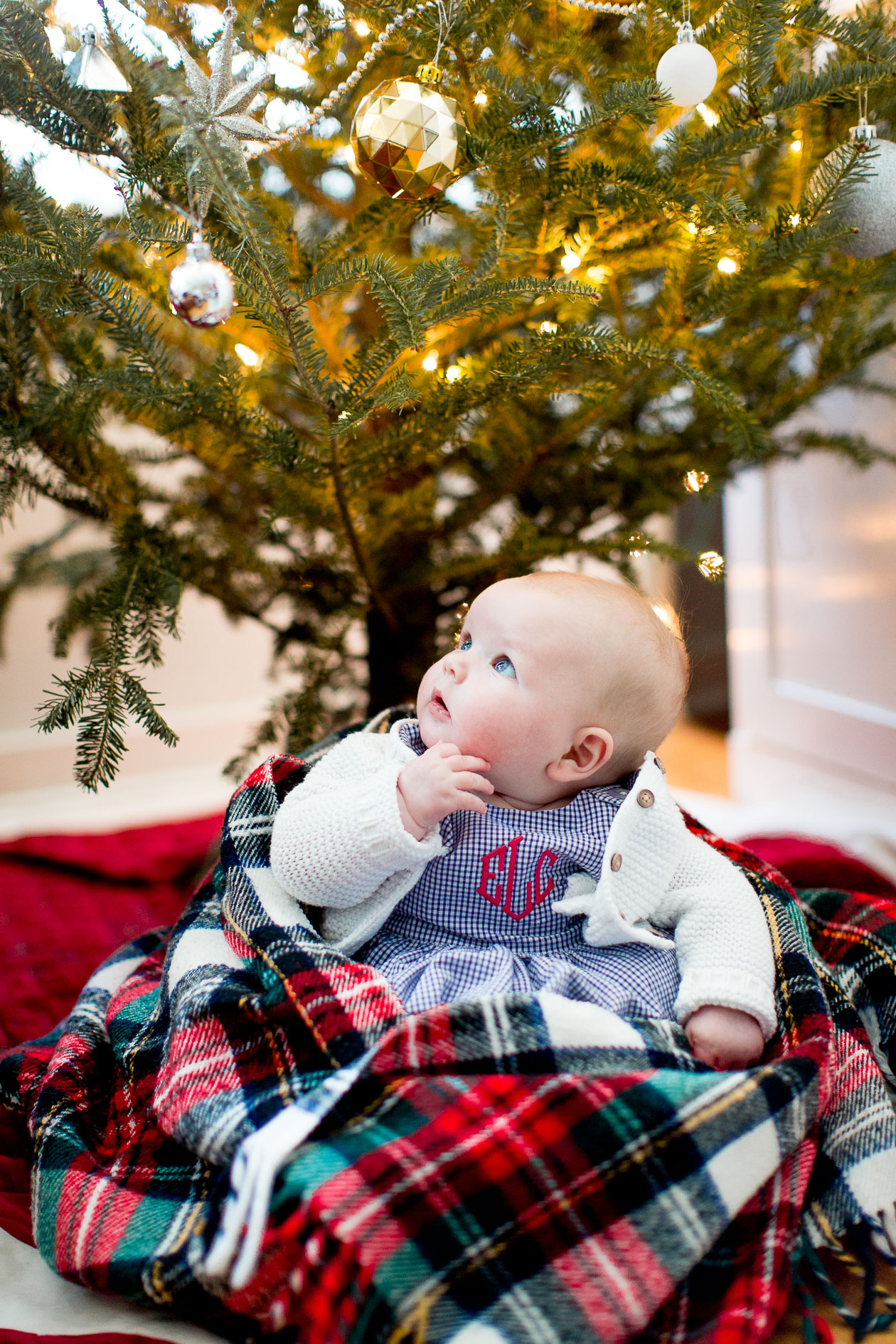 I'll be the first to admit that when I shop for Emma, I generally shop online out of convenience. But once or twice every month, I make sure to get out into my neighborhood–the DePaul section of Lincoln Park, Chicago–and shop local. For the most part, the kids' stuff is far cuter than what I find online, and as I keep mentioning, I think it's so important to support our neighborhood businesses!
Recently, I discovered the magic of the Bumbo seat. I'll be honest and say that Emma's only happy in it for about 15 minutes, but it's awesome for when I need to be hands-free for a little while… or for when I want to shoot an impromptu photo session with her, haha. (What? I can't help myself. Look at those cheeks! Need to document the adorableness.) Earlier this week, I realized I didn't have enough Christmas photos of Emma. (KIDDING. I have a ton. But I really wanted some of her under our tree.) So I dressed Little Miss Emma in the sweetest check-print monogrammed dress from a local store, sat her in the Bumbo, wrapped her up in a seasonal tartan blanket, and watched the magic unfold. Can you get over the sweetness of the above photo? So much wonderment. :)
As Christmas is just around the corner (eek!), Emma and I are teaming up today to talk about some of our favorite children's stores near our home in Lincoln Park. Never has there been a better time to #ShopSmall, as American Express has launched its largest and longest-ever Card Member offer tied to shopping at small merchants. Card Members who have an eligible American Express card, including the Blue Cash Everyday Card, could get more rewards when they "Shop Small" at qualifying small merchants between now and December 31st–just in time for all that last-minute shopping! If you'd like to take advantage, enroll here, and check out this map of small merchants who qualify for the "Shop Small" initiative.
So let's get to it. Our favorite children's stores as well as an Emma update: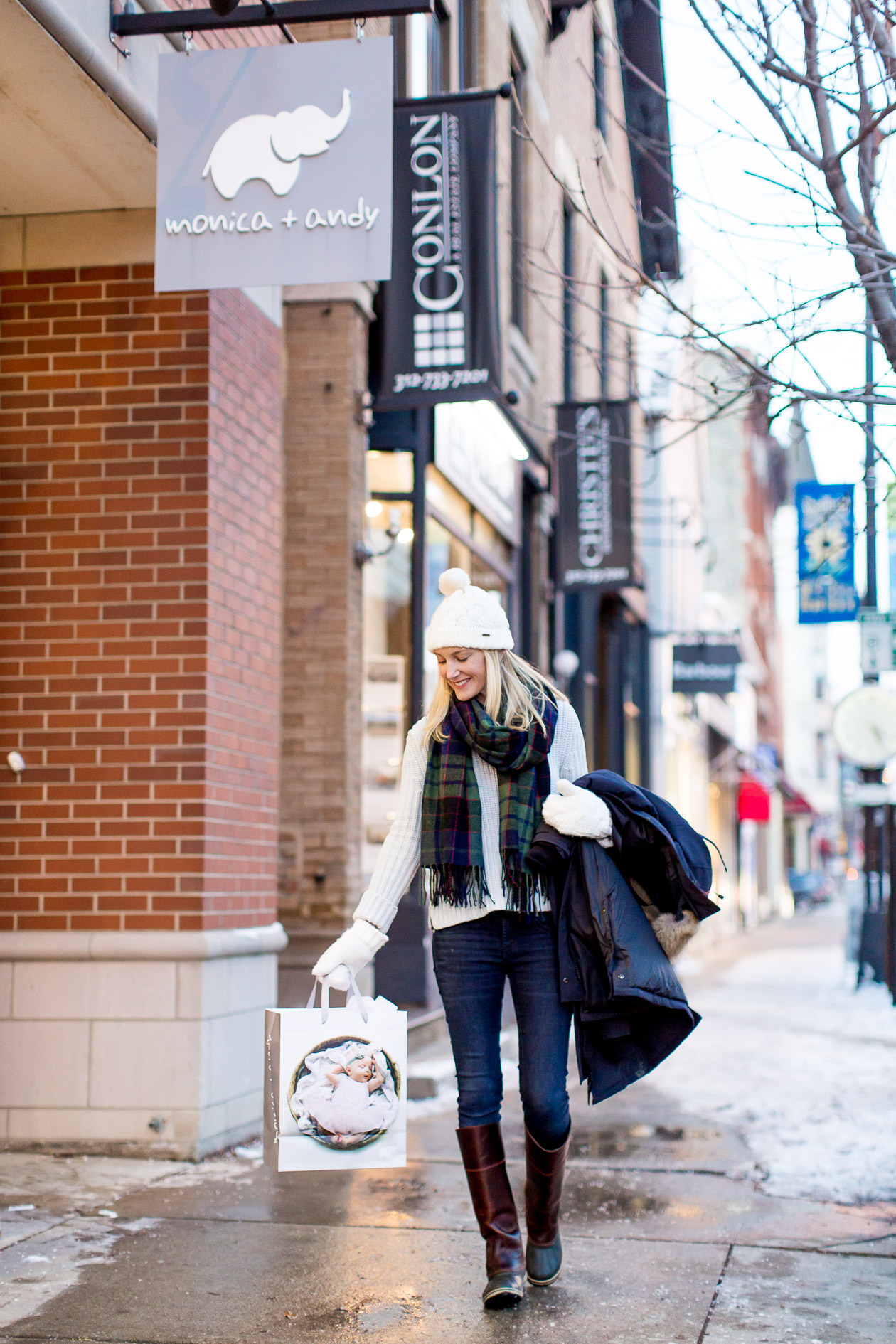 Wearing: Barbour sweater c/o (On sale! It comes in pink, too. Also love this one and this one.) and Barbour Hat c/o (Love this one, this one and this one.) / Canada Goose Jacket (Also available here.) / Rag & Bone Jeans (Also love them in the lighter and black dyes.) / Old mittens but love these! / Plaid scarf c/o (Love it in tan, too.) / Sorel Boots c/o
Emma's Favorite Children's Stores in Lincoln Park
All She Wrote: It's more than a children's store, but it's a Preppy Mom's dream, for sure. I adore the children and baby sections!
The Second Child: It's a resale shop on Armitage, and I've found some amazing stuff there! If you're like me and want to dress your baby to the nines but don't want to pay an arm and a leg for a wardrobe that'll only fit her for a few months, this is the place for you. ;)
Classic Kids Photography: I would love, love, love to take Emma here for portraits one day. Maybe after Christmas? Mitch, please?
Old Town School of Folk Music: Great classes and musical instruments for kids.
Monograms on Webster: I wrote about it recently, but the Webster Avenue store is still my #1 and I had to put it on the list. This is the place I go for special occasion outfits for Emma, and I love the fact that I can monogram nearly anything there, making her clothing all the more special.
Toys et Cetera: Just as the name suggests, the store offers SO much. We need to purchase some "infant toys" for Emma for Christmas, as she just started enjoying toys. We're definitely hitting up Toys et Cetera for them!
Rotofugi: Located on Lincoln, it's a designer toy store that can't be missed. I love the design of the shop, too!
Galt Toys & Galt Baby: The shop offers the best in strollers, toys, baby gear, nursery furniture and cribs. It's really fun to walk through, too!
Monica + Andy: The company's blankets make for some of the best baby presents ever! My friend Danielle gave us this monogrammed one when Emma was born, and it's draped over her crib as it's pretty much the prettiest baby blanket I've ever seen. I love that the store is located on Halsted, too, as it's a favorite area to shop!
Art Effect: While it's technically not a children's store, Art Effect has a ton of great baby gifts, some of which are Chicago-themed. We got Emma the sweetest "Goodnight Chicago" book there, and we read it before bed almost every night. We also got Daddy an "I'm so lucky you're my dad" mug there. ;)
Emma Update:
Not sure where five a half months went, but here we are with our little girl who isn't so little anymore! I can't even tell you how many people said something along the lines of "it goes by so quickly" when we first had Emma. When we'd hear this, we'd nod our heads and smile… but only now are we starting to truly understand that this is so true. Just yesterday, Emma grew out of yet another one of her little outfits, and I teared up. I look back on photos from the first month and cry, too. Heck, I cry when she learns how to do something new!
How quickly it's all going is part of the reason I love photos and videos so much. Of course, I think it's incredibly important to actually live and experience my life and not be behind a lens at all times. But I love that the occasional "photo shoot" allows me to capture these days and freeze them–at least to some degree–forever. Soon, Emma will be walking and talking. And then she'll be going to school and making friends and learning what makes her come alive. And while I'm so excited for every phase, I wish all the phases would get together and determine that they should make themselves a bit longer. ;) Slow down, Little Lady! You're growing up far, far too quickly.
That said, Emma is changing so much and it's amazing! This month, she learned how to roll over. She's only done it three times so far, but it was awesome to experience it. (Mitch was home for the first time, too, so that made it extra special! We were literally screaming when she did it.) She loves Elmo, Henry the Octopus (we named him that), reading about zebras (?), taking baths, "standing" on our laps, talking to herself in the mirror, taking long walks around the neighborhood, and napping.
Switching gears, a current struggle is overheating and the beginning of teething. Apparently, babies aren't the best at regulating their body temperatures, and Emma often overheats in her winter gear as a result. It's so hard, because when it's 0 degrees out, I want and need to put her in a snowsuit. But when I take her out, she's soaked with sweat. Lately we've been taking quick walks around the block with just her puffer jacket, jeans, boots and mittens on, and that seems to be working better. Warm up, Chicago! This little girl needs to get out! In terms of teething, it's just beginning, and I feel so badly for Emma! She's taking it like a champ, but she's only just learning how to hold teething toys on her own, so it can sometimes be a real challenge. She's also a drooly mess, haha.
One thing I wish you could see is how happy she is when I go to get her out of her crib every morning. I'll have to record it sometime soon, because it melts my heart. When she wakes up, we try to let her babble to herself for five or 10 minutes, and then we go in to get her. When she sees us, her eyes light up and she smiles and shrieks with joy. Be still, my heart. I can't get enough!
For now, though, a few more Christmas photos. :)
This post was sponsored by American Express, but all opinions are my own. As always, thank you so much for supporting the partnerships that keep Kelly in the City up and running!