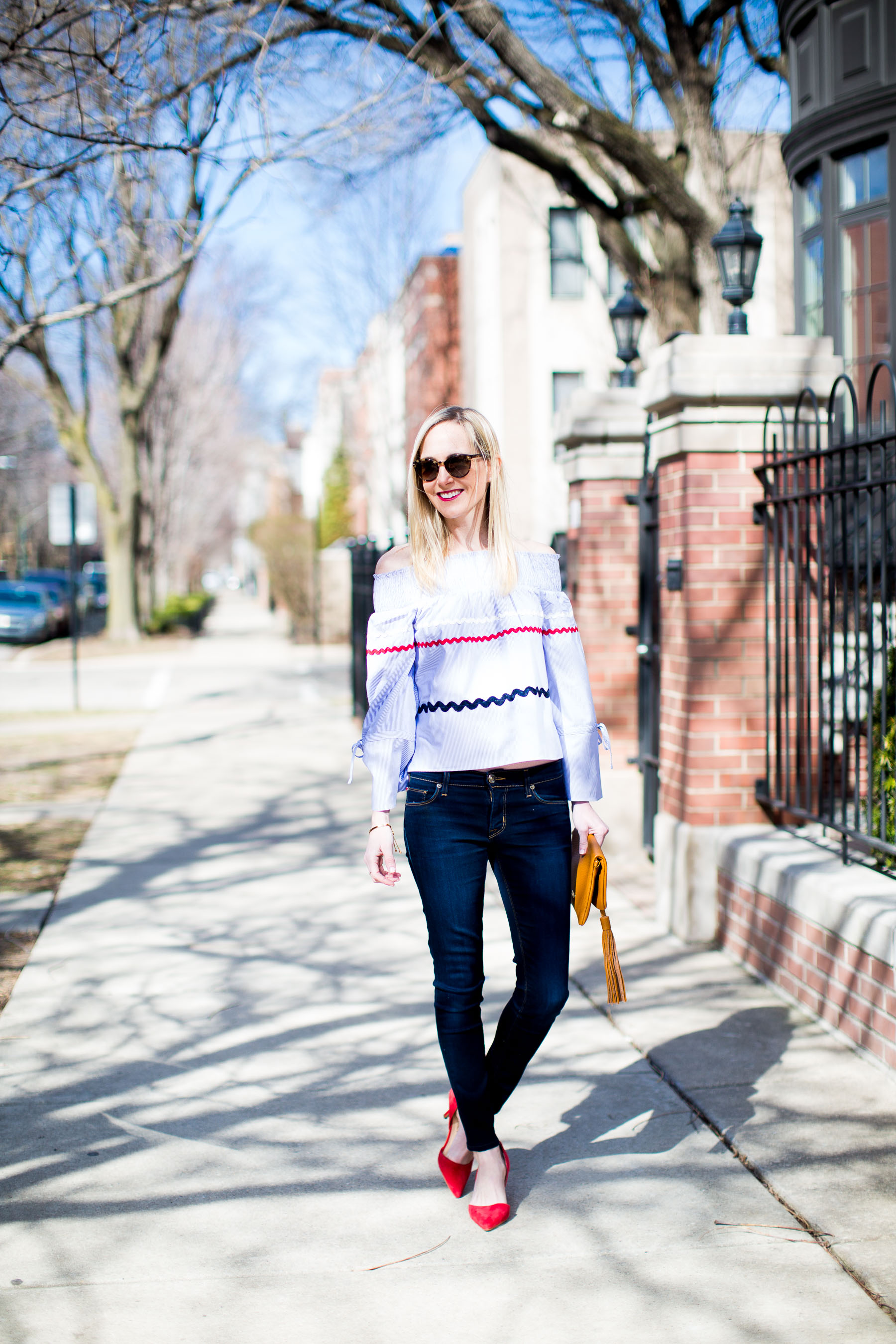 Ric Rac Ribbon Top (Also love this one, which I wore on the blog here; this one (available in more sizes on Tuckernuck); and this adorable dress! Love English Factory.) / Hudson Jeans / Old Red Pumps (But love this newer pair and this pair, too! And these are my favorite red pumps of all time. More affordable version here.) / Gigi New York Clutch c/o (Also love this Gigi bag!) / Monica Vinader Bracelet c/o
Update: We're back up and running. :) Sorry for the outage! And thanks for letting me know that the site was down!
It's ironic that I'm just getting around to posting these pics now since we're currently under a foot of snow, but I took photos of what I was wearing almost every day during Chicago's heat wave a couple of weeks ago. So here's another round! ;)
In other news:
Tuckernuck is having a huge sale, and you can take 20 percent off already reduced prices with code "EXTRA20." Here are my favorites. (Along with photos of Emma in the snow.)
The top I'm wearing in today's photos has me missing my mom. Anyone else associate ric rac ribbon with childhood?! Love you, Mom!
Mitch, Emma and I went out for half-priced appetizers last night, and we discovered that Emma laughs hysterically when people cough. It's the weirdest–yet cutest–thing.
Mitch's "smart home" project is fully underway, and I've found myself doing a lot of reflecting during it. Mitch always has a zillion ideas about how we can make the house more functional, and I'm always just kind of like, "Hmmm. Okay!" But really: every single change he's made–from the Alexas/Google Homes and the fancy wireless router to the Sonos speaker system and the smart thermostats and carbon monoxide detectors, life is easier and more enjoyable because of the changes Mitch has carefully thought through and put into effect. I can't wait to read his upcoming blog post! (Which seems funny considering I'm technically the one running this blog, but you can expect to see more and more of Mitch here in the coming weeks and months! Did you catch his post yesterday?!)
Jess wrote this really amazing post yesterday that quite literally brought me to tears. I love you, Jess. Feel so lucky to have you in my life! <3 PS — I wore this dress, which is sadly sold out, but the rest of English Factory is amazing! And speaking of scallops, I recently picked up this bathing suit for LA and am so in love. :)
Guys, my One-Month Challenge is rockin'! Stay tuned for that update.
I took Emma and Noodle to the park today, when I thought the snowstorm was ending. WRONG. It was just getting started, and it was a huge disaster. You can see it on my Insta Stories. So many tears and then so many snuggles and then a big, long nap. Sigh.
I'm wearing my favorite dark jeans in these pics, but have you guys SEEN the new bow-adorned Rag & Bone jeans?! Never have I loved a pair of pants so much…
Guys, I'm doing yoga. Not regularly or anything, but I'm going to go to a yoga class with my friends soon… and I dare say I'm kind of excited. And I swear it's not because of the clothing. Though HELLO, J.Crew x New Balance. Especially these leggings. And these.
Shaheen recently wrote this post on her IVF journey, and I was in tears. So happy for you, Trevor and Baby T, Shaheen! Love you!
J.Crew Factory's new scalloped tank is even better than the original J.Crew version, as it's polyester and doesn't require dry cleaning. Obsessed. Here's the dress.
I loved Mackenzie's post on productivity. For my short stretches of free time, I think the pomodoro technique could work!
Today, I'm attempting two photo shoots while hanging out with/taking care of Emma. Pray for me. ;) #pomodorogodshelpme
This gingham & striped top is without a doubt my FAVORITE top of the season. It's also available via J.Crew. Grab it now as it's selling out quickly. (Though J.Crew does seem to be restocking!)
I'm currently looking for cheap Persian-looking rugs to put in our bathrooms. Thoughts on this one? It's only $20!
Happy Wednesday, guys!
Shop the post:
Ric Rac Ribbon Top (Also love this one, which I wore on the blog here; this one (available in more sizes on Tuckernuck); and this adorable dress! Love English Factory.) / Hudson Jeans / Old Red Pumps (But love this newer pair and this pair, too! And these are my favorite red pumps of all time. More affordable version here.) / Gigi New York Clutch c/o (Also love this Gigi bag!) / Monica Vinader Bracelet c/o