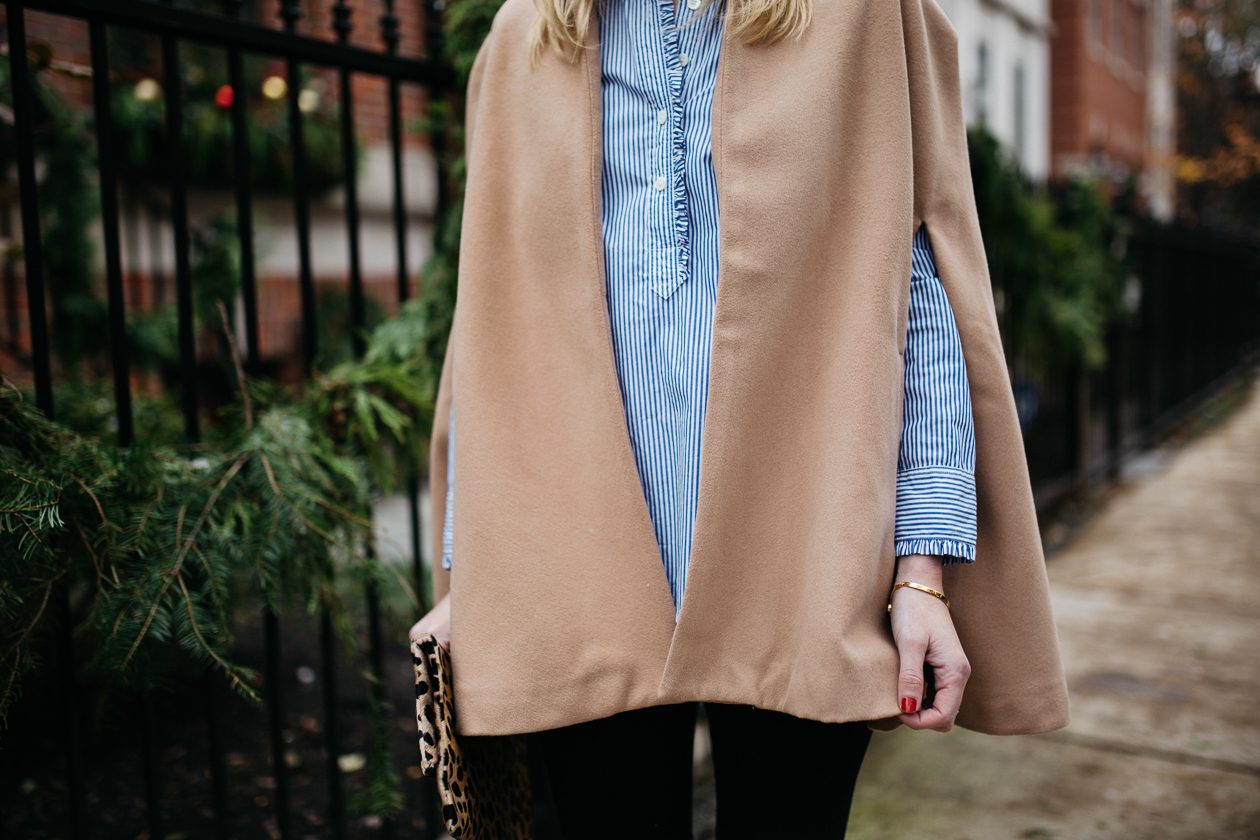 Tuckernuck Cape c/o (Tuckernuck is having a HUGE sale today only! Use code "WINTERFAVORITES" to take 20 percent off your order. Amazing! Anyway, I love all the capes, especially THIS ONE, this one, this one and this one.) / Salvatore Ferragamo Low Pumps (Love the flat version, too!) / Clare V. Clutch (And love this one as well.) / Monica Vinader Bracelet c/o (This one is really cute, too!) / Rag & Bone Jeans (In a lighter dye here, and I'm kind of dying to try these. MOTHERHOOD HAS MADE ME JEANS-OBSESSED.) / Similar Shirt

Take 20 percent off your order today only with code "WINTERFAVORITES."
Clearly, these pics were taken before Chicago was hit with the Polar Vortex, or whatever we're calling this thing. But I have to thank my friend Julie for the photos! Snapping pics of what I'm wearing has always been really difficult during the winter months, as it's dark before Mitch leaves for work and dark when he arrives home. But this year has been particularly hard, as we have a baby, too. While I've simply published fewer posts with original photography in the past, I'm short on time this year, and, very honestly, outfit posts are easiest. Meeting up with Julie every so often has allowed me to continue blogging while I navigate my first year of both working and stay-at-home mommy-ing. So Julie, thank you. Thank you for keeping this site alive, and for taking a little bit off my plate. :) And for being extraordinarily talented and a whole lot of fun to hang out with!
But let's get to it. Here's what's going on in my life and what's on my mind:
♥  I wore this outfit last week to a sushi dinner with Mitch and Emma. We've admittedly been treating ourselves to dinners a lot lately, on account of some crazy work schedules. When we were in our 20s, we never would have done that. But these days, we're more aware of the "burnout factor" than ever before. So if we put in ridiculous hours, we treat ourselves to lovely "family date nights." And I have to say: it's working. We're feeling less burnt out, and we're undoubtedly getting way more quality family time, as dinners bring us together.
♥  Tuckernuck is having a flash sale! Today only, you can take 20 percent off with code "WINTERFAVORITES." I may have gone through the entire site and picked out my faves for you, haha. The adorable cape I'm wearing in this post is elligible for the code, as is: this black one-size-fits-all poncho which I wore here and also comes in tan; my favorite–and warmest–down coat, which I wear ALL the time but you can see here, here, here and here; this leopard clutch; this holiday plaid shirt; luxury jeans; this oversized coat; this party tank; this black ruffled tank; these duck boots and these, too; these mittens; my favorite plaid scarf in green and tan; these classy leopard loafers; black skinny pants; white cords; a classic white turtleneck; suede leggings; this cute quilted Barbour; my favorite quilted MZ Wallace bag; the cutest trench coat; this Vineyard Vines vest; this Shep Shirt; so many Barbour scarves; my go-to dress for weddings; this beautiful sweater dress which I have but haven't featured yet; my favorite laceup flats (which also come in tan); this classic black tank; this scalloped skirt; this Barbour sweater which I wear ALL the time; this gold bracelet; this blackwatch plaid cape; this Barbour umbrella; these black flats; this RAILS shirt; this STS skirt; and this navy party top. PHEW.
♥  Mitch and I got the CRAZIEST news yesterday. When Emma was born, we decided against Mitch taking his paternity leave, since it would have been during the beginning of the school year. (He wanted to set up his classroom and develop a rapport with his kiddos.) Instead, we decided that taking it around Christmas would be best, to minimize the stress of traveling and also allow us enough time to actually enjoy the holidays together. Turns out that with the Chicago Public Schools' Winter Break and its rules about paternity leave, he's getting nearly a month off. I cried when he told me the news. I know I haven't delved into this topic yet, but we just don't get enough family time and it's a little heartbreaking. Because I'm a stay-at-home and working mom, I pretty much have to start working right when Mitch gets home, and there's nothing I want more for Christmas than together time. Thank you, to whomever sensed we needed this so badly. All my holiday dreams have already come true. :)
♥  Emma had her four-month-old checkup yesterday. She's 84th percentile for weight, 85th percentile for length, and 95th percentile for head circumference. Totally makes sense why it took me so long to recover from childbirth. ;) (In all seriousness, though, it wasn't that bad! Currently working on a post about my recovery. Hope to have it up by this weekend, but if you're a longtime Kelly in the City follower, you know that means "in two weeks." Ha!)
♥  I'm still finishing up the last of my Christmas shopping, and I'm so close to being done! Of course, I shipped everything to my parents' house, and we'll be arriving back East in the middle of our big holiday party. So it would seem that everyone is going to get unwrapped presents, haha… but c'est la vie, right? I'm just going to dress Emma in a ton of plaid to make up for our lack of plaid wrapping paper. ;)
♥  I had some bigger holiday "present projects" I was working on, and I think I'm giving up on them. There's just too much going on, and while I thought I could get 'em accomplished, I'd probably end up with the plague if I actually attempted to get them done on time. So I'm being realistic and saving them for birthdays and Valentine's Day. Look at me being responsible!
♥  JESS LEFT FOR HOME YESTERDAY. It was really upsetting because while she was in the air, I couldn't talk to her and I was super lonely because I can say whatever to her and she's just like "TOTALLY." (Wuv you. Squeeze Baby for me and tell your sister I'm so happy for her!)
♥  I love this velvet cami. Why is it sold out?
♥  I also love this ruffled striped dress. Bring back the summer, Chicago.
♥  I promise I'm not going to turn this blog into a weather update, but can I just quickly comment on the madness here? It's insane. Add Chicago to your iPhone weather app and see what I'm talking about. We can't even leave the house!
♥  Yesterday, because we were stuck inside, I spent a solid half hour photographing Emma under our Christmas tree. I cannot WAIT to share the photos with you.
♥  I've been thinking about trying these navy pants, as I don't own a single pair of "dress pants." I also ordered these suede leggings, and I'm wondering about these because Jessica Lynn has been raving about them.
♥  Did you see Blair's recent post featuring THE MAGICAL BOW BAG? Blair, you're gorgeous, I love you, and I can't wait to hang out with you once we all get back from our travels. Say hi to the fam for me!
♥  How cute is this scalloped top?!
♥  Spell check isn't working on this post, so that–coupled with those two glasses of wine–means this is going to be rife with errors. And you know what? I'm NOT copy editing it. Huzzah! (Sorry.)
♥  Just ordered these in brown because they look like these. And my favorite pocket sweater is on sale. OH! And this awesome top is back. Finally, do we think I could pull off this cold shoulder sweater? I'm going to say no, but maybe YOU could.
♥  I'm packing for our holiday travels on Thursday, and I'm putting a post together while I do it. Here's what I need to pack for: two major holiday parties, a three-day stay in NYC, Christmas Eve and Day with our immediate family, a night out (hopefully) with high school friends, and travel wear. ANY TIPS?! (I ask my readers even though I'm supposed to be the expert, haha. Ugh. I'm such an imposter.)
♥  Can we talk about Maya's beauty in this blog post? And, I mean, the LIGHTING. Maya, you go, Girl.
♥  Our cleaning lady is coming bright and early tomorrow morning, which means I should probably hit the hay. I know that this statement makes me sound a bit stuck up, but I swear: without our (very affordable) cleaning lady, we'd be living in squalor. Before her magic entered into our lives, everything was a complete disaster. And now things are just "a mess." But a squeaky-clean mess. ;)
I miss you guys! I know I can't usually respond to emails and comments, but please know that I read them all and I LOVE hearing what you're up to. It makes my day. :)
Shop the post:
Tuckernuck Cape c/o (Tuckernuck is having a HUGE sale today only! Use code "WINTERFAVORITES" to take 20 percent off your order. Amazing! Anyway, I love all the capes, especially THIS ONE, this one, this one and this one.) / Salvatore Ferragamo Low Pumps (Love the flat version, too!) / Clare V. Clutch (And love this one as well.) / Monica Vinader Bracelet c/o (This one is really cute, too!) / Rag & Bone Jeans (In a lighter dye here, and I'm kind of dying to try these. MOTHERHOOD HAS MADE ME JEANS-OBSESSED.) / Similar Shirt


Take 20 percent off your order today only with code "WINTERFAVORITES."
Photos by Julie Kennedy