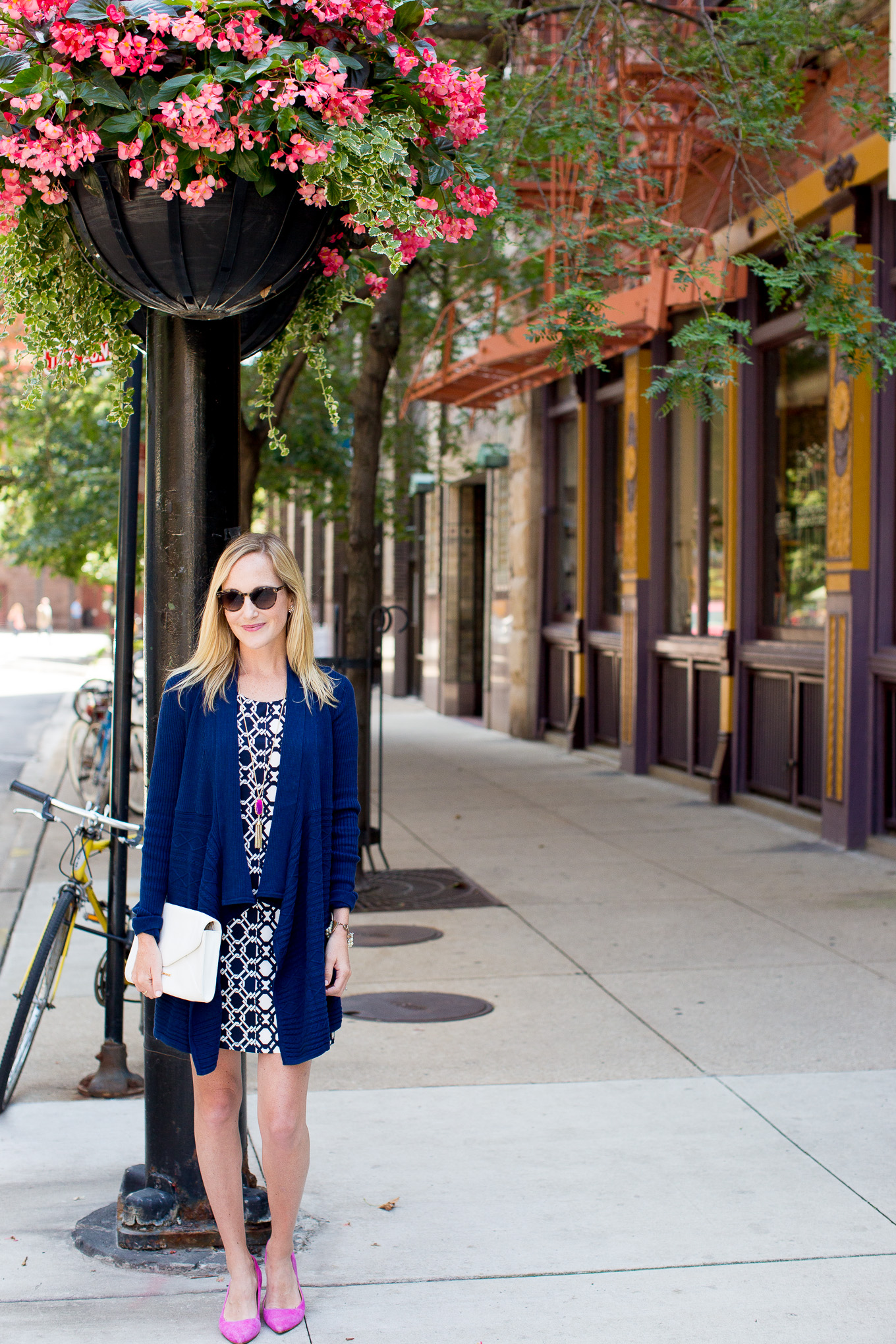 Julie Brown Cardigan and Dress c/o (Dress is old, but love the new line!) / Kendra Scott Necklace c/o / C.Wonder Pumps (Old, similar here) / Earrings c/o Tuckernuck / J.Crew Bracelet (Old, newer version here) / Kate Spade Sunglasses (Old, similar here and here) / Vera Bradley Leather Clutch c/o
I had an amazing summer. I really did. And I have zero regrets about the trips I took and the time I spent away from the computer. But–just as I'd expected I would–I've fallen completely behind, and I'm kind of freaking out.
Yesterday, I sat down at my desk at 8 a.m., and didn't leave it until 1 a.m. this morning. I mean, I took Noodle on a few walks and broke for lunch and dinner, but besides that, I just pumped out as much work (and work-related correspondence) as humanly possible in 17 hours.
I thought I would feel better. But as I sit here typing this, I'm not sure that I do. Before, I'd at least temporarily pushed all the upcoming assignments and commitments and deadlines out of my head. Now, though, they're at the forefront of my mind, and I'm like, "OH MY GOD; HOW AM I GOING TO GET THIS ALL DONE?!" I'm irritable and bummed, and if we're being honest here, I haven't even showered today.
I can't remember the last time I didn't shower. I am all about 'em. Twenty-minute showers, every. Single. Day.
The thing is that I totally did work over the summer. I swear I did! But I didn't work from 9 to 5 (and then 10 to 2) like I normally do, and I guess you can't seamlessly go from working a lot to working an average amount without having a plan in place, haha.
Duh, Kelly.
So now it's all about catching up, and trying my best to limit the new opportunities I take on. To not fill my time with meetings and trips downtown. To not pick up the phone when a friend calls in the middle of the day.
It's hard to say no when you're livin' the freelance life. To jobs because I have to somehow make money, and to friends because I technically have a flexible schedule. But at this point, I have to say no. You know, unless I give up on the whole sleep thing and go completely Bella Cullen-style. (Ugh. Hate that I just made that reference.)
The plan is to shower (haha), rock another no-getting-up-from-the-desk day, and then celebrate by going to the Billy Joel concert at Wrigley Field. And then I'm going to shoot a bunch of stuff (with a camera; no worries), write a bunch of stuff, and clean the freakin' house. ;)
Is anyone else feeling overwhelmed as the summer comes to an end? Clearly I need to revamp my summertime schedule next year. I'm not a teacher anymore!
Switching gears, let's talk about what I'm wearing in these photos, which Cassandra snapped last week when we were working on a few projects together. (Waa! So sad. She's moving!) It was a gorgeous day; crisp but warm but also breezy in that wonderful I-can-wear-a-dress-but-also-a-sweater kind of way. I wore one of my favorite Julie Brown dresses (old, but how cute is the current collection?!) and my new Jolie cable-knit sweater, which I'm obsessed with. I'm the kind of girl who's freezing in the morning, hot during the day, and freezing at night–so this little number is my new best friend. I've been wearing it everywhere, and I'm convinced that I need it in every color. Especially in ivory, mint and black! I love its cable-knit detailing, and how flattering its drapeyness (#newword!) is. Take my word for it: you need one, just like every preppy girl needs an Elsa.
I wore my favorite pink pumps from C.Wonder, too. Which brings me to this: it looks like C.Wonder is coming back! No further details at this point, but happiness. In the meantime, you can get a pair of hot pink heels from J.Crew Factory. Pretty much identical!

I also wore my favorite Kendra Scott necklace. (Surprise, surprise.) If you missed yesterday's post, KS recently opened a new storefront at 900 North Michigan Avenue in Chicago, and it's amazing! I, of course, adore the classic Rayne necklace in navy, turquoise and white… but I also adore these magenta studs, these logo studs, this gold bracelet, this long gold necklace, and this gold pendant necklace. Shop my other favorites above!