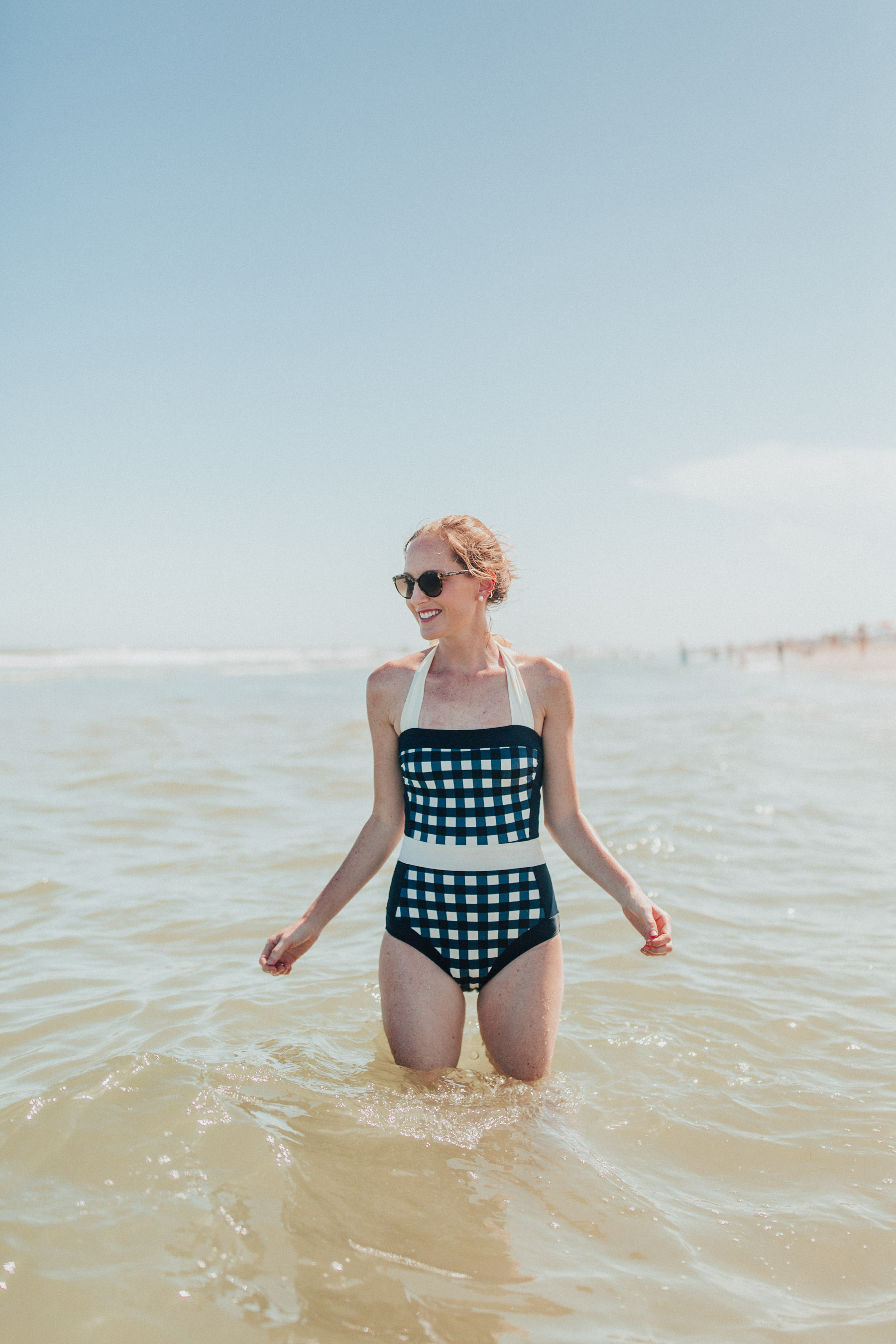 Boden Retro Gingham Santorini Bathing Suit (On sale! Also love the Lands' End Gingham Swimsuit, which is also on sale!) / Similar Sunglasses Here and Here
Did you see yesterday's post? It went up late last night, but I'm sharing reader-recommended Ikea products and hacks!
What type of bathing suit are you most comfortable in? I'm a one-piece girl, and always have been–even in high school and college, when it was nearly impossible to find cute ones. For a long time, I attempted to embrace bikinis, especially during the height of their popularity. But every time I tried one, I ended up feeling like I was wearing my underwear in public. 🙈  I felt weird about my super-white stomach that was five shades lighter than the rest of my body, and I was constantly worried about sunburns.
Fast forward to today, and I only own one pieces. (Save for this gingham bikini I wore in the Bahamas out of the goodness of my heart because Vineyard Vines asked me to. 😂) I'm just happier in them! They allow me to chase after Emma worry-free, and the extra coverage provides for protection against the sun. This ruched bathing suit is my go-to, as it's the comfiest one piece I've ever owned and comes in a long torso version, but when I saw this retro gingham suit from Boden this past summer, I had to buy it.
It's SO NICE. While I bought it at full price because I was head-over-heels in love and didn't want to risk it going out of stock, it's now on sale and still available in most sizes!
Here's why I love this Gingham Bathing Suit so much:
Removable padding:
I'm don't understand why so many bathing suits come without padding these days. Who are these girls who are able to get away with this?! I, for one, definitely need the extra help in that area, haha… but I also don't want to be worried about getting cold or wet.
Figure-flattering white band:
I love how this feature gives me a waist. It breaks up the gingham pattern and gives the suit a great retro style. I know it's a one piece, but it kind of reminds me of those adorable high-waisted bikinis I think look so great on other people. ;)
Halter straps that tie in a bow:
Scroll down to see! The straps are amazingly soft, and they don't come untied, even in the waves. They also allow additional room if you have a longer torso like I do. As you can see, I'm wearing my suit on the lower side because of that, but you can easily hike it up if needed.
Low leg cut:
I don't look great in the higher leg cuts that are so popular now, but I do like how the navy trim around this suit's leg holes disguises the lower cut.
Gingham pattern:
I mean, what is there to say here? #ginghamforlife
True-to-size Boden fit:
I consistently wear a size 4 in Boden, and I took a size 4 in this suit, too. I'd recommend going one size up from your J.Crew size. For reference, I wear a size 2 in J.Crew swimsuits. I'm almost 5'5, weigh somewhere around 110 pounds, and wear a size 34A bra.
Looking for another gingham option? Try Lands' End's version! Since it's the end of the summer, it's majorly on sale, too. :)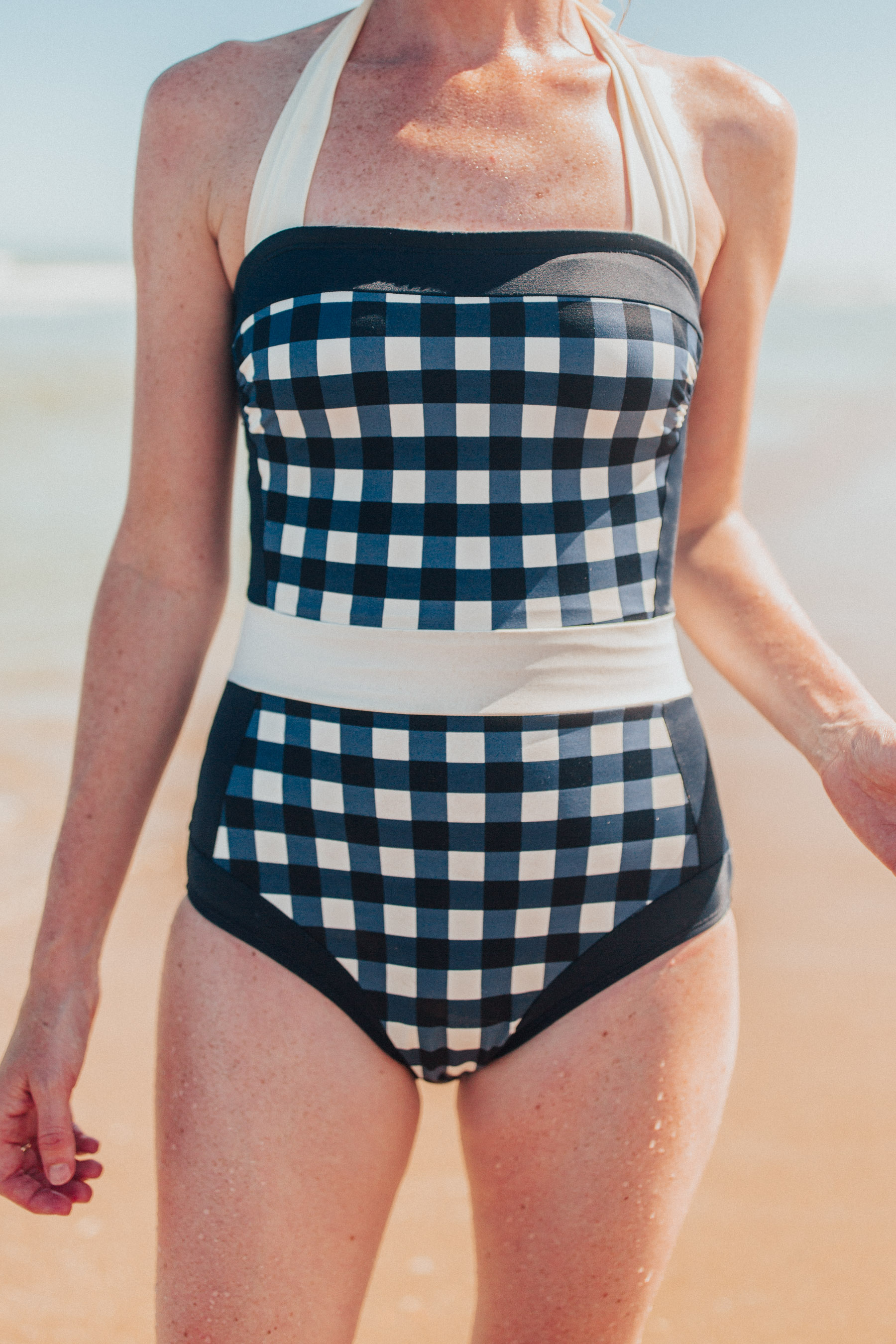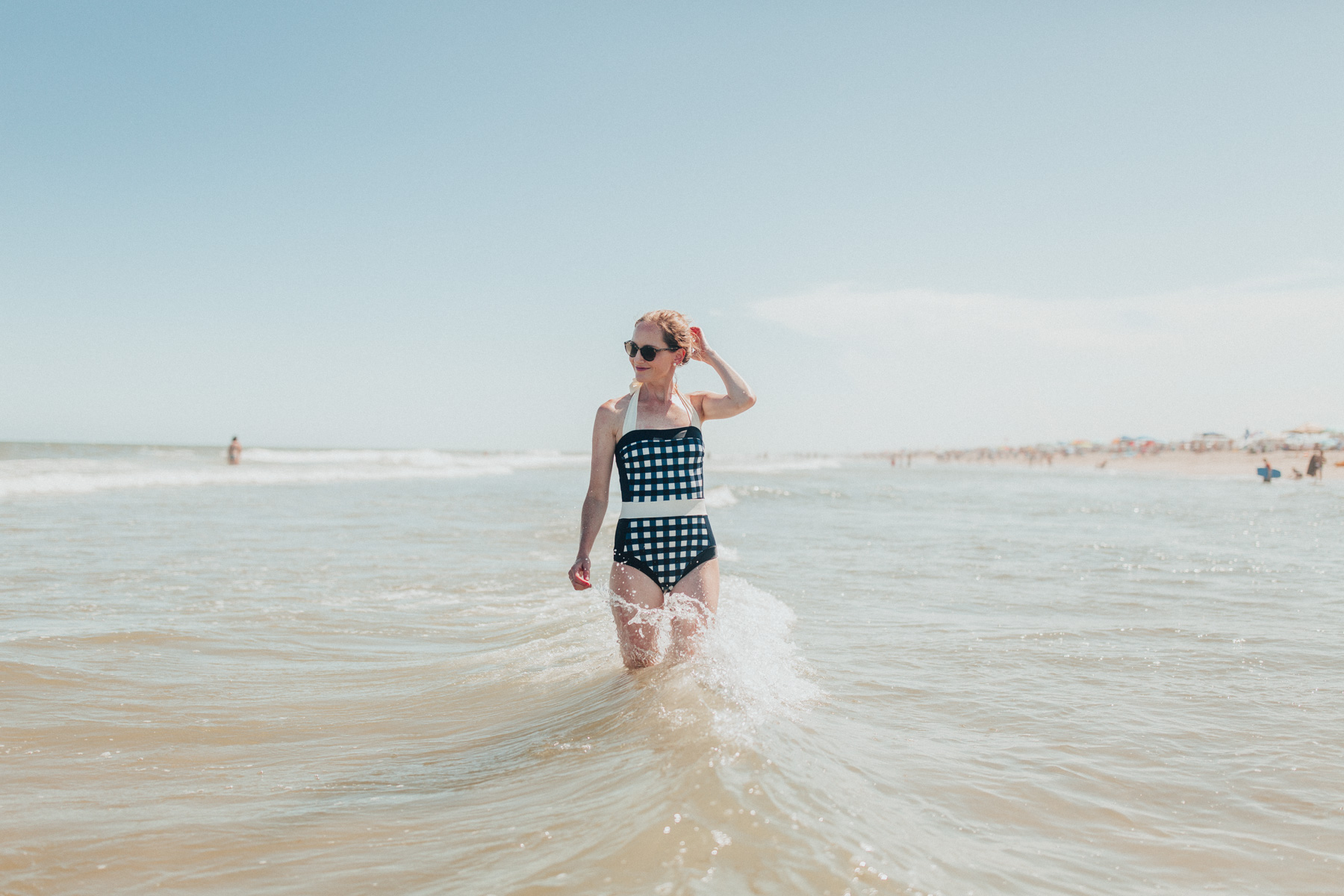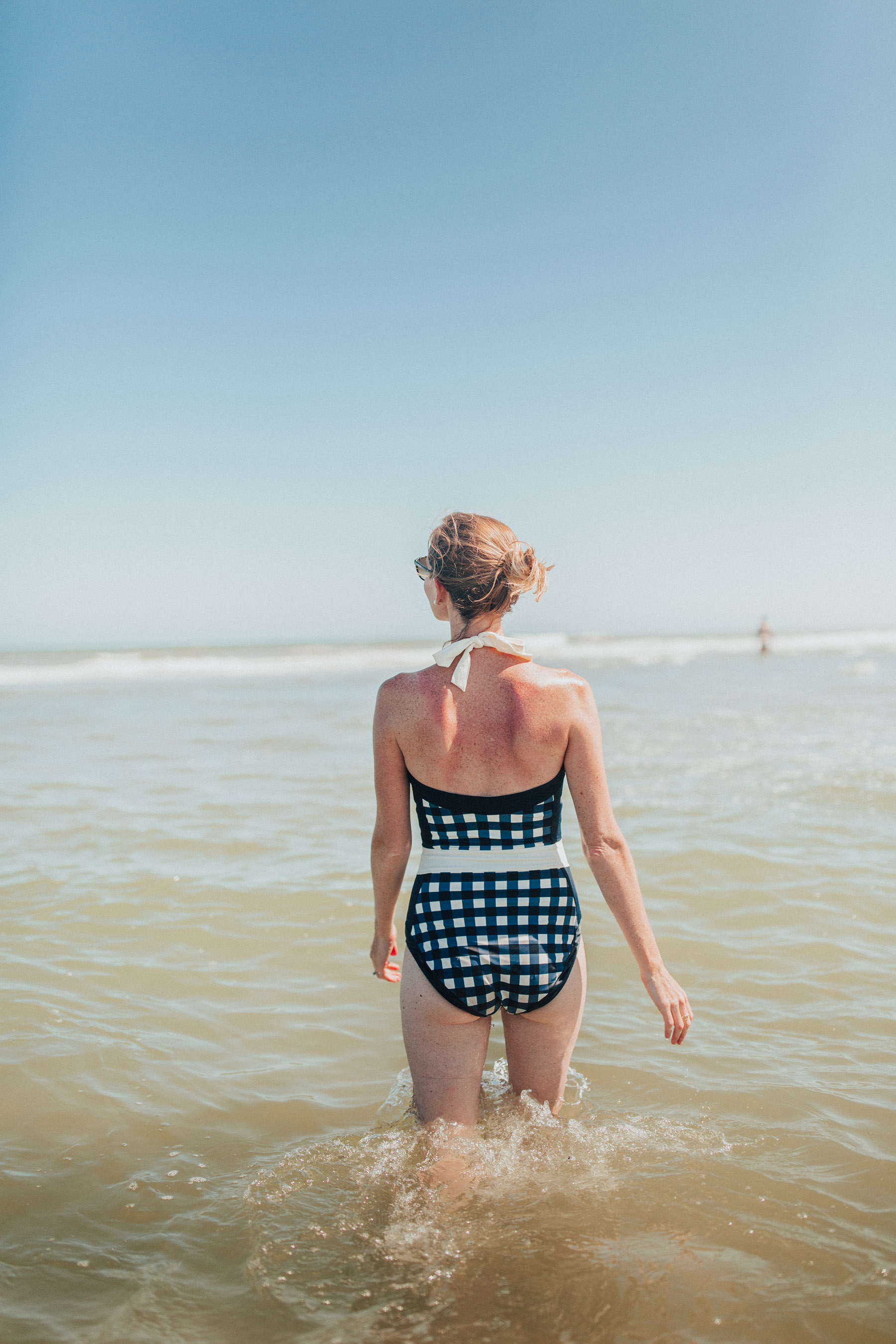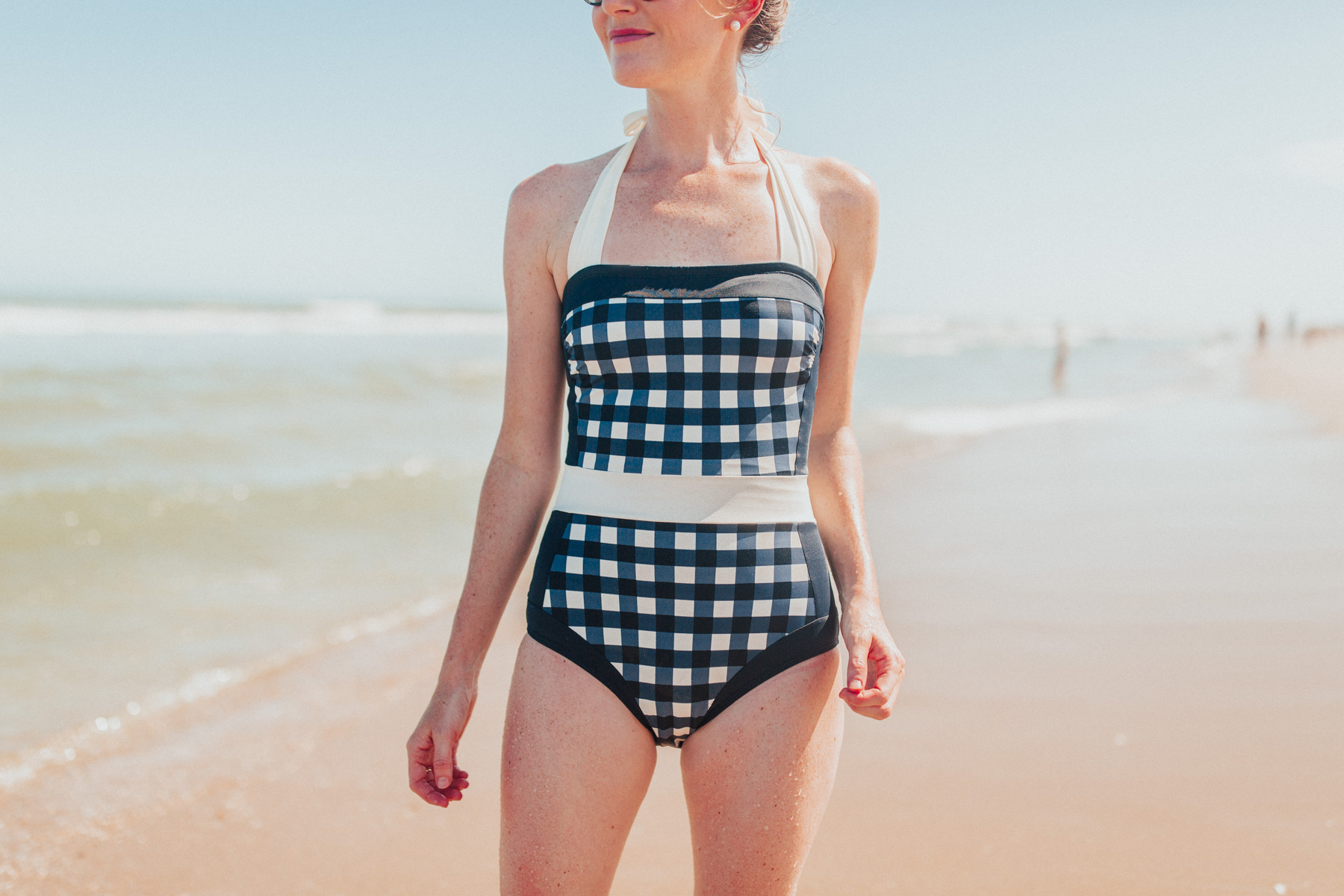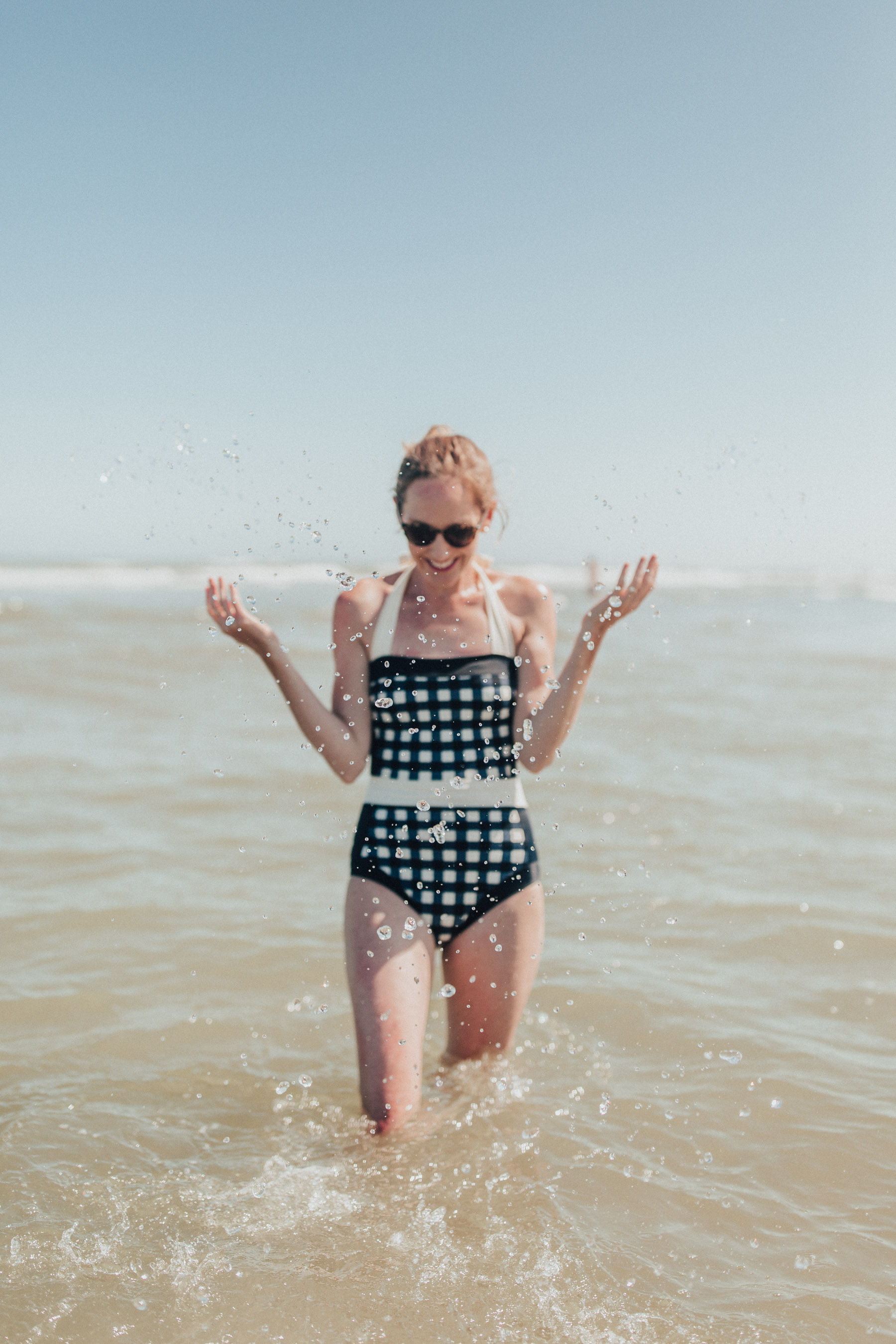 Shop the post:
Boden Retro Gingham Bathing Suit (On sale! Also love the Lands' End Gingham Swimsuit, which is also on sale!) / Similar Sunglasses Here and Here