Last week, while I was sick on the couch, I spent a good amount of time looking through magazines and catalogs–something I rarely do even though I love it. ;) It's just so relaxing! Much like reading a book or watching a movie, it allows me to decompress and momentarily transport myself somewhere else. I actually have a stack of magazines and catalogs I'm been meaning to go through just sitting on my end table, and I recently realized that some are from 2016. I need to allow myself to sit down every once and a while and flip through 'em. 😂
Moving on. While I was sitting on the couch, the new Ikea catalog arrived. (Thanks, Rafael. Best mailman.) It'd been years since I'd received one, but I remember freaking OUT when I'd find it in my mailbox in New York. Over my years there, I lived in one impossibly small space after the next, the worst being a studio converted into a two-bedroom apartment. Yes. You read that correctly. :( If I stood in the middle of my room, I could touch both sides of it at the same time. It so small that I couldn't fit a twin-sized bed, and therefore had to sleep on a futon mattress in a three-foot-high glorified cubby above the room. Can't tell you how many times I smashed my head in the morning when my alarm went off, haha. Oh! And this was fun: the kitchen was in the four-foot hallway that lead to the bathroom, and the place was basically situated under the Queensboro Bridge, right down the street from a gentlemen's club. Those were the days.
Ikea to the rescue, though. I loved that it was mostly within my budget, that the catalog and showroom provided me with endless "small living" inspiration and solutions, and that I could copy nearly any look from Pottery Barn for less. 😉 It made the worst apartments livable and (dare I say) even somewhat nice-looking. An added bonus? If the stuff got a little dinged up in my yearly moves, I wasn't completely heartbroken.
Even though I'm now in my 30s and own a home, I still love Ikea. I really look forward to our yearly trips there, and almost always come home with awesome finds, having spent very little money. (In comparison, of course. Let us not forget the time I bought most of the Hemnes collection, haha.)
Anyway, I went to my Instagram followers last week after having flipped through the catalog, and asked them to message me with their favorite stuff as well as the best product hacks they'd found. There were a ton of responses, which was amazing! (Thank you!) But these are a few that I thought I'd highlight tonight. (Along with some of my own picks.)
Anything I missed that you think should be included? Please let me know in the comment section below, and I'll add it to the blog post! (Love "working" posts. So much fun.) Thanks, guys!

$9.99 to $14.99
Credit goes to my cousin Sammy for this one. She was super into Pinterest (follow me! ☺️) when Mitch and I got engaged, and she sent along so many fabulous wedding decor ideas throughout our year of planning. One of them was using white lanterns as centerpieces, with rings of hydrangeas around candles inside. I loved how it came out, and it was really fun telling everyone to take the lanterns home at the end of the reception. I still see them being used as decor in friends' and family members' homes. So special.
You can see the rest of our wedding photos here!

Most ~$60 to $200
My interior designer and friend Kira from Kira David Design recommends creating a faux marble surface for your Ikea desk–and other Ikea pieces–with contact paper. Here's her step-by-step guide on how to do it!
This desk is only $59.99, and would look ridiculously gorgeous with marble contact paper. (Find the stuff on Amazon.)

$59.00 + up
Without a doubt, this is the product I received the most messages about. Using the Billy Bookcases, reader Carol H. created the built-in masterpiece you see in the first photo in ONE weekend with her husband! Her niece, Colleen S., made the entertainment center you see in the second photo with the same bookshelves. Quite the talented family, wouldn't you say?
Here's my favorite tutorial on how to do it. Also, check out this article on the Billy Bookshelves. SO MANY AMAZING IDEAS!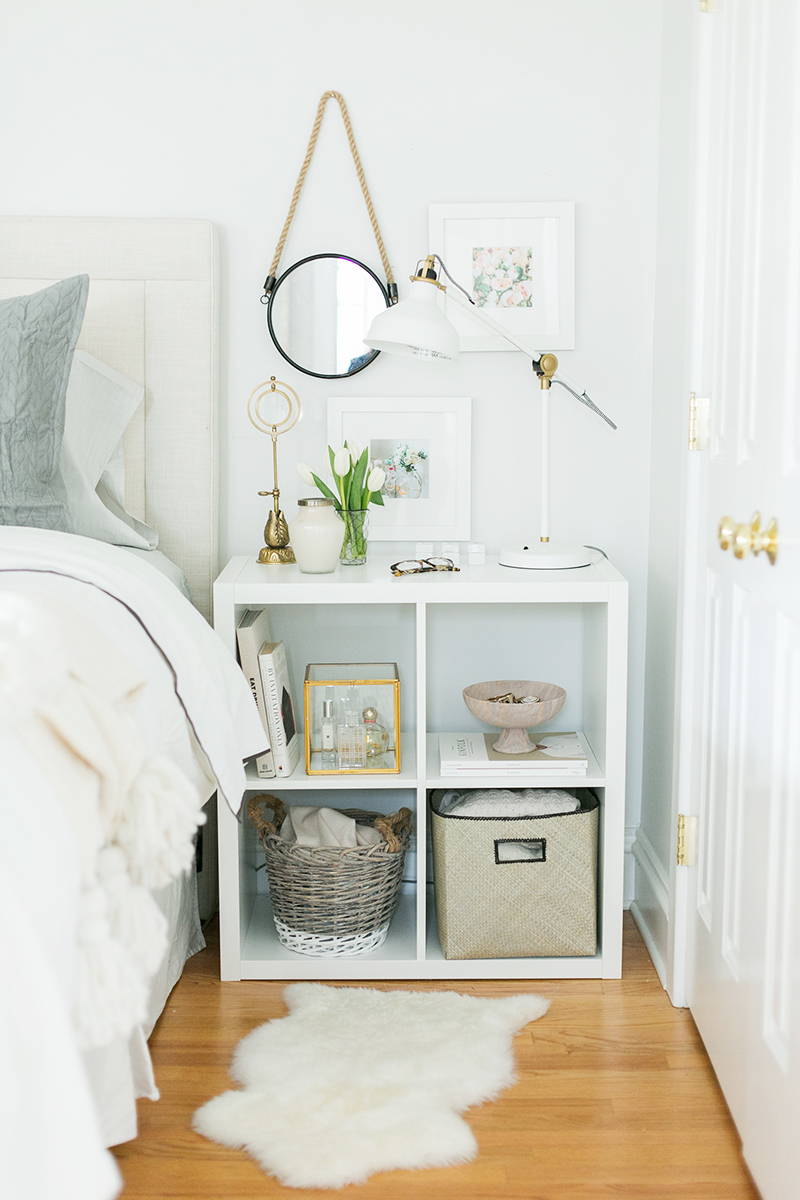 As low as $38.99
Isn't the above photo–from my friend Danielle's site–absolutely stunning? The Kallax Shelves are undeniably one of Ikea's most popular products, for good reason. There's so much you can do with 'em, and they're priced low. Just put "Kallax Hacks" into Pinterest and BOOM. You'll lose a solid three hours of your life.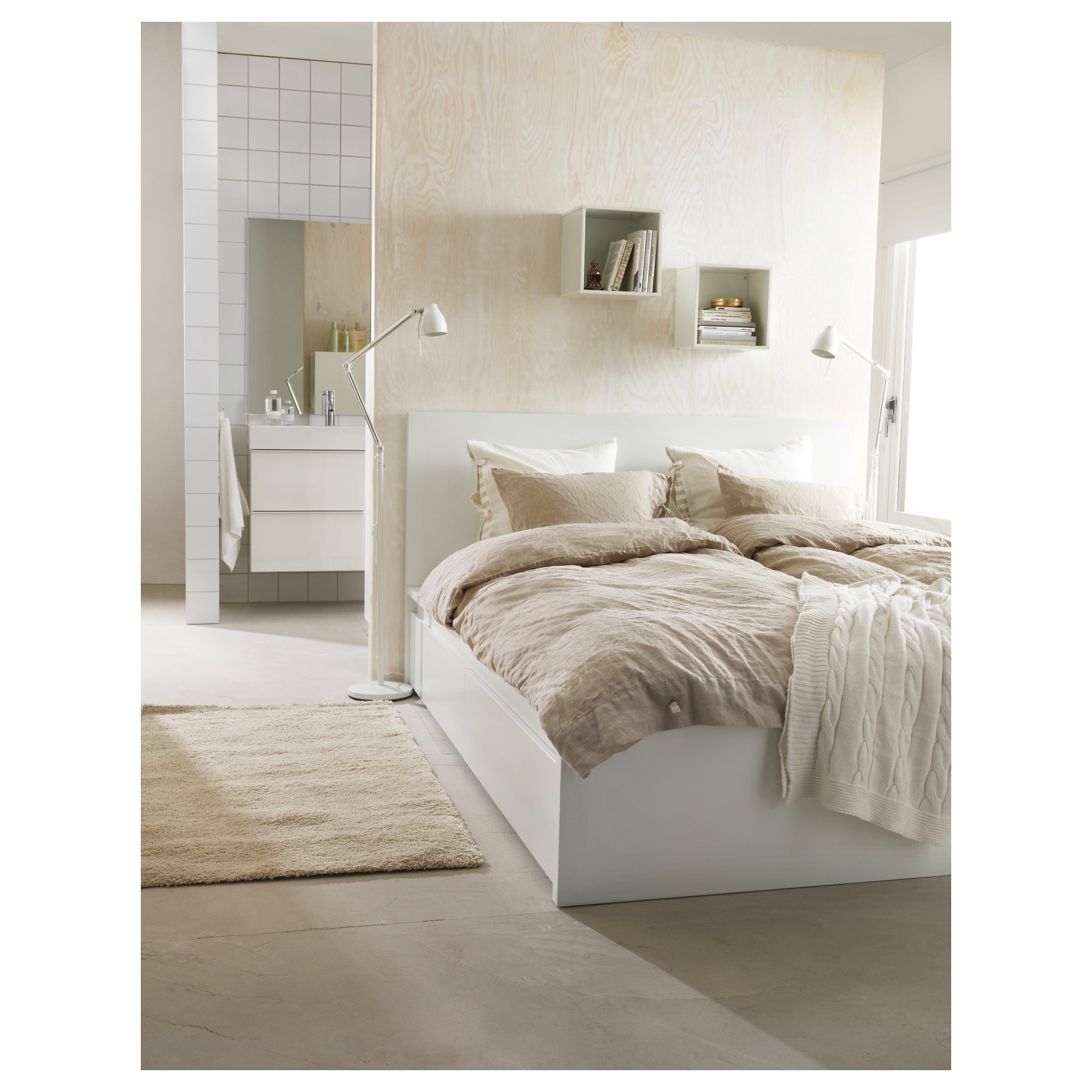 $409
A few readers raved about the Malm Storage Bed, which is fantastic for small spaces. I wish I'd had this when I lived in New York, as I was desperate for storage there. I'll never forget going to Color Me Courtney's West Village apartment and telling her about how I had nowhere to keep my shoes. She was like, "Girl, I feel you!" And proceeded to reveal the interiors of her kitchen cabinets, which were filled with her collection. 😂 The city life struggle is real!
The Malm is raised to allow for maximum storage underneath, and I love a high bed. Yes: it's a bit more modern than I'd usually go for, but it's certainly nothing crazy! I definitely would have gone for this back in NYC, and would have simply paired it with dressers and end tables from another line to balance out the look. Also, if you really want something traditional, the Hemnes bed does offer an under-the-bed storage option. I don't love how you can see the boxes underneath, but a cute scalloped bed skirt would hide everything! I have this one.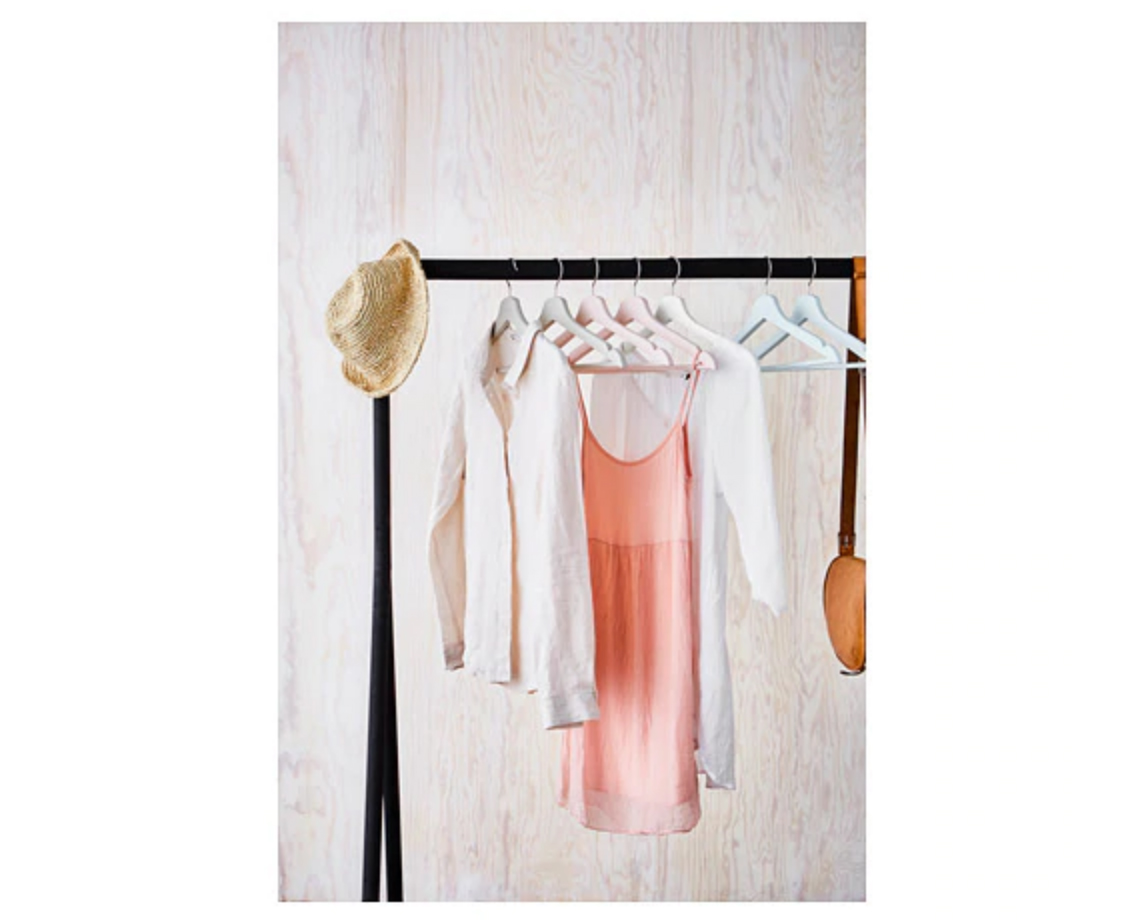 ~$1.50 to $4.99 per pack
We get a ton of our hangers from Ikea, and apparently so do you guys! They're wonderful, and they make things look very neat and tidy. We use these for our coat closet and these for Emma's closet.

Hardware Switch-Out (Tip)
This idea comes from Erin McD., who says replacing hardware can personalize a piece and make it look far more expensive. She did it to the Hemnes Sideboard, and she uses it as a coffee/cocktail bar. Anthropologie is a great place to find pretty hardware, as is Amazon.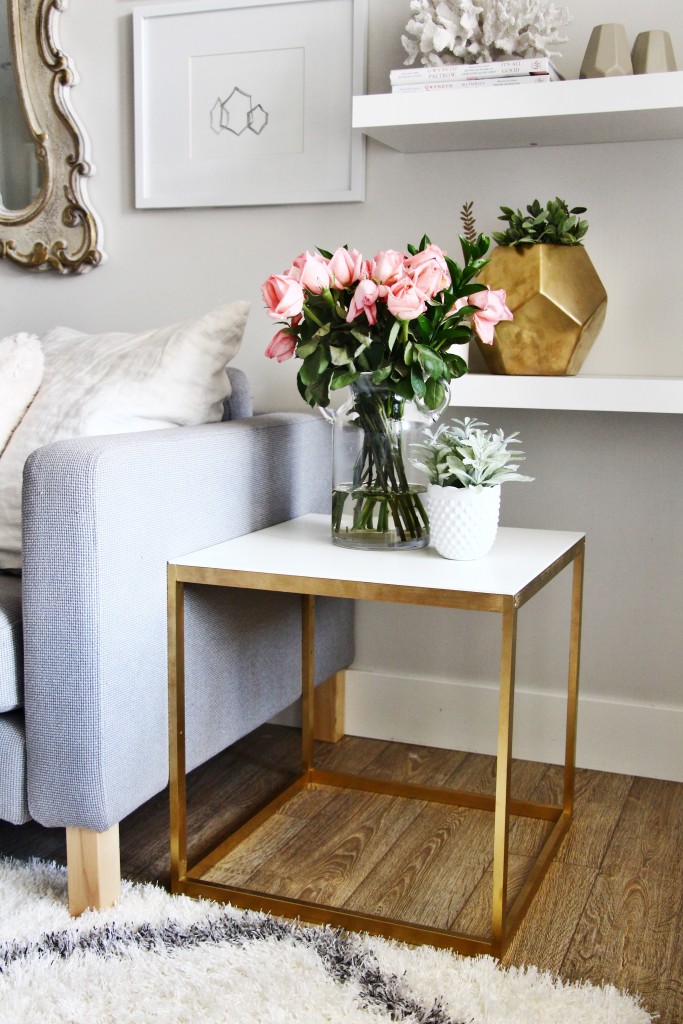 Spray Paint Everything (Tip)
Amazing.
A fun example: Brittany Robertson shows you how you can take nearly any Ikea piece and turn it into something gold and shiny. Tons of other options, too. Just look!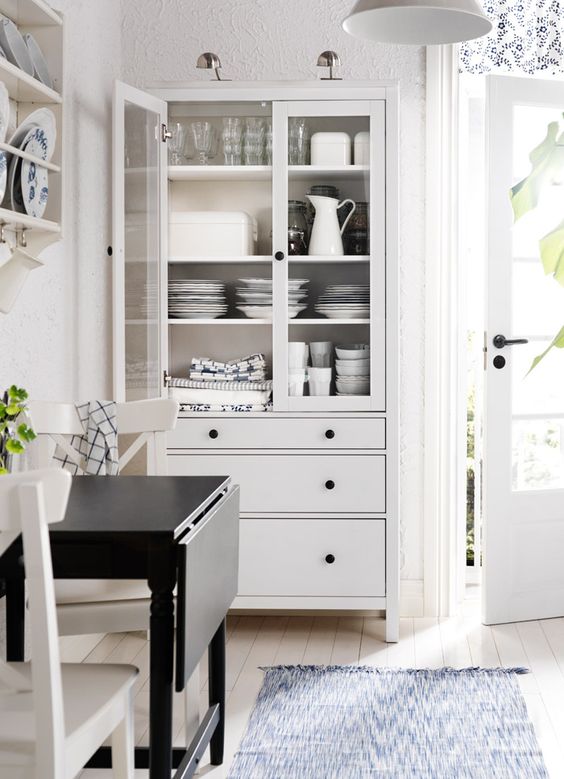 Prices vary
Obviously had to include this line as a whole, as it's my personal favorite. Jessica R. told us that she spray paints the knobs for a custom look! She particularly loves the nightstand. I'm currently lusting after the above cabinet, which recently received an update.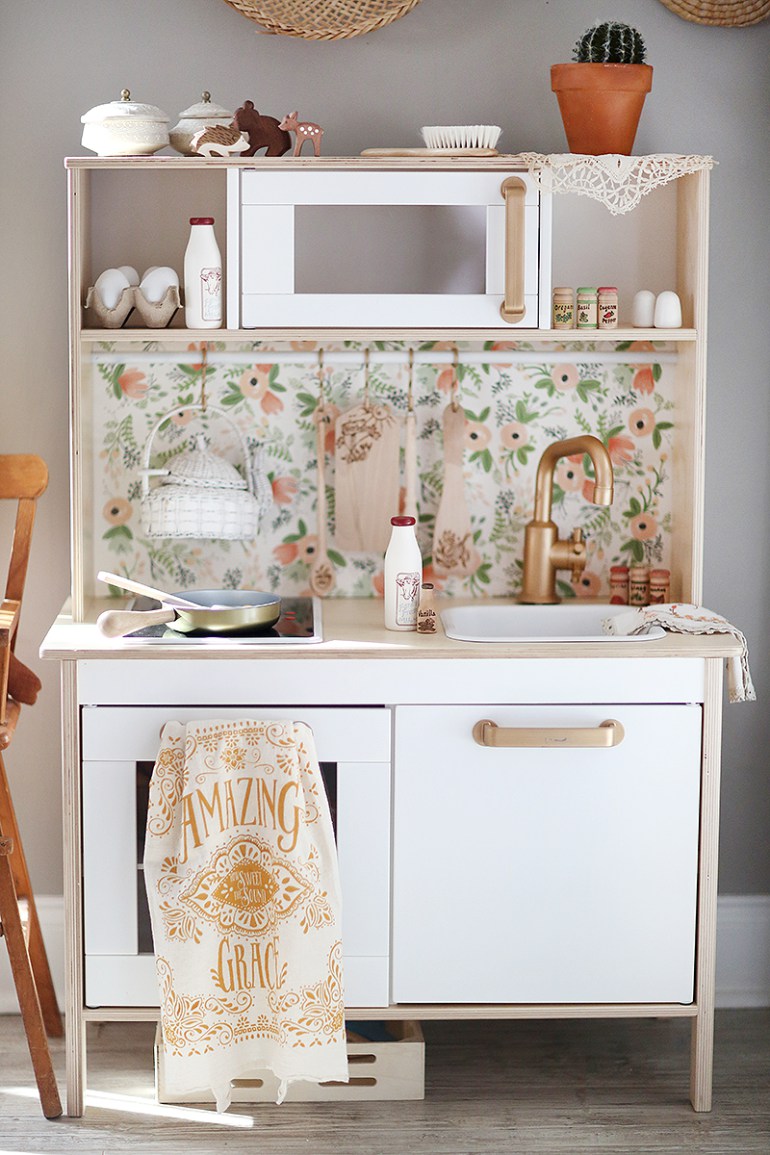 On sale for $79.99
So many recommendations for this one, too! I think it's adorable "as is," but WOW. Just look at what "This Haus of Ours" did to hers. Find others' creations here.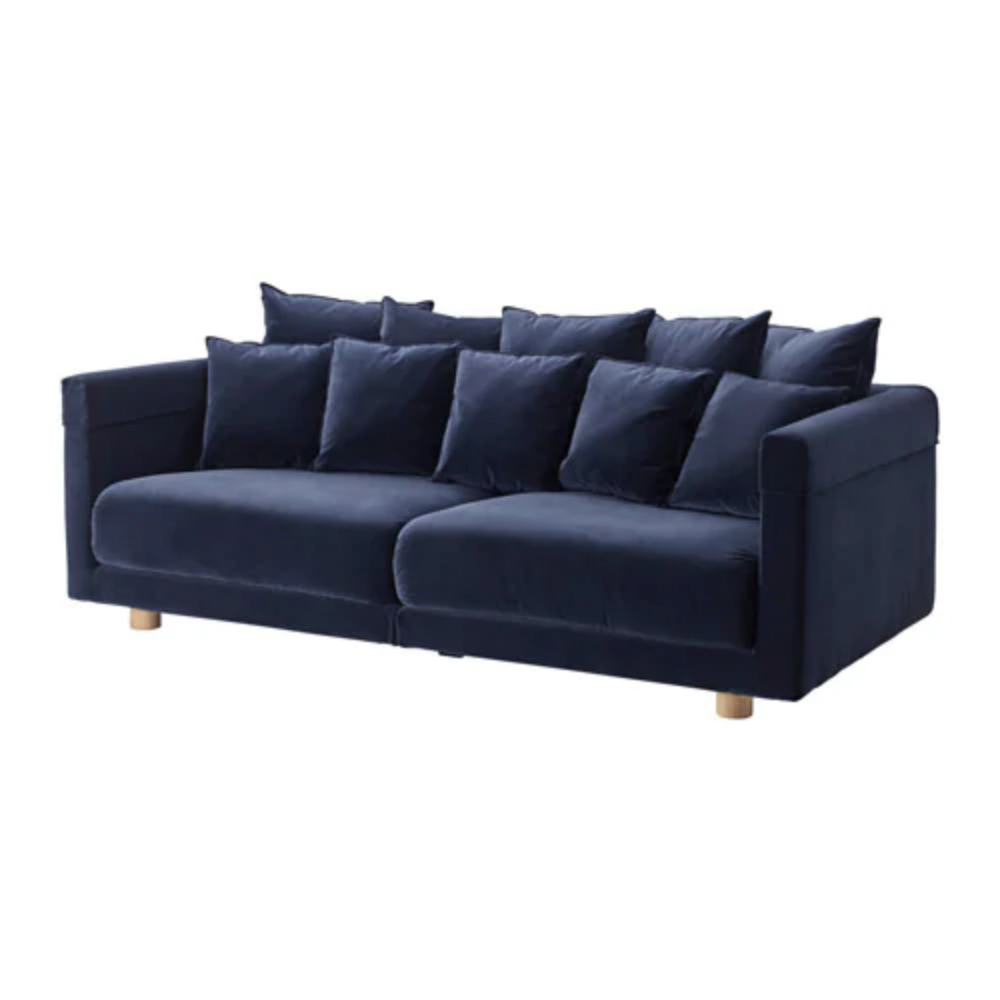 $1,699
This comes in from Leah S., who has had the couch for a year now. She says the quality is amazing and it's an incredibly comfy piece of furniture. Yes, it's pricier than other Ikea couches, but it's NAVY VELVET. (Hard to find. My dining room chairs are actually navy velvet!)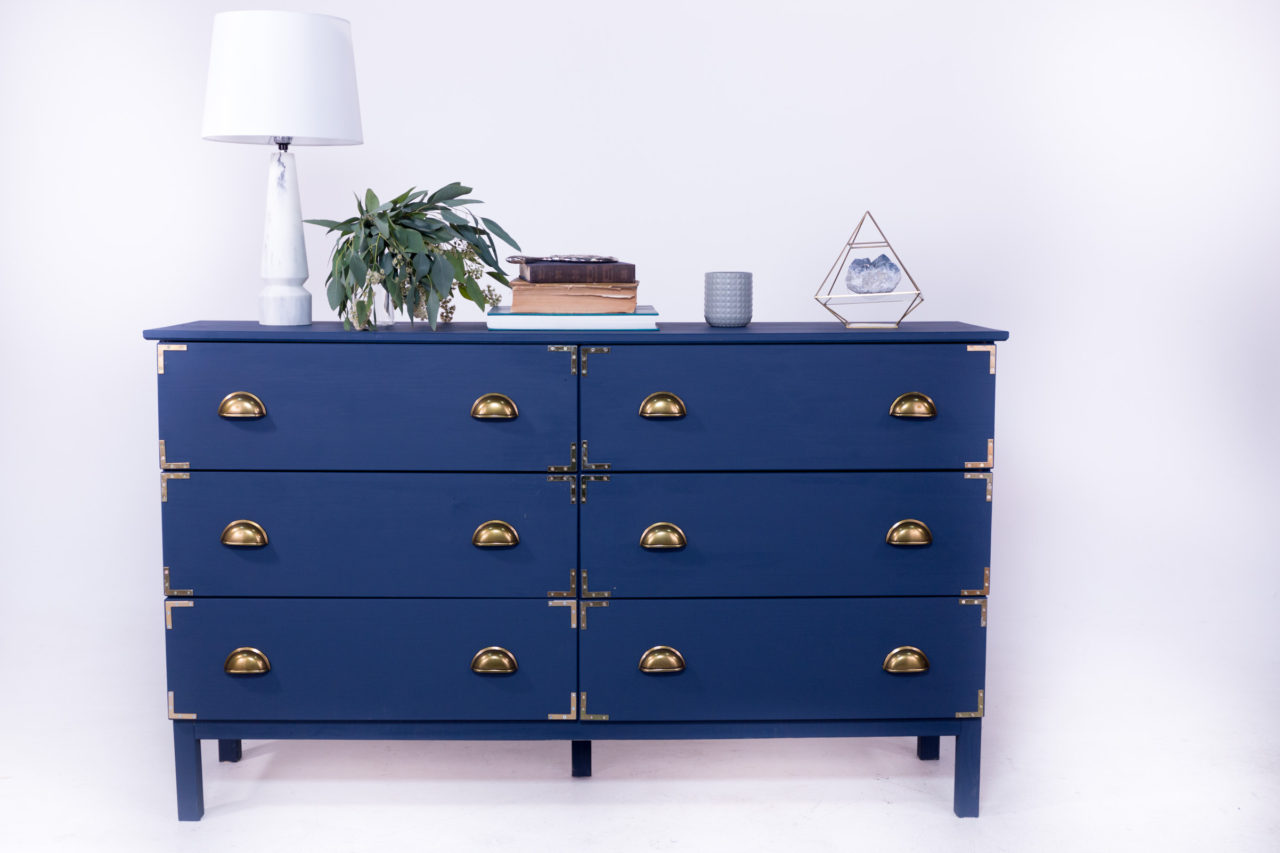 $179
This comes from Mr. Kate! I'm obsessed with campaign-style furniture, but it's expensive. Such an amazing way to do it yourself and save a boatload. I love the color they went with, too.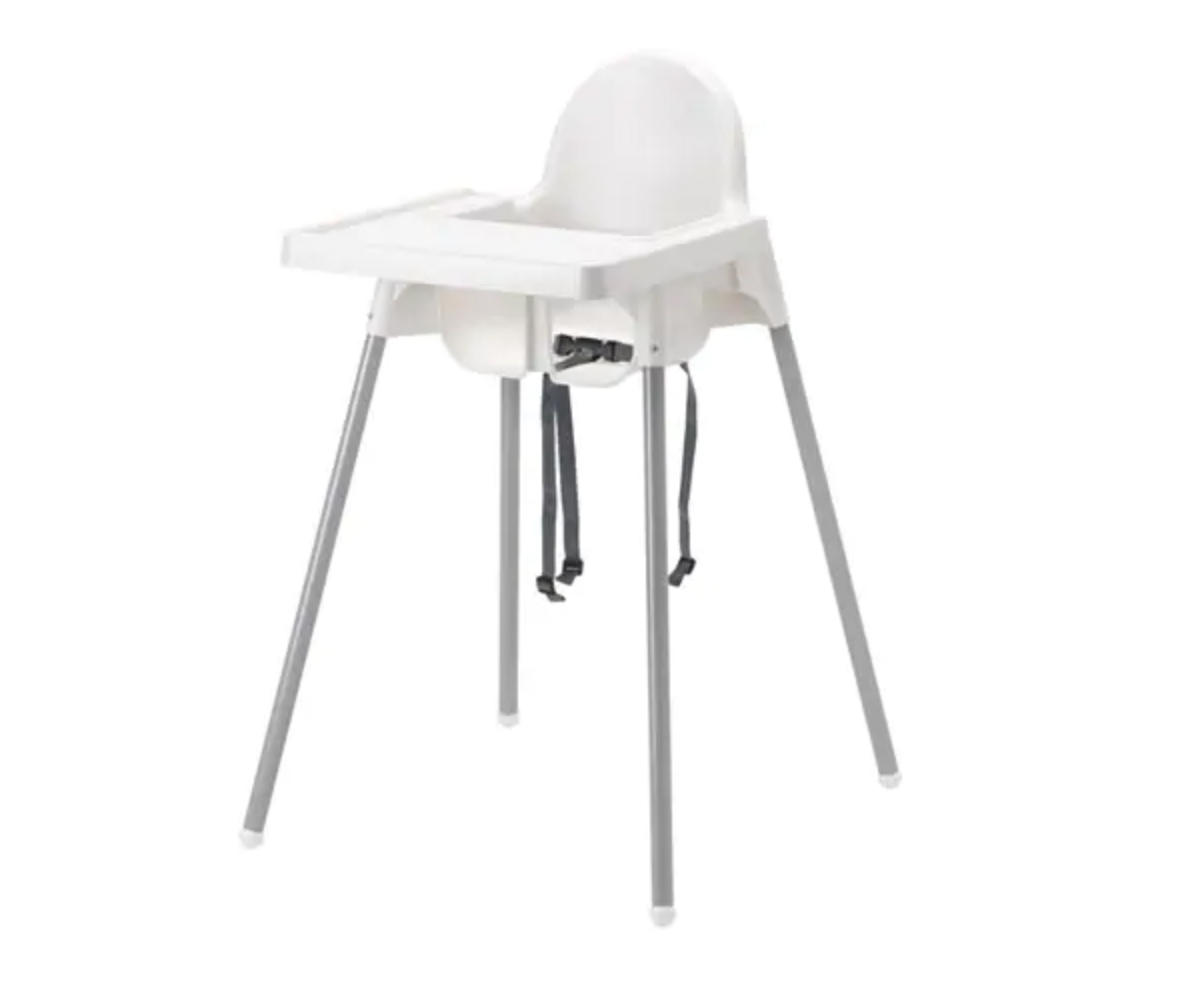 $22.99
Do I have your attention, Ladies?! A bunch of readers–namely Kat J. and Maddy P.–went into great detail about this guy, and I so wish I had known about it when Emma was tiny! This $22.99 high chair has a smaller footprint and isn't offensively ugly like so many high chairs are these days. 😂 It also COLLAPSES. Huge–I mean tiny–for city dwellers!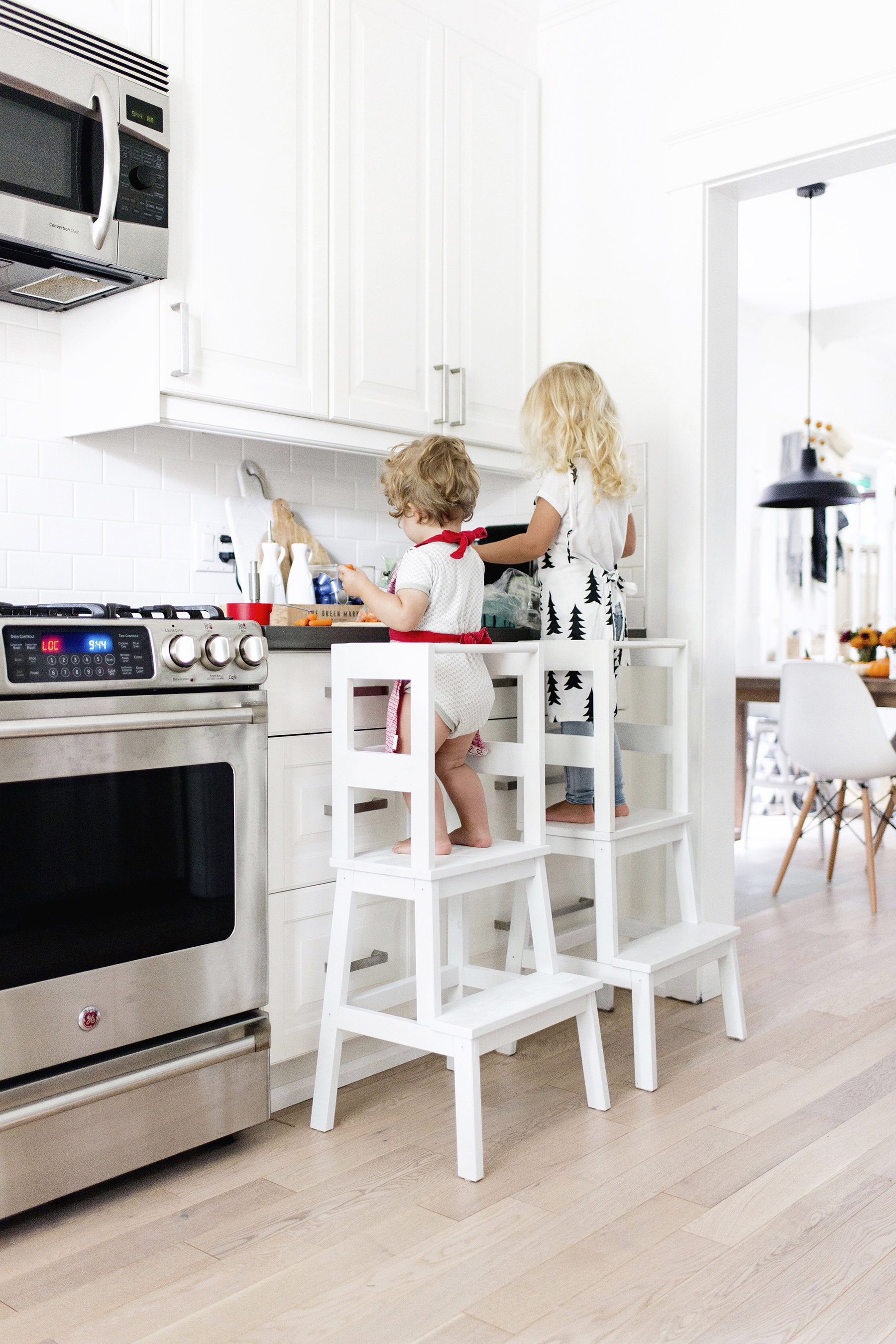 $19.99
Happy Grey Lucky shows us how to make the perfect kids' step stools for the kitchen. I love the safety bars!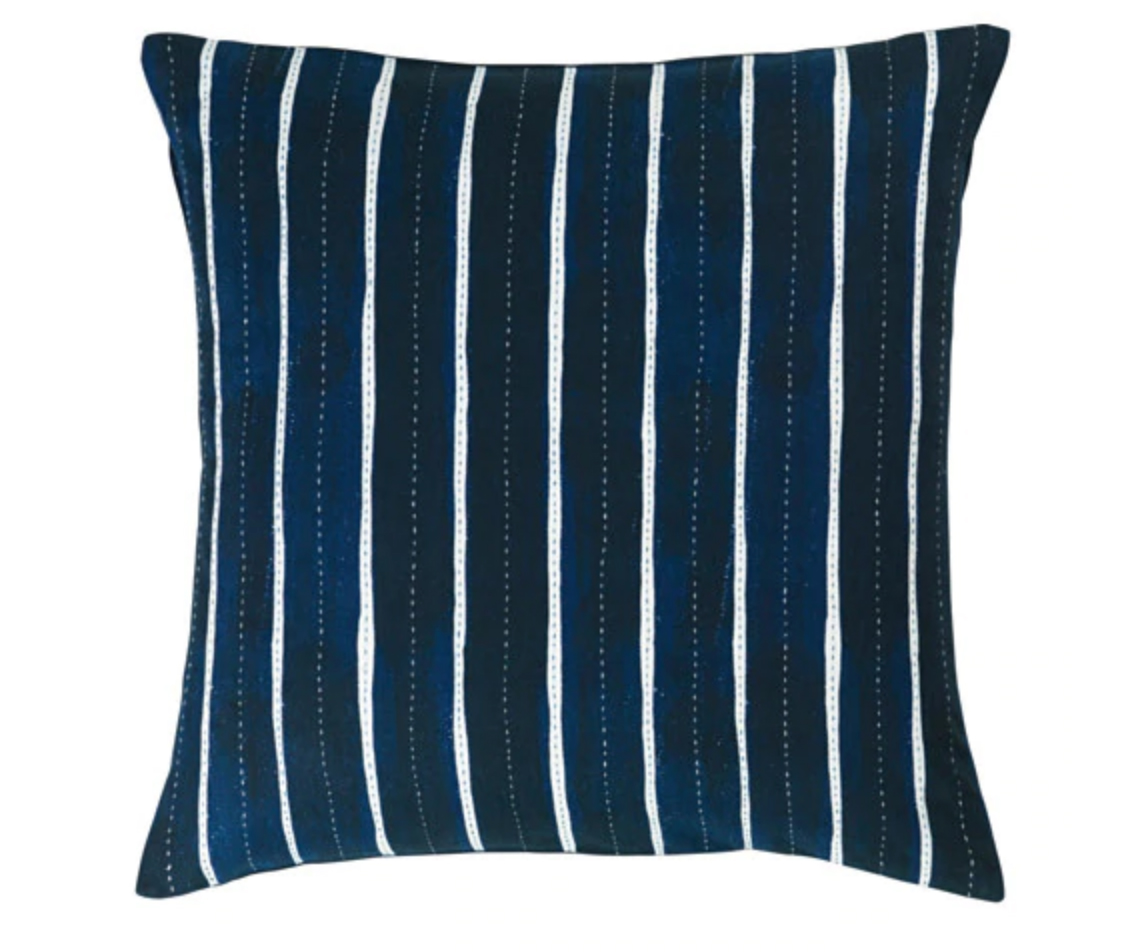 Prices vary
Reader Amelia R. suggests investing in Ikea pillow covers for decor instead of the pillows that don't have removable inserts. It's a major space-saver, she's now able to decorate seasonally or redecorate when she wants to switch things up.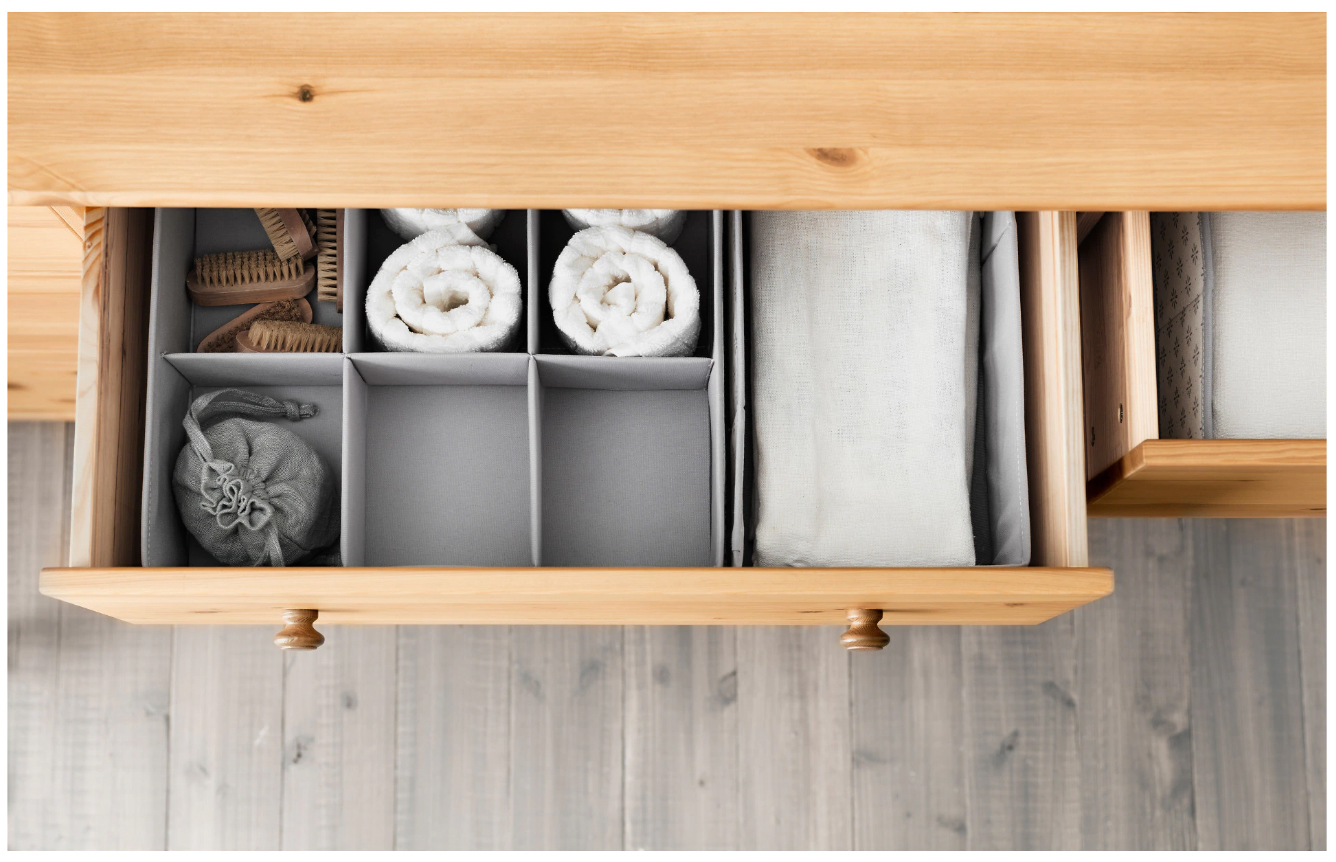 $9.99
Linnea C. swears by Ikea's drawer organizers. Don't even ask her how many pairs of socks she can fit in them.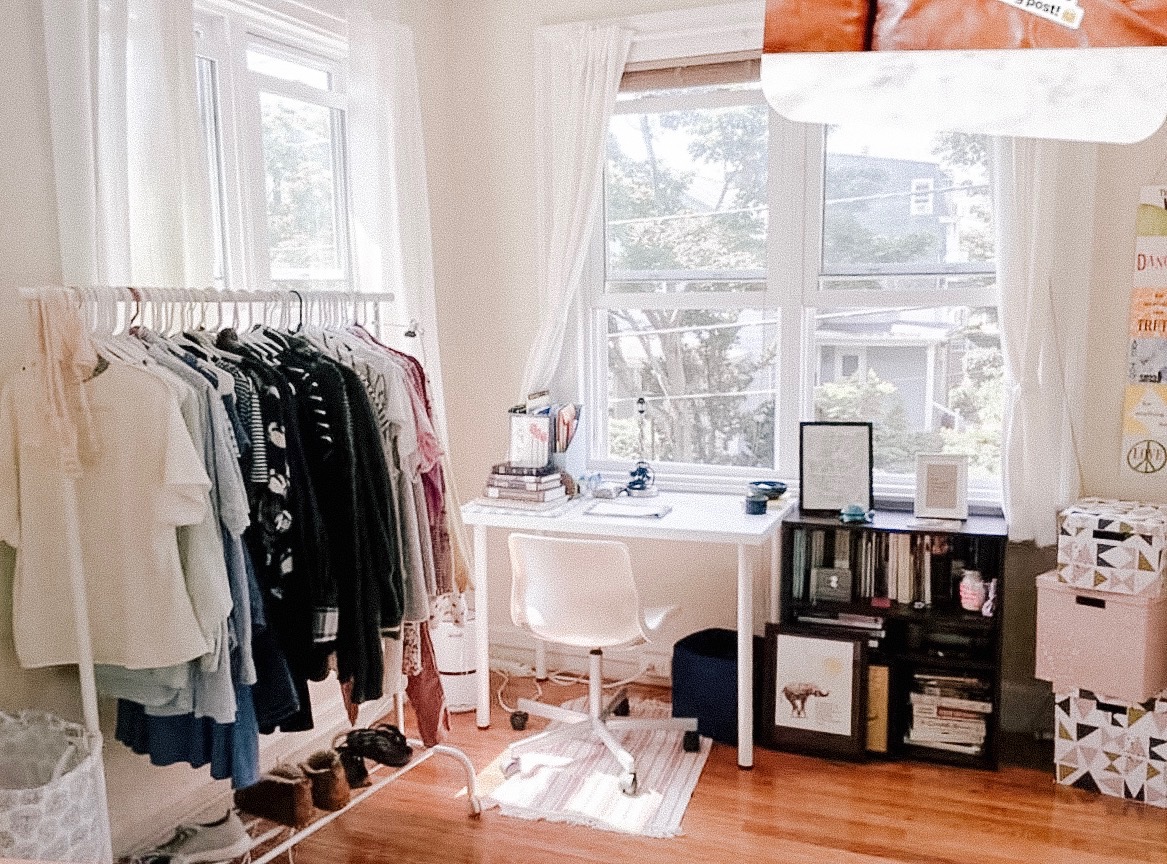 As low as $9.99
This comes from reader Emma McD., who is short on closet space. She's in school right now, and has used Ikea to furnish the majority of her apartment!
I use a clothing rack as well–to plan my outfits for the week and the blog. Saves myself a ton of time (and getting ready is much easier) when I get everything together on Sunday night. :)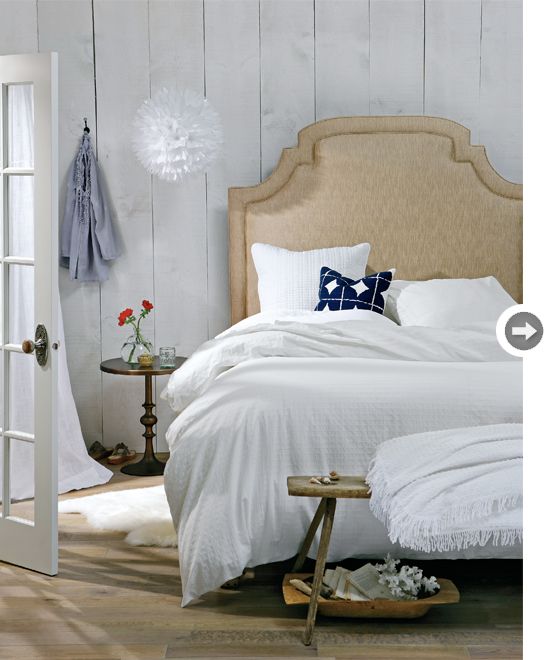 $29.99 to $49.99
My Auntie-M (the one on Nantucket) loves this one! I've seen it on her bed before but had NO idea it was from Ikea, and now that I know what a steal it is, I totally want to pick one up for our master bedroom! Mitch and I have acquired quite a few duvet covers over the year (mostly through blog collabs), but I'd love to own a solid white one–with some texture–that doesn't wrinkle like crazy. Obsessed. Thanks, Auntie-M!
Other duvet covers to check out: This blue and white striped ticking one, and this pink gingham one. (My mother-in-law has the gingham one!)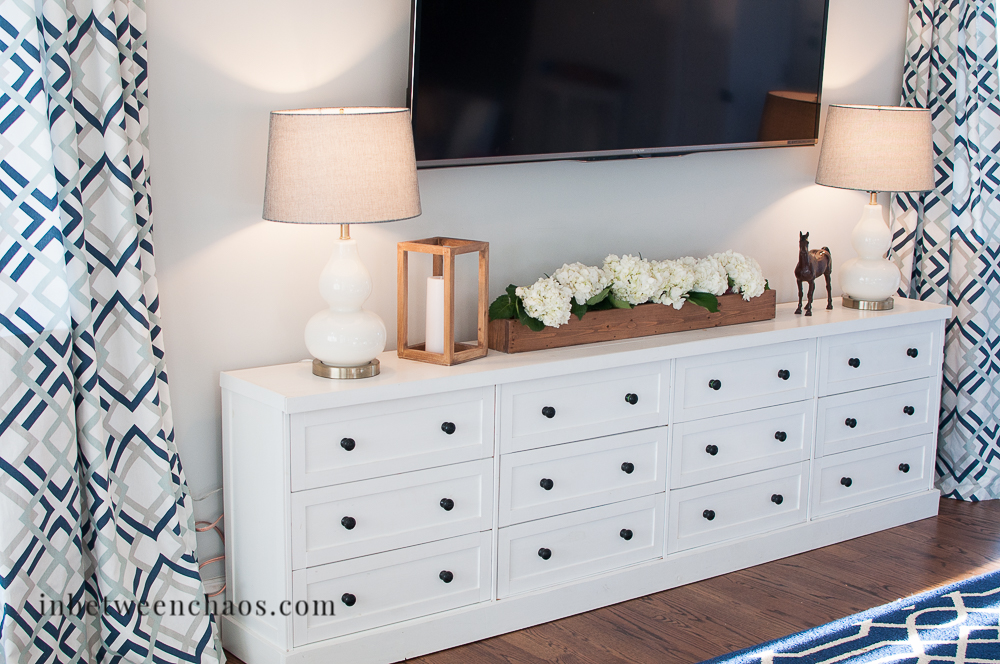 $39.99
"In Between Chaos" shows us how to create a media console using the Rast Chest. It was her first project, and I'm astounded by how perfect it looks!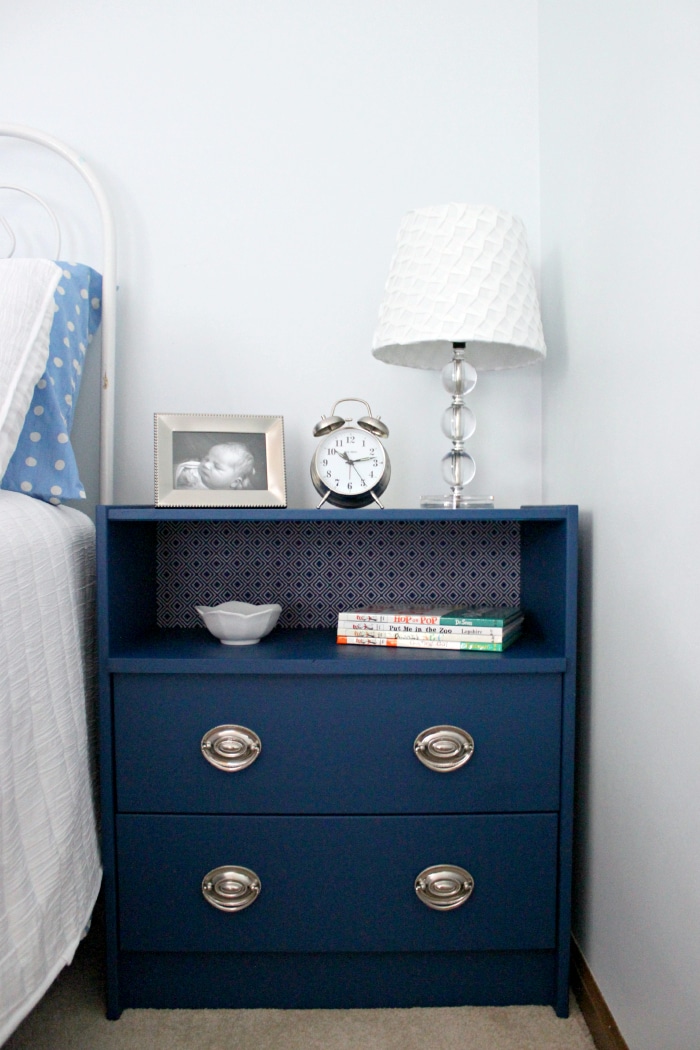 $39.99
Couldn't help but include this one, too. That navy! That hardware!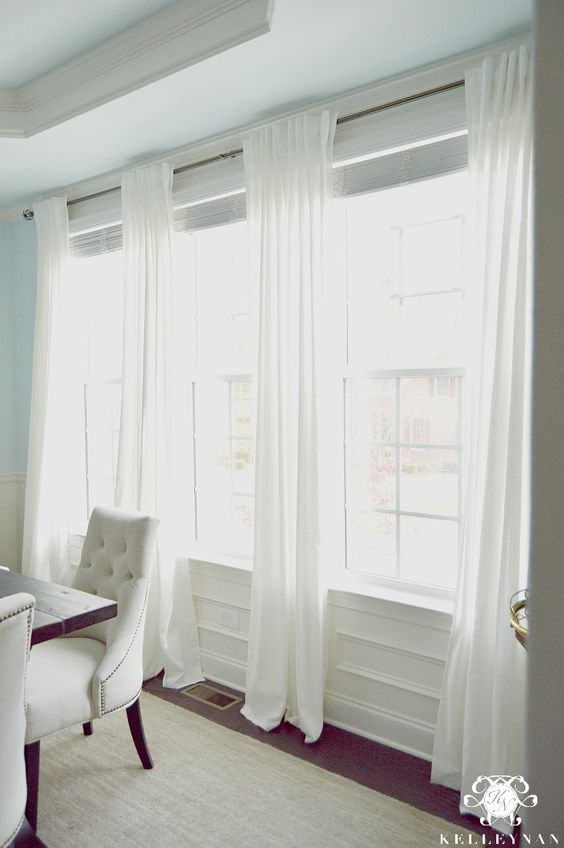 This comes in from Jenny S., who says these drapes look way more expensive than they actually are. I SO agree. I'd never seen them before, but now I'm wishing we had giant windows like the ones you see above so I could install them. Stunning!
Jenny says they fall nicely, and you can also add a blackout liner. She added trim, too.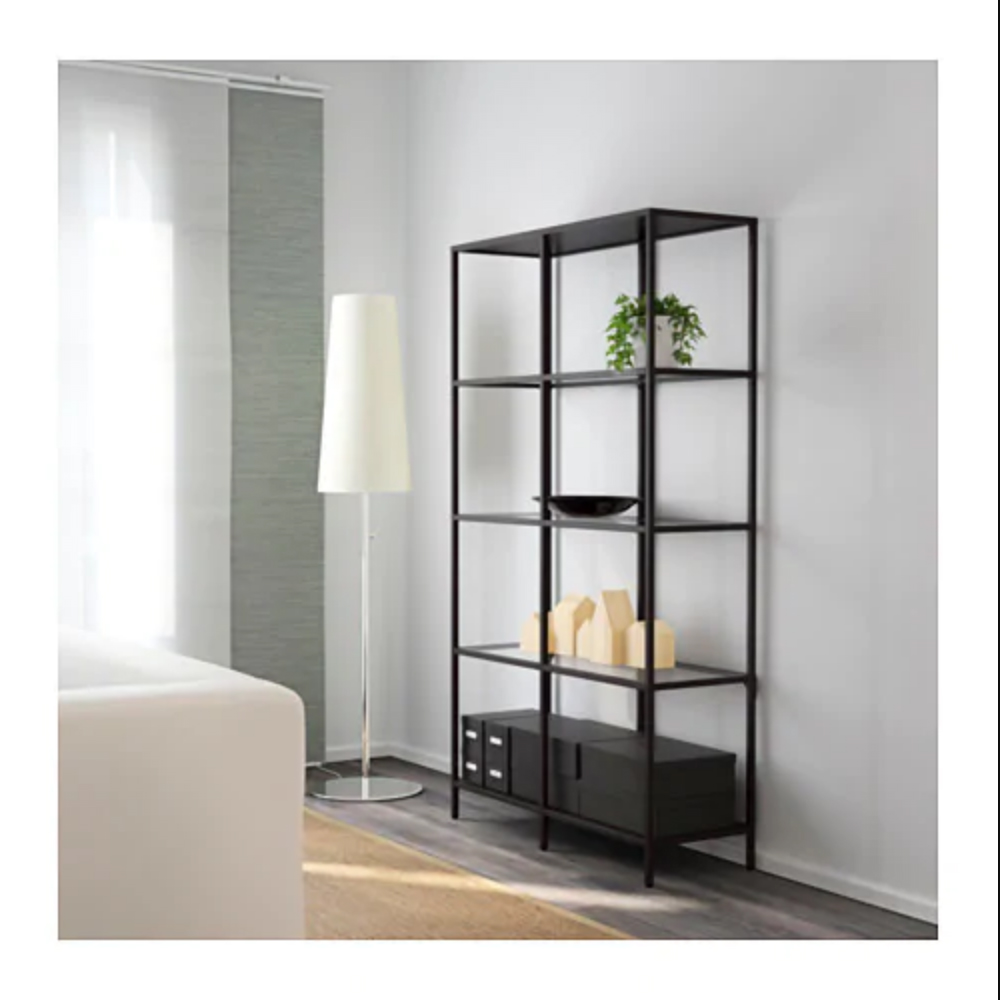 $79.99
Recommended by Jordan F., the Vittsjö Bookcase totally looks like a piece from Crate and Barrel, Pottery Barn or West Elm, don't you think?!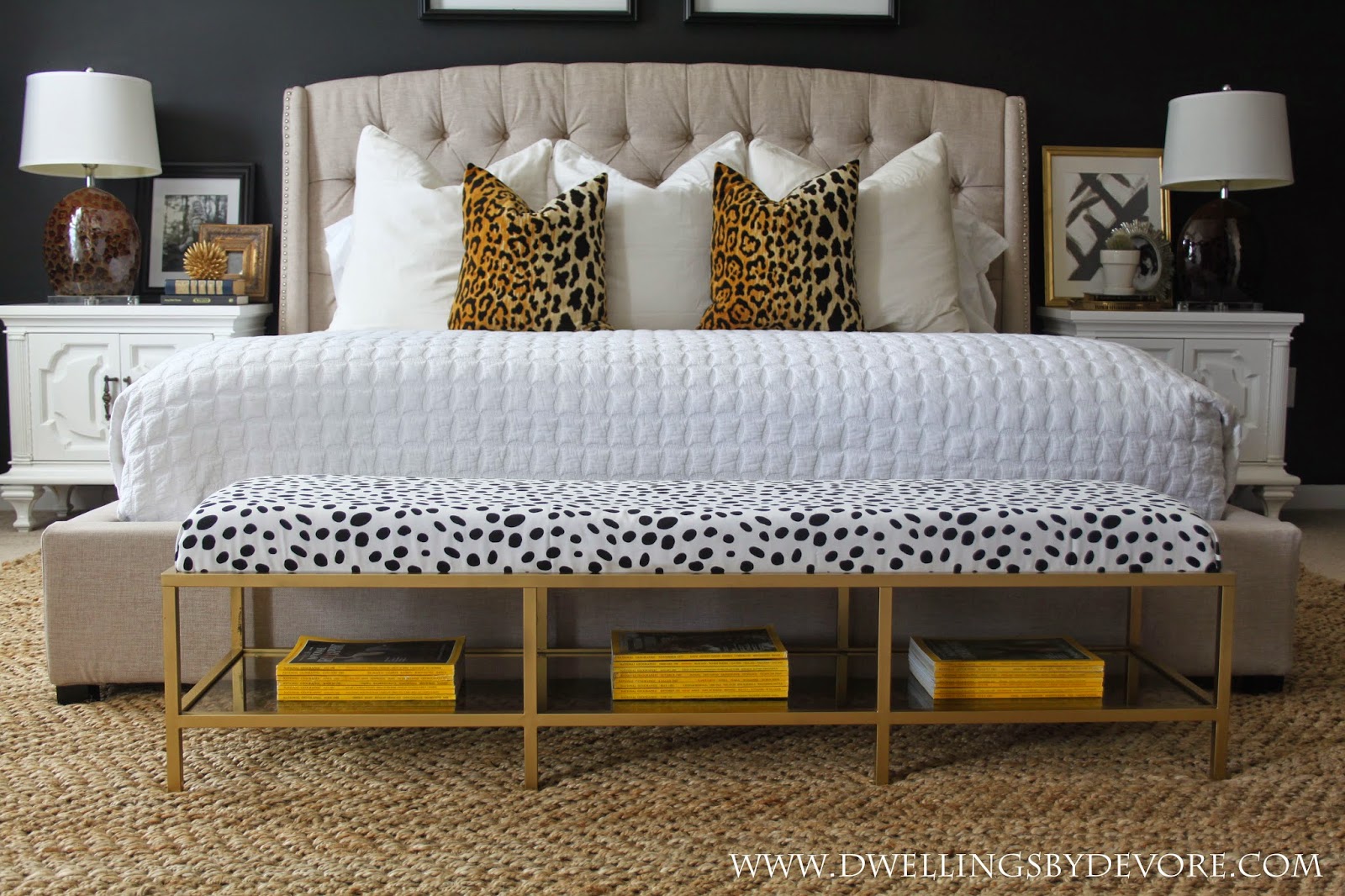 Upholstered Bench (Hack)
Dwellings by Devore turned the Vittsjo TV unit into an upholstered bench.
This specific TV unit is no longer available, but Ikea carries a ton of others. Run with it!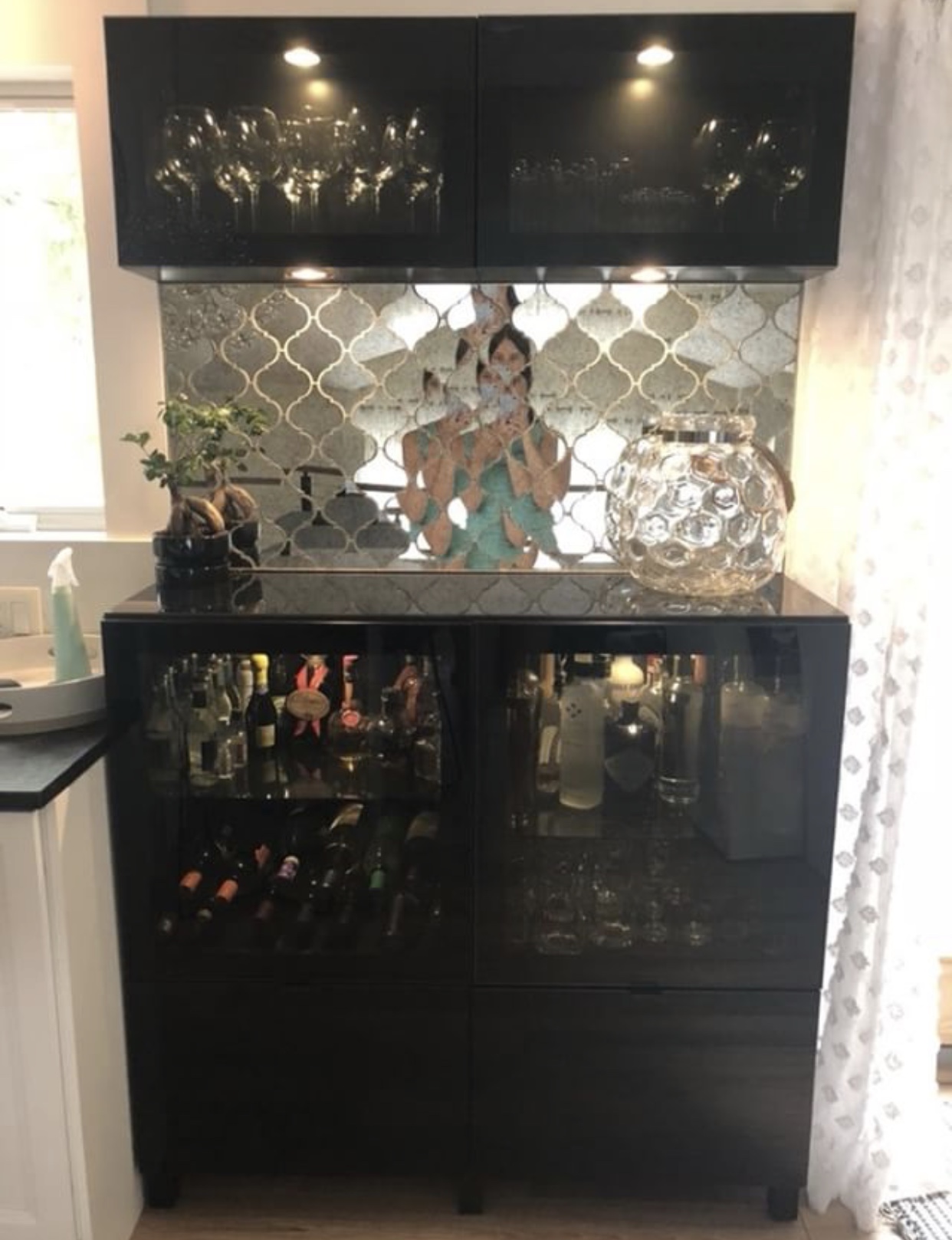 Prices vary
Olivia P. mixed and matched pieces from the Besta line to create custom cabinetry for her home. Hi, Olivia!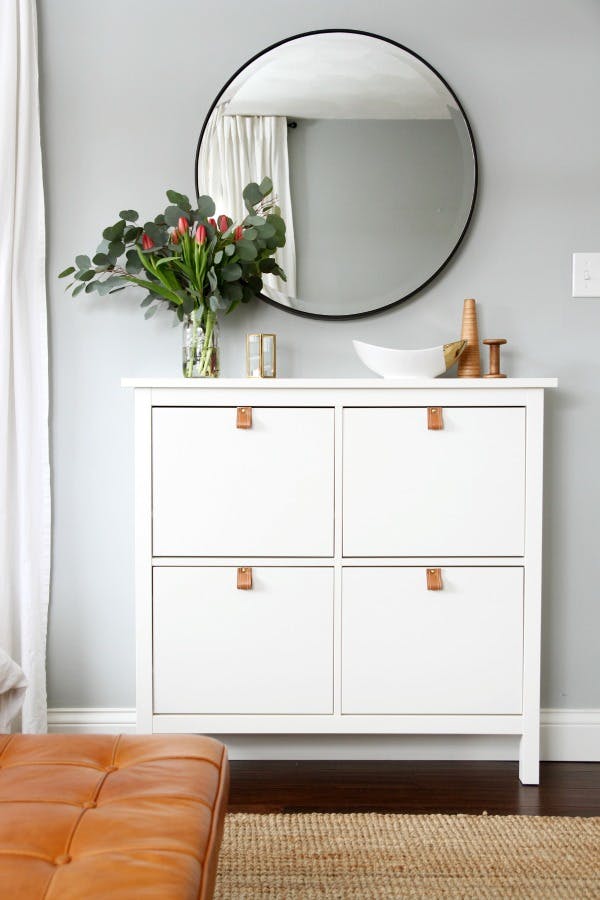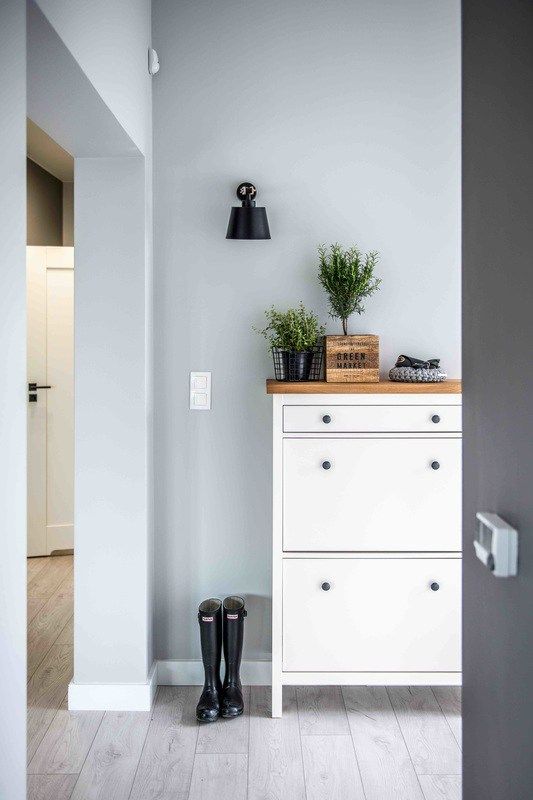 Most ~$99
Yes, you can use it as a shoe rack, but you can also turn it into a dresser or sideboard for a hallway or small space.
The leather pulls in the first photo are handmade, but Rejuvenation has ones that are very similar! My favorite Ikea shoe cabinet is the Hemnes one, obviously.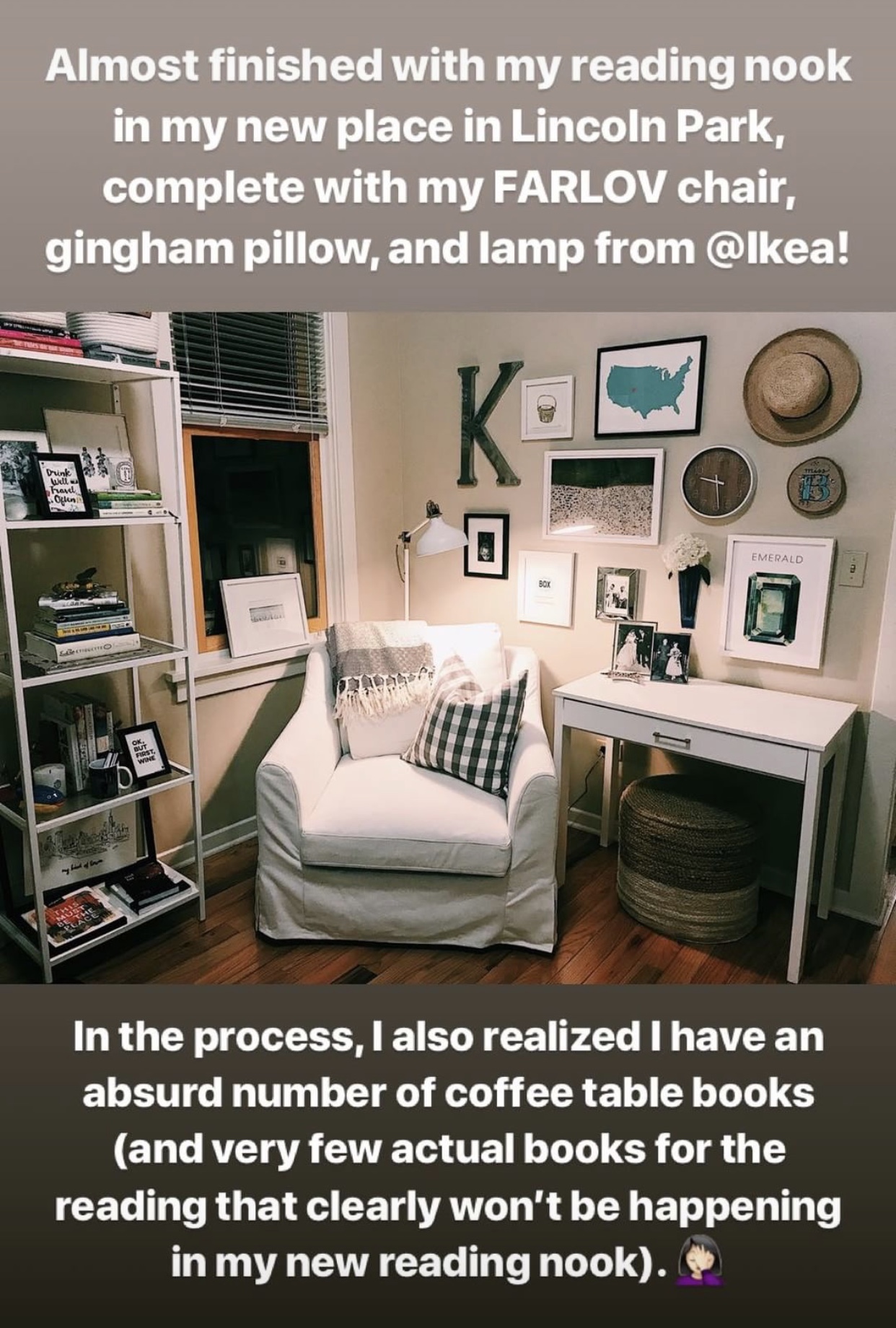 $399.00
This comes in from Kailey S. Had to include the whole message since I was cracking up over it. ;)
$229
Another pick from yours truly. Looks like Serena & Lilly.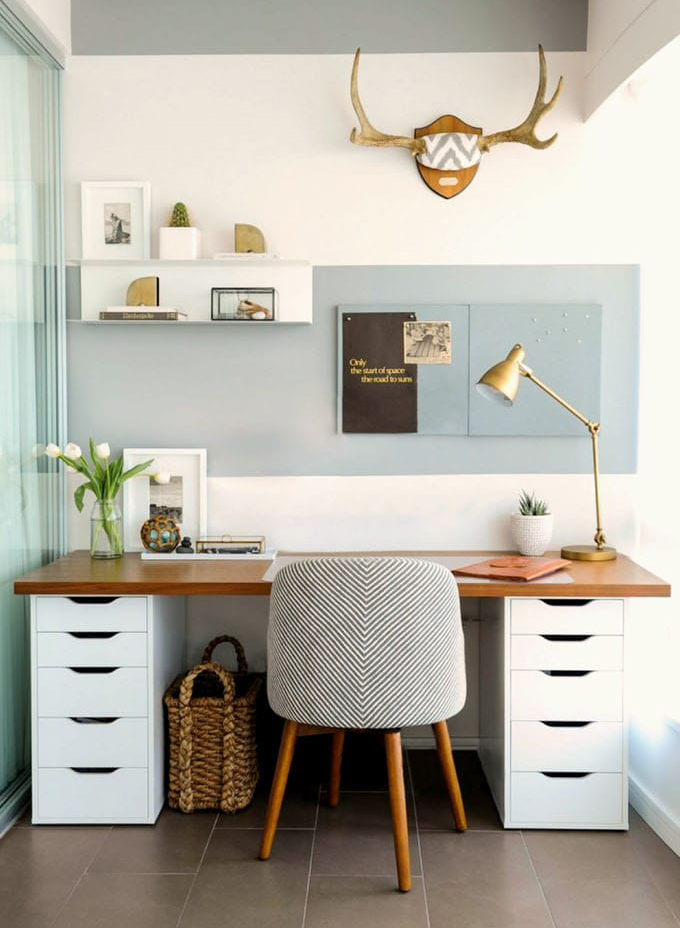 $99 each
I love this tutorial on how to create a desk using two sets of drawers. Here's the tabletop that you'd simply place on top! (Duh. Oh my goodness. I need more sleep.)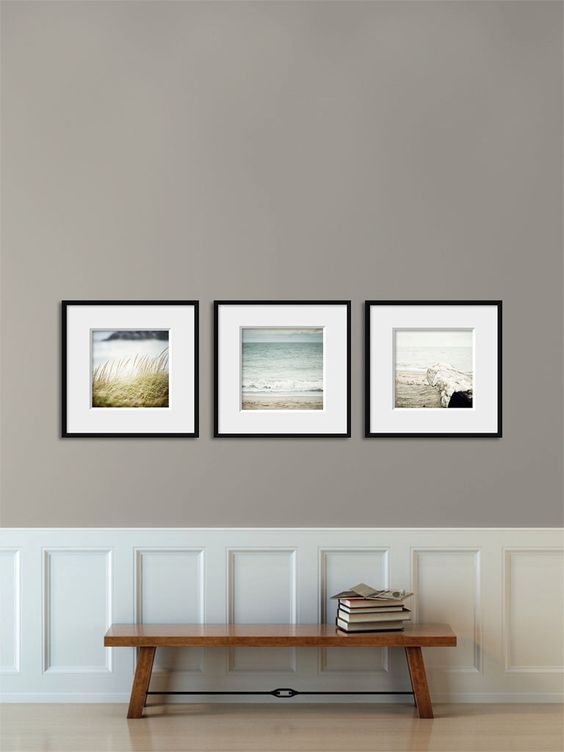 $1.99 to $15.99
Hannah, another reader, recommended the Ribba line of frames. They're great for creating designer-like gallery walls for about a tenth of the usual price.
Other notable tips from readers
Anything I missed that you think should be included? Please let me know in the comment section below, and I'll add it to the blog post! (Love "working" posts. So much fun.) Thanks, guys!