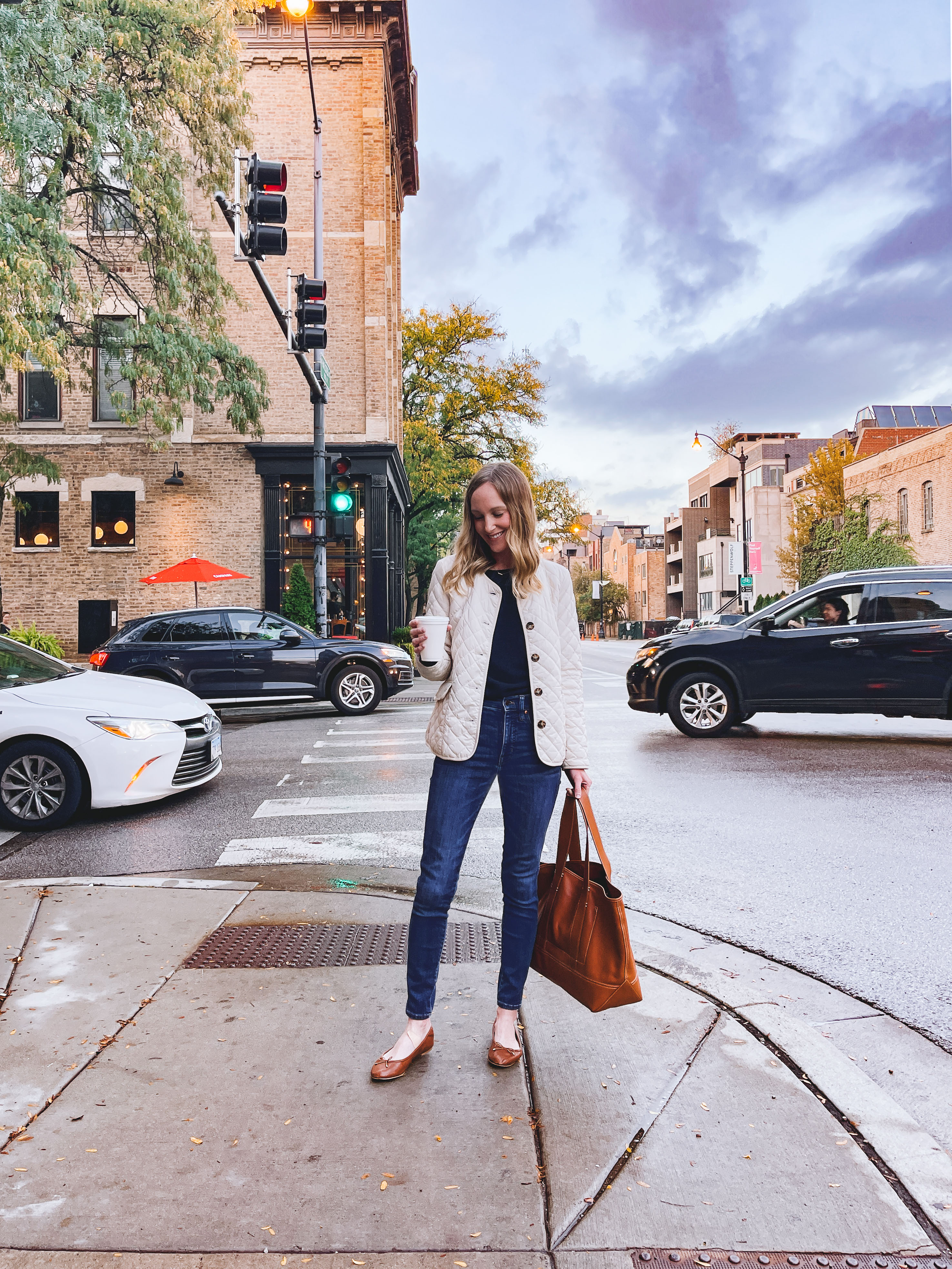 Caught in the rain.
Quilted Puffer Lady Jacket (40 percent off today with code "GOBIG.") / Silk-Blend Sweater T-Shirt (Also 40 percent off today with code "GOBIG.") / Jeans (The Roadtripper line is the BEST.) / Leather Tote (Mini Crossbody here.) / Leather Ballet Flats (On sale! In "Soft Beige" here. In black here.) / Dainty Dana Rebecca Necklace (It's also on Nordstrom.com.)
Today is a special day!

J.Crew is having a 40 percent off sale. WOW. Check out some of my picks above!
I had a girls' day with Emma. I really want to make these a regular thing, even if we just do it once or twice a month. While Lucy was napping, we walked down Armitage, popping into Art Effect, La Colombe and Jeni's. And then we went to Target to get socks and some last-minute birthday treats for Mitch. It was the best time. We chatted about some weird stuff, haha, and just laughed a lot. I remember my own mother-daughter outings from when I was little, and they meant so much to me!
I'm not going to a real apple orchard or pumpkin patch or this season and I'm not a bad mom because of it. THERE. I said it. We're not going. Because Mitch and I don't want to. The crowds, the potential for meltdowns (can you blame them?), the sheer amount of time it all takes with young children. It's just a lot, and despite having gone every pre-covid year (I think?), I'm just not convinced that Emma and Lucy had better autumns because of it. It was more of an obligation. So instead, we're just going to do fun fall things near our home. And it'll be great. 😉 (Full disclosure: Might go to Jack's because it's in Chicago and easy.)
I'm coming to terms with the fact that I totally burned out this year. I've given myself a lot of grace lately when it comes to the blog and social media, and I'm sure some of you have noticed. 🙈 Whereas I used to stick to a strict schedule, I now almost don't have one… and I log on when I can, when life allows for it. The change was largely due to burnout; I'd tried to juggle full-time motherhood and a full-time workload for far too many years, sacrificing sleep and stress as a means to "do it all." Well, when Lucy grew from a baby into a kid, I stopped doing that. 😜 And wow! Life is good. I'll admit that I still feel burnt out from time to time—are there moms who don't?!—but I'm now able to identify it and take additional steps back when the feeling starts to creep in.
On a related note, my break has helped on the inspiration front. Lately I've been feeling really good, and I've been finding myself thinking about fun blog post topics. (I love having this space! But understandably the inspiration comes and goes.) Maybe it's the cooler weather. I love sitting down at my computer, the lamp on and a candle going, and just writing. I have a bunch of ideas, but let me know if there's anything you'd like to read!
Tell me what you think: Mitch and I aren't going to dinner together for date nights anymore. Hear me out! Sit-down dinners are lovely and all, but wouldn't it be way more fun to go to, say, THREE restaurants in a night and sit at the bar and eat apps?! That way you get to experience three different atmospheres, and if you don't love the first place, you can still redeem the night at the next. Or the one after that. Also, I really always prefer lots of apps to full meals. (Now that I think about it, I'm more of a tapas girl.) I don't know; we haven't tried it yet, haha. But have you?! And if so, thoughts on whether it's better?

Shopbop is having a big sale, too! Use code "STYLE" to take between 15 and 30 percent off your order, depending on how much you spend. This is a great opportunity to stock up on products that rarely go on sale! Above are some classics.
Did you know that you're supposed to curl your hair in different directions for more volume?! THIS MAKES SO MUCH SENSE NOW. (Also, how had I never considered this before, as my curls/waves always seem to come together to form one giant monster curl. Oh, heavens.)
"One Home Project Every Day" update:

I finally set up the new vacuum. We have the V11, which looks like it may have been discontinued, but there are three others that are awesome and in stock. After losing most of the batteries to my cordless Hoover this year, I'm convinced that Dyson is the way to go—for the vacuuming-obsessed, at least. Funny that "setting it up" took all of five minutes, and really just entailed taking it out of the box and plugging it in. Do new electronics cause anyone else stress?!
I replaced Emma and Lucy's tattered socks. We really did a number on 'em last year! I went with these for this year. So nice to only have matching socks in their drawers. Getting them dressed in the AM is a lot easier.
I *started* putting the girls' summer dresses away. I said last week that I was hoping to get their closets moved over to fall/winter, but I didn't get it done. Starting is half the battle, though!
I *started* putting out the Halloween decor. I was super into it last year, I think because of Covid, and being home so often. But this year I've been dragging my feet. Okay, you know what?! DOING IT TONIGHT.
Mitch handled the leaves out front. Woo! Looks so much neater. Though I love the leaves everywhere, too.

I need to tell you about Madewell's best-kept secret: the Ottoman collection. I recently realized that nearly all my favorite Madewell tops are made of the brand's heavy(-ish) ribbed material. They're what I reach for anytime I want to look a little nicer but don't feel like putting a ton of effort into my outfit. They require no special care—they come out of the washing machine looking perfect—and are a nice mix of top+sweater+sweatshirt. Highly recommend if you often open your closet and have that old "I have nothing to wear!" feeling.
We have a big life change happening this week. Lucy is starting a two-day pre-school program! Right now, she's in a half-day peewee program, but it's clear that she needs a couple of longer days. We'd been on the waiting list for a while and were thrilled to find out that she'd been offered a spot! Fingers crossed Thursday goes well. So excited for our Goose! And for us. Because we've been tired for five years and could use some help, haha.
Is our home haunted? Guys, every time we have balloons in our home, the balloons do weird things. Like, one of them made its way into the powder room and floated perfectly in the middle—not touching the ceiling, walls or floor—for hours. We found another up on the third floor, floating perfectly in the middle of my office—not touching the ceiling, walls or floor, either. I'm sure it's an air circulation thing. But it's also almost Halloween, and our house was built in the 1800s JUST SAYIN'.
My cousins are coming for a weekend in November! We have a packed November, but it's full of so much family goodness. One weekend I'm so looking forward to is the first one, when my cousins Cassidy and Olivia are coming. I'm super close with my cousins on both sides of the family, and my heart melts whenever they make the trip from NYC to Chicago to see us. We're going to have a great time. Cass and Livie also volunteered to babysit at some point, so perhaps we'll try that appetizer idea?! HA.
I am so close to buying this suitcase! Mitch's suitcase is doing well, but mine is on its last legs, and we're going to New Orleans for a Christmas celebration with my family in mid-December. I've heard such great things about the suitcase, and I love the packing cubes. Eeeeeee. It's a big decision, though!