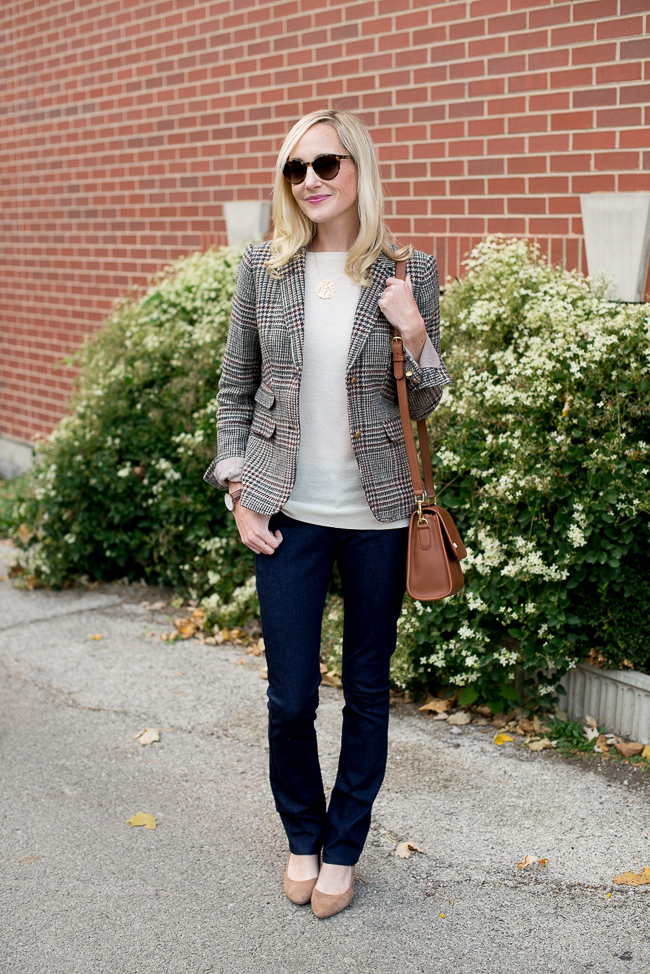 J.Crew Houndstooth Blazer (Old, similar here and here. Shop J.Crew blazers here.) / Max and Chloe Monogrammed Necklace (c/o — In "Rose Gold Vermeil" — Take 20 percent off with code "BOO13") / Lucy Marie Jeans (c/o) / Coach Bag / Daniel Wellington Watch / Joe Fresh Sweater (Old, similar here) / Kate Spade Earrings and Sunnies (Old, similar styles here and here) / BCBGeneration Wedges (Old, but Sole Society has some GREAT wedge options!)
**Remember to enter The Lazy Daisy Monogrammed Pullover Giveaway!**
I'm a little late in getting this post up today, but I'm going to blame the Blackhawks. (Which I recently learned is Chicago's hockey team, haha.)
I can't lie: with the exception of gymnastics, I know nothing about professional/college sports. I've tried to get into it; really, I have. But it's simply not my thing. (Funny, because I definitely enjoyed playing field hockey and lacrosse in high school!) But I had such a great time with Mitch and our friends Alex and Myra at last night's Blackhawks game!
Did I know what was going on? No. Could I tell you any of the players' names? No. Wait–yes. "Kane." People love that dude. Nearly everyone was wearing his jersey. Did I know why I was cheering? Not every time. ;) So fun, though. I loved the team spirit, the food (hah), and how everyone gathers at the stadium's bars and chats about the game between periods. And the company, of course. Thanks for an awesome night, Alex and Myra! (Hi Myra! *Wave*)
Anyway…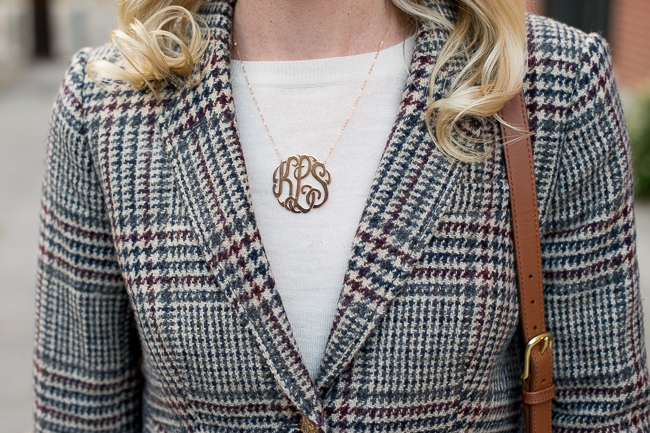 Let's talk monogrammed jewelry. ;) Max and Chloe has always been my favorite retailer for it. The jewelry is well-made, it's priced fairly, and the finishes don't rub off. Recently, I was introduced to the company's West Avenue Jewelry line, and #ohmygoodness, I'm obsessed. I'm wearing the oversized monogrammed necklace (which I'm wearing in "rose gold vermeil"), but definitely check out the site!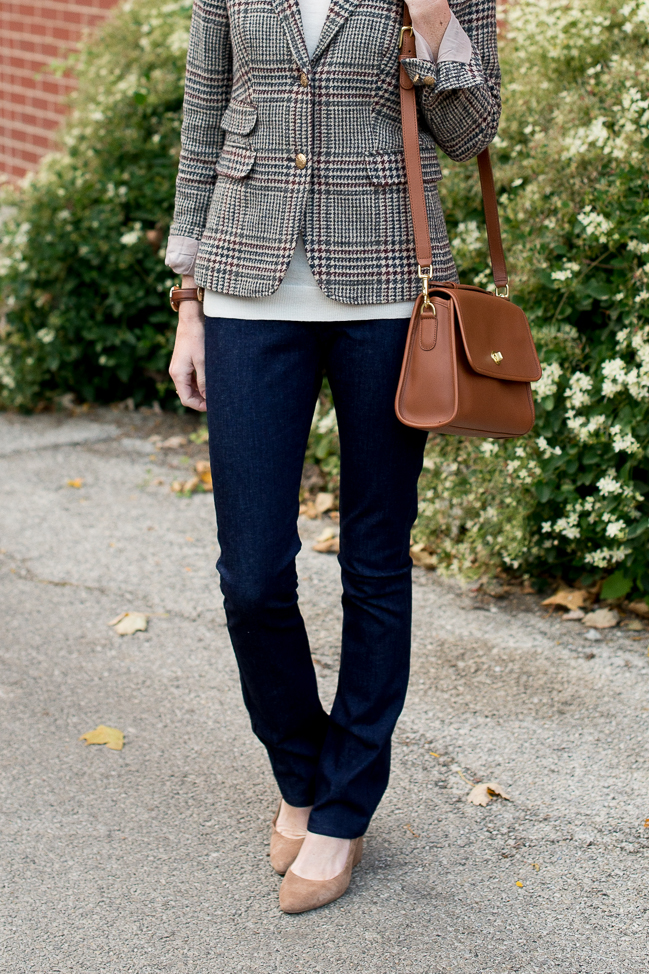 And how amazing are these jeans from Lucy Marie? I almost always wear skinnies, but I've been wanting to try a cigarette cut for a long time. Well, I adore my new pair. The jeans are incredibly soft and stretchy, yet they don't easily lose their shape. I also love that their dark wash and wider leg opening make for a dressier and more professional look. :) Finally, they're much less expensive than other designer jeans. Check out the brand's other cuts here!
Happy Wednesday!