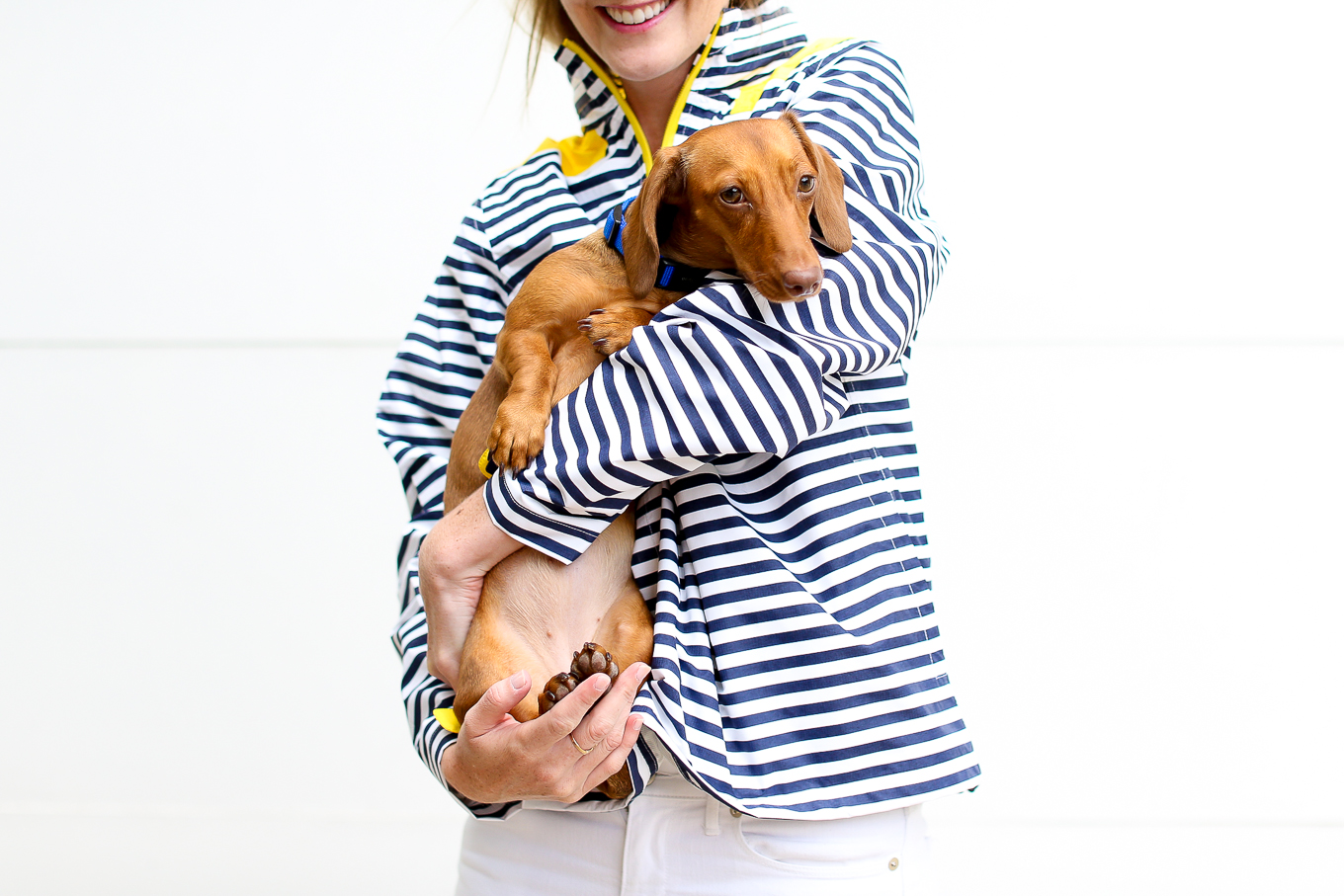 Happy National Dog Day, everyone!
Yesterday marks a full year with Noodle. A YEAR? What?! It seems like just yesterday that we were bringing her tiny four-pound self home, trying desperately to train her while maintaining our sanity, dressing her up as a hot dog (#lifelongdream), helping her learn how to survive her first Chicago winter, convincing her that her crate was a safe space, and watching her dip her little paws into water for the first time.
It's been such a wonderful adventure.
To say I was dachshund-obsessed before we got Noodle would be an understatement. Like, if I saw a dachshund on the street, I'd follow it. Stalker-style. Always a half block behind, of course, to not freak out the owner, but yeah. That happened. A lot. (Oops. Just lost half my readership.) And when I'd actually get to play with dachshund, I'd start tearing up.
I had major issues, my friends. ;)
I've talked about this on the blog in the past, but Noodle is kind of how Mitch got me to move to Chicago. I'd wanted a miniature dachshund for years, but knew that having one in New York would be impossible. For one, Mitch and I had intense jobs with ridiculous commutes. We also lived in walk-up buildings without any green space. And then there was the issue of us not being ready. We were still into the nightlife scene, and really valued our ability to drop everything and fly to Paris. (Which we did once, but you get the point. Freedom is a wonderful thing when you're in your 20s!)
When our New York City home search failed a couple of years ago, Mitch proposed the idea of moving to a more affordable city that would allow us to buy a nice place in a good neighborhood. As you know, I was heartbroken. I knew that Mitch was right: we needed a quality of life upgrade, and we were both discouraged with how expensive the city was. But I'd intended on living in New York for the rest of my life, and had never imagined myself elsewhere.
"You'd have your dachshund," Mitch reminded me.
And so I agreed. ;)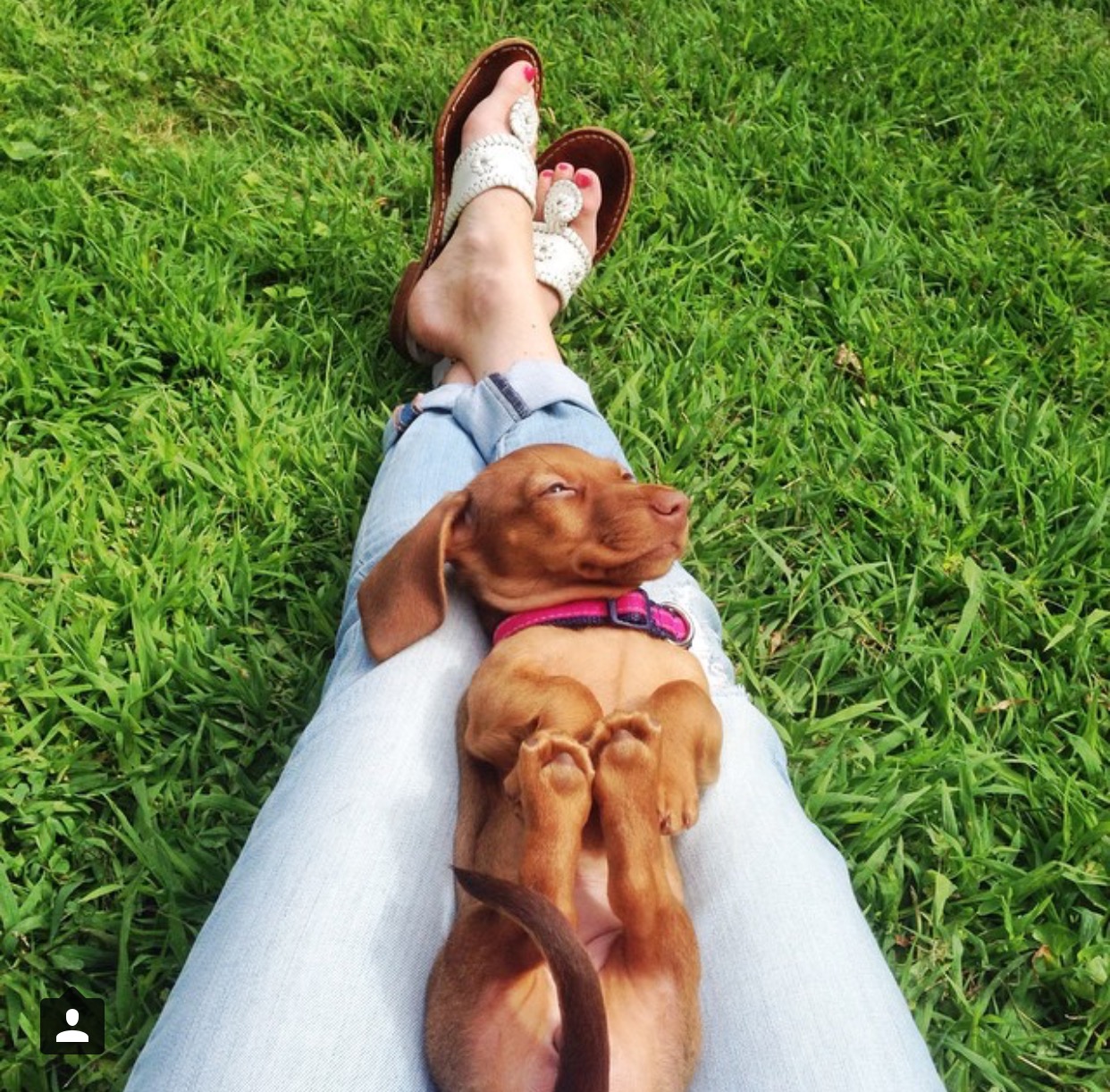 Today, I'm happier than I've ever been. Mitch and I have this amazing life here in Chicago, and our dream of buying has come true. We have incredible friends, we've fallen in love with the city and our neighborhood, and our job situations are a zillion times better than they were in New York. It goes without saying that I miss the Big Apple, but I'm so happy in Chicago. And in a cute way, I have Noodle to thank for much of that.
Admittedly, dog ownership takes a lot of hard work. The early months are typically really, really hard (especially with a stubborn breed!), and I distinctly remember thinking I'd made a huge mistake around month two. For the first time in my life, another living being was dependent upon me–if I didn't take care of her, she'd die–and I wasn't used to that. I wasn't used to waking up so early on the weekends, scheduling my days around someone else, or having a limited ability to travel. There were vet visits to be scheduled, playtime sessions to be had, and walks to be taken. Where had all my free time gone?!
That said, Noodle and I have fallen into a fabulous routine together, and I can honestly say that I love being her owner. Really, I can't imagine life without her! Yes, she's a lot of work, and she's pretty needy/skittish. (Girlfriend has to be in the same room as me no matter what, and she has a serious case of #strangerdanger.) But she's my best friend, and she brings so much joy to my life. Owning a dachshund is just as wonderful as I thought it would be.
Noodle, (in the words of John Grogan), you are a great dog. Thank you for introducing me to nearly every passerby in Lincoln Park. Thank you for smothering me with kisses first thing in the morning. Thank you for healing my pain after we lost Reilly. Thank you for being my travel buddy on trips back and forth to the East Coast. Thank you for sitting with me at the computer every day. Thank you for making me laugh. Thank you for all the cuddles. Thank you for letting me dress you up. Thank you for making hard times better. Thank you for being so loyal. Thank you for cleaning up after me when I drop food on the floor. Thank you for mastering tricks like "high five," "pound it," and "roll over" with such ease. (Even though you can't do "come" or "stay.") Thank you for being my companion.
Thank you for loving me, because I love you so much.
While I'm a bit disappointed in myself for not documenting more (totally have been meaning to make a video of Noodle's early days for MONTHS), I'm also extremely grateful that this blog, this video, and Noodle's silly Instagram account serve as a little journal and photo album of our first year with the cutest–and longest–dog in the world. ;) Below are a few (okay–a lot) of photos from the past year!