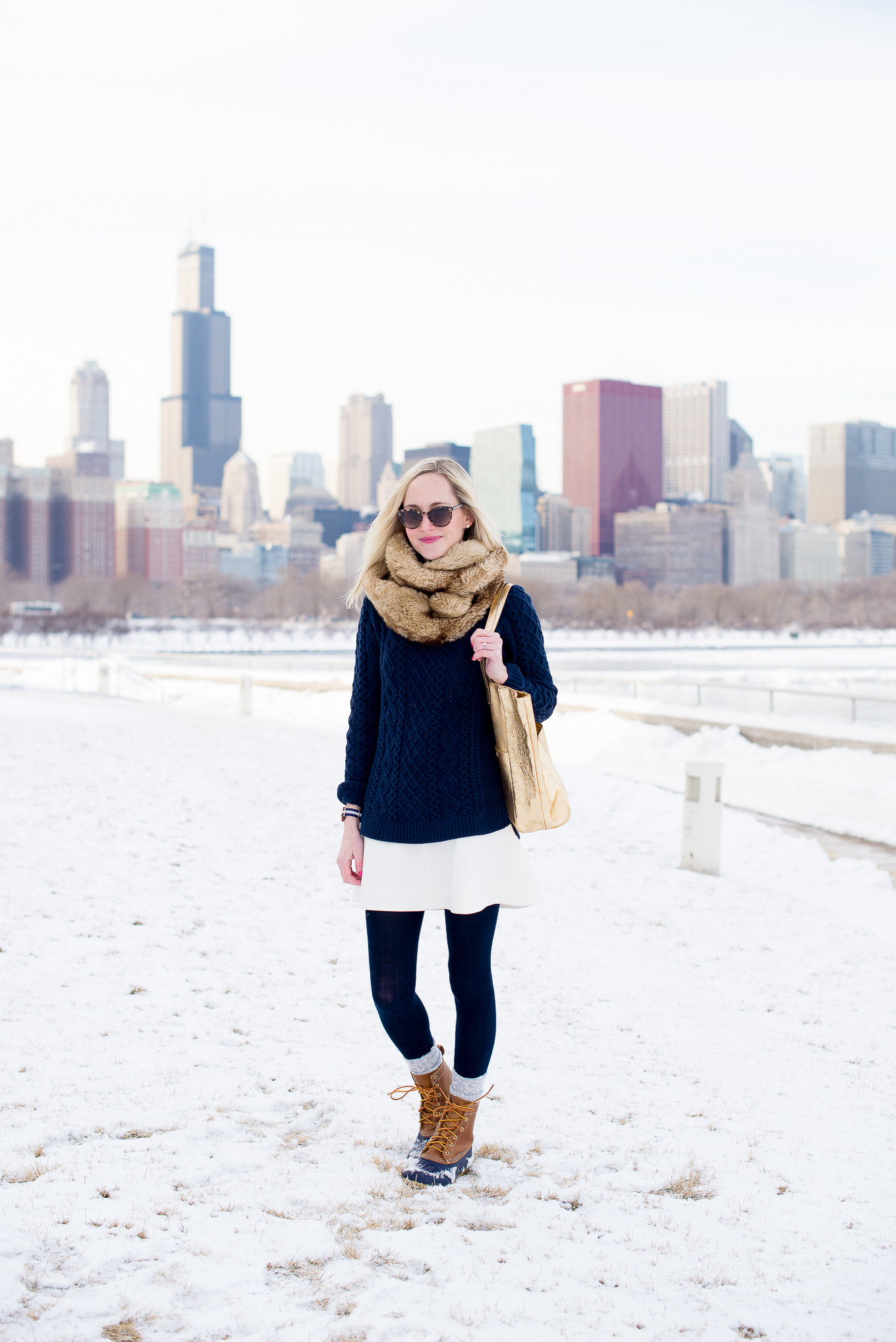 Lands' End Sweater (c/o, J.Crew's version here and here, and how cute is the dress version?!) / J.Crew Skirt (Factory version here, and love this newer, similar skirt–and this one, too!), Camp Socks (L.L. Bean also carries them!) and Necklace (Old, but this is my current obsession! And this is pretty cute, too.) / L.L. Bean Boots (Order them, even though they're backordered! You won't be sorry. Need a pair now? Try Sperry's version! Tuckernuck has them in navy, too.) / Piperlime Faux Fur Infinity Scarf (Sold out, but so many options here!) / Hayden Harnett Tote (c/o) / HUE Knit Sweater Tights / Daniel Wellington Watch (c/o) / Kate Spade Sunnies (Old, but love these!) / Pearl Earrings (Love these, too!)
Don't worry. I don't actually have the "Chicago Blues," nor is it even a real thing. (Though it is a bar on the North Side.) It just seemed like a good post title. ;)
However… YIKES. This has been a rough week for us weather-wise, and temperatures (with wind chill) are projected to dip down to -30 on Thursday. Ugh. At least I'll likely have Mitch home with me tomorrow! But yeah. So not leaving my apartment until things warm up.
This past Presidents' Day, Mitch and I braved the cold and headed downtown to the Shed Aquarium to see the penguins. There was a long line out the door, though… so, not wanting to acquire frostbite, we opted for the Field Museum next door.
Nearly every trip to a museum I've taken in the past seven years (with the exception of our recent trip to the Art Institute) has been with dozens of unruly teenagers in tow, so this was so nice. It definitely took me a good half hour to stop worrying that we were "missing someone," but I eventually relaxed and enjoyed my time there. ;)
After the museum, Mitch and I quickly snapped these photos (brrrr!) in front of the frozen city skyline, and had piping hot bowls of soup to warm up.
Penguins, I'll catch 'ya next time!