Black blazers are a staple in any closet—and for good reason. They're versatile, and professional, and can be worn with almost anything.
But sometimes you want to mix it up a little bit. We get it: Black can be a little hard to style sometimes—but that's why we're here! We've got three different ways to style a black blazer that'll help you look like you've got your life together (even on those days when it feels like everything is falling apart).
A black blazer is such a classic wardrobe staple. It's incredibly versatile; wear it with brown or black pants for work, a sweater dress for an evening dinner, or jeans for a more relaxed look. And it instantly makes any outfit look a little more polished.
So grab your blazer, get out of your pajamas, and start putting together some outfits! Here's how to style a black blazer in three ways.
How to Style a Black Blazer 3 Ways
How to Style a Black Blazer for Work
Cream Ruffle Neck Sweater / Black Straight Wool Dress Pants / Black Blazer / Black Leather Tote Bag / Cubic Zirconia Earrings / Silver Bracelet / Nude Pointed-Toe Pumps
A sweater and blazer combo is always a classic workwear outfit. Style a black blazer with a wonderfully soft Merino wool sweater. I love the ruffle neck detail on this one. Keep things simple with a pair of straight black wool dress pants and a black leather tote bag. Accessorize with silver jewelry, like cubic zirconia earrings and a silver bracelet. And for shoes, these nude pointed-toe pumps tie together this polished workwear look.
How to Style a Blazer with a Sweater Dress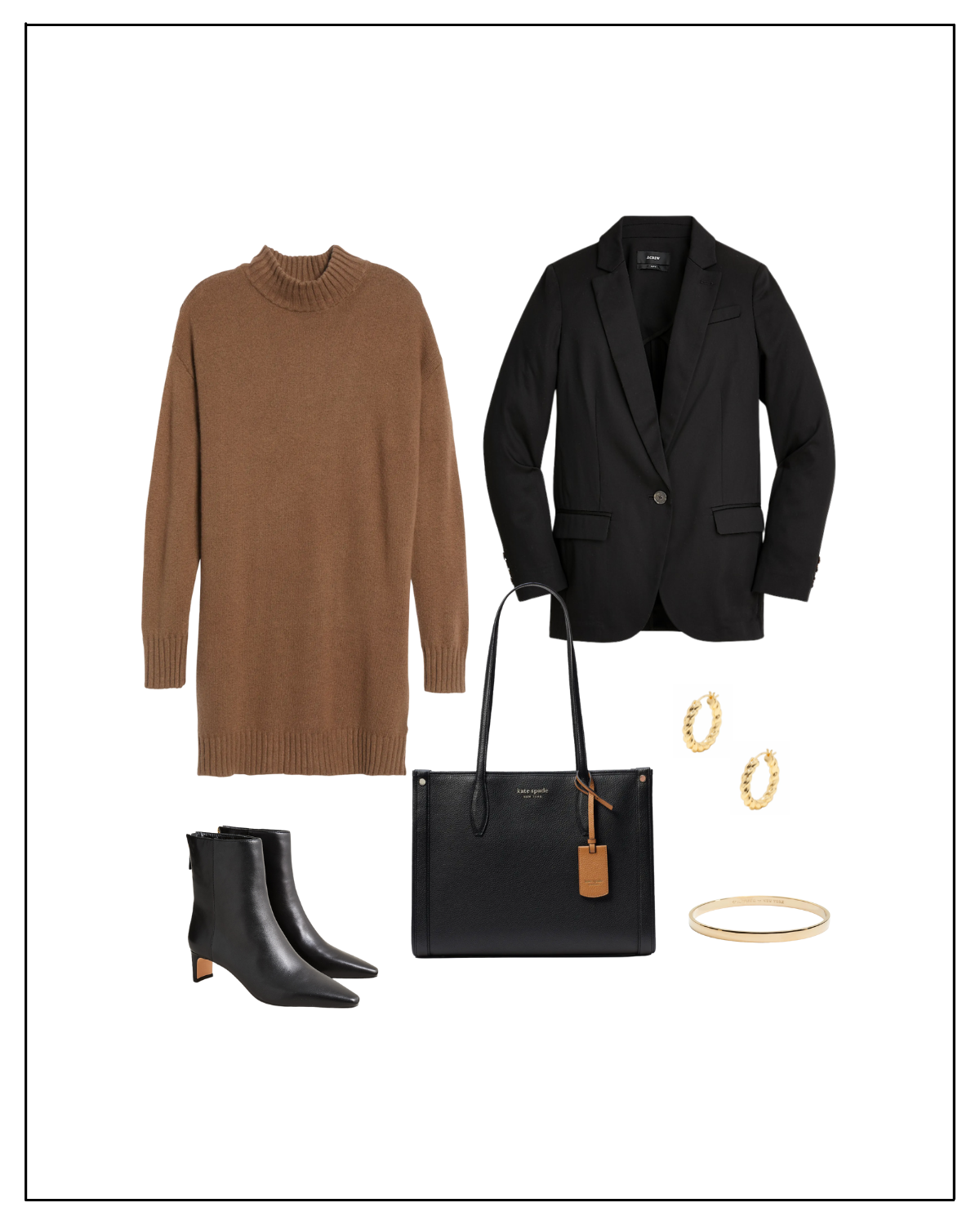 Brown Sweater Dress / Black Blazer / Black Leather Tote Bag / Black Leather Ankle Boots / Gold Hoop Earrings / Gold Bangle Bracelet
When it comes to transitional pieces for fall a sweater dress is a great staple, and it looks wonderful styled with a black blazer. This cozy brown sweater dress is lovely and is on sale for under $20 right now. You can style a sweater dress with a pair of tall boots or booties. I styled it with a pair of black leather ankle boots for more of a transitional fall outfit. A black leather tote bag (also available in brown and beige), gold hoop earrings, and a gold bangle tie together the look.
How to Style a Black Blazer with Jeans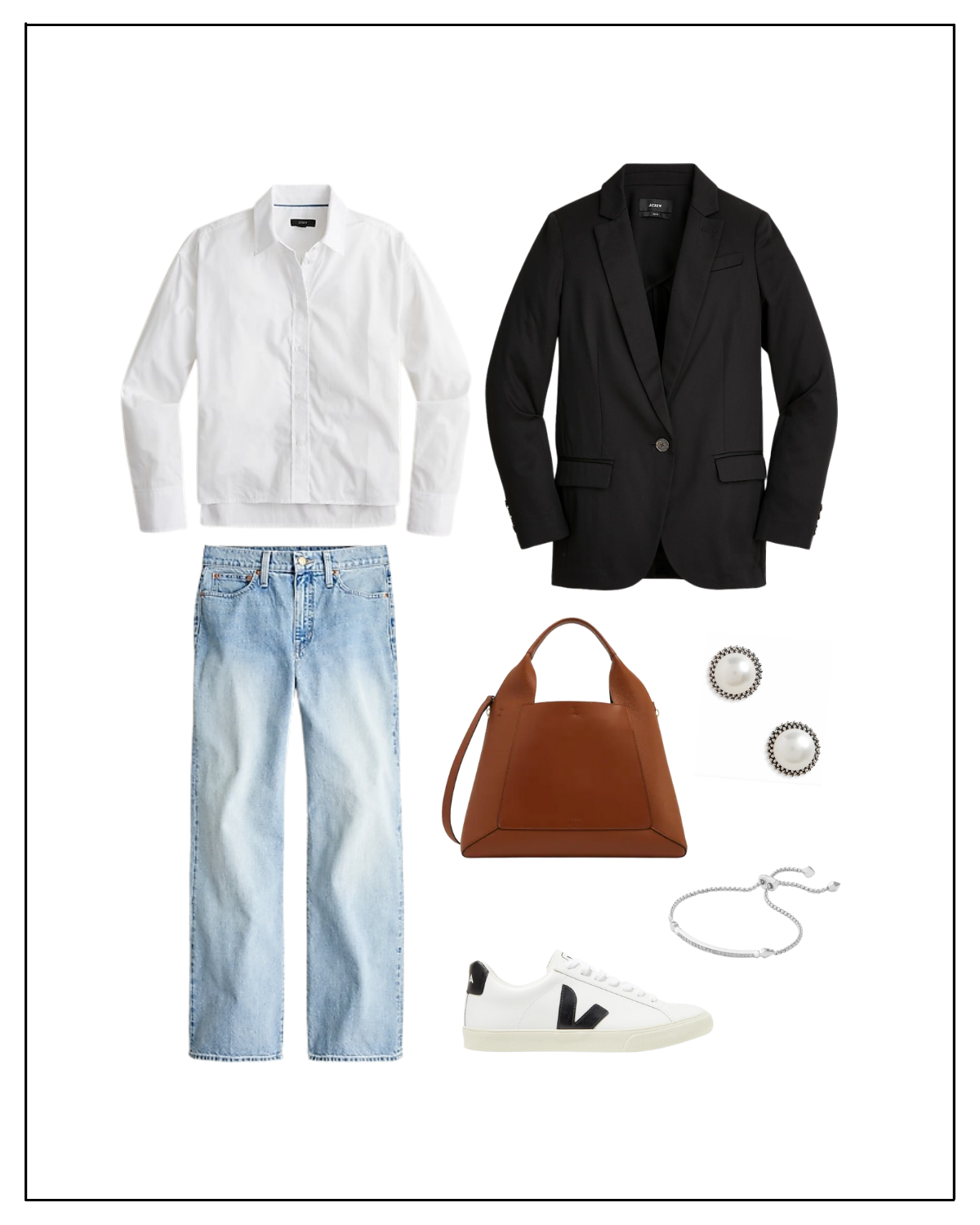 Relaxed Cotton Poplin Shirt / Wide-Leg Jeans / Black Blazer / Large Leather Tote Bag / Pearl Earrings / Silver Bracelet / Black Veja Sneakers
I love styling a black blazer with jeans for a more casual yet polished look. Start with a white button-up shirt, or dress it down with a simple white crewneck tee. Then, wear these simple wide-leg jeans that look great with a fitted blazer to keep things casual. And lastly, accessorize with a leather tote bag, black Veja sneakers, pearl earrings, and a silver bracelet to complete the outfit.
Black Blazer Outfit Ideas
We all have that one black blazer that we never wear. It's probably in a box in the back of your closet somewhere, but you just can't bring yourself to get rid of it. But there are a lot of other ways to wear a black blazer. And it can be a great way to add some sophistication to your outfit. You may want to try wearing a black blazer with black jeans and a white t-shirt. You could do the same with a graphic tee as well. This casual black blazer outfit is perfect for days when you're feeling more like relaxing at home or out on the town with friends.
And if you're going to work in an office setting, it's important to dress professionally. The best way to do this is by pairing your black blazer with khaki pants, slacks, or dress pants. You might also try pairing it with a white button-down shirt or even an Oxford shirt if you want something more formal looking than just a regular white tee underneath your suit jacket (which is what most people tend to wear).