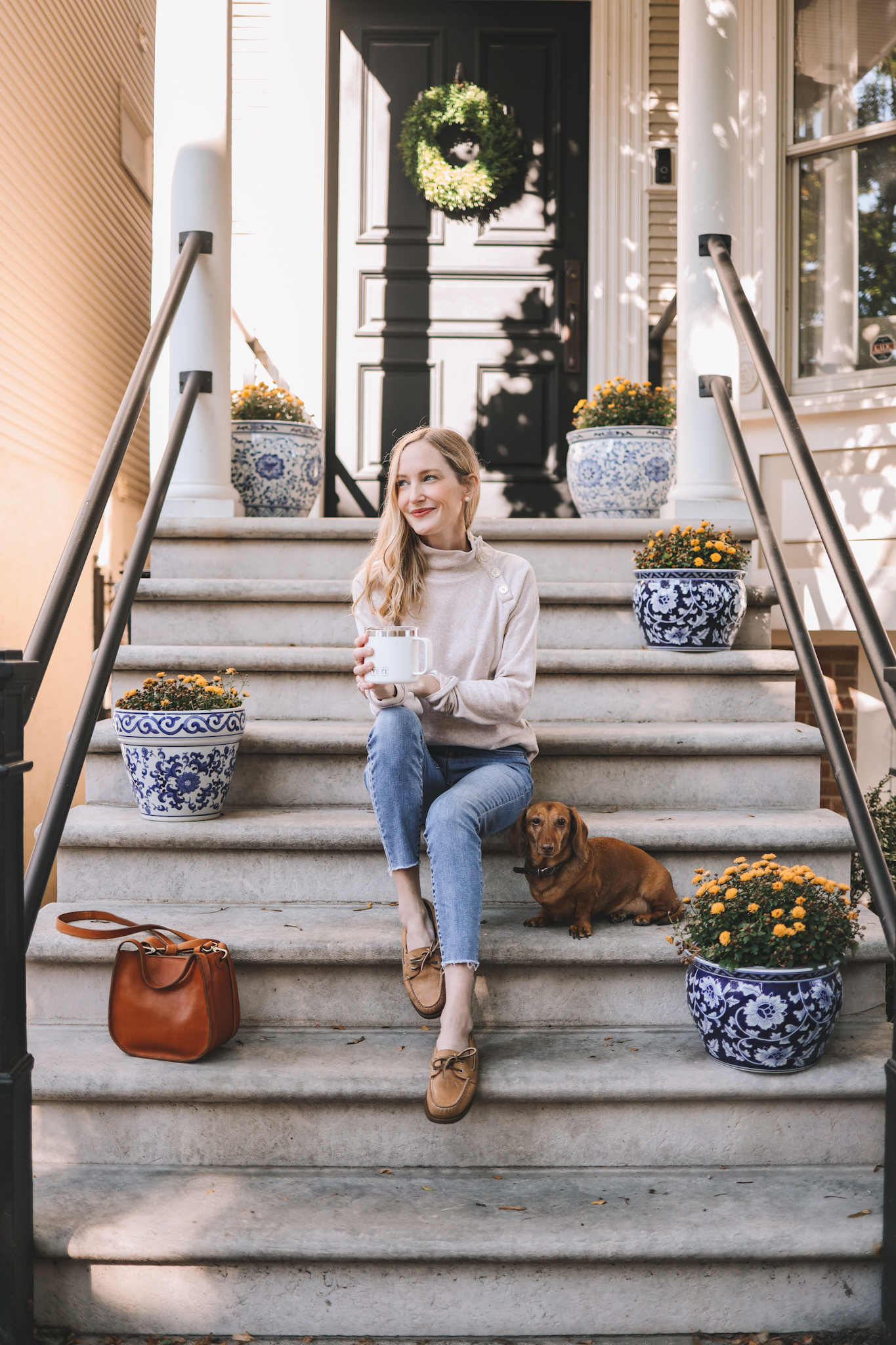 Button-Neck Sweatshirt (Comes in six colors/patterns.) / Newer Button-Front Jeans Here, Here and Here / Leather Bag (Comes in six colors.) / Boat Shoes / Coffee Mug / Dachshund / Planters Here and Here (Or as a set here.) / Wreath
MONDAY. Never thought I'd ever say this, but for me, it's the new Sunday.
Our weekends are tremendously fun. We're always up to something, running around the city with the girls or hanging out with family friends. I'll tell 'ya, though, they're busy. And come Sunday night, I'm dead.
Monday is a recovery day of sorts. 😉 The girls go off to school—which they adore—and I'm able to finish my coffee while it's still hot. I can give the house a much-needed scrub-down. I can shower. I can complete and submit work projects. And by the time pickup rolls around, I'm rejuvenated and ready to hit the ground running with my littles.
After Monday morning drop-off, though, I love sitting out on the front stoop with Noodle and finishing that cup of coffee. It's a really calm and lovely way to start the day. I'm usually dressed in something very casual like what you see here—and I should mention that my button-neck fleece-lined pullover is 50 percent off today! It's such a good investment. I've owned mine for years, and it's held up exceptionally well. It's lined with the coziest fleece, comes in a bunch of colors (and a stripe!), and looks polished despite being a sweatshirt. Huge fan. I would say it runs TTS; I'm wearing a size small here and that's what I normally take in the brand.
Anywho, happy Monday. May your day be calm, your coffee hot, and your to-do list short. (HA.)
xoxo

Fleece-Lined Button-Neck Sweatshirt

The Sydney

Button-Front Jeans
Shop the post:
Button-Neck Sweatshirt (Comes in six colors/patterns.) / Newer Button-Front Jeans Here, Here and Here / Leather Bag (Comes in six colors.) / Boat Shoes / Coffee Mug / Dachshund / Planters Here and Here (Or as a set here.) / Wreath