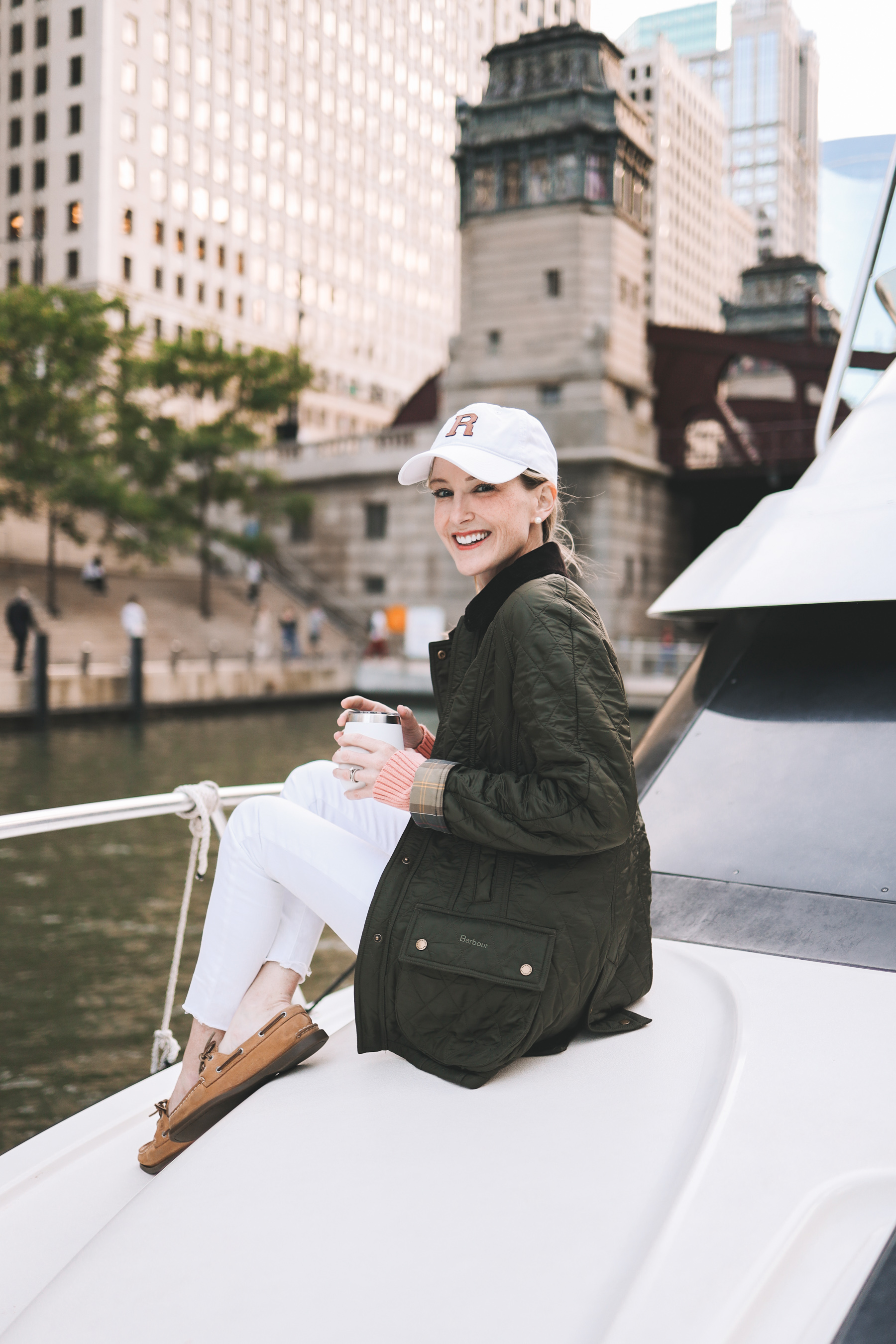 Barbour Polarquilt Beadnell Jacket (Warmest and coziest Barbour EVER. Keep in mind that the green runs slightly smaller than other colors! I take a U.S. 4 in the other colors but a U.S. 6 in the green. Also available here.) / Nantucket Sweater / White Skinny Jeans / Sperry Topsiders (Also here.) / YETI Wine Glass
The other day, my friend Kara and I were talking about simplifying our lives. (Surprise, surprise!) We've both really tried to pare our wardrobes down so that our closets and drawers aren't overflowing, and instead contain pieces we truly love. It makes getting dressed in the morning easier! Something else that makes getting dressed easier? Outfit schedules.
Some people put together a week's worth of outfits every Sunday and it works great for them. That does not work great for me, haha. Perhaps it would if I had a dressing room with designated areas to hang those outfits, but I don't, and when I've tried to do it in our bedroom, it's just resulted in tons of messy piles which clearly isn't the goal. Instead, I prefer to use an outfit schedule.
Outfit schedules are broad guides for what to wear on a daily basis. They're obviously subject to change 😆 based on life, work and seasons. But the general idea is that each day, you focus on building an outfit around one piece, e.g. a particular skirt or a blazer. Note that these outfits don't need to be fancy! You simply think about what types of pieces make you feel best, and you vow to wear each one at least once per week. (And assign said pieces to specific days, depending on what your week looks like.)
Following an outfit schedule helps me avoid reaching for my jeans and sneakers every.single.morning, as I totally would if left up to my own devices. And listen, jeans and sneakers are great! There's nothing wrong with wearing 'em every day. But I would personally like a little more variety with my outfits. And an outfit schedule gives me that motivation!
When I first started doing this, I perused my closet and Pinterest, and determined what outfits I'm drawn to most and which ones I feel best wearing. Very quickly, I realized there were a few pieces that I liked and perhaps wore in the past—or fantasized about wearing—but that wouldn't actually work with my current lifestyle and life phase. I did, however, easily came up with seven "types" of realistic outfits I'd like to wear that season that required a teensy bit more effort than jeans and sneakers. 😉
The result? I feel better about myself on a daily basis. And I'm way less apt to buy new clothing because I'm not subconsciously thinking that whatever new piece would finally inspire me to wear outfits that make me look put-together. I'm already put-together. And that feeling transfers to nearly everything I do in life. I'm more on top of work and our home, and I feel less overwhelmed as a whole.
What do you think? Would you try it?!
Sample Transitional Outfit Schedule

Dress/Skirt Day

Nice Pants Day

Blazer Day

Button-Down Day

Pumps Day

Jeans Day

Leggings/Joggers Day