Yesterday, I had the pleasure of attending the preview event for Henri Bendel Creative Director Pina Ferlisi's fall collection! The event was held at the store's Fifth Avenue flagship location, and I completely fell in love with their new autumn line. Now, I'm not saying that I'm wishing away the spring and summer seasons, but I always enjoy knowing what's coming up next! (And new bags and jewelry always makes the loss of the warm weather a little easier. ;))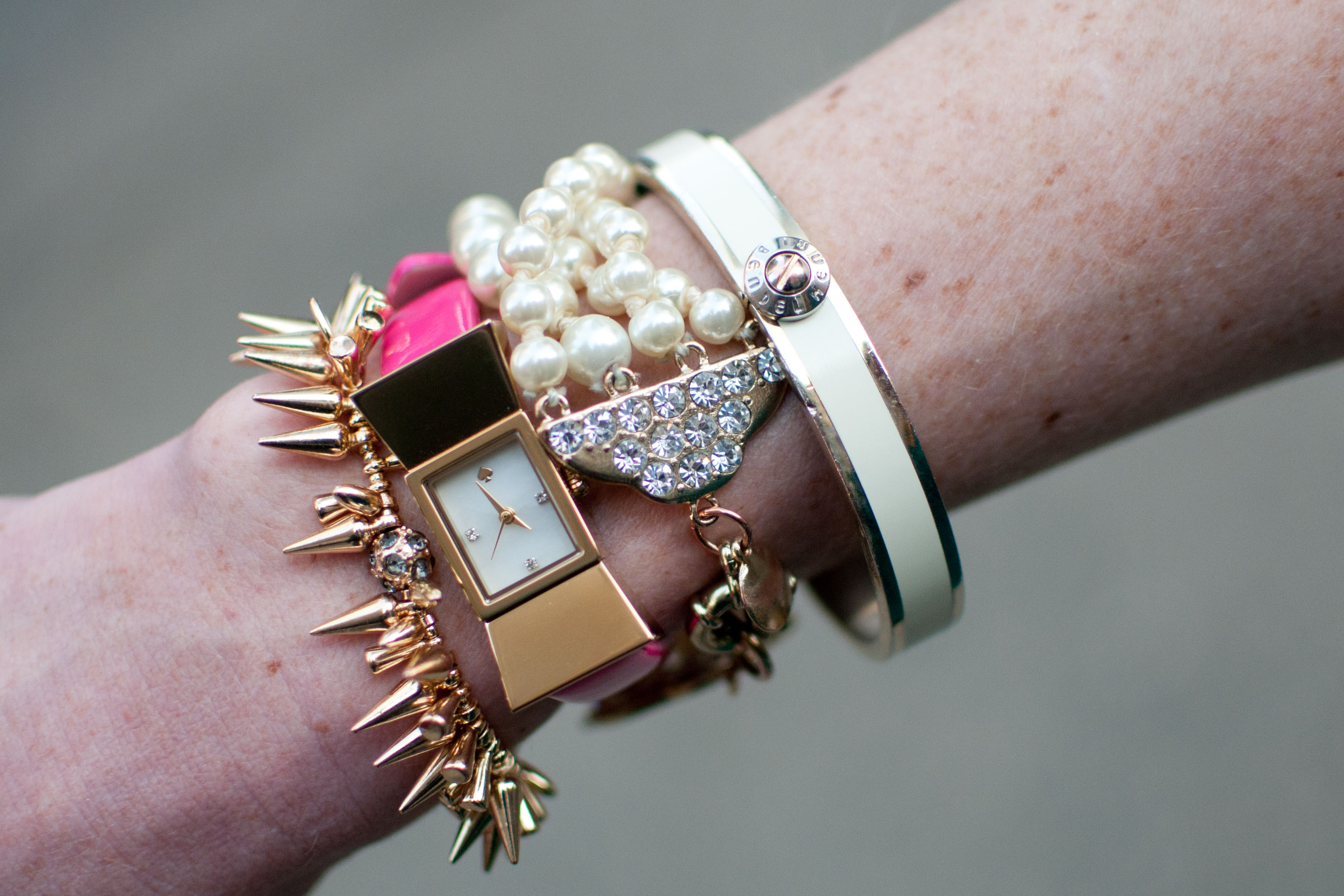 Attending this event was pretty exciting for me, as Henri Bendel has been one of my favorite jewelry retailers since I was in high school. I got hooked after my very fashionable aunt gave me a bracelet (which I still wear to this day) as a gift. Recently, I've started getting into their handbags, too. They are adorable. If you like Kate Spade, Chanel or Celine, you're sure to fall in love as well!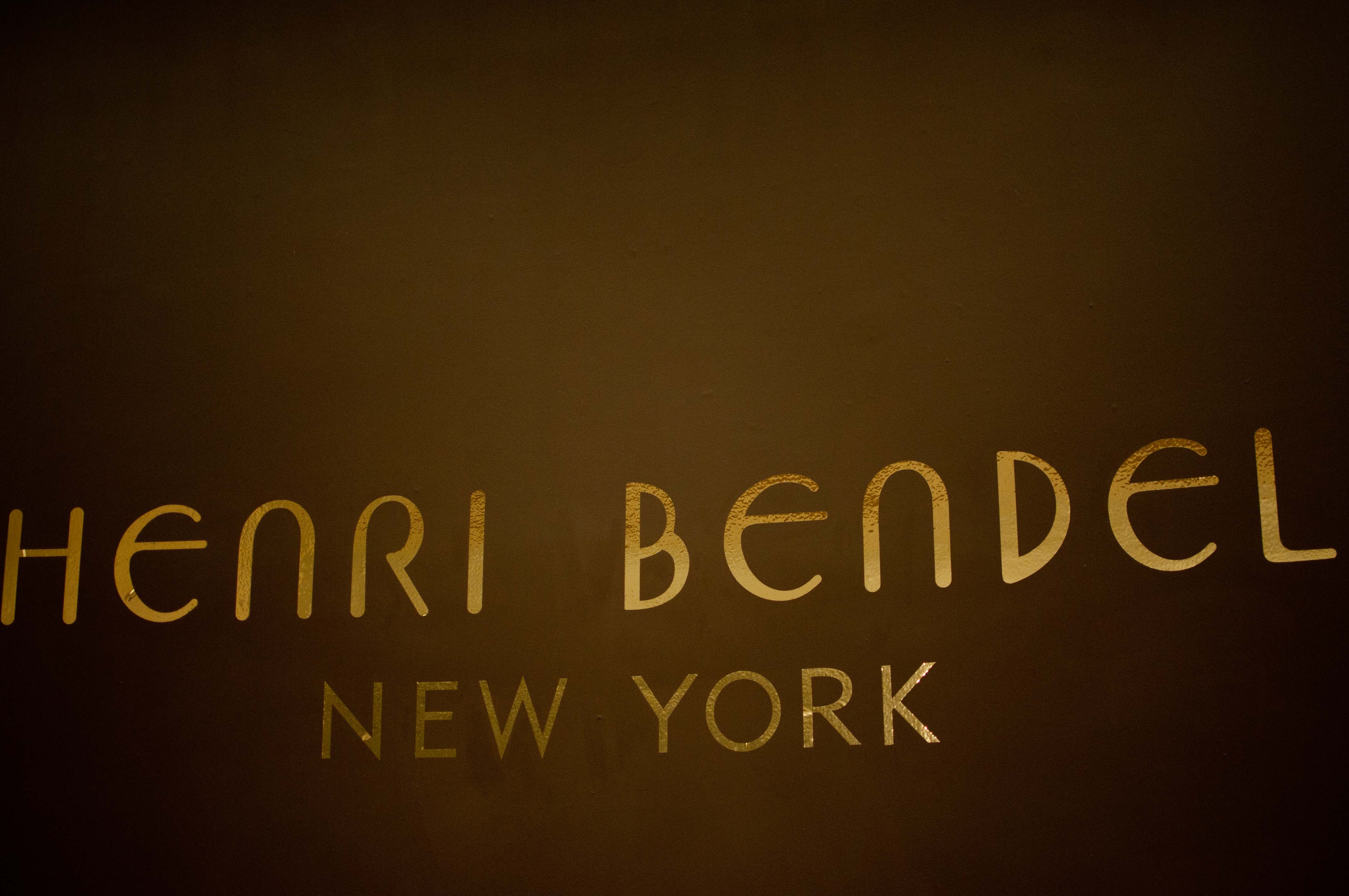 Something I adore about Henri Bendel is that there's quite a bit of variety to choose from, so you don't see every girl carrying one iconic bag on the street. For example, I love my Michael Kors Hamilton Tote, but I see it everywhere in New York City. Don't get me wrong: Henri Bendel does have a look–an amazing look. ;) But sometimes it's fun having a bag that isn't on every girl's shoulder!
Anyway, while the fall collection won't be available until some time, I was lucky enough to get to snap some shots of Ferlisi's line so you guys could take a sneak peek, too. :) I loved that a good number of the bags are made of Saffiano leather that so many high-end bags feature these days. I'm crazy about the leather's diagonal, clean lines, and that it's scratch-resistant. Huge fan of low-maintenance bags! Take note of the pink leather bag above. It was my absolute favorite! While it's not made of Saffiano, it's super soft. Who wouldn't adore the pop of color and gold accents? Preppy, classy, stylish and fun all at the same time. It's also a bag that's perfect for a city girl who needs something that'll get her though a busy day. You can carry it in the crook of your arm or use the removable strap. Versatility!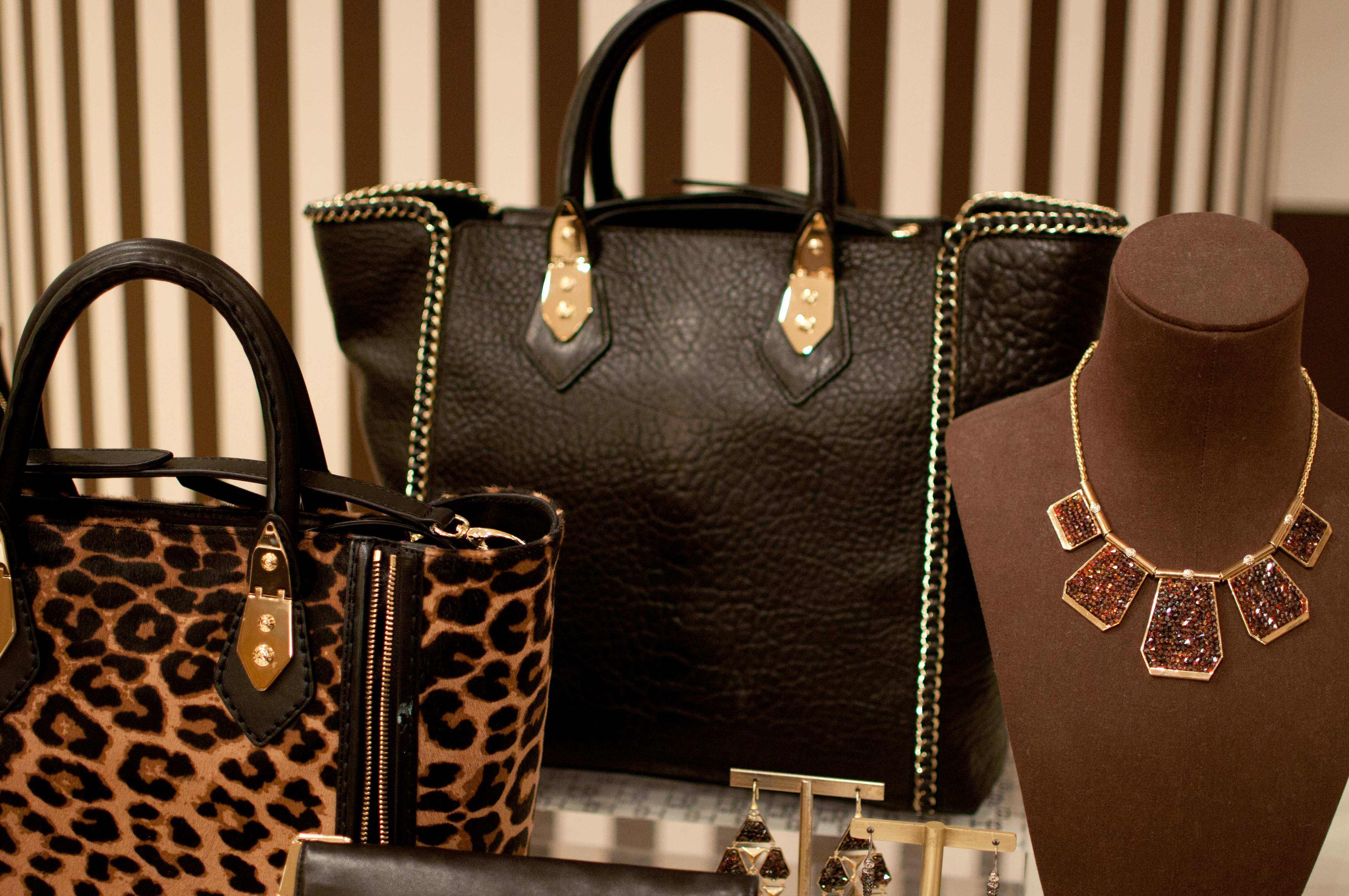 I also loved the selection of flared gusset bags, especially this leopard-print, calf hair bag and the black leather bag with gold accents. (See above.) Talk about gorgeous. I love this trend, inspired by Celine. I don't know about you, but I'm not about to drop $3,500 on a bag. Besides, they don't feature the fine detailing that these Henri Bendel bags do. I feel like one of these is in my future. ;)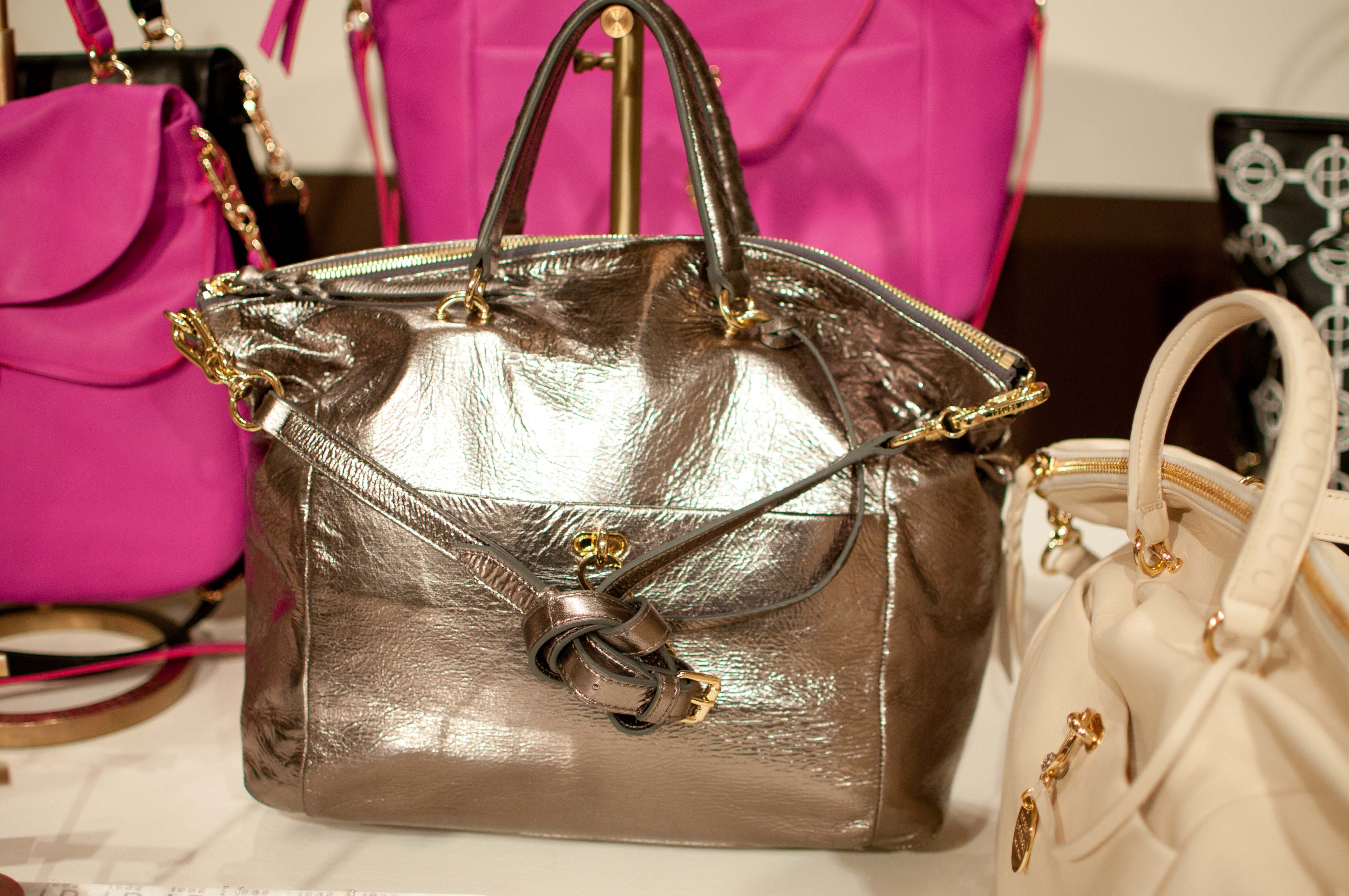 Another favorite: This metallic bag, similar to the hot pink one I'm obsessed with. Statement bags can only be used so often, but a bag in metallic can be used on a regular basis. It goes with virtually everything, too. Sometimes a girl needs a bit of oomph and sparkle to an outfit, and this bag is perfect for that! Swoon.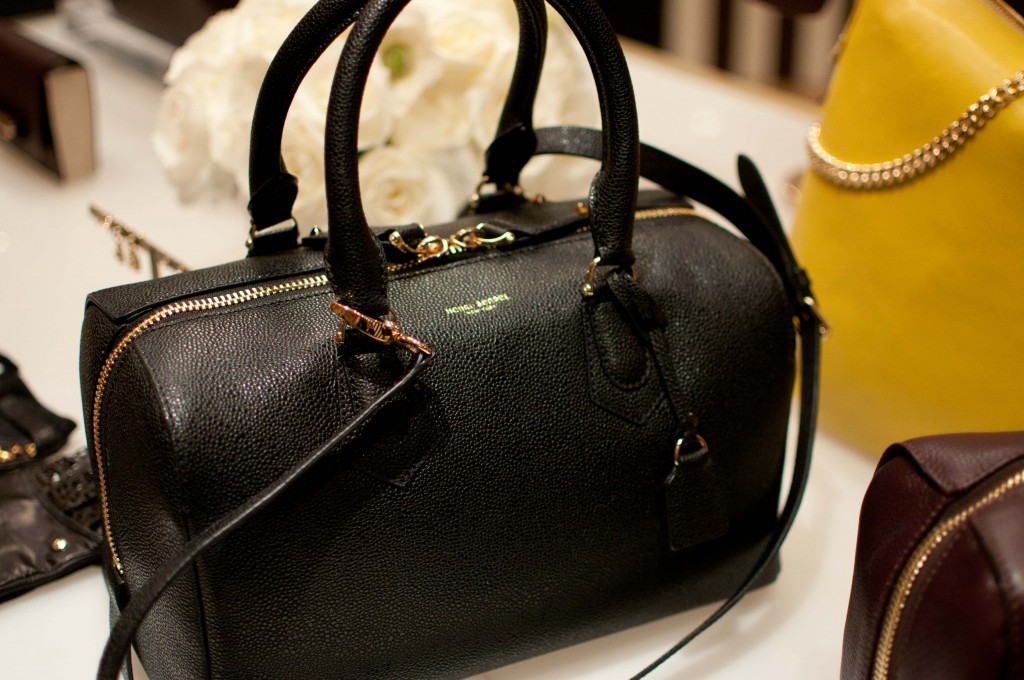 Finally, I fell in love with this little number, and the versatility that it offers. The gold "Henri Bendel New York" stamping is gorgeous, too. I can totally envision myself carrying this one down Fifth Avenue! (Oh, dreams. ;))
In terms of accessories, my favorites were the clutches and wallets, that match the hot pink and metallic bags perfectly. I was also a big fan of the bow-adorned flats (typical Kelly)!
And the jewelry? Drool. From the adorable pig necklace to the awesome arm candy, I'm in love!
If you're like me, and not great at waiting, head on over to Henri Bendel and check out their spring and summer collections. My favorite bags: here, here and here. My favorite bangles: here, here and here. (How cute are those polka dots?!) Happy shopping!