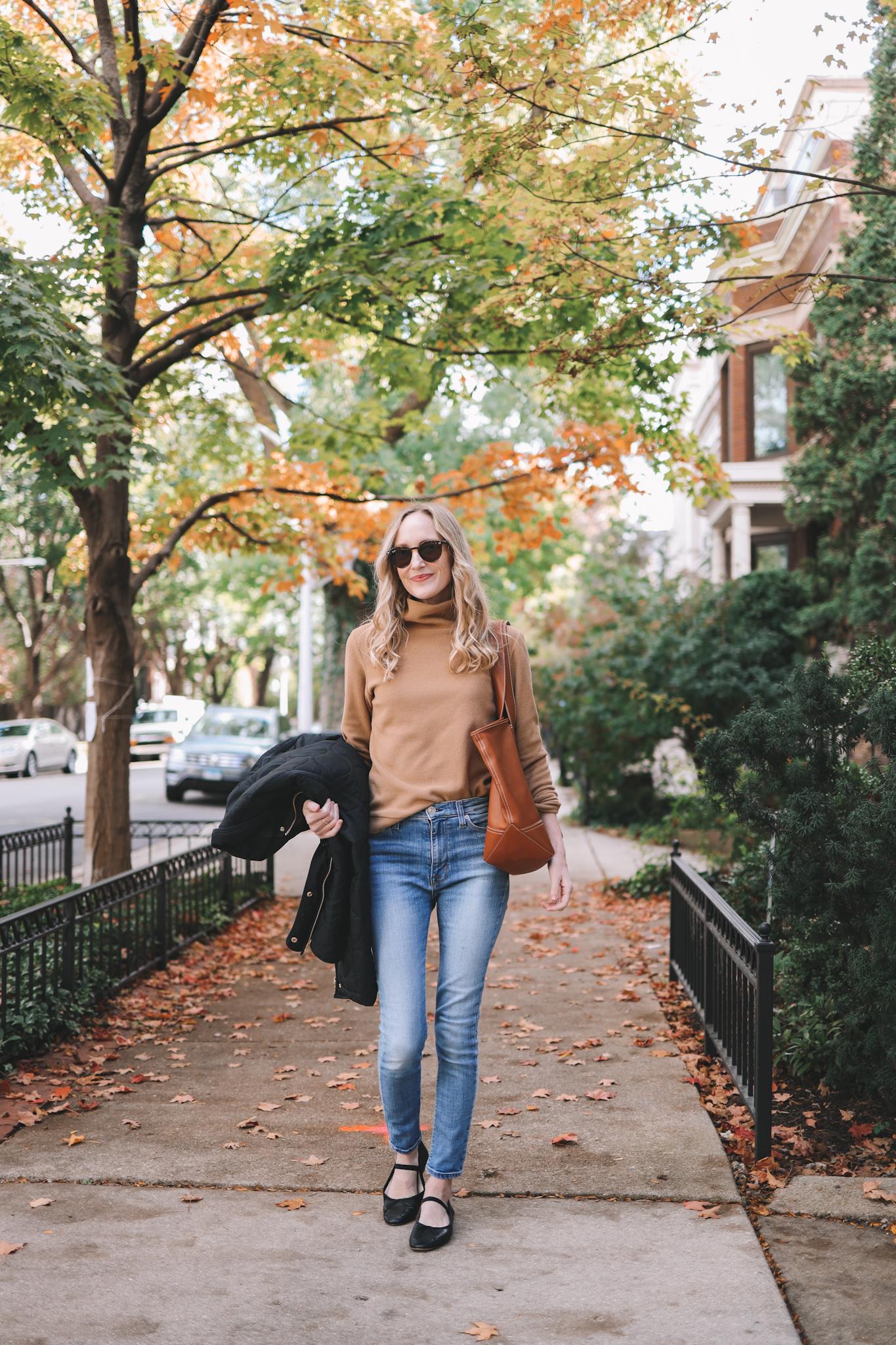 Dudley Stephens Park Slope Fleece Turtleneck (Also available via Tuckernuck. The longer version is called the Cobble Hill Turtleneck.) / Hudson Barbara Jeans / J.Crew Quilted Cocoon Coat / J.Crew Montauk Tote / Ray-Ban Sunglasses
If you've ever considered investing in the Dudley Stephens Park Fleece Turtleneck, I'm here to tell you to do it. 😉
It's my most-reached-for top during the colder seasons. (Especially for morning drop-off.) It's warm and cozy, but fit makes it look way more polished than a typical fleece or sweatshirt. I normally wear mine with jeans but have also paired them with my favorite skirts, and they've looked really cute!
Sizing
I am normally between two sizes, and I always go with the larger one for Dudleys. (I'm wearing a small in these photos.) I would definitely not want to size down as I need the room in the shoulder area. Also, who wants a fitted sweatshirt?! Not me! Give me comfort.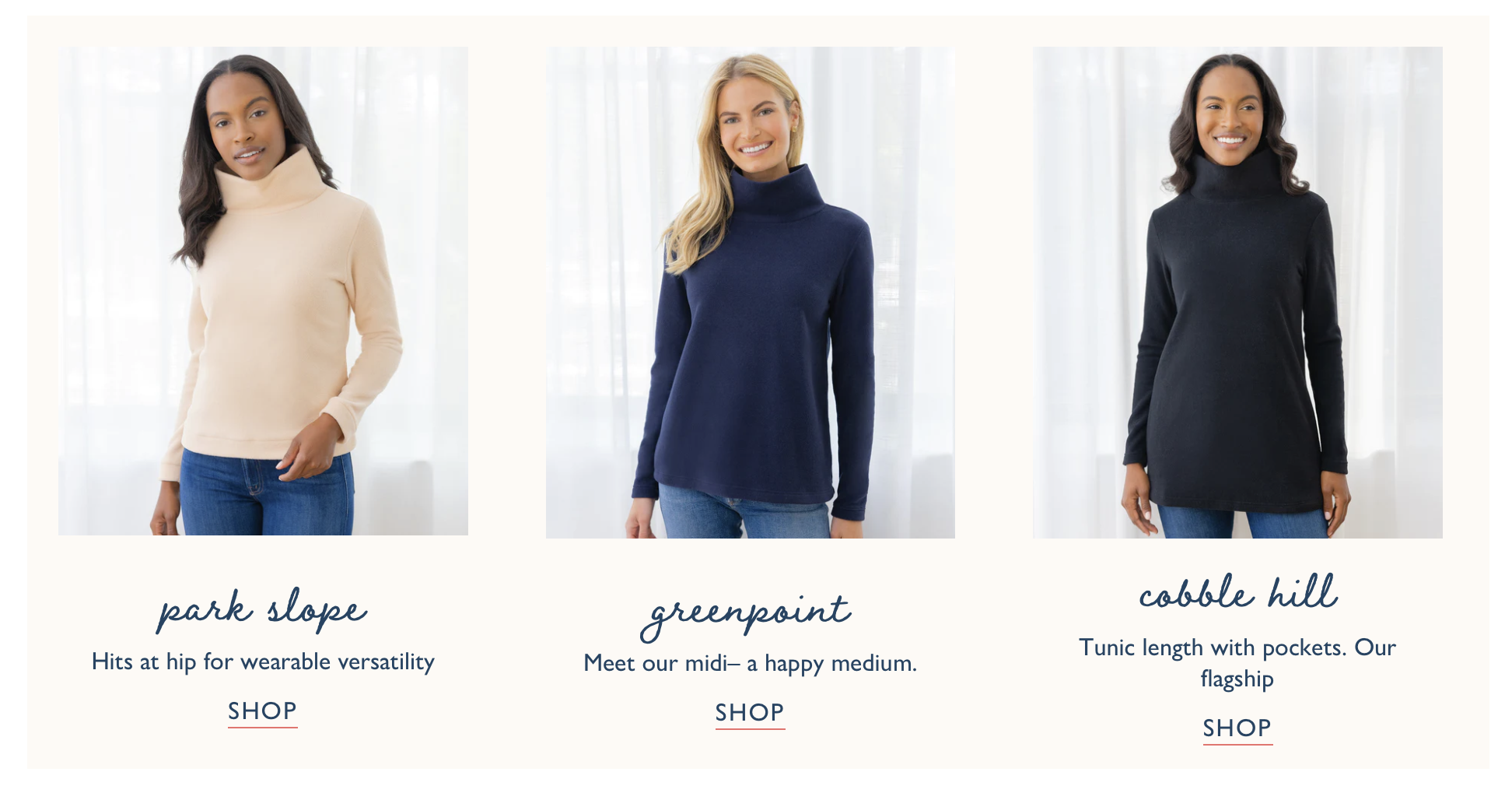 Styles
The three classic Dudley styles are:
Park Slope: This is the shortest version. It's not cropped, but hits at the hip and therefore can be French tucked into jeans or skirts, which I love. This is definitely my favorite style.
Greenpoint: This is the midi version; just like the Park Slope but with some extra length.
Cobble Hill: This is a tunic—Dudley's longest style. It's the one I tend to wear with leggings, as it covers my butt. ;) The best part? It has pockets. This is a great gift for moms and grandmas, btw!
Material
There are to types of fleece to choose from:
Terry Fleece: Terry is the most lightweight of the two. It's for four-seasons wear, but I usually reserve mine for spring, chilly summer nights, and vacations.
Vello Fleece: This is traditional fleece; it's soft, warm and cozy—which is why it's a staple for so many people this time of year! It kind of feels like a towel, or the most luxe sweatshirt ever.
Dudley Stephens turtlenecks are machine-washable, btw. (However I always hang mine up to dry.) Over time, the material becomes more worn-in, so to say. (See the close-up photos below.) This is a good thing!
Most versatile colors
In my humble opinion, I think the "basics" are best. These are:
These are the only ones I own, as I find them to be the most versatile. (Though navy could be a nice addition!)

How to wear
Above are a few of my favorite pieces that I pair with my Dudleys! It's effortless. But just remember that the brand's turtlenecks look so cute paired with skirts, too!
Shop the post:
Dudley Stephens Park Slope Fleece Turtleneck (Also available via Tuckernuck. The longer version is called the Cobble Hill Turtleneck.) / Hudson Barbara Jeans / J.Crew Quilted Cocoon Coat / J.Crew Montauk Tote / Ray-Ban Sunglasses