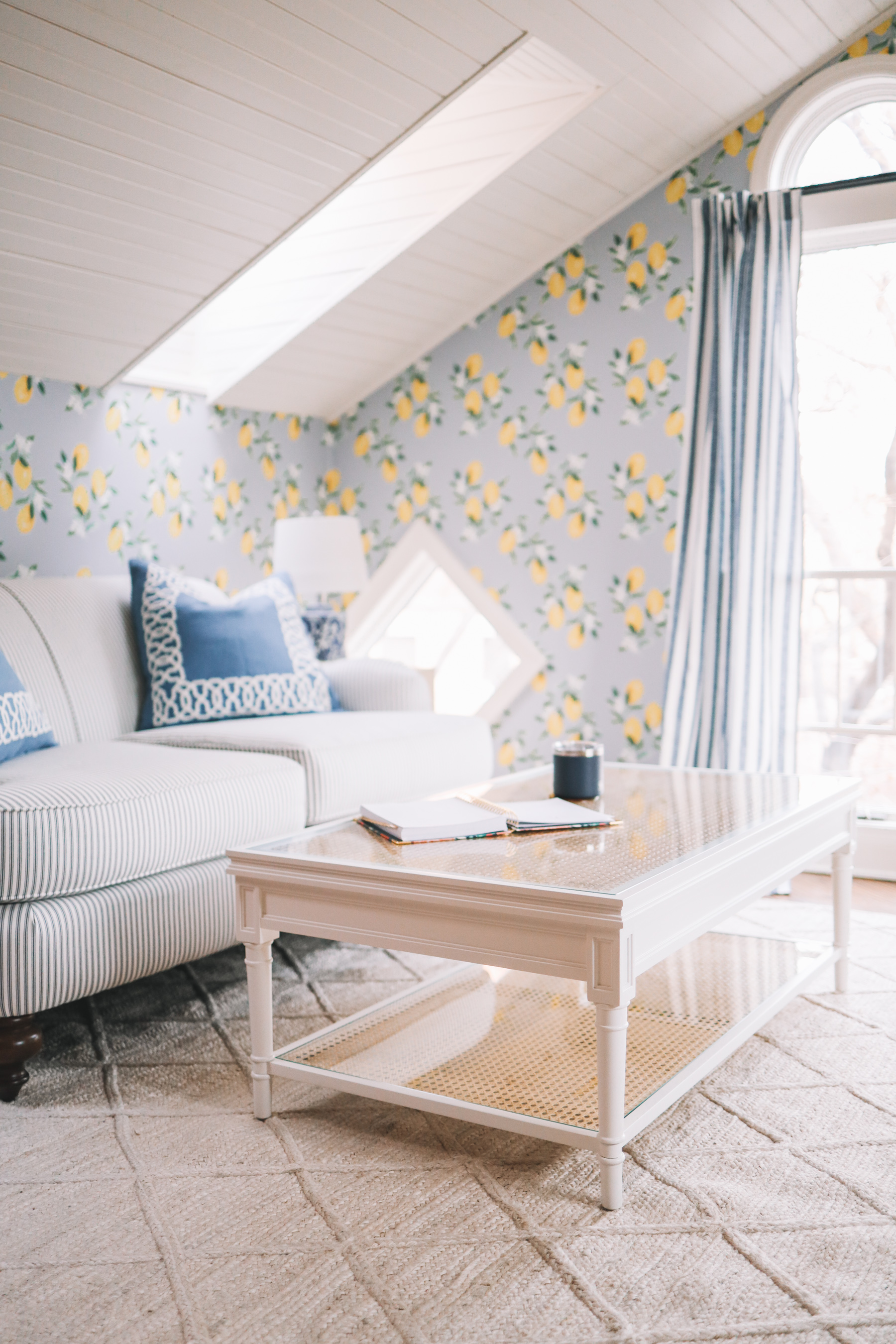 Diamond Jute Rug / Harbor Cane Coffee Table / Jetty Pillow Covers
This is Mitch's last takeover post of the week, and I really don't want to completely hijack it. 😜 But he's talking about our favorite products from Serena & Lily, and I couldn't help but jump in to talk about my top 10. So in no particular order…

Westport Seersucker Bedding: I can't tell you how much I love this collection except to say that we used it in both our master bedroom AND in Lucy's room. (We have it in blue and Lucy has it in white.) It's just so soft and cozy, and washes amazingly well. I just wish that there were Westport sheets, too! Holding out hope. (Would love to put a blue set on Lucy's bed and a white set on ours.) Anyway, I can't recommend the Westport collection more. It's stunning. Your guests will thank you, too!
Balboa Trunk: We have one of these in both girls' rooms. They're fantastic! They really go with the style of the spaces, and they hold SO much. Emma keeps toys in hers and I love that the trunk helps us to instantly transform her room into a play space but then also helps us keep the room tidy when she's done playing. Lucy's trunk is mostly used for guest bedding and towels right now, but I'm sure that it'll be filled with toys in a couple of years, too!
Shore Bench: We recently got this! The original plan was to have it at the end of our bed, but I loved it so much that I put it in the dining room and it looks amazing. I'll probably move it up to the bedroom if I ever find a Hepplewhite for the dining room, but for now, I'm so happy with the placement. :) Emma also loves sitting on it while she puts on her boots every morning!
Harbor Cane Bed: This was my first big purchase for the new house last spring, and I have zero regrets. Yes, it's an investment. But it's stunningly beautiful and has such a classic design that I know we'll have it forever. We have it in white since our master has a very California-y/sunny vibe, but I think the black is gorgeous, too, and if I'd gone with a more neutral feel, I may have went with that! It's seriously perfect. We have the king size, too, and let me tell you: once you go king, you never go back!
Rosecliff Chandelier: I knew that this would be our dining room chandelier even before we found the house, haha. But isn't it perfect? I love that it can be decorated so easily for holidays, too. For Christmas, I attached tartan bows to each light… and for Valentine's Day, I plan on wrapping some greenery (with little red flowers) around it! It's a timeless piece but one that you can change up, too. And I love that!
Teak Step Stool: Small but mighty. This is the ONLY step stool we've found that is safe and cute. We have one in our kitchen, and one in each of the girls' bathrooms. It never fails us and is perfect for toddler use. Can't recommend it more! The "double step" is awesome.
Seaview Softest Indoor/Outdoor Rug: We've had this thing all OVER our house! It's amazingly soft and versatile, and it's an indoor/outdoor rug, which means that it's perfect for high-traffic areas or kids' rooms. Right now, it's in our playroom, and the girls love it. Makes the space cozy yet functional!
Harbour Cane Coffee Table: This is the coffee table I finally decided on for my office! I had originally gone with the South Seas Coffee Table, but it ended up blending into my rug. The Harbour Cane one is perfect, though. I've yet to decorate it, but I can't wait to pile up the coffee table books on the bottom shelf. The glass surface is great, too, as it makes for easy cleaning!
Riviera Collection: We own so much from the Riviera collection! I adore the Parisian look and how kid- and pet-friendly it is. Everything wipes clean so I never have to worry! We currently have most things in navy, but I do dream about the "Natural" chairs and stools as they're fabulous for year-round use!
Avalon Swivel Counter Stool: OBSESSED. Is this not the prettiest counter stool you've ever seen?! Maybe one day…
TAKE IT AWAY, MITCH!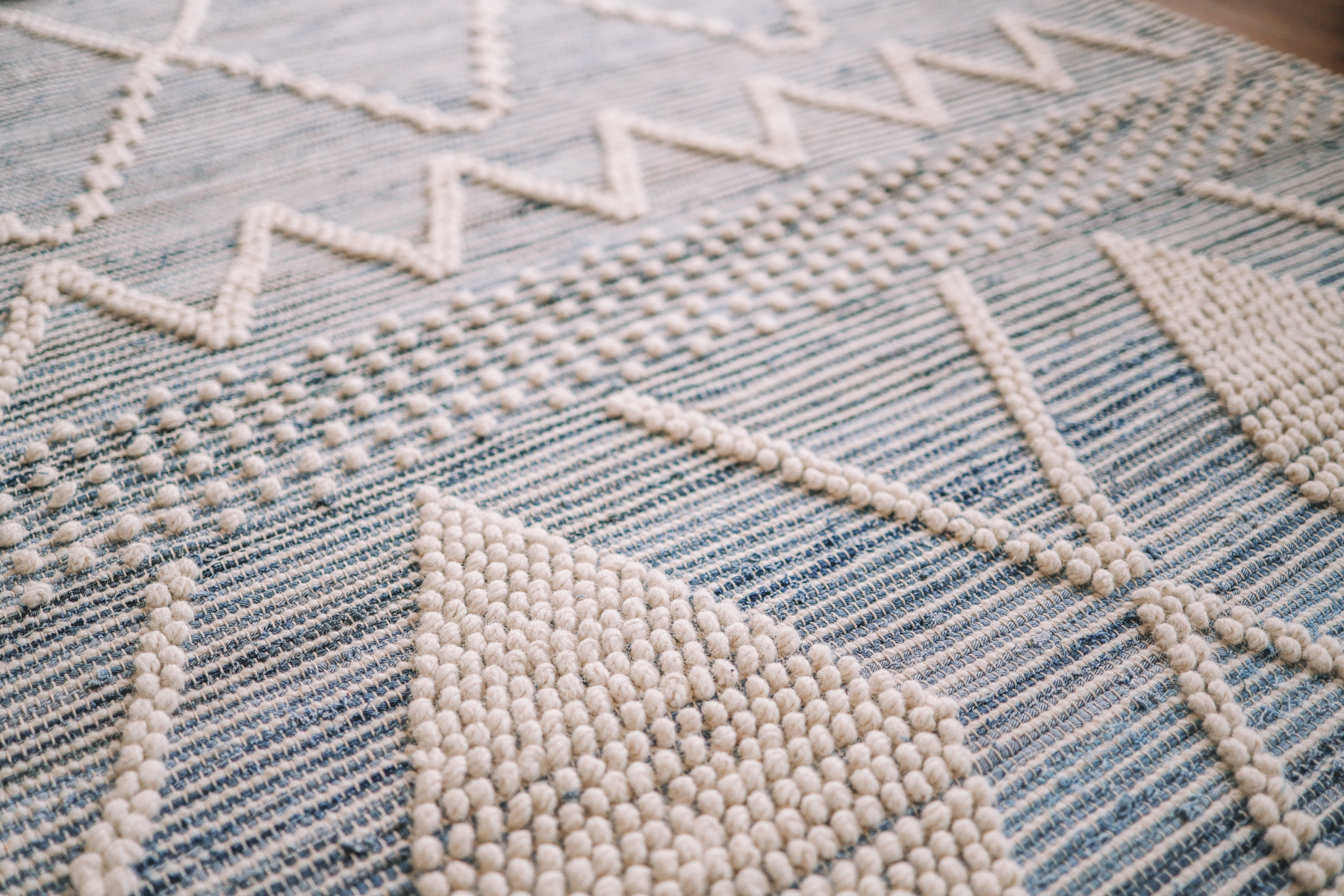 Mitch here!
I sat down to write a quick post today, and ended up spending five hours on the Serena and Lily website. Now that I'm a homeowner, I spend my free time dreaming of grasscloth walls, jute underfoot and decorative brass accoutrement.
Serena and Lily, a design partner of ours for a while now, is such a reliable source of home inspiration that even guys like me can get involved in decorating. Never in a million years did I ever think I'd say this, but I'm obsessed with the brand and so happy that Kelly is, too. Every piece we've brought into our home has elevated its respective space. And the company just came out with their largest release ever, and the products are insane.
Below is a combination of what I have my eye on and what's already in our home that we love!
Mitch. OUT!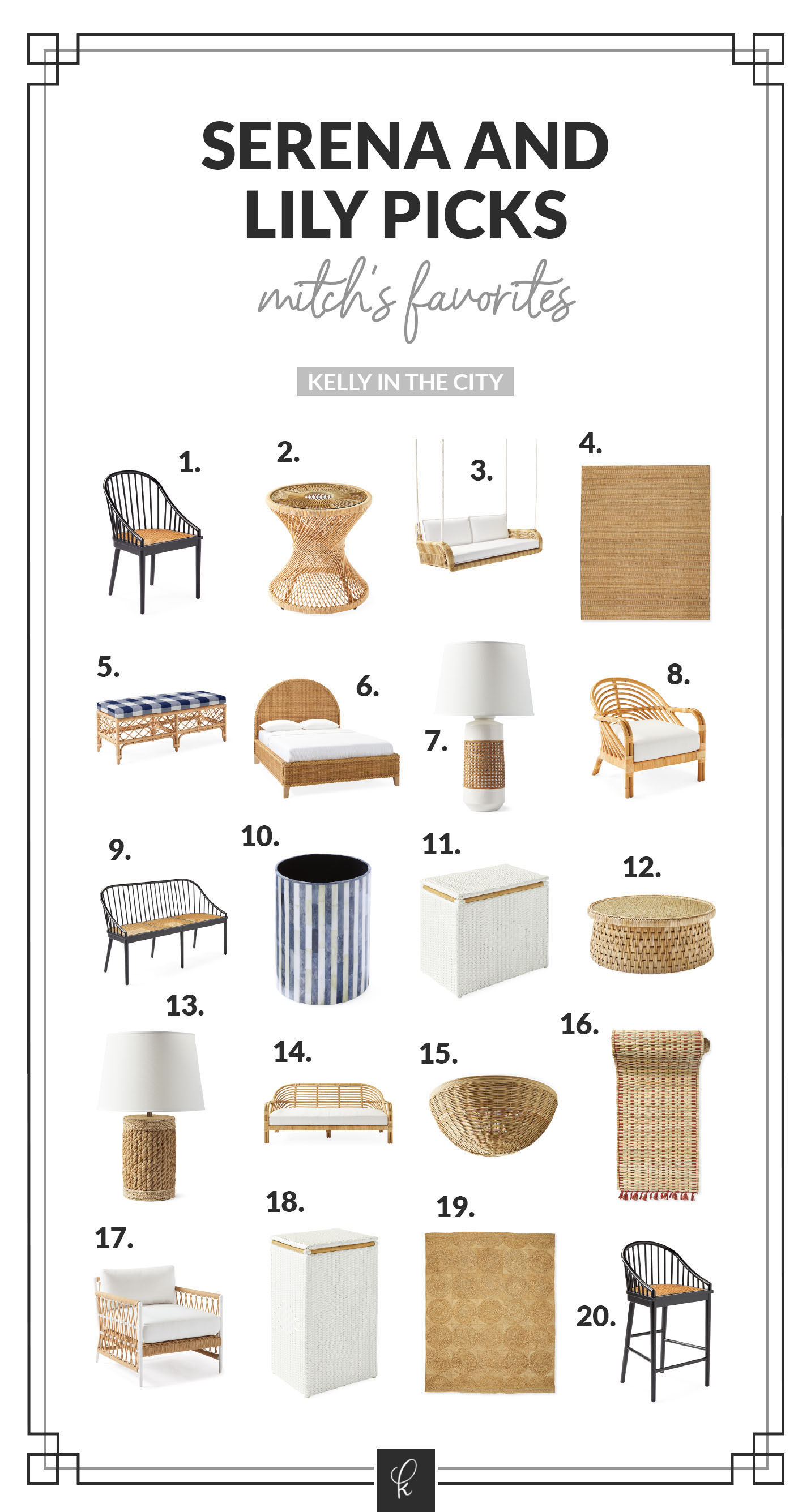 One / Two / Three / Four / Five / Six / Seven / Eight / Nine / Ten / Eleven / Twelve / Thirteen / Fourteen / Fifteen / Sixteen / Seventeen / Eighteen / Nineteen / Twenty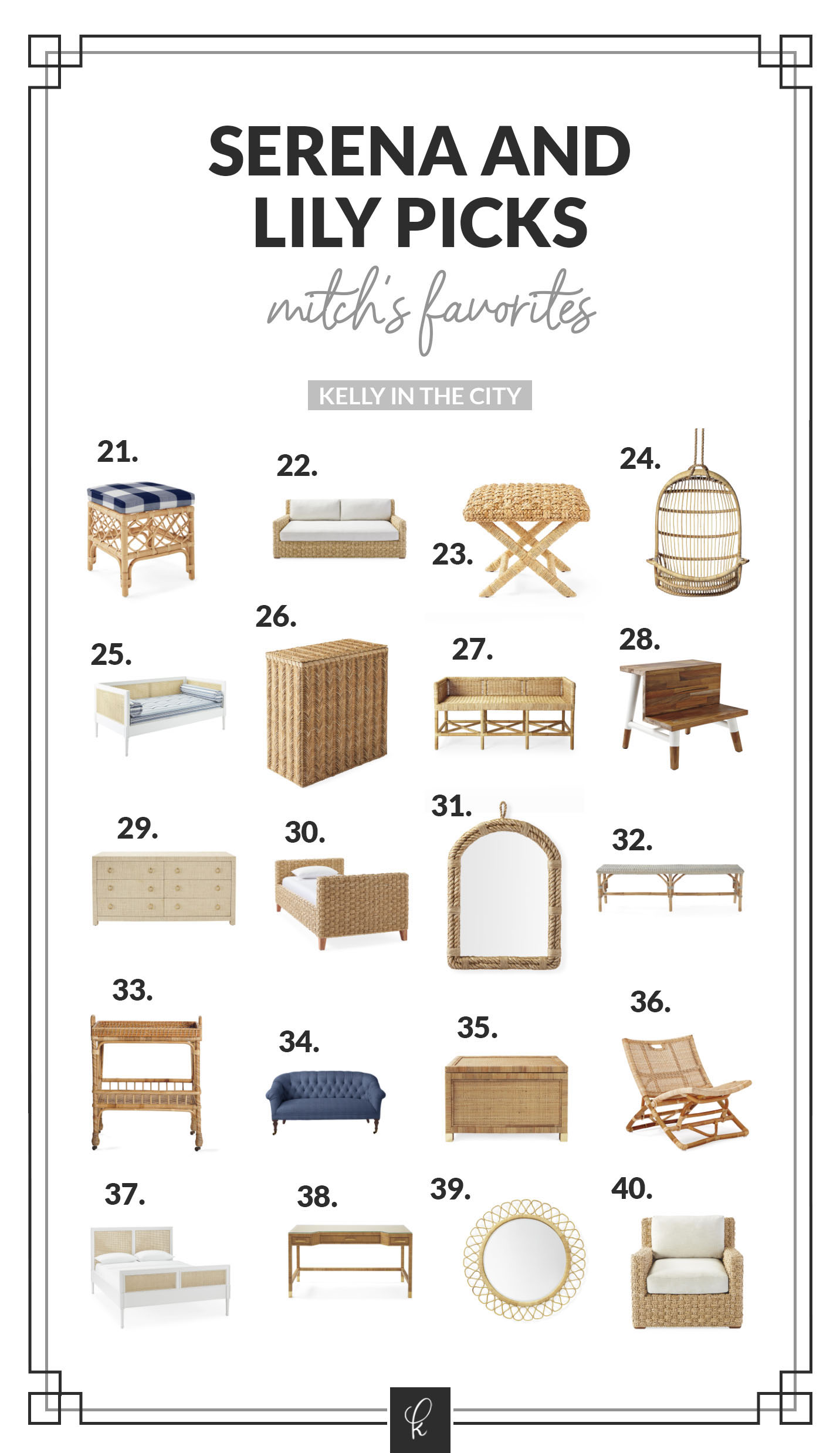 Twenty-One / Twenty-Two / Twenty-Three / Twenty-Four / Twenty-Five / Twenty-Six / Twenty-Seven / Twenty-Eight / Twenty-Nine / Thirty / Thirty-One / Thirty-Two / Thirty-Three / Thirty-Four / Thirty-Five / Thirty-Six / Thirty-Seven / Thirty-Eight / Thirty-Nine / Forty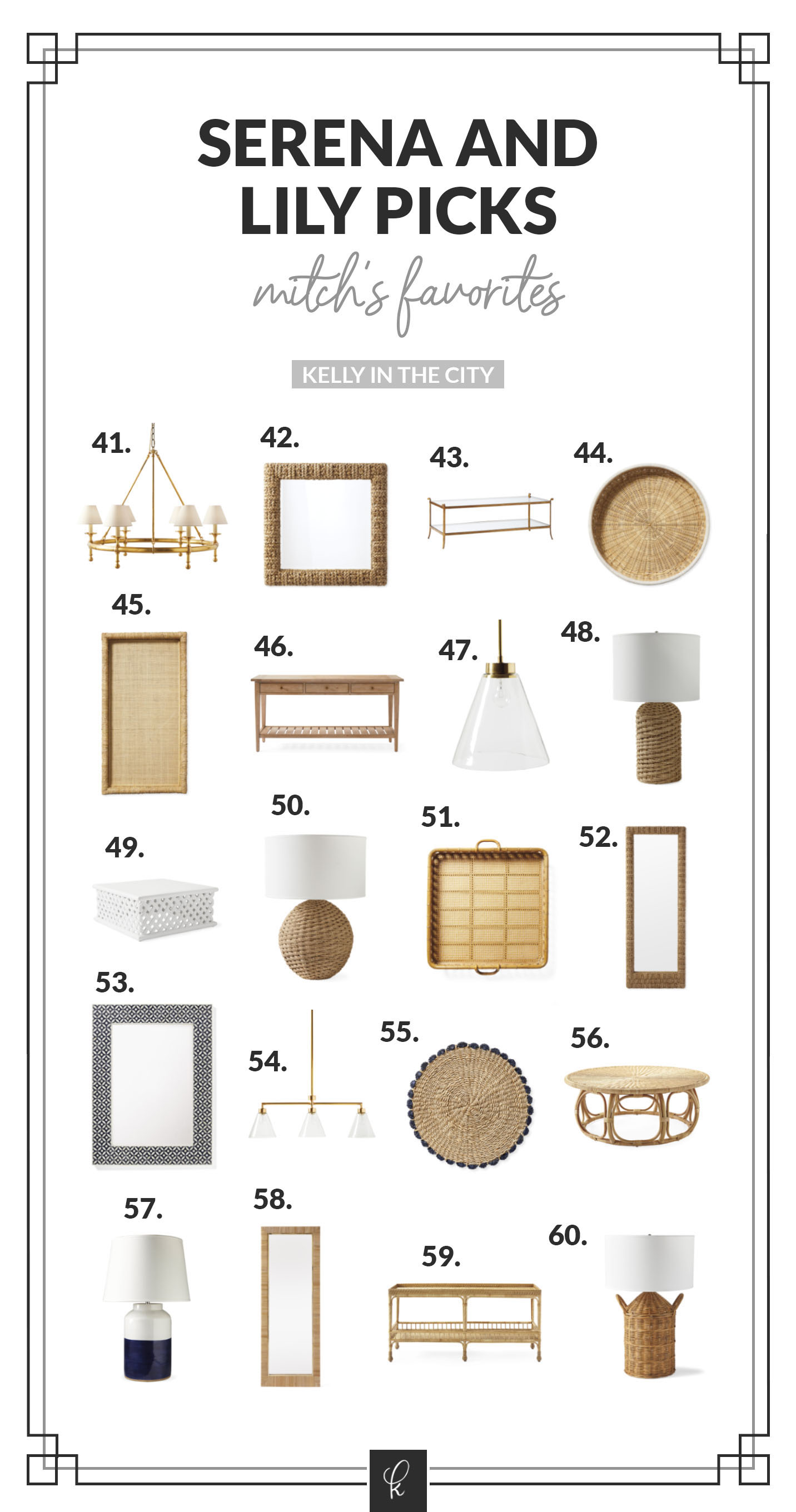 Forty-One / Forty-Two / Forty-Three / Forty-Four / Forty-Five / Forty-Six / Forty-Seven / Forty-Eight / Forty-Nine / Fifty / Fifty-One / Fifty-Two / Fifty-Three / Fifty-Four / Fifty-Five / Fifty-Six / Fifty-Seven / Fifty-Eight / Fifty-Nine / Sixty 

In collaboration with Serena & Lily; all opinions are my own. As always, thank you so much for supporting the partnerships that keep Kelly in the City up and running!