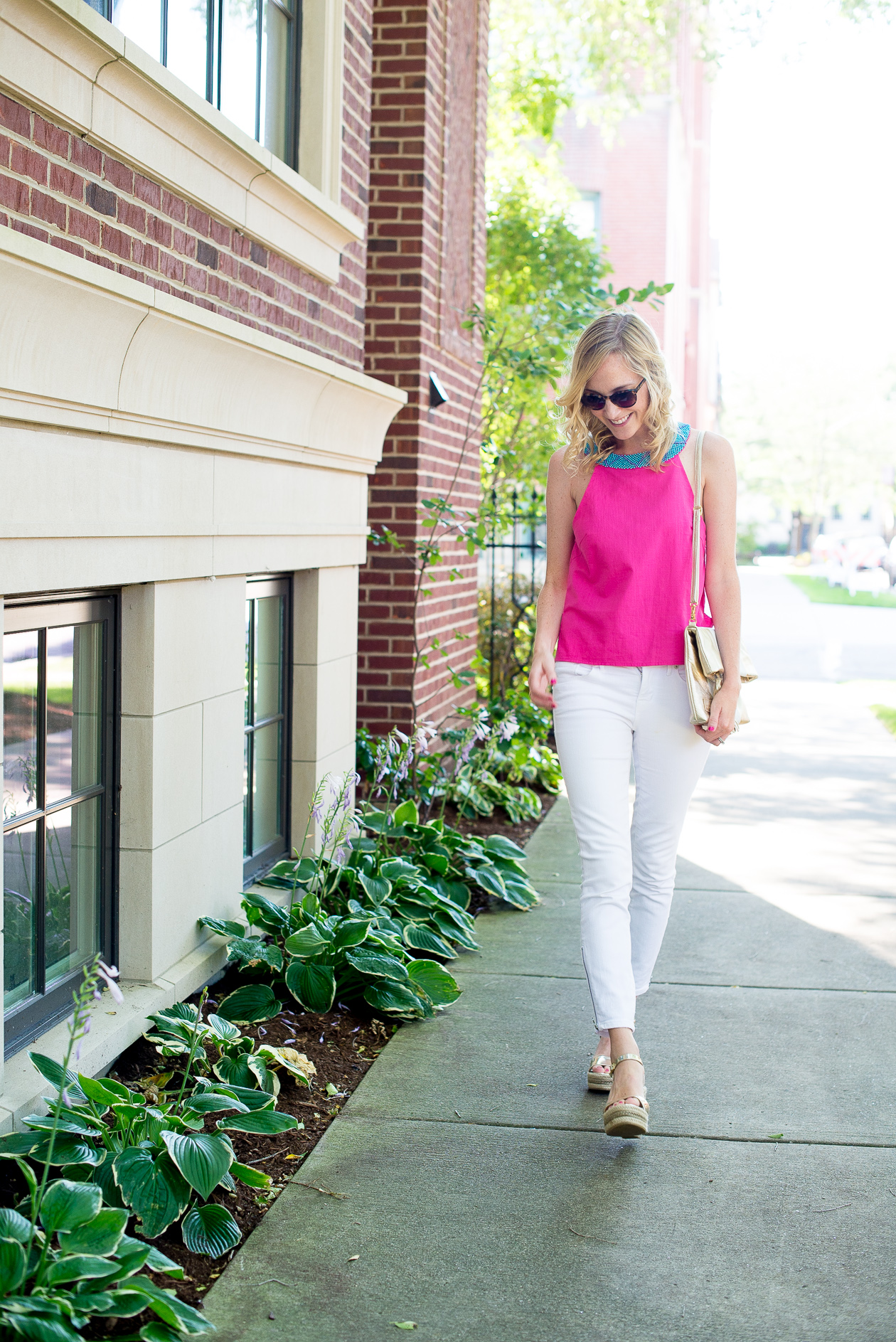 Andre Assous Sandals c/o / Julie Brown Designs Top c/o / Madewell Jeans (Old, similar here) / Beau & Ro Bag c/o / Kate Spade Sunglasses (Old, similar here) / Moon and Lola Earrings c/o Tuckernuck (Also love these!)
Alert the presses: Today is the LAST day of the Nordstrom Anniversary Sale. Have you shopped my faves?!
Okay. I've worn these sandals on the blog so many times that I feel like it's time to talk about their magnificence. :)
They're the new "Brasilia Sandals" by André Assous, and I adore them. Before they made their way into my closet, I'd been looking for a gold wedge for the longest time–something that went with summer dresses and classed up white jeans–and these are definitely the pair. They also make me a lot taller, which I really like, haha.
Known as the "King of Espadrilles," Euro-American designer André Assous engineered the hand-sewn shoe that became a fashion statement in the 1970s. (They were even featured in salon stores such as Bergdorf Goodman and Saks Fifth Avenue!) Forty years later, Assous is still making the espadrille… in lots of updated styles and textiles.
Pretty cool, right?
To check out more of André Assous' collection, visit the website. You can also shop the designer at Nordstrom. While the Brasilia Sandals are my faves, I also love the Nice, the Emmie, and the Dennie!
In other news, Mitch and I drove from Chicago to New Jersey yesterday, because we have an engagement party to attend today! (Katie, my best friend from childhood, is getting married! Have you voted yet? Thanks to everyone who's weighed in. We love you!) I'm so excited.
I have a few days' worth of posts lined up (because blogging always seems impossible while traveling), but stay tuned for Jersey, NYC and Ocean City updates!
Photos by Shaheen of Lows to Luxe (xoxo)
Nevermind the sunspot, haha. #awkward