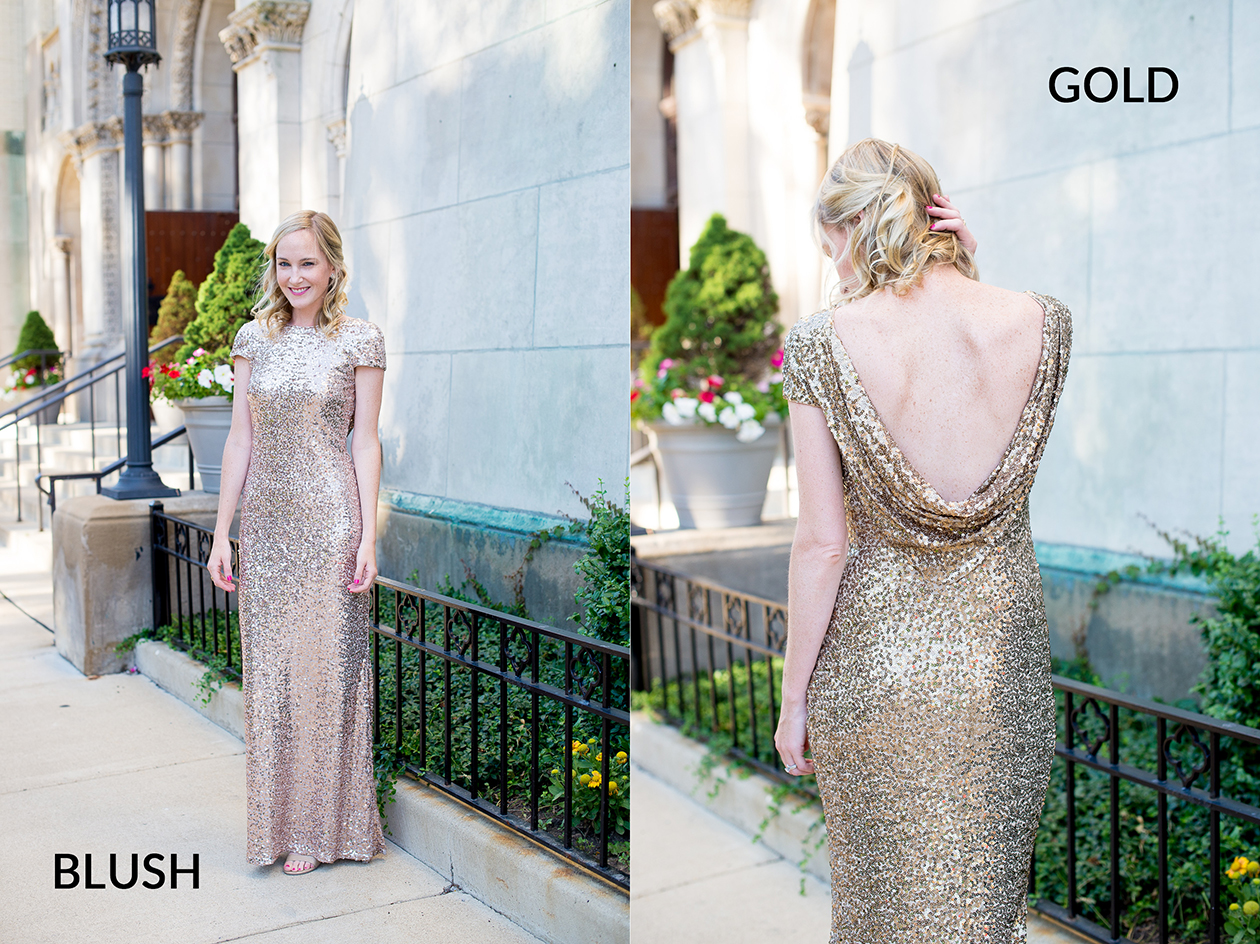 Badgley Mischka Sequined Gown in Blush and Gold c/o Rent the Runway
A couple of weeks ago, my childhood best friend, Katie, texted me this photo.
"THIS IS THE DRESS," she said.
When I saw it, I shrieked and hopped up and down. (Which was awkward, as I'd just walked into a restaurant.) Because I'd been in love with the Pinterest-famous dress for a long time–and couldn't believe that I might get to wear it while standing up with one of my oldest, closest friends as she marries the guy of her dreams next spring.
(Already tearing up.)
"How do we tell who makes it?" she asked. "Do you think we can track it down?"
#challengeACCEPTED
In about 30 seconds, I found out that the dress is by Badgley Mischka, and retails at $620. Whomp, whomp. But I also found this post which featured the dress and linked to Rent the Runway. (The funniest thing was that I totally recognized the bride from Instagram: Andrea Lee from Tickled Pink.) Turns out you can rent the blush dress for $70, or the gold version of the dress for $120.
AMAZING.
But Katie was worried. She'd used Rent the Runway before and had a very positive experience, but she wondered whether using the service for her wedding would stress her out.
Understandable!
So I shot Andrea an email with the concerns. Did the dresses fit the girls? Did they have any problems? Was she happy that she chose Rent the Runway for her bridesmaids' dresses? Was it stressful?
(Also, most gorgeous wedding ever. Why didn't I think to put my girls in sequined dresses?!)
Andrea quickly emailed me back (such a sweetheart), and raved about her experience with Rent the Runway. It was easy–and saved everyone major bucks. And because Rent the Runway sends two sizes, the girls all ended up with dresses that fit. She also noted that they looked absolutely fabulous on a variety of body types, and that they came in regular, short and long. Not a stressful experience.
MORE GOOD NEWS.
We were sold. But which version of the dress did we like better: the blush (which looks kind of champagney to me) or the gold? Andrea had chosen blush, and we loved her photos. But we also couldn't stop going back to the gold!
My friends at Rent the Runway came to the rescue, though. They sent me four dresses–two sizes in the blush and two sizes in the gold–to help us choose. (Thank you so much, Rent the Runway!)
So today, Katie and I are asking for your help. Should we go with blush or gold?! Leave your thoughts in the comment section below. :) We can't wait to read what you have to say!
Notes about the dress:
I'm wearing a stick-on bra.
I ordered a size 0 (my normal size) and 2, but ended up going with the 2.
I'm wearing the regular length, but it also comes in short and long.
It's very comfy. I moved around easily in it, and was definitely able to sit down and dance!
I'm wearing three-inch sandals in these photos, but think I should have gone with two-inchers. Even comfier!
It's not itchy. (Miracle!)
It's not too hot. Granted, I'm always freezing. But Mitch and I snapped these shots on a near 90-degree day, and I was fine!
In Blush:
In Gold: