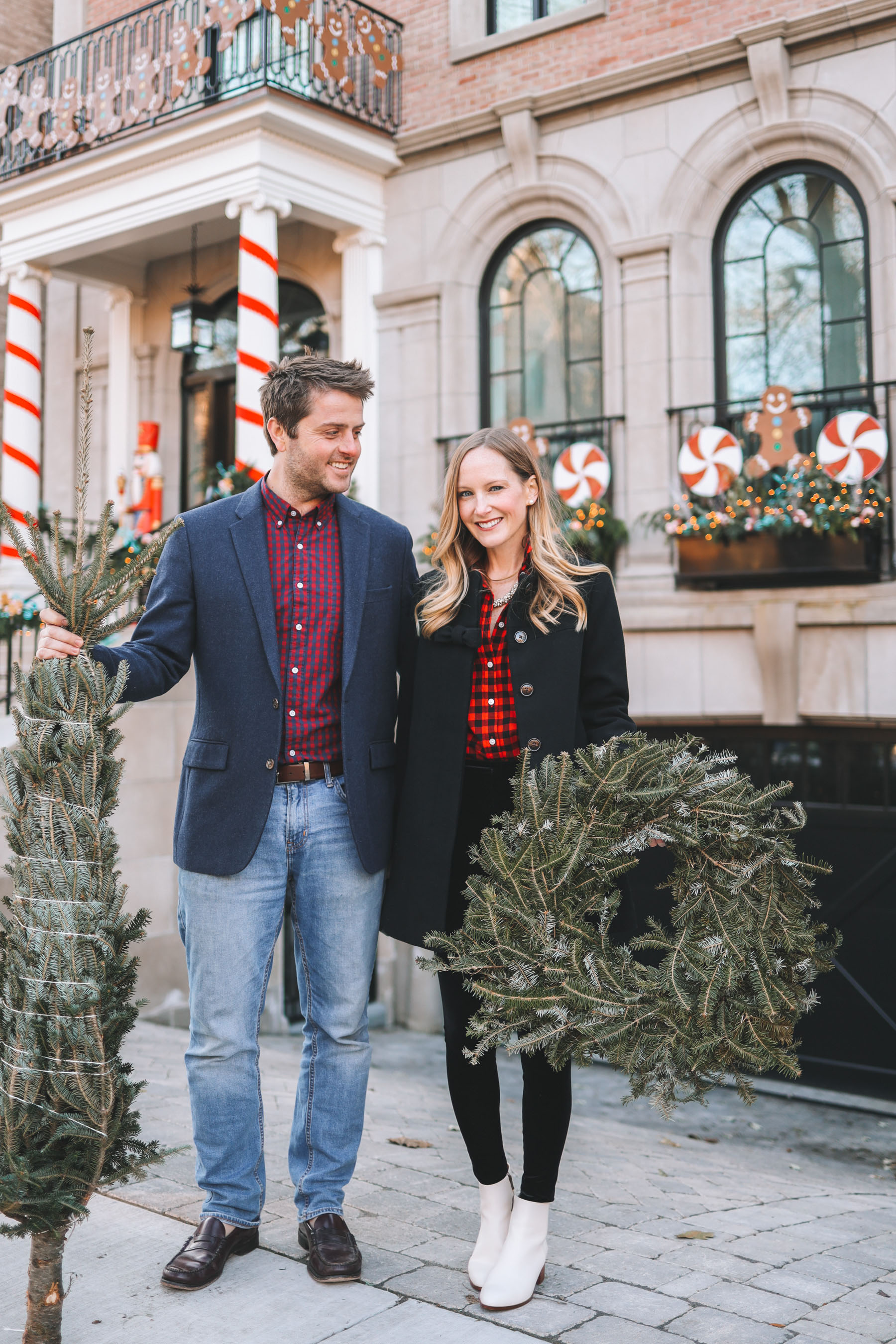 Sparkly Necklace (My most-worn necklace during the holidays! I wear it to nearly every event. This is a classic that I've been wearing for years, too.) / Buffalo Plaid Flannel Shirt (Get this one, too. It's a favorite!) / Newer Velvet Leggings / Bow Coat / Leather Ankle Boots / Socks / Mitch's Blazer, Shirt and Jeans
J.Crew Factory makes up a considerable portion of my wardrobe. And while they're one of my favorite companies for preppy basics, they do the holidays really well. So today, I thought I'd highlight everything I own and love from the retailer because there's a huge sale going on right now! Everything is 50 to 60 percent off, and you can use code "SOFESTIVE" to take an extra 50 percent off the clearance items. The "Amazing Deals" section also has a ton of awesome stuff! Like, this cable-knit sweater for less than $20?! Cray. ;)
Okay. On to those faves:

Sparkly Necklace: Hands down, this is my most-worn piece of statement jewelry. It's BEAUTIFUL, and I can't believe how affordable it is. I wear it to nearly every holiday event and I always get so many questions about it. I was thrilled to see that Factory brought it back this year! Oh! And you know how a lot of times statement necklaces will be super cold against your neck and therefore you don't wear them in the winter because hello that's awful? (Just me? 😜) This one is FAR warmer than most. I can't recommend it more; it makes for a great gift, too.
Multi-Strand Pearl Necklace: I've owned this for years and years, and always come back to it. It's just one of those classic pieces that you'll always have in your jewelry box. Adds so much to a look!
Bow Coat: IT'S BACK and more bowtiful than ever. It's not the warmest coat, but it's gorgeous and totally gets the job done as long as you're not walking long distances outside in it in Chicago during December. ;) To and from the car, and in and out of ubers, though? Perfect. And absolutely stunning! Runs TTS but I always order one size up in J.Crew Factory coats so I can have some extra movement around the shoulders and wear thicker sweaters with them.
Single-Strand Pearl Necklace: This is really great for solid dresses, sweaters and tops without much detailing. I paired mine with this super warm turtleneck sweater and it looked very polished! :)
Stewart Plaid Flannel Shirt: MY FAVORITE. I didn't want to feature it in this post today because I feel like I wear it on the blog/social all the time, haha, but get this! It looks fancy because of that ruffled collar but it's so soft and warm. It's probably my #1 favorite article of clothing this holiday season. I went up one size for a more flowy look, but I'd say that it runs TTS.
Buffalo Plaid Flannel Shirt: This is obviously what I'm wearing in today's post! Huge fan. I think one of the best parts about J.Crew Factory is that the website provides styling advice, so to say. I always thought of buffalo plaid as a casual, wear-in-the-woods kind of plaid, haha… but I love how Factory styled it in a dressier way for the holidays! I paired mine with the below velvet leggings because it's been FREEZING this week, but love it paired with skirts and over dresses, too!
Newer Velvet Leggings: Yes yes yes. If you don't already own velvet leggings, order these now. They will change your life this winter. They're beautiful, incredibly comfy, and surprisingly warm. My favorite way to wear them is with oversized sweaters and French-tucked button-downs.
Scalloped Cami: Another favorite, and something you should own since you can get year-round wear out of this! Of course, this would be tough in Chicago unless paired with a great cardigan, but it's gorgeous and perhaps worth it. ;)
Long-Sleeved Flannel Dress: Isn't this so cute?! As we know, I'm a big fan of anything that looks dressy yet fights frostbite, and this one wins. Love the houndstooth print, too!
Long-Sleeved Turtleneck Dress in Supersoft Yarn: Add to cart! My favorite sweater dress. It's soft and hangs in all the right ways, and if you wear it with sweater tights and boots or over-the-knee boots, you'll likely be warmer than you would be in pants. (I'm sorry. I sound like a crazy person about the cold, but it's like 18 degrees here right now and it's affecting me on a deep level, haha.) This dress runs on the larger side so I'd recommend sizing down.
Sweater Blazer: to throw on over outfits when it's a little chilly! I always keep this on the back of my desk chair, too.
New City Coat: LOVE it in red. Makes a festive statement.
Blackwatch Plaid Schoolboy Blazer: The Schoolboy Blazer is such a classic, and it's now available in blackwatch plaid. Looks great worn with dress pants or jeans. I go one size up in Schoolboy Blazers.
Blackwatch Plaid Pants: Are you even alive if you don't own tartan pants for the holidays? ;) Jokes.
Plaid Bow Skirts: These are everything. I have this in the springtime striped version, and it's always one of my most popular looks on the blog! The plaid versions are just so cute.
Tartan D'Orsay Flats: A great way to don a little plaid without draping yourself in it.
Plaid Scarf: SUCH a good price! All the other good ones seem to be $50+. Pounce on this!
Pearl and Sparkly Hair Clips: Emma and I are obsessed with hair accessories. We have so much fun with 'em! These are our new favorites. Of course, Emma rarely comes home with the hair stuff I send her to school with, so we try to only wear these on the weekends. But aren't they darling? Great for keeping hair out of kids' faces, too!
Pearl Headband: We both have this!
Tartan Headband: Emma asks to wear this every day! I wear it with solid sweaters and jeans. Really pulls a look together. :)
Hope this is helpful! Happy shopping!
Shop the post:
Sparkly Necklace (My most-worn necklace during the holidays! I wear it to nearly every event. This is a classic that I've been wearing for years, too.) / Buffalo Plaid Flannel Shirt (Get this one, too. It's a favorite!) / Newer Velvet Leggings / Bow Coat / Leather Ankle Boots / Socks / Mitch's Blazer, Shirt and Jeans

Remember: Everything at J.Crew Factory is currently 50 to 60 percent off, and you can use code "SOFESTIVE" to take an extra 50 percent off the clearance items. The "Amazing Deals" section also has a ton of awesome stuff!
This post is sponsored by J.Crew Factory; all opinions are my own. As always, thank you so, so much for supporting the partnerships that keep Kelly in the City up and running!