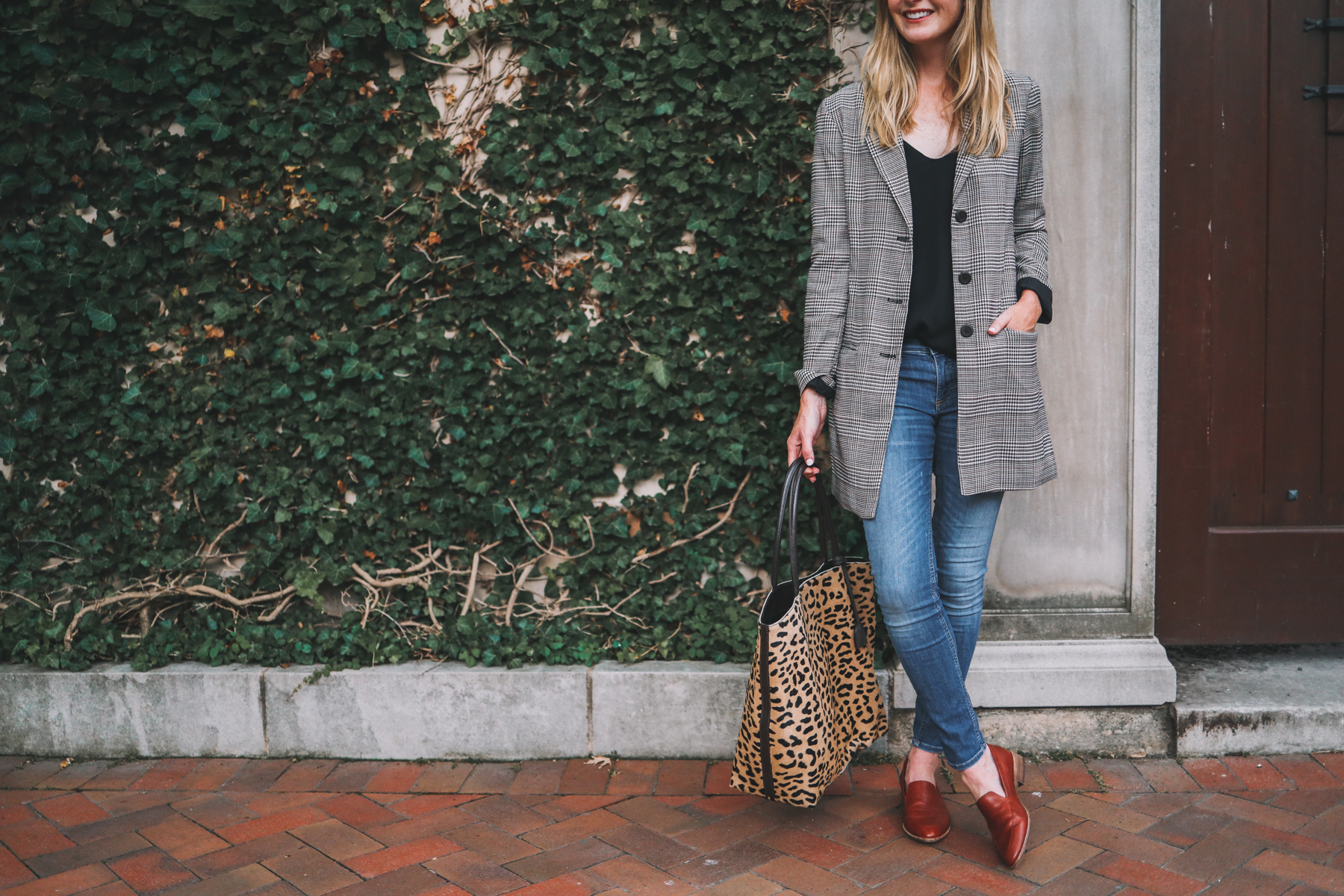 Mark & Graham Leopard Tote c/o / Plaid Blazer (ObSESSED. <–Kelly's commentary.) / Madewell Loafers / Rag & Bone Jeans (Also available here, here and here.) / Scalloped Version of my Camisole
Mitch here!
Have you felt it yet? Sure, temps hit 85 degrees yesterday and yes, it's still officially August. But there's a note of coolness in the breeze and a whiff of pumpkin spice in the air.
I spent most of the last 30 Augusts in a state of dread. But as hard as I try to avoid looking at a calendar, the back-to-school sale signs and subtle crunch of the grass have given it away. Not today and not tomorrow, but I will have flipped my last flop soon enough.
Summer's almost over and I'm freaking out. 😭
We had a hell of a summer. It kicked off on Cinco de Mayo when we moved and had a baby… and then we visited my parents at their lake house, and spent two weeks at my in-laws' Shore house. We also had a wonderful time hanging around Chicago while we adjusted to life with two kids and worked on the house! But does anyone else feel like they didn't get enough summer this year?! It just started so late…
Today, though, in a Sunday Scaries fit of delirium, I booked three fall trips so we have adventures to look forward to and don't mourn the end of summer too much. I present to you the "Mitch Doesn't Know How to Sit Still Larkin Family Fall Travel Schedule."
Labor Day at the lake
If you asked me about my favorite holiday I'd say, "Thanks for asking. I actually have a lot to say on this topic." There's Christmas and Thanksgiving, of course, but I'd like to propose Labor Day as the ultimate holiday experience. Completely devoid of expectation, Labor Day brings the heat both literally and figuratively. Early September is easily the most pleasant weather on the calendar… and Labor Day holds few expectations from friends and family, and there aren't even any lame traditions to carry forward year after year. What do you eat on Labor Day? Whatever you want; nobody cares.
I love Labor Day, and this year, I get to spend it with my parents at Lake Bloomington. I'm going to swim with Emma, jump off the dock with Noodle, drink a little too much wine with Kelly, and then get up early with Lucy to do it all over again. I can't wait.
Birthday bash in the Big Apple
Kelly is 260,000 seconds older than I am, and before you do the math, just know that she carries it well. It looks good on her. But yeah: neither of us get very excited about our birthdays these days since we're getting so old. 😂 But great news: we'll be totally distracted that week, as we're flying to New York to celebrate Kelly's grandmother's 90th birthday at an Italian restaurant off Central Park. I love how dedicated Kelly's family is to spending time together despite the fact that everyone's spread all over the country, and these family reunions always turn into pretty raucous parties. I'm stoked.
It goes without saying that I'll take any excuse to be back in New York. Early October in the city is just about perfect, and showing the kids around is a top priority for me. Emma is very curious about where her parents met and I've even taught her to fold her pizza in half. This will also be Lucy's first time in New York, which makes the trip even more special.
Pilgrim-age to New Orleans
The Big Easy might not seem like the most traditional Thanksgiving location, but I'd argue that many of those traditions need a little shaking up. I'd trade in a plate of turkey and stuffing for gumbo and étouffée any day. Pumpkin pie vs. beignets isn't even a comparison.
Kelly's brother, Patrick, and his wife, Kim, live in New Orleans. And I mentioned it earlier, but because our families are spread out across the country, it takes real effort to get everyone together–especially around the holidays. I must say that it's pretty sweet to have family down there. New Orleans is easily a top-five American city for me, and I'm lucky to be able to spend time there outside of the standard bachelor party trip.
We're actually doing Thanksgiving a couple of weeks early with Kelly's family. This is because of Patrick and Kim's work schedules as well as the fact that Kelly and I now "do Thanksgiving" at home in Chicago. (Flying for Thanksgiving and then Christmas a few weeks later has proven to be WAY too much for our family.)
This is the perfect solution, though! Really excited.
But wait… there's more?
I haven't booked anything additional because Kelly wants a somewhat calm fall, but I'm thinkin' I might have a proper family vacation in me this fall, too. Yes, Emma starts school in September and her teachers already warned us about taking her out of school too often. I mean, she's three, but still. We want to take her education seriously! And traveling with a three-month-old isn't a walk in the park. But I don't know; I'm feeling the itch. Thoughts?
Mitch. OUT!