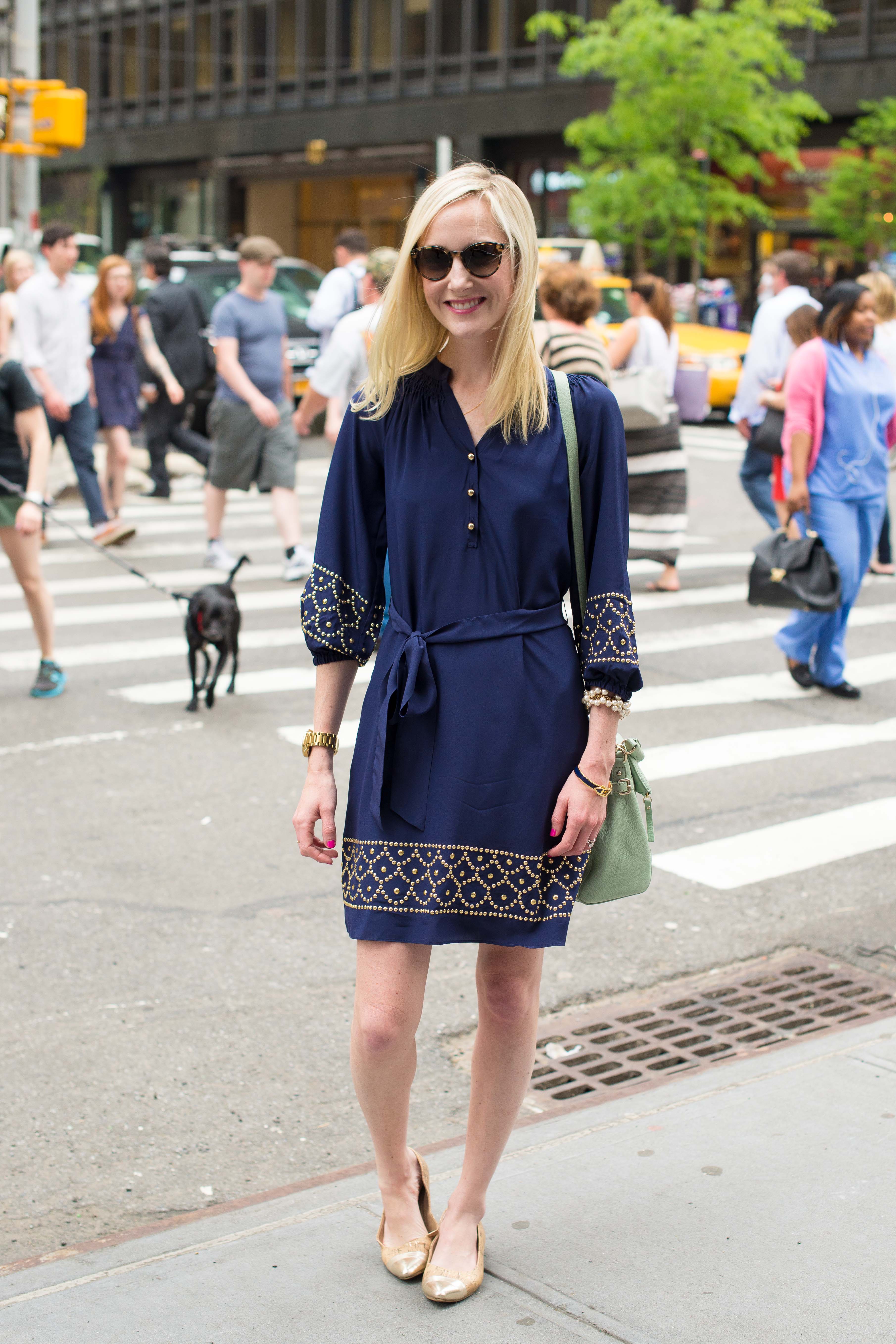 Dress: Lilly Pulitzer (Sold out — Last seen here), but this is my current favorite navy dress from Lilly! / Necklace: Miriam Merenfeld (c/o) — So cute, right? What a different spin on the classic monogram necklace! / Bag: Kate Spade / Flats: Kenneth Cole (Sold out), almost identical here by Jack Rogers, similar here in scallops and bows, here from Kate Spade, here from Tory Burch / Bracelets: J.Crew and C.Wonder / Watch: Michael Kors, but obsessed with this version of the same watch, and currently loving this MK watch in hot pink, this one in turquoise, and this one in tortoise shell / Lipstick: Clinique (In "Pudgy Peony") / Sunnies: Kate Spade / Earrings: J.Crew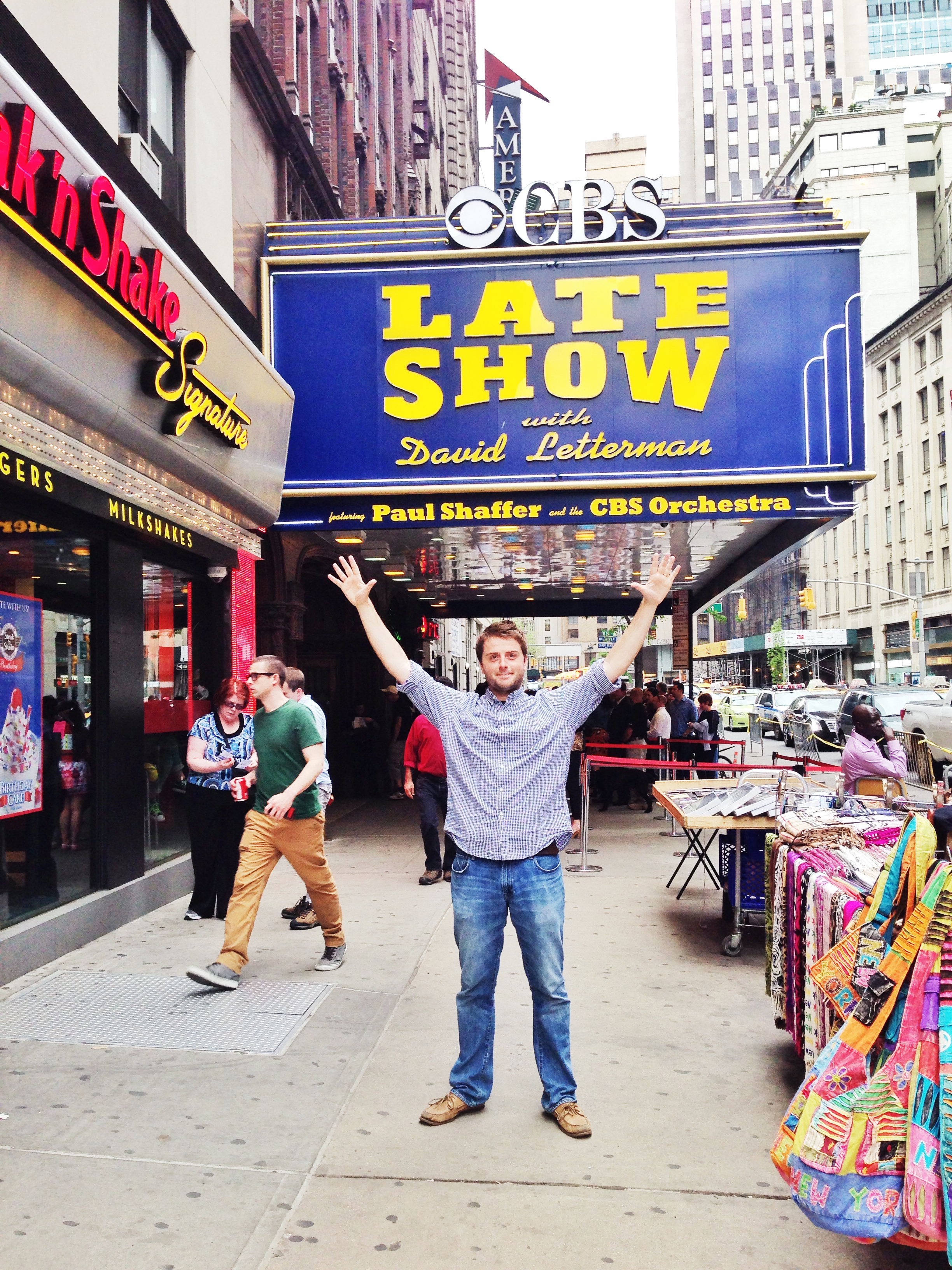 Yesterday, I talked a little bit about the importance of downtime. It's crucial to a happy self and a happy relationship, in my opinion. But it's also important to break out of the mold and mix things up a little bit every once in a while. Mitch and I love talking long walks in the city and going out to dinner, for example, but we do it frequently–and we often go to the same spots over and over. (We like what we like!) So recently, we've been trying to do different activities together. Our newest thing? Late-night talk shows in New York City.
Truth? It wasn't my idea. I actually kind of pooh-poohed it at first. Tickets to late-night talk shows in New York are free, but I'd always figured that physically getting our hands on them would be next to impossible. Not the case. Mitch signed up for tickets to a few shows less than two months ago, and we've already been to two: The Daily Show with Jon Stewart and the Late Show with David Letterman. It's so easy! Sign up, forget about it, and then be pleasantly surprised when someone calls and offers you tickets. ;) (Sign up for the Tonight Show here and Late Show tickets here, for instance.)

Oh my goodness, guys. I know it sounds kind of touristy, but I couldn't recommend it more. First of all–like I said before–tickets are free. Secondly, it's such a blast. Tonight, Mitch and I went to see the Late Show. (Watch it here!) We booked it out of work at 3 p.m., headed to Midtown, and stood in line for no more than 10 minutes to get out seating placements. Not sure how this happened, but we ended up in the front row. (I just watched the show about 15 minutes ago, and totally spotted myself! But then again, I was wearing a super bright green jacket in the first row, haha.) Tonight's guests were Jessie Eisenberg and Harry Connick, Jr., in case you were wondering. Afterward, the Black Keys put on a huge concert on the street right outside the studio, too. So amazing! Scroll down to see additional pics. (Oh! And before the shows actually started, we were allowed to ask the hosts questions. I loved how down-to-earth and humble both Jon Stewart and David Letterman were!)
While taping only takes between a half hour and 45 minutes, there's a lot of "prep work" that goes into getting an audience ready for a show. Each show had a comedian who interacted with us in an effort to pump us up, and someone to talk to us about the importance of being lively and over-the-top. Most shows don't use laugh tracks, so involvement from the crowd is super important! Everyone we talked to–from the staff to other audience members–was so incredibly energetic and excited that it was nearly impossible to not enjoy ourselves. Everyone needs a good laugh once in a while, right?
What do you do to mix things up when it comes to your personal downtime or date nights with your significant other? I'm always open to suggestions. :) Hope everyone is having a great start to the week!