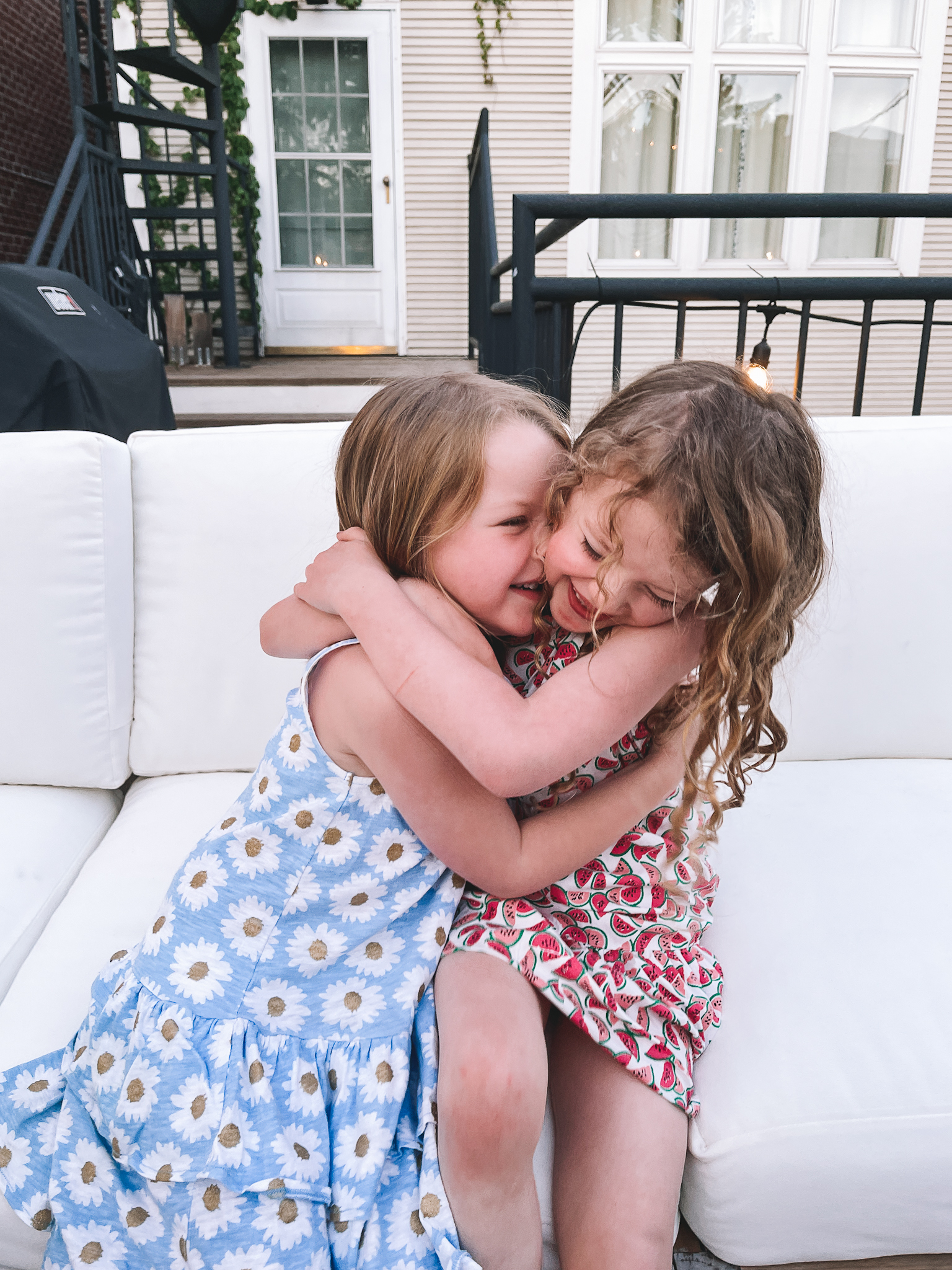 Old J.Crew Dresses / Outdoor Sofa
Hello! Here are the first 20 things that come to mind:
It's been a while since I checked in! Phew. We've been ridiculously busy. Chicago warmed up last week and BOOM, it felt like our calendar filled up immediately. (And by "our" calendar, I mean the girls' calendar. 😉) It's been fabulous, but I'll admit that it's nice to hit pause and enjoy a rainy day at my computer.
We had Lucy's third birthday party over the weekend. It was perfect. We had it at Altitude—a trampoline park in Chicago—and while it's normally very crowded there on weekends, it was kind of dead?! I guess it was the warm weather, but it was absolutely lovely. Lucy brought her two little besties, Harper and Happy, and they had a true ball. (Bounce?) Emma also had a couple of besties there, so she was thrilled as well! It was Jojo Siwa-themed, of course. Afterwards, we had everyone up on the deck for swimming, cookies, Thai food and cocktails. Lucy said it was "the best day ever!"
I made an Amazon Storefront! It took a looooong time, haha. And I'm still working on it. But I'm pretty proud! I included our favorite Amazon products in nearly 40 categories, including exact or similar home furnishings/decor. Hope you enjoy!
Speaking of Amazon, GET THIS DRESS. My sister-in-law discovered it and it looks like $200 but is on sale today for $29! It's GREAT. I took it in a size small, and feel that I probably need all the colors. ;) I've received so many compliments over the last week—when, yes, I wore it several times.
Dana Rebecca is having a huge sale! I am a Dana Rebecca SUPER fan, guys. Her pieces are just so gorgeous, and she's Chicago-based, which makes it extra special. My favorites are the Jack Bezel collection (I have this necklace!) and the Sophia Ryan Teardrop Ring.
I saw Marc Cohn at City Winery last night with some OG Chicago mom friends! We've all known each other since our kids were two, and I love that we try to get together for a fun night every month or so. My friend Alex was recalling how tough the beginning of parenthood was before meeting other moms, and that really brought me back and reminded me just how lucky I now am to have a support network. If you're a new mother and feeling lonely, know that it gets better! Sign up for mommy and me classes or a peewee program—if you're in Chicago, I highly recommend the Lakeshore Fitness one—and visit the same playgrounds on a regular basis. There are also lots of Facebook groups these days! (Also, Marc Cohn is the artist who sings "Walking in Memphis," in case you were wondering!)
I chickened out and canceled my driver's test. Yeah, it was yesterday. It looked like it was going to rain. WHAT? 😆 #excusesexcuses
"For the first time in forever," (#frozenreference) I'm behind on nearly everything but not overwhelmed. Turns out addressing anxiety can really make a difference. 😉 I'm just taking things day by day, doing my best, and remembering that life comes first.
We took the most epic boat ride on Lake Michigan overlooking the Chicago skyline with Peter and Bradley. Holy cow. The weather was perfect, the kids were so good, the music was rockin', and the snacks in tackle boxes were fab. (Bradley is a genius and uses clean tackle boxes for snacks. SNACKLE BOXES.) It was definitely a night I'll remember forever.
I'm all in on the direct-to-consumer company Public Goods. Public Goods is a membership-based site, kind of like Amazon, but they have a limited number of (all-natural) products to reduce decision-making fatigue. I love the concept and the minimalist packaging—and have honestly been meaning to try it for the longest time. I'll reserve judgment until I've used the products for a month or two, but I'm really impressed so far.
We had the BEST happy hour on Friday with the girls at Paradise Park, a pizza restaurant in Wicker Park. I'm realizing now that that's a little confusing, haha, but I suppose it's similar to how there's an actual Lincoln Park within the neighborhood of Lincoln Park. Come on, Chicago, get it together! It was truly awesome. It was in the 90s, and we sat outside at this low table surrounded by cushioned benches, which were perfect for the girls. Emma kept saying, "It feels like we're on vacation!"
I spent Monday painting castles at my friend Abby's house. The world cultures day is on Friday, so we're putting the finishing touches on the Ireland table. I'll be sure to share videos of me making doughnuts that look like potatoes on Stories. ;)
Let's talk about cute outdoor toys. I mentioned this last week, but I recently discovered that a lot of deck/beach toys were cracked or moldy, so I set out to replace them with some nicer stuff. I picked up these dishwasher-safe neutral finds from Amazon, which'll be great for water play: Stacking Rainbow / Stacking Cups / Nesting Stars / Stacking Cups without Holes / Silicone Cell Phones / Water Tub. I also got this non-offensive-looking bubble machine, which should provide a lot of entertainment.
We have a wasp problem on our deck and would love your advice. Normally I don't mind a few, but there are a lot, and we can't identify where the nest is; I'm assuming they're coming from a neighbor's yard but who knows?! Thinking about trying this stuff around the perimeter. (I really like the brand Zevo but can't find their bee spray in stock anywhere.) I've also heard that peppermint, vinegar and cinnamon are natural deterrents.
NANTUCKET IS APPROACHING. Ahhhhh! I can't believe that my cousin Sammy's wedding is almost here. I feel like we're nearly ready; I even (finally) pulled the trigger on a new suitcase since our family was down one. Sammy and Charls, we love you and can't wait to celebrate you!
Emma has been struggling with allergies and we finally found an allergy medication that she'll take. It dissolves in her mouth and tastes great, and really helps to curb symptoms. She takes it with her favorite vitamins since she loves the taste of them, too.
Mitch's Father's Day Gift guide is featured on Amazon! Scroll all the way down. I'm pretty proud of him.
I'm going to try to use this famous self tanner so I'm less embarrassed about my pale legs. Bradley used it recently and I was amazed by how awesome it looked. I, of course, am approximately 17 shades paler than she is even in the dead of winter, but here's hoping it makes a little difference for me. ;)
I stayed up until 2 a.m. on our front porch with my friend Natalie, and then I died. I'm writing this from heaven. But hey. It was worth it.
Have you seen Anthropologie's Heart and Solstice collection? It's really cute! So many lobsters.
One Home Project Every Day:

I finished pressure-washing the deck. Woo-ee! That was a job and a half. Looks so much better, though. It's been raining, but I'm really looking forward to oiling it… hopefully before the weekend.
I power-washed our teak furniture. Figured I might as well! When I oil the deck, I'll also use (teak oil) on the furniture.
I put the (clean) covers on the outdoor couch cushions. Totally shocked at how perfect they look, considering the hell we put them through every year.
I finished a few more panels for the trampoline glow-up. This is taking much longer than anticipated, mostly because I got distracted by the deck project, haha. But I WILL finish soon. Ish.
I switched my closet over to spring/summer and did a mini clean-out. Felt so good! Really trying hard to identify a few pieces every season that I don't wear anymore and find better homes for them.
Emma and I cleared out some toy bins that were full of tiny, unidentifiable pieces. ALL THE TINY PIECES. I know it's just probably this age, but every toy seems to come with zillions of them and then the kids promptly spread them all over the house. I used to kill myself to try to keep the sets together but quickly realized that it doesn't bring the girls more joy if I do 😆, so then I started just collecting them and dumping them into bins—where they were rarely played with. I think the new plan is just to have Emma pick out the ones she wants to keep every month so we're not overflowing with single Barbie shoes, LOL doll bottles and duplicate Polly Pocket figurines. Because is a toy even a toy if it isn't played with?!
I bleached the heck out of our showers. I use this Softscrub and it works like magic. I let it sit for a few minutes, wipe it off, and then rinse. It's very satisfying.
We had the outside of the house sprayed for spiders. This is always a must. We use Rose Pests in Chicago—recommended by friends—and they get an A+ from us. A few spiders are totally fine but we are normally overrun by them come July and it's truly terrifying. This keeps them at bay!