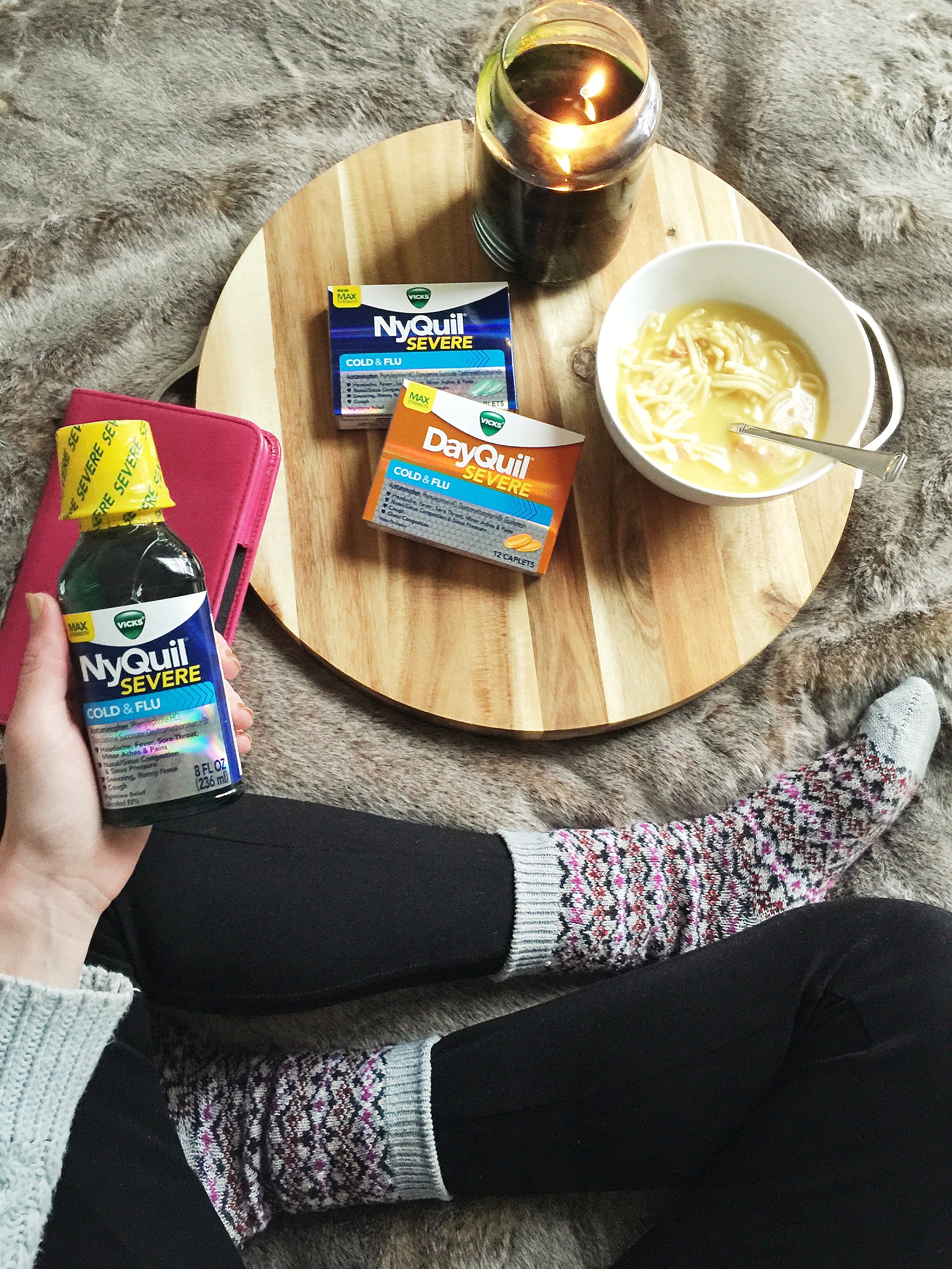 Disclaimer: As a member of the Vicks® Ambassador Network, I will be sharing stories and tips related to their products and have received compensation. As always, I believe in honest storytelling as it relates to working with brands, and the opinions expressed in these posts belong to me and aren't influenced in any way. Thanks for supporting the partnerships that keep Kelly in the City up and running!
Here's the situation: Every year, some time around December 19th or 20th, Mitch and I set out for one of our families' houses. (It's a big trip, and one that's unavoidable, as Mitch is from the Midwest and I'm from the East Coast.) And nearly every year, without fail, one of us falls deathly ill with a terrible cold or the flu. And then the other one gets it. And it kind of ruins the holidays for us. (One year, Mitch got it and passed it to me… and then I passed it to about 35 people. So much throwing up and fainting. It's incredible that our families still like us!)
For a long time, we thought we simply had crappy luck. But then we realized just how rundown we allow ourselves to get right before getting on the plane or embarking on one of our 14-hour drives. We run ourselves ragged, and it has a pretty significant effect on our immune systems! I swear there was one year when mine packed its bags and simply left, haha.
It's rough. And a debilitating case of the flu (or something along those lines) is the last thing you want during such an exciting, happy time. This year, we're particularly nervous about getting sick, as the flu recently hit Chicago hard. According to The Chicago Tribune, it's already considered to be widespread in the State of Illinois. So we're taking our health seriously, and both preparing for the worst and taking precautions.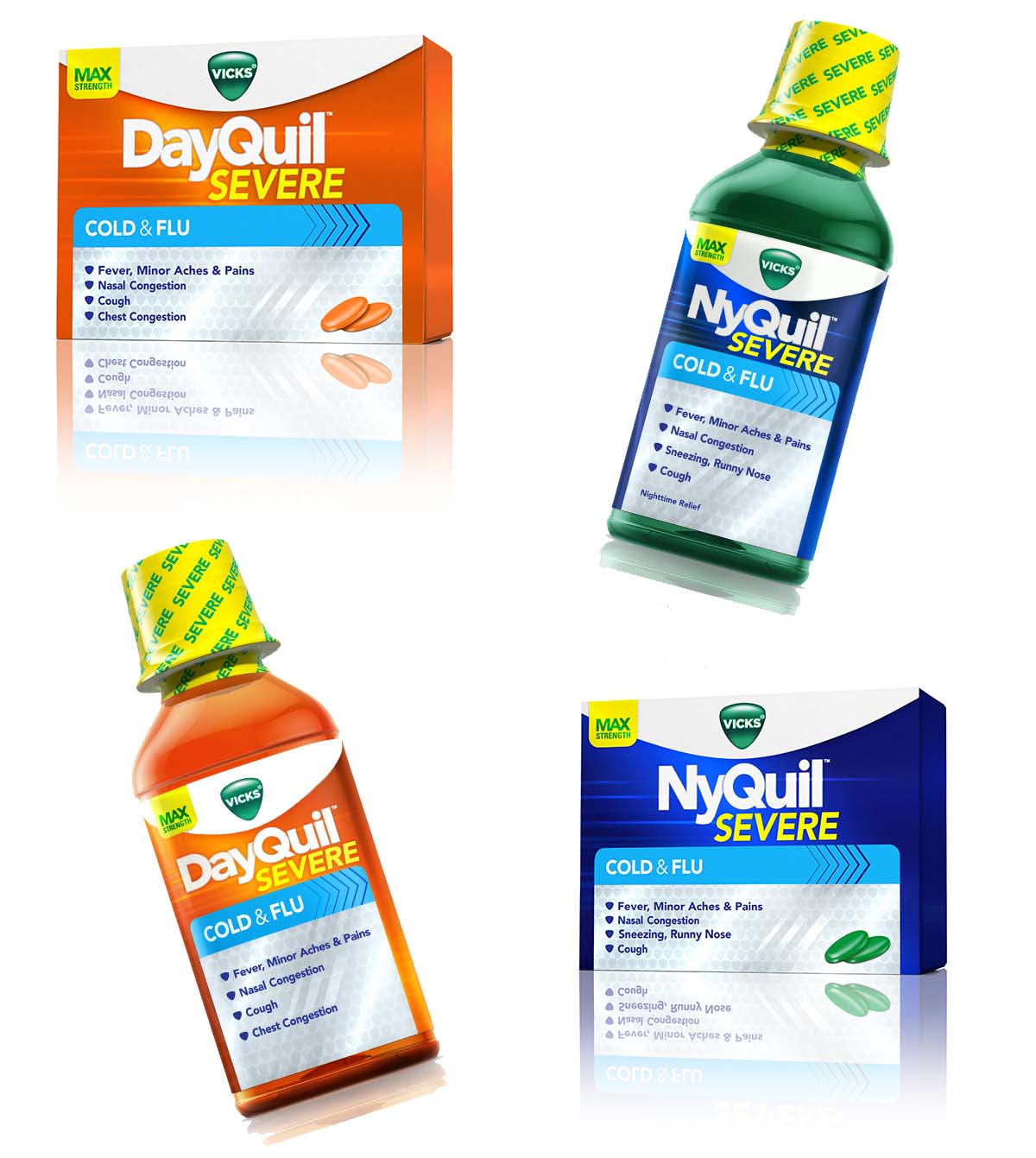 To prepare for the flu, we're:
Stocking up on Vicks DayQuil Severe and NyQuil Severe. Both medications have maximum strength ingredients to relieve the worst cold and flu symptoms, and help us feel like ourselves again—so we can actually enjoy our time with our family and friends! Among over-the-counter cold and flu medicines, they relieve more symptoms—including sinus congestion and pressure, cough, minor aches and pains, headaches, fever and sore throats—than any other brand. They come in liquid form, too.
I actually sent a couple of samples to my brother-in-law, Charlie, who recently came down with the flu. Today, he told me that he's up and moving again! (A huge feat, considering how sick he was.) Get well soon, Char!
The bottom line is that if you get the flu or a bad cold during the holidays, all is not lost. There are things you can do and medications you can take to help you enjoy the most magical time of the year, and taking DayQuil and NyQuil Severe is one of them!
Buying Smashbox Photo Set Pressed Powder. (Mitch isn't. He'd like to make that clear, hehe.) I don't love layering on the foundation, but I adore this product's coverage, as it's lightweight and easy to apply. I wear it under my eyes and on my nose—the parts of my face that look the worst while I'm sick—and it works magic. It also has Vitamin C in it, which I love!
Making sure we have moisturized tissues and aloe on hand. Ugh. Rudolph is cute and all, but no one wants to look like him during the holidays. Treat your nose right!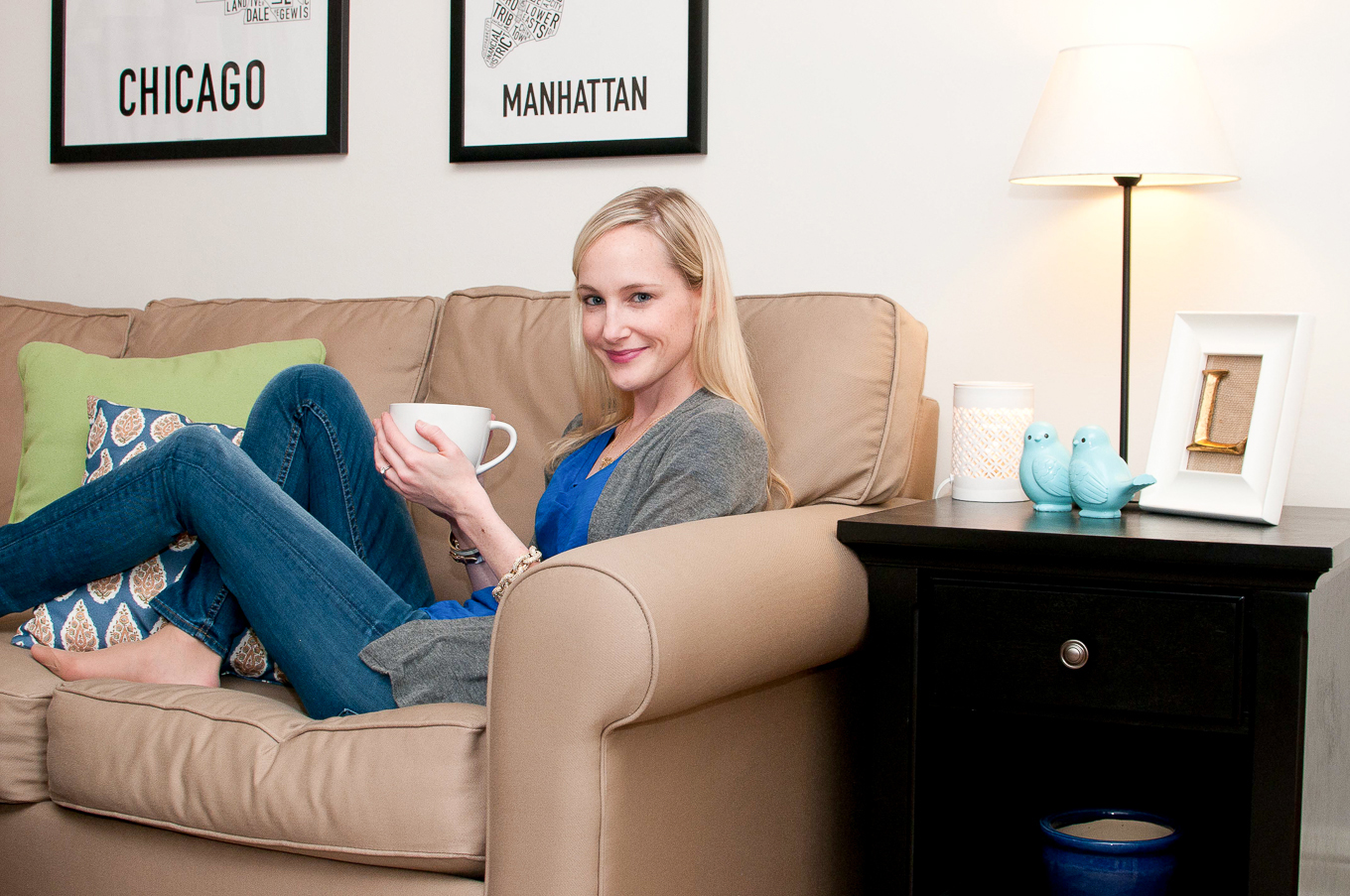 To prevent the flu, we're:
Getting enough sleep this week. For us, the holidays are probably the most hectic time of the year, and we're often running on four hours of sleep. (See today's post!) There's just so much that needs to get done, and so little time! This year, though, we're putting a priority on sleep. We're cutting back on the number of creative projects we undertake, and remembering that the holidays are about family, friends and love. The number of cookies we bake or Christmas cards we send isn't what dictates a wonderful season—it's the people. And those people want us to get some zzz's and keep our immune systems in check! :)
Limiting the number of social functions we attend. A person can only handle so much, both physically and mentally. Even though it's the holiday season, you need downtime. Every person has a limit, and it's super important to realize that partying like a 20-year-old can have some adverse effects on your health. (Unless you're 20. Then, by all means, go crazy.) This week, I really wanted to attend everything, but I limited myself to one event. Today, Mitch and I are driving to the East Coast, and I needed to be well-rested for that!
Eating right. I have this terrible habit of eating junk food when I'm stressed—I mean, all the time. This week, though, I'm making sure that I'm eating balanced meals, three times per day. No more Kit Kats and coffee for breakfast!
Guzzling the orange juice. My mom's a nurse, and she swears that orange juice (that isn't from concentrate) has the power to prevent and fight off the worst illnesses—and even the flu. It's saved me so many times, so I'm totally backing her on this. ;) All the Vitamin C!
Washing our hands frequently. Mitch is a teacher, and it's super easy for him to pick up bugs on the job. Needless to say, antibacterial hand soap and hand sanitizer are our best friends! I keep it in my purse, and Mitch keeps it attached to his backpack.
Stay healthy, friends! And if you come down with the flu or a bad cold, remember to try DayQuil and NyQuil Severe!