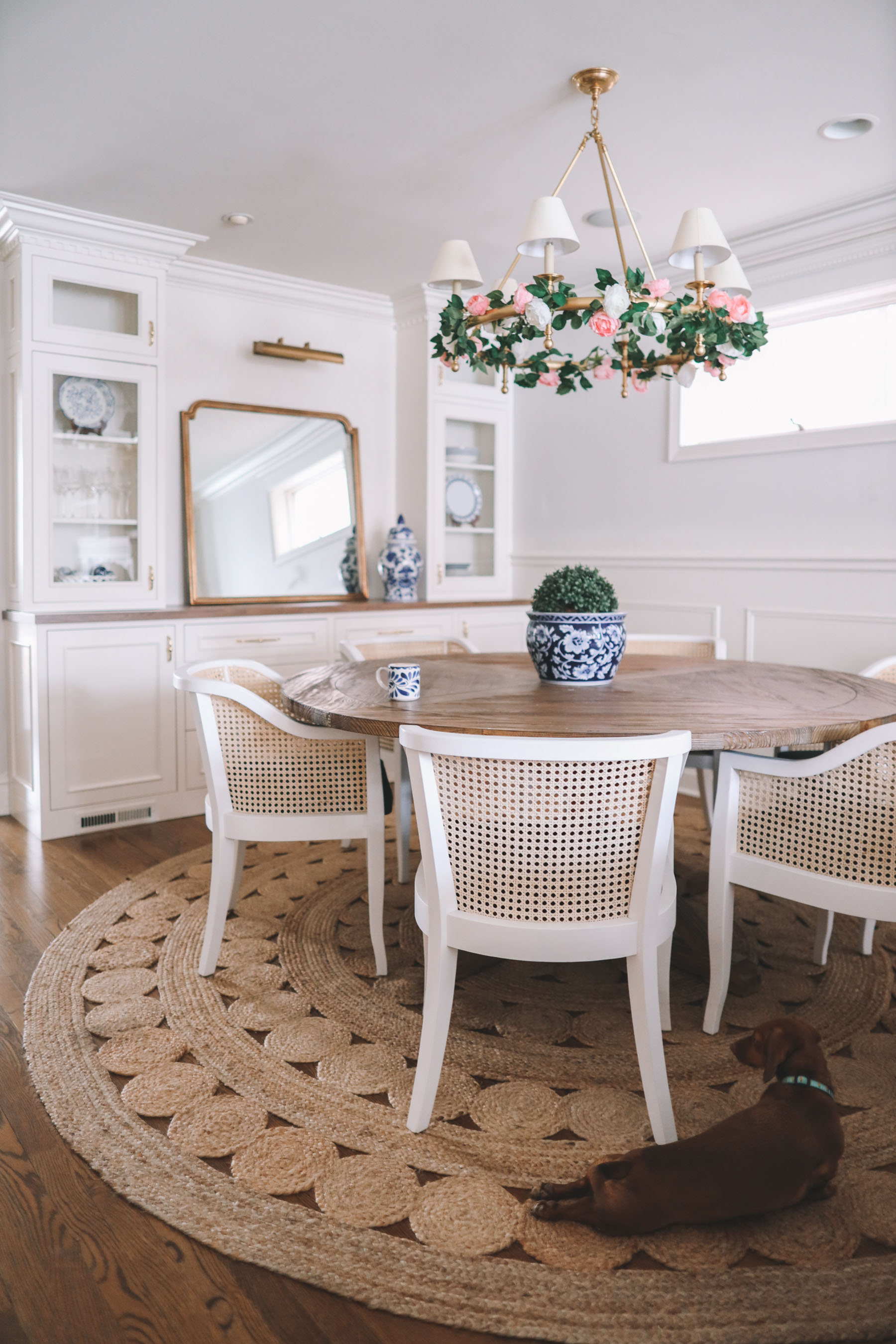 Mirror / Cane Dining Chairs (PB's version is amazing! Walmart also has them as does Overstock.) / Jute Rug / Dining Table (Amazon's Version) / Chandelier / Faux Flowers ($11!) / Planter / Gold Mirror (We also have this one!) / Similar Ginger Jar / Old Pie Plate, but try Blue Rose Pottery. It's beautiful! / Dinner Plates: Same. Try Blue Rose Pottery or the Kate Spade Charlotte Street line! / Picture Light / Buffet Hardware / Paint Color: Benjamin Moore Ivory White / Personalized Wine Glasses / Ginger Jar Ornaments / Ceramic Basket / Striped Bowls / Walnut Plate Stands / Noodle
We recently made a few updates to our dining room, so today, I'm sharing the in-progrees photos. :)
Everything is linked at the top and bottom of the post, but let me know if you have any questions! Happy to help.
Next up for this room is wallpaper! Pretty set on navy grasscloth for a bold look, though we'll see…
Many thanks to Kira, btw, for her incredible design for the built-in buffet! We love how it matches the traditional style of the house and that it looks like it was there all along. You're amazing, Kira! Love you!
xoxo
Shop the post:
Mirror / Cane Dining Chairs (PB's version is amazing! Walmart also has them as does Overstock.) / Jute Rug / Dining Table (Amazon's Version) / Chandelier / Faux Flowers ($11!) / Planter / Gold Mirror (We also have this one!) / Similar Ginger Jar / Old Pie Plate, but try Blue Rose Pottery. It's beautiful! / Dinner Plates: Same. Try Blue Rose Pottery or the Kate Spade Charlotte Street line! / Picture Light / Buffet Hardware / Paint Color: Benjamin Moore Ivory White / Personalized Wine Glasses / Ginger Jar Ornaments / Ceramic Basket / Striped Bowls / Walnut Plate Stands / Noodle