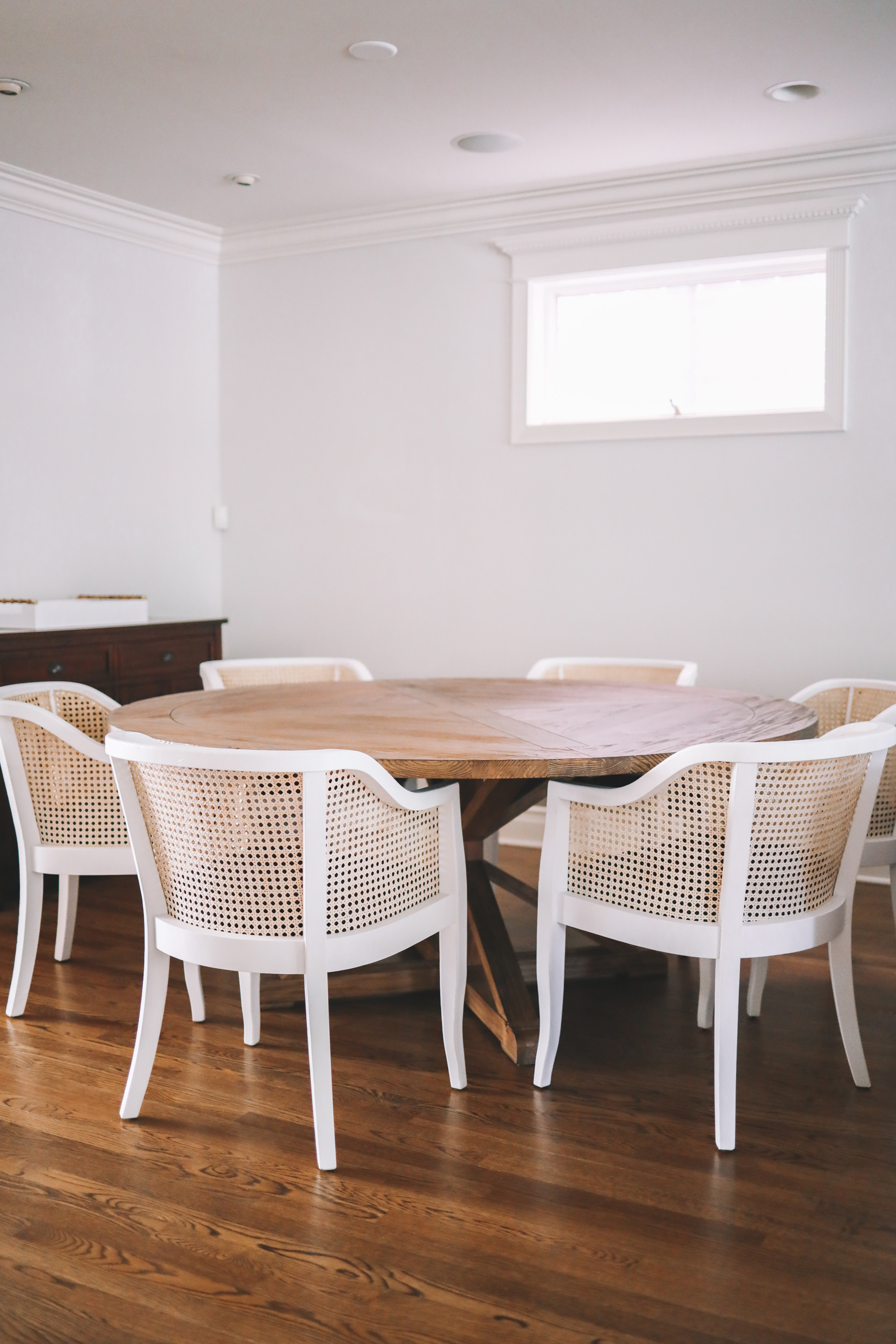 Pine Dining Table (Available in three widths: 48″, 54″ and 72." It's available here, here, here and here. It also comes in a coffee table.) / Cane Dining Chairs (Also available here and here, in several different color combinations. These chairs, which are fully in stock here as well, are pretty much the exact same… and CB2 carries a near-identical chair, too. Our chairs come with cushions, but others do not. Here are the CB2 cushions.)
Welcome to our completely unfinished dining room! 😜
I have to admit that we were slow to start with this area of our new home. We took a hefty break after we finished the upstairs renovations because we were pooped. And we also wanted to take our time with big decisions for the most visible part of the house. So yeah. It's taking a little while, but we're in process! No rush, right? ;)
For the dining room, we're going for something along the lines of a "fun spin on traditional" style if that makes sense, haha. And Kira David Design has been instrumental in helping us achieve this feel. So far, we've installed a gas line and a fireplace insert. And soon, a mantel and built-ins will be added to that. We're also having a built-in buffet/sideboard installed on the dining room wall.  You see it to the left in the above photo. I'm SO excited about those updates. I think they'll add a ton of character to the bottom floor of the house. But while we're waiting on them, I've been trying to get some furniture ordered!
When we first mapped everything out, Kira explained that because the house is so linear, round tables would likely work best. It helps break up the rooms and add dimension. I NEVER would have recognized this on my own, but wow: makes so much sense now!
After a meeting, we decided that we'd need a very large round table–probably something around 70 inches wide. As most non-custom round tables are between 40 and 60 inches wide, finding a 70-incher was a challenge. Especially because I had my heart on a lighter, pine-like finish. But after months of searching, we finally found this dining table, which was pine and came in three widths: 48″, 54″ and 72." SO HAPPY! (It's available here, here, here and here.) Oh, and it also comes in a coffee table!
I LOVE it. It was a bit of a risk because we couldn't see it in person before ordering.  But it's gorgeous, and exactly what I was looking for. The price–usually between $650 and $1,100, depending on the size–can't be beat, either. Granted, we've only owned it for a couple of weeks at this point. But we're also very impressed with the quality thus far.
The pine dining table is made of solid pine and MDF. While it's certainly classic-looking, it's also a little rustic in appearance. I love this because I won't have to stress too much over it with young children. Those natural knots and little imperfections are not only beautiful, they help to make the table "toddler-resistant," if you will. Any dings that we might add to it in the future will simply blend into the design. SO awesome! (I should note, however, that it's not easy to "ding" or stain it. It's pine, but it's not raw pine. The MDF also makes it SOLID.)
The table shipped (for free!) in two gigantic boxes totaling 178 pounds. And the delivery team dropped it off right inside our front door. After that, though, Mitch and I were left to assemble it. Getting the base and top out of its boxes was fairly straightforward, but I'll admit that figuring out how to get the top on the base took us a few minutes. ;) Eventually, we realized that the only way to do it was to tip the top on its side and then slowly slide it up and onto the base. Worked like a charm! I should, however, mention that I'm the weakest person ever, and with someone stronger, I'm sure Mitch could have lifted it and placed the top on the base. (Way too large to do it by himself, though.)
In terms of seating, the 72-inch table will technically accomodate up to 10 chairs, but we decided to go with six since our chairs are wide and we didn't want it to look too crowded. (Our plan is to simply bring in chairs from the kitchen if we need more seating for special nights. FYI: The 48- and 54-inch tables fit up to six chairs.)
We purchased these (rather wide) cane dining chairs in natural/white, which are also available here and here, and in several different color combinations. (These chairs, which are fully in stock here as well, are pretty much the exact same… and CB2 carries a near-identical chair, too!) The chairs are cane, so I wouldn't say that they're as comfy as upholstered dining chairs, but they're not uncomfortable, either! Ours came with removable cushions and black cushion covers, which obviously helps. But black doesn't go with the room, so I'll likely have someone recover them at some point, or find cushions that are more "me." (Here are the CB2 cushions, btw.) And yes! Their arms fit under the table, which is HUGE. Without that ability, the table would have ended up with an enormous footprint.
I think that about covers everything, but let me know if you have any questions! I've made my fair share of purchasing mistakes–and subsequent returns as a result–over the last few months, but I'm thrilled with these guys, and can't wait until the built-ins, wainscoting, wallpaper and chandelier go up!
(Not all of which I've decided on yet… but all in good time. 😜)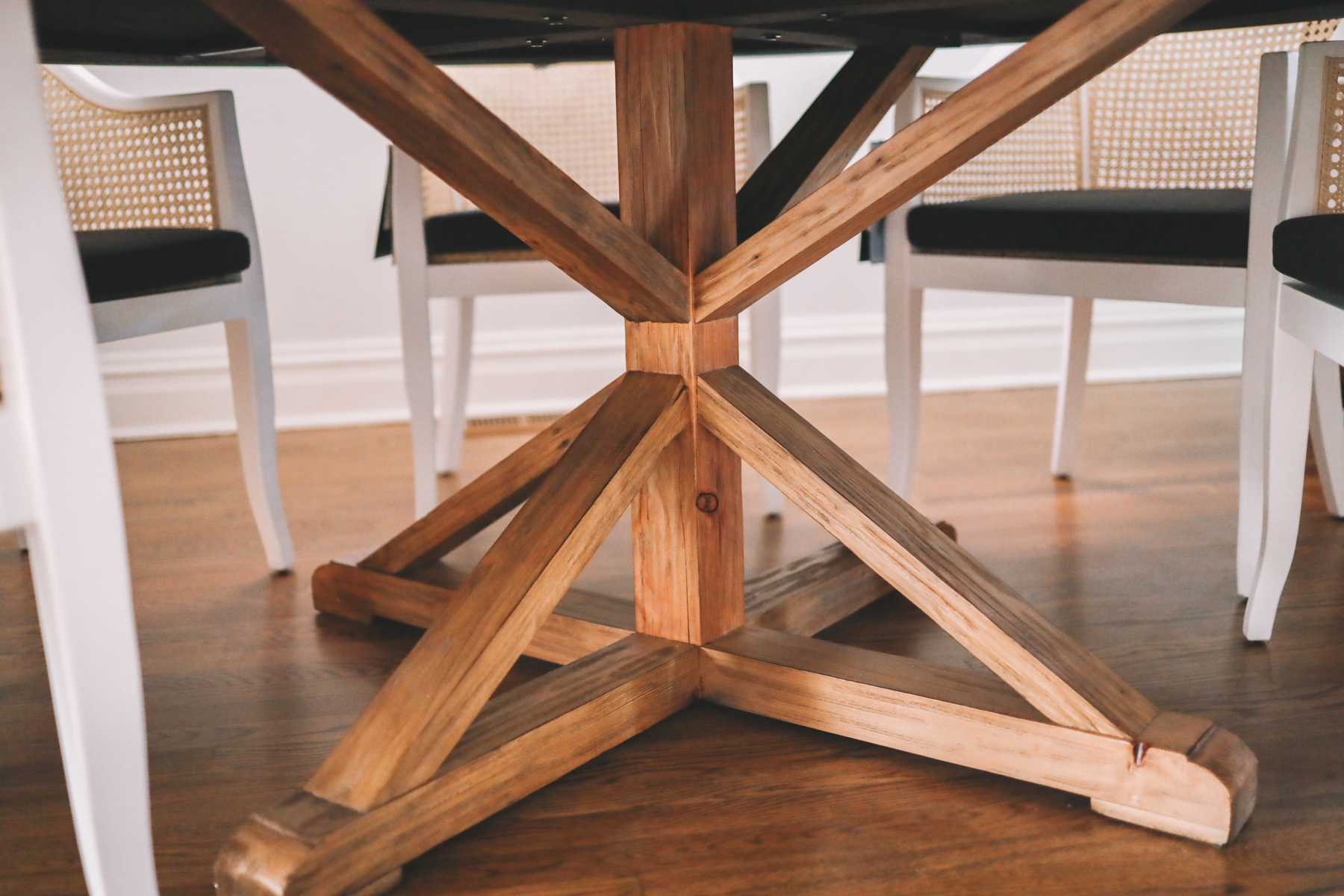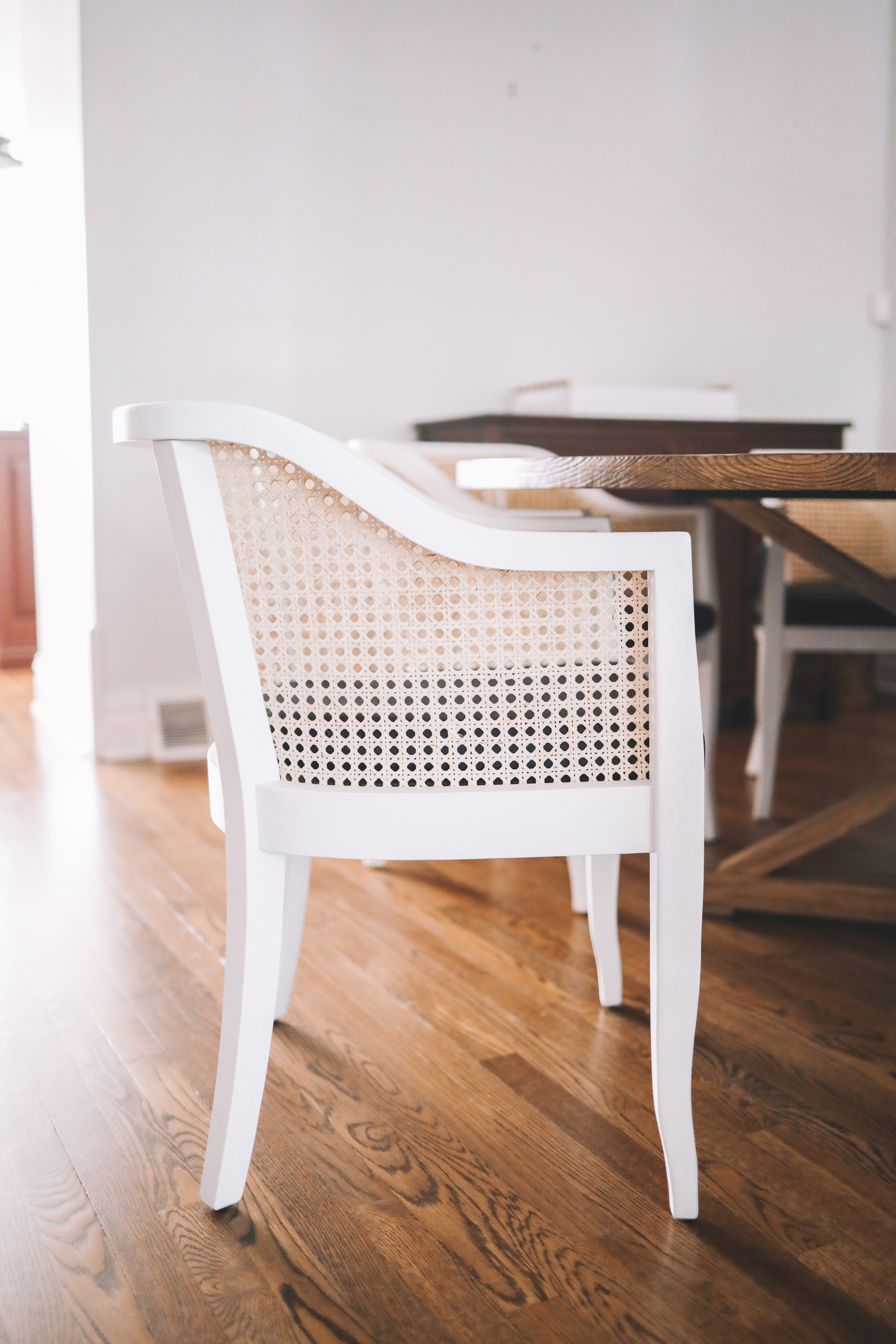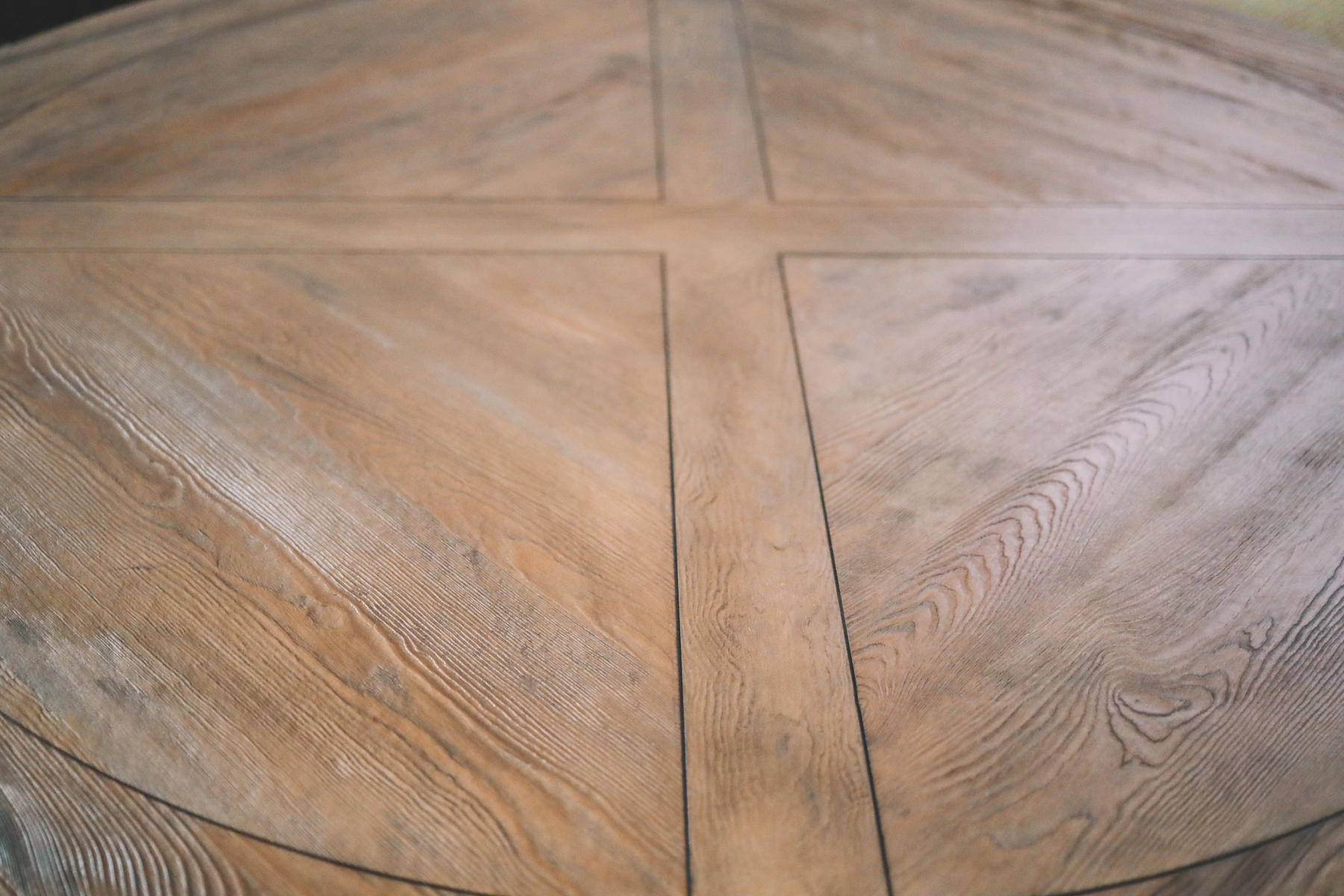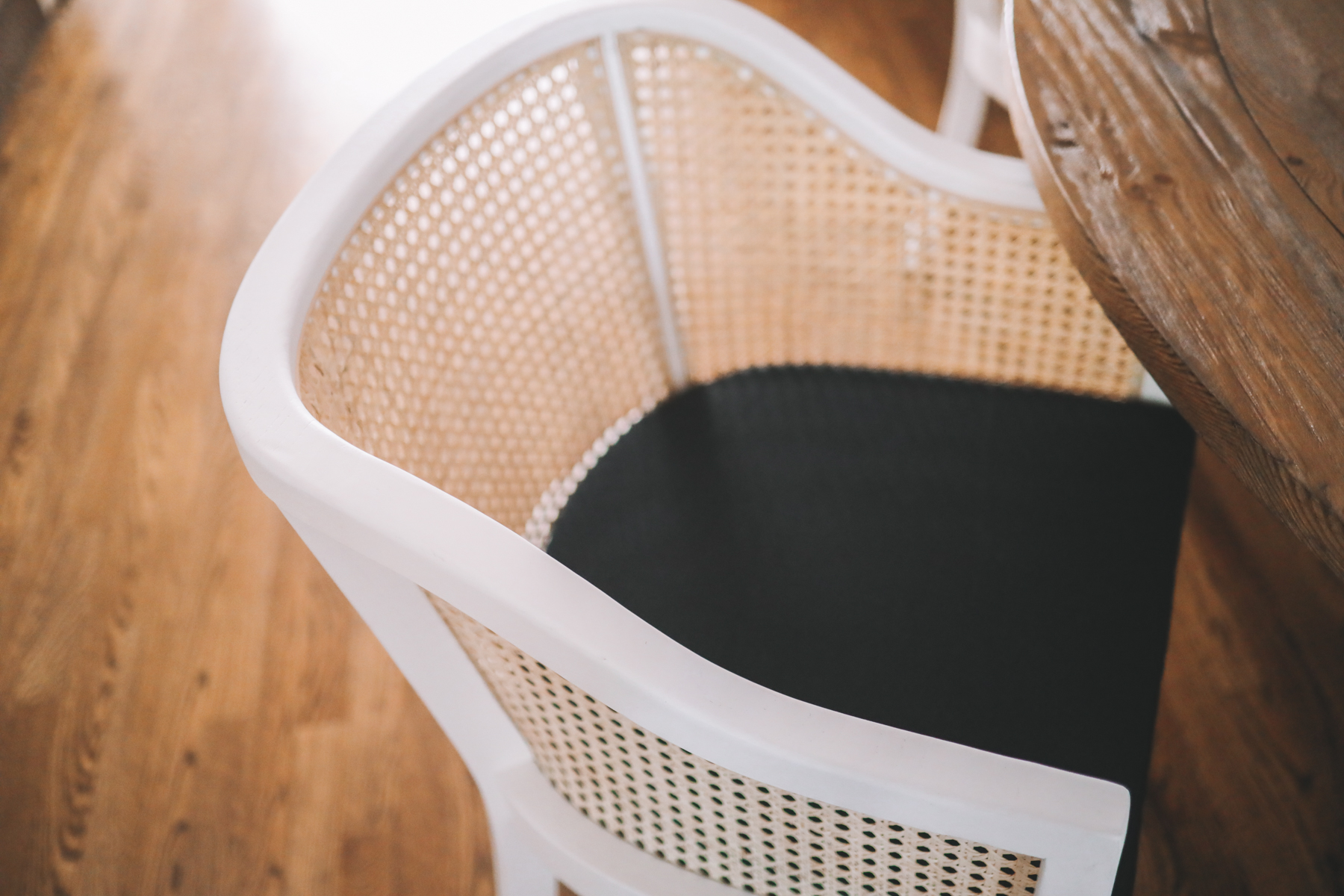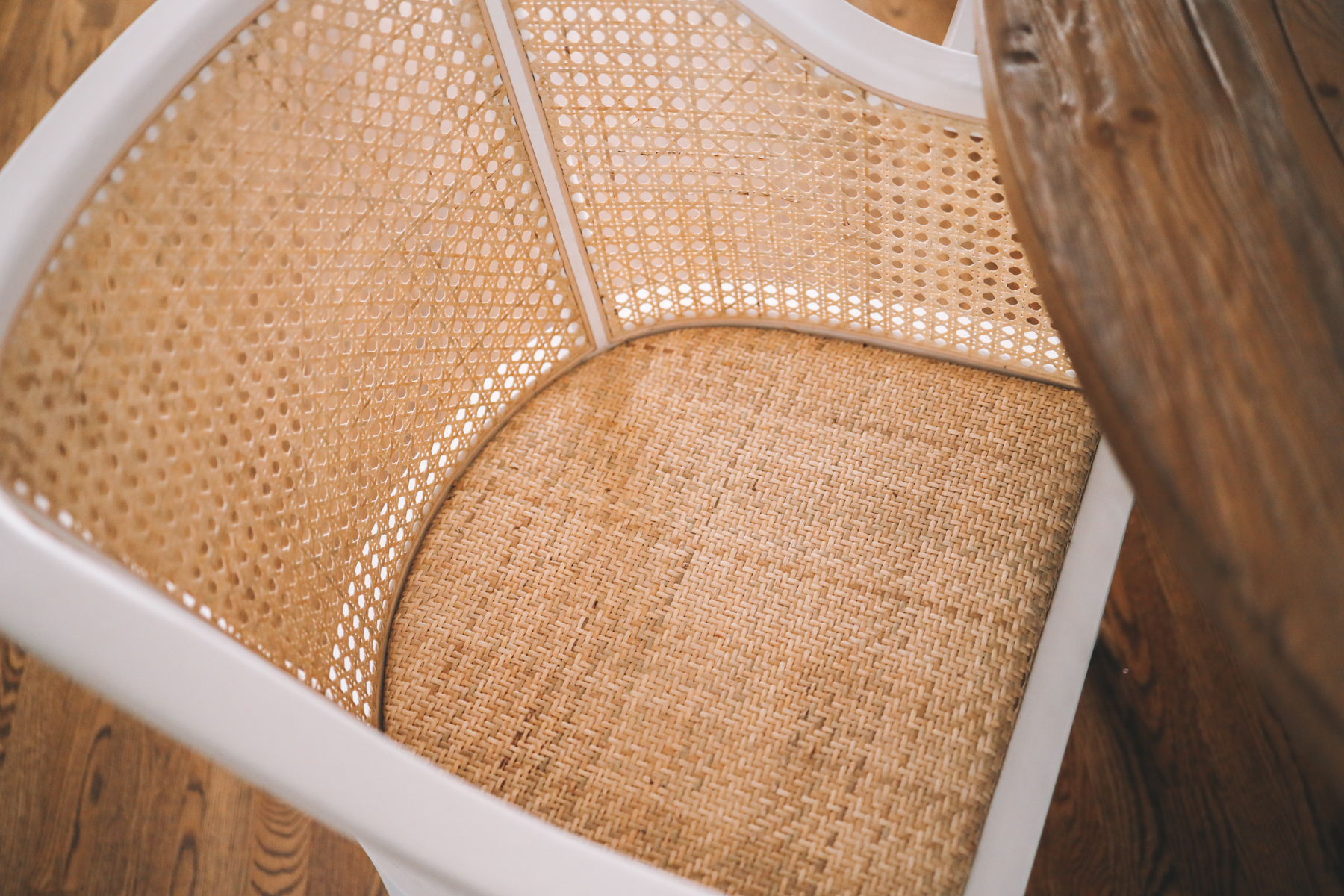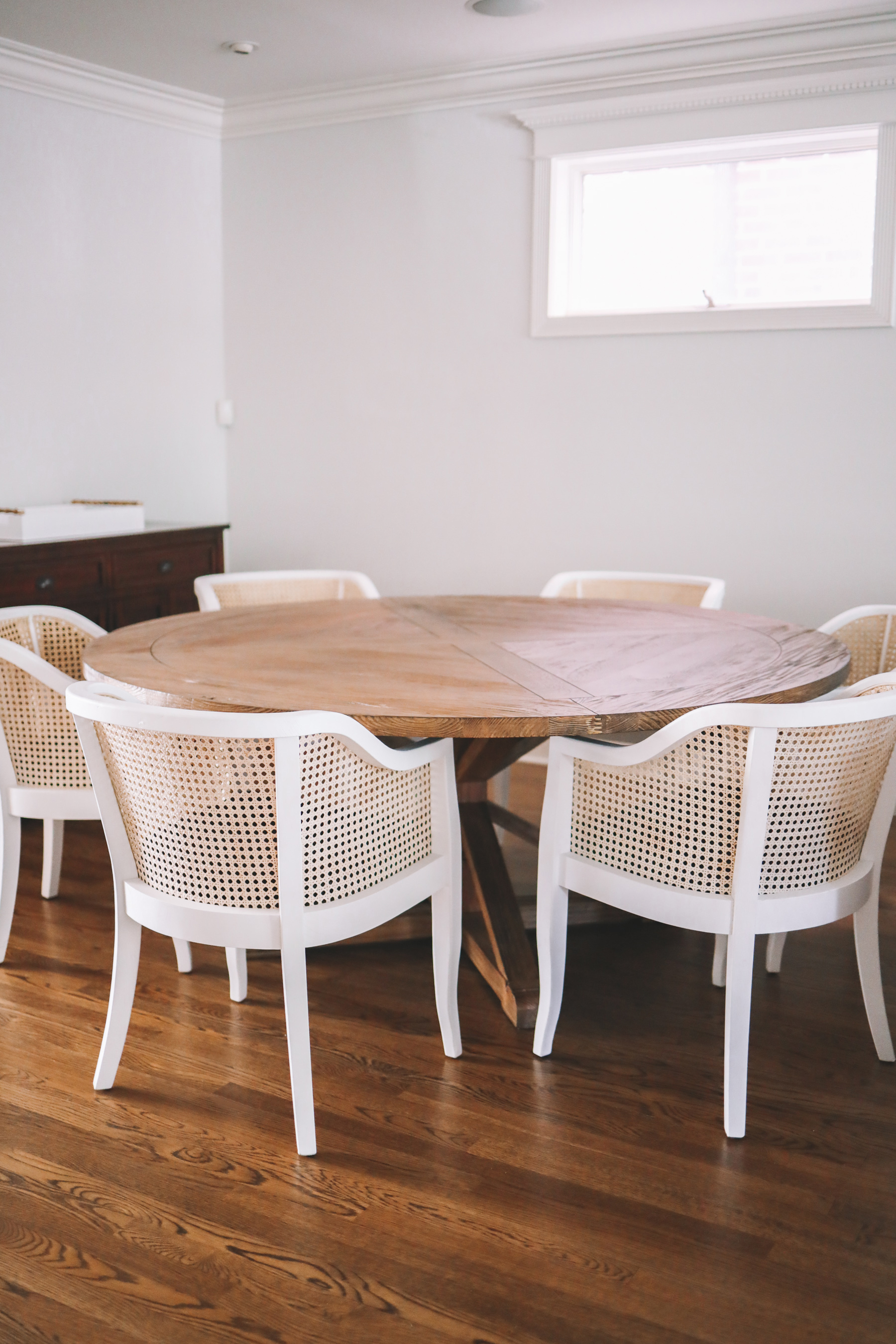 Shop the post:
Pine Dining Table (Available in three widths: 48″, 54″ and 72." It's available here, here, here and here. It also comes in a coffee table.) / Cane Dining Chairs (Also available here and here, in several different color combinations. These chairs, which are fully in stock here as well, are pretty much the exact same… and CB2 carries a near-identical chair, too. Our chairs come with cushions, but others do not. Here are the CB2 cushions.)