Birch Lane Landry Leather Sofa and Loveseat (Also available at Joss and Main and the Birch Lane website.) / Campaign End Table / Chicago Skyline Oversized Framed Print / Similar Pottery Barn Rug (Ours is the Elijah rug, but it's sold out.) / Similar Chinoiserie Lamp / Similar Ginger Jars / Shiplap Wall by Chicago-based Kira David Design / Marble Coffee Table (Looking for a better deal? Try this one!) / Pottery Barn Basket / Gingham Pillows / Striped Pillows
The best home purchase we've ever made is the Birch Lane Landry Leather Sofa, and since today is WAY DAY at Wayfair, I thought it would be the perfect opportunity to review it! Way Day, by the way (😂), is a huge sale that starts today, April 10th at 12 p.m. EST and lasts for 36 hours. So much is included and everything ships free. It's a great time to make big home purchases since the prices are incredible! (And yes, the Landry leather line is on major sale!)
Birch Lane Landry Leather Sofa Review
What Birch Lane Landry pieces we own and when we purchased them
We bought our "set" (available via Wayfair, Joss and Main, and Birch Lane itself) in 2015. We were looking for indestructible couches that could handle our miniature dachshund, Noodle, as well as future children–and let's face it: our own clumsy ways. Before we went the leather route, we owned the Pottery Barn Buchanan Sofa, which looked lovely but just didn't hold up against a couple who ate most of their meals on it. Pair that with a cross-country move, the occasional red wine spill, and Noodle's love for chewing bones on it, and the thing was left looking downright dingy toward the end.
It was Mitch's parents who recommended leather.
I was hesitant at first; I wanted our home to be white and bright, which was definitely the trend at the time. But my in-laws' leather couches were beautiful, and they'd withstood decades of use in their family room. I hopped on Pinterest and (surprisingly) almost immediately fell in love with the timeless look of a classic leather sofa. And, I mean, the idea that we could potentially have said sofa for decades?! More money spent upfront, yes. But considering how quickly we destroyed upholstered couches, the decision seemed like a no-brainer.
After months of research, we settled on the Birch Lane Landry leather line–again, available via Wayfair, Joss and Main, and Birch Lane itself–because of its style, stellar reviews, and affordability. We went with the sofa, the love seat and the ottoman… and we recently added two chairs to our collection, which now live in our master bedroom! (Haven't photographed them yet, but I'll feature them soon.)
It did freak us out that we couldn't see and test the Landry line before purchasing. And I'm assuming that it's freaking you out too, as that's likely why you're reading this post right now. ;) But I'm so glad we took the leap of faith, because as I said earlier, it's the best home purchase we've ever made.
Durability
We call our couches the "Magic Couches" because it would seem that you simply can't damage them. They've seen a LOT over the last four years. They've been spilled on, jumped on, slept on and thrown up on. (We have a toddler now, btw. 😉) Heck, Noodle spends just as much time–if not more–on them as we do. Yet the couches look just as fantastic today as they did back in 2015 when they were first delivered. Not a single scratch and absolutely zero discoloration. We don't understand it! They're made from 100-percent top grain genuine leather, too. Again, magic.
Cleaning
The best part about leather furniture is that unlike upholstered furniture, it gets softer and more beautiful over time. "Cleaning" is also easy, as it usually just requires vacuuming up crumbs or wiping or buffing it with a dry, soft cloth. (Though we've honestly never had to buff our couches.) The idea is that if something spills on good leather, you shouldn't need to do much besides wipe it dry since over time, the hide absorbs and spreads out oil. Because we have a toddler, though, I sometimes do use water and a tiny bit of mild soap to clean up sticky stuff like peanut butter, and then I simply dry it with a paper towel. It's done the trick every time, and we have zero spots.
Style
LOVE the style. I was really going for a Ralph Lauren feel, like in this photo or this photo… but I also liked this look. And I felt like the Landry line combined the two with its roll arm and nailhead finishes. Timeless, yet something that might also be owned by someone in her 20s or 30s. A couch that would grow with me, if you will.
Price
Compared to other companies with brick-and-mortar storefronts, the Landry leather line is a fraction of the price–sometimes a quarter of the price or even less! It felt too good to be true, to be honest. But I'm here to say that the furniture is legit, and I attribute the discount to the fact that you can't go in somewhere and try it out. (Though trust me: the Landry line is AMAZING!)
In case you're wondering, the furniture does go on sale, usually around holidays. We bought ours over Labor Day Weekend in 2015, and scored the full-sized couch for $1,440 and the loves seat for $1,360. If you can find the pieces for somewhere in the vicinity of those prices–maybe $100 more–I'd say you're getting a fantastic deal! (The couch normally retails for around $1,675 and the love seat goes for about $1,400.) Just stalk the Wayfair, Joss and Main, and Birch Lane websites since they all carry the line, and pounce when you see the prices drop! (Note: Since today is Way Day, the couch is on sale for $1,440 and the love seat is on sale for $1,260. Best prices I've ever seen. So POUNCE!)
Comfort
When the couches first arrived, the cushions were comfortable yet firm. Over the years, though, they've just become comfier and comfier, and now I'd say that they have a "medium" firmness. (Note: The seat cushions are removable, so you can switch them around and lift them up to vacuum.) The arms have quite bit of padding in them, so resting your head on them is nice… and the back cushions cushions are soft yet not detachable, which we actually love. So many leather couches' back cushions start drooping after a while, but it's impossible for the Landry's to do so. It's a much neater look!
Color
We have the couches in "Steamboat Chestnut" and love it. I can't speak to the other colors because I haven't seen them in person, but you can order leather samples. I'd do that before pulling the trigger on other shades, just so you can get a better idea of what you're ordering.
Testimonies
No actual testimonies to share, haha, but so many of our family members and friends–including my parents, my brother and sister-in-law, and Darby (one of my best friends from NYC!)–have purchased the couches after seeing ours. Everyone is thrilled. Whether you have a dog or small children, or are simply tough on your furniture, the Landry line is for you!
Where to find the ottoman
BAH! I have no idea, guys. The Landry leather ottoman hasn't been available for a while now. If you're desperate for one, though, the Miller features the exact same leather in Steamboat Chestnut, and I think it would work well! But yes, fingers crossed that the Landry ottoman comes back. :)
Questions? Let me know in the comments below!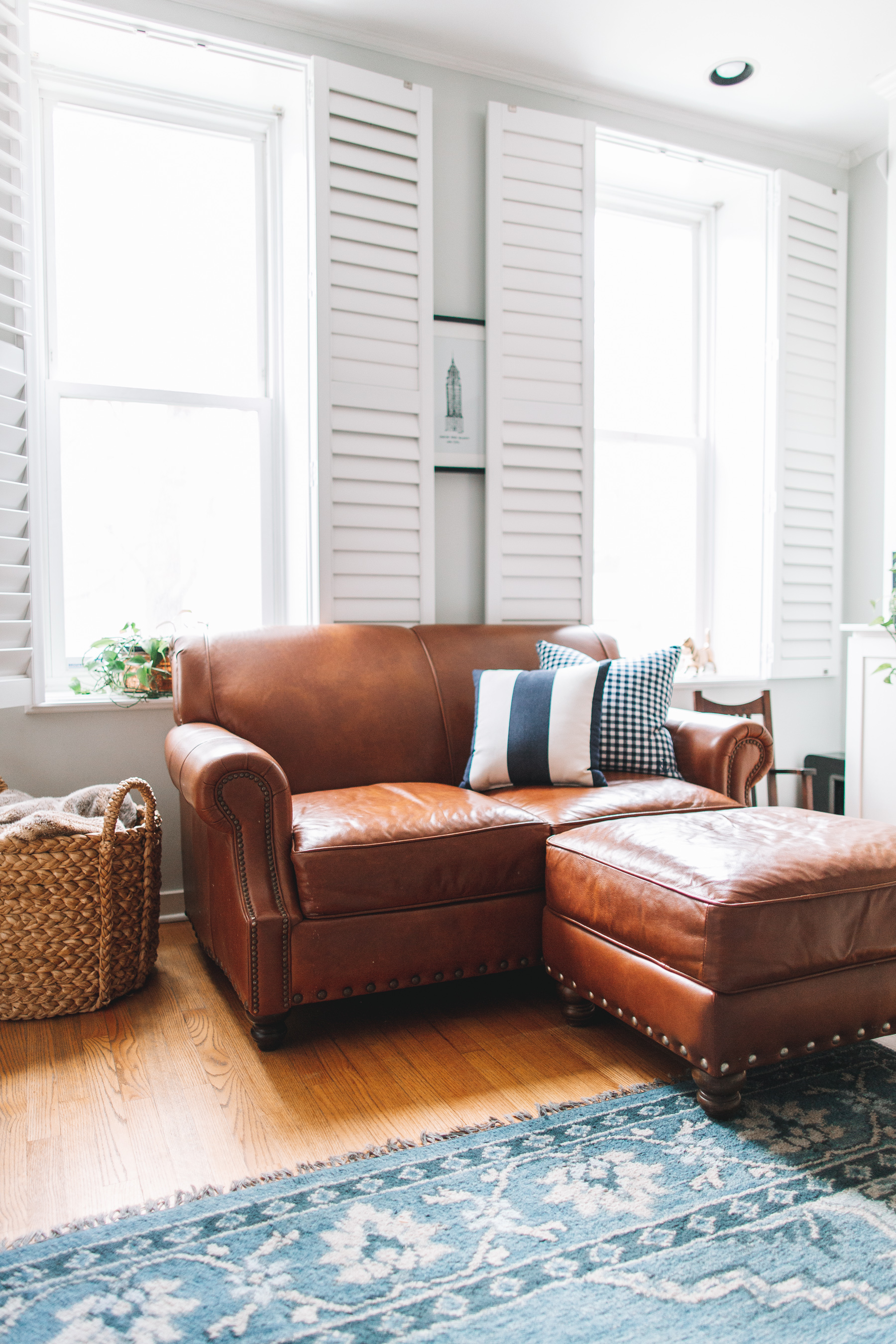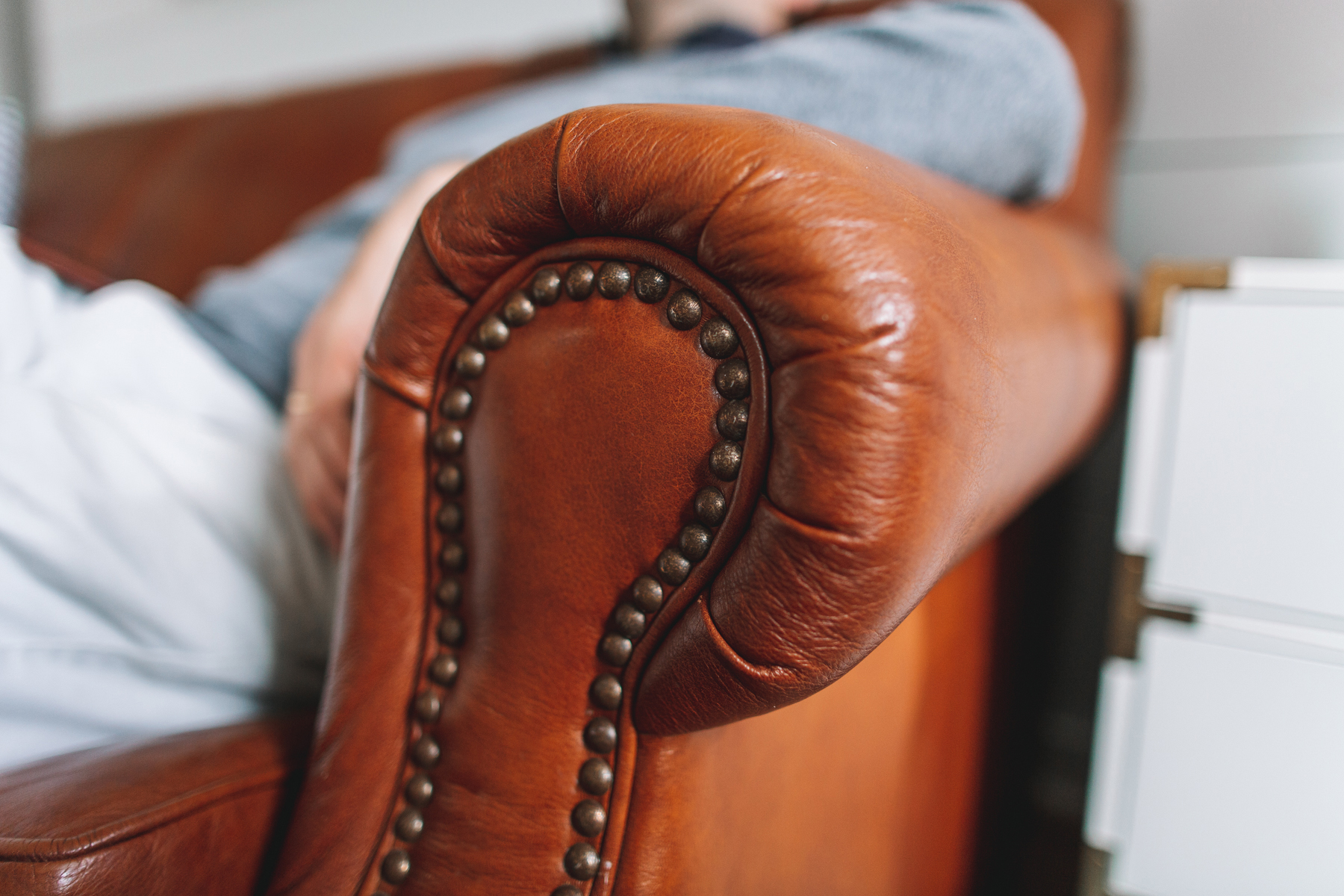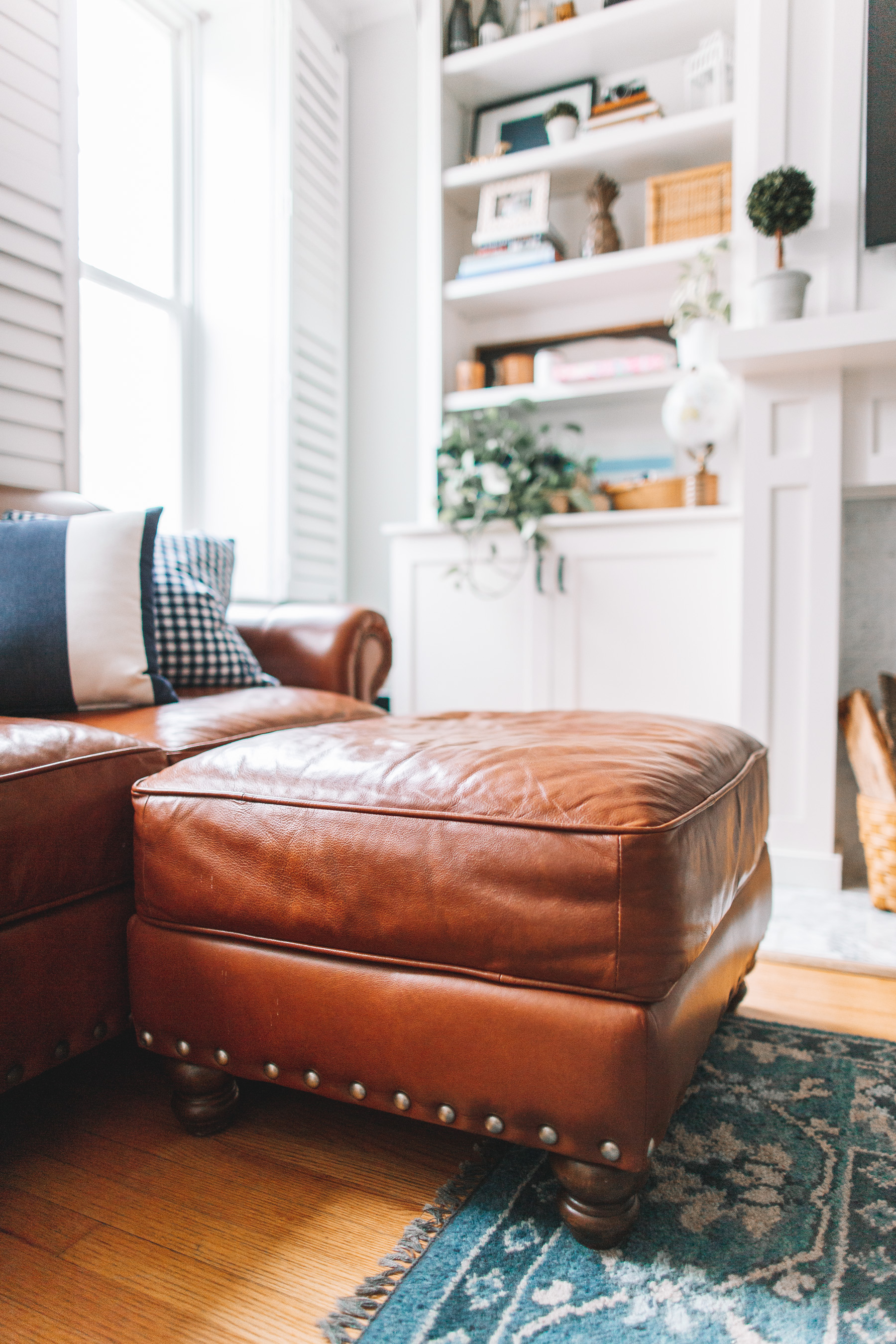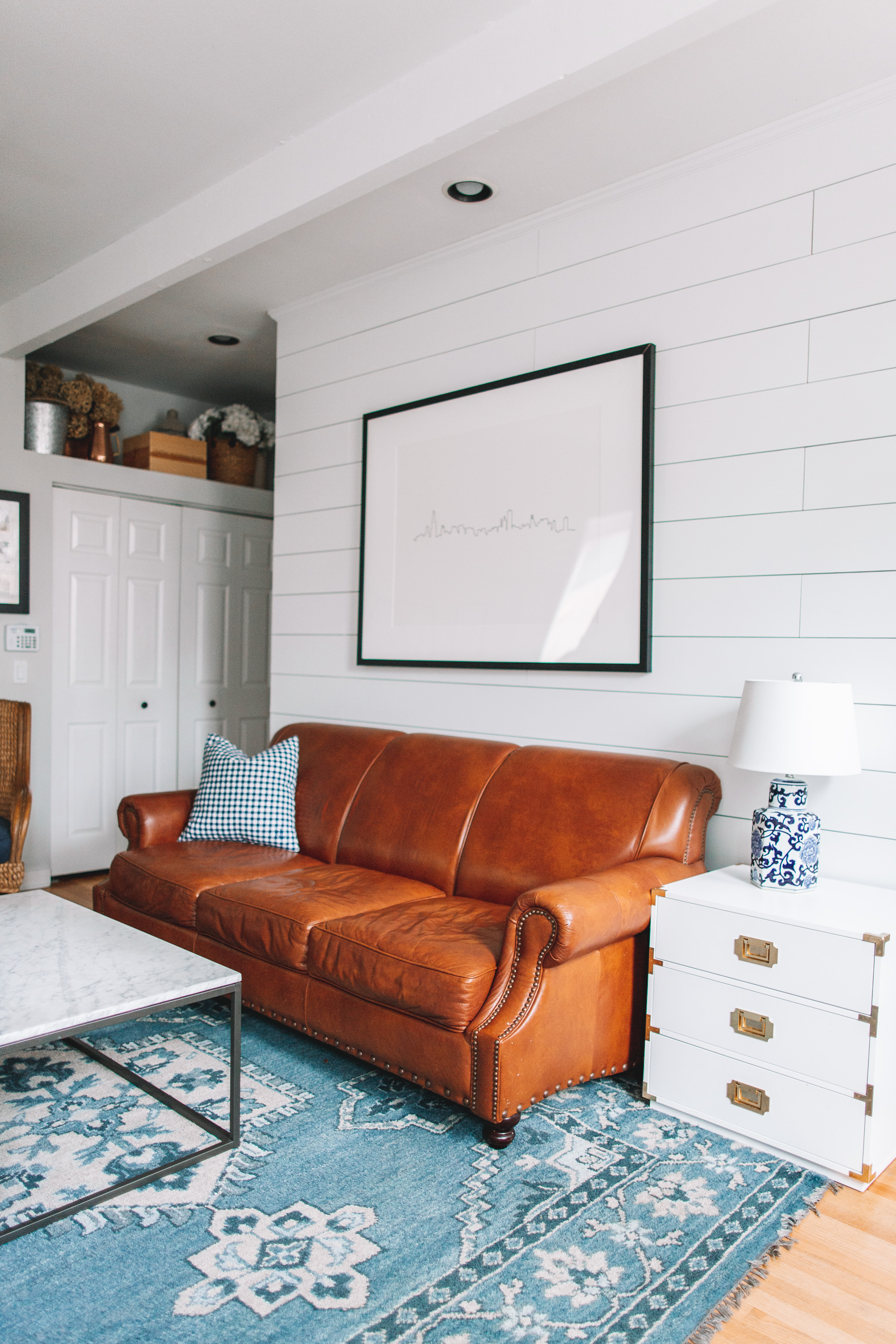 Shop the post:
Birch Lane Landry Leather Sofa and Loveseat (Also available at Joss and Main and the Birch Lane website.) / Campaign End Table / Chicago Skyline Oversized Framed Print / Similar Pottery Barn Rug (Ours is the Elijah rug, but it's sold out.) / Similar Chinoiserie Lamp / Similar Ginger Jars / Shiplap Wall by Chicago-based Kira David Design / Marble Coffee Table (Looking for a better deal? Try this one!) / Pottery Barn Basket / Gingham Pillows / Striped Pillows