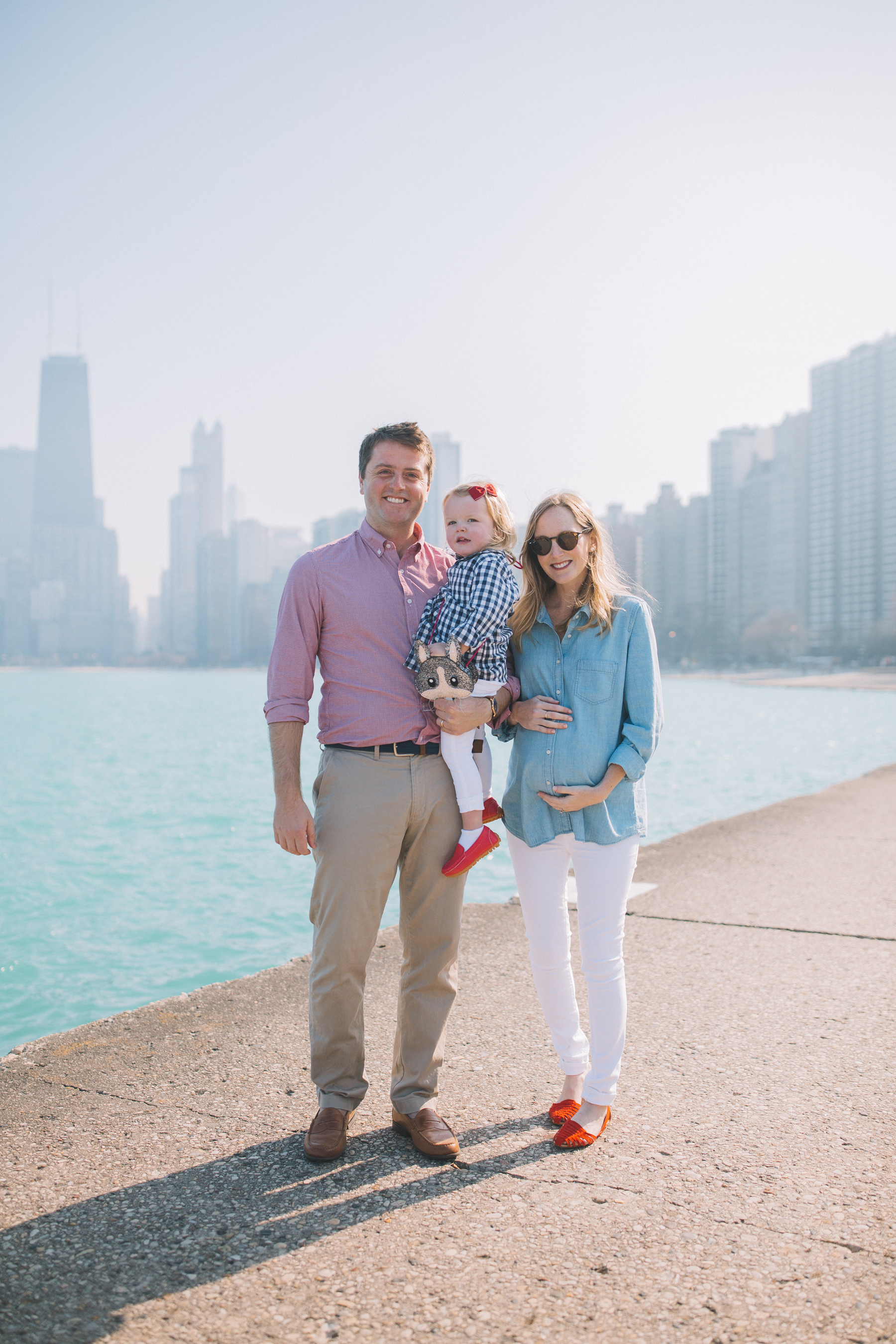 Softest Chambray Shirt (I went up MANY sizes for the bump, haha, but if you're not pregnant, I would say to order your usual size.) / J Brand White Maternity Jeans (Btw: Did you see this pair of white maternity jeans from Madewell?! Also, if you're not pregnant, I highly recommend this pair of affordable white skinny jeans. I've had mine for years and love them! They're a deal, and they're very soft and stretchy yet don't lose their shape throughout the day.) / Red Huarache Sandals (Here are the brown ones I wear all the time, too!) / Mark & Graham Navy Elisabetta Bamboo Tote c/o (Love the new one with the strap, too. See all Elisabetta totes here!) / The Warmest Trench Coat (Comes with a quilted liner! It's INCREDIBLE. They sell out quickly but were just re-stocked, so order before they're gone! They run TTS.) / Ray-Ban Sunglasses
On Emma: J.Crew Factory White Jeans, Gingham Button-Down (Also love this one!) and Bunny Purse c/o J.Crew Factory (Red Mocs are from Amazon.) / On Mitch: Red Shirt, Similar Belt, Khakis, and Loafers
I have to say:
I'm really enjoying the whole "lockdown" thing. Because I'm a little more than a month out from my due date, my doctor has instructed me not to leave Chicago. And it's been so lovely. We've been spending our days finishing our KonMari challenge, enjoying the city and warmer weather, catching up with friends, completing and getting ahead on freelance projects, and prepping the blog for my "maternity leave."
When I had Emma, I didn't really take a maternity leave. I had about a week's worth of content lined up which was nice. But looking back, I do wish I'd prepared more. I suppose I figured that I could handle everything while the baby was sleeping, but I didn't account for how long recovery would take or how utterly exhausted I'd be. ;) This time, though, I'm being way more proactive about things so I can take a much longer leave. So if you'd like to see specific topics covered over the next couple of months, please let me know!
Anyway, these photos were taken this past weekend out on the lake.
It was a gorgeous day, warm enough for light jackets or even no jackets, depending on whether or not you have Raynaud's, haha. And I brought along my camera because I hadn't shot in Chicago for the longest time and was itching to! I'll admit that I'm not exactly loving having my photo taken now that I'm in the third trimester. But luckily for me, Mitch and Emma don't min it at all, so I had a great time behind the lens capturing some of their cuteness. :) Apologies for the zillion pics.

We wore some of our favorites from J.Crew Factory's new spring line, since I'm currently working an Instagram project with them and wanted that gorgeous city skyline for the backdrop! I still can't decide whether I should post the first photo–the family one–or the one of Emma and Mitch, right below this text. But I'm leaning towards the one of Emma and Mitch, as I can't handle Emma's outfit! (Recently, I've been really into dressing her in little boys' button downs and pairing them with cute leggings and girly accessories. 😍) Some of our Factory picks are included in the widget above. :)
After our lakeside walk, we headed back into the residential areas of Lincoln Park for some ice cream. Emma was in HEAVEN. (And so was I.)
The perfect little Saturday!
xoxo
Shop the post:
Softest Chambray Shirt (I went up MANY sizes for the bump, haha, but if you're not pregnant, I would say to order your usual size.) / J Brand White Maternity Jeans (Btw: Did you see this pair of white maternity jeans from Madewell?! Also, if you're not pregnant, I highly recommend this pair of affordable white skinny jeans. I've had mine for years and love them! They're a deal, and they're very soft and stretchy yet don't lose their shape throughout the day.) / Red Huarache Sandals (Here are the brown ones I wear all the time, too!) / Mark & Graham Navy Elisabetta Bamboo Tote c/o (Love the new one with the strap, too. See all Elisabetta totes here!) / The Warmest Trench Coat (Comes with a quilted liner! It's INCREDIBLE. They sell out quickly but were just re-stocked, so order before they're gone! They run TTS.) / Ray-Ban Sunglasses
On Emma: J.Crew Factory White Jeans, Gingham Button-Down (Also love this one!) and Bunny Purse c/o J.Crew Factory (Red Mocs are from Amazon.) / On Mitch: Red Shirt, Similar Belt, Khakis, and Loafers