It's no secret that I love shoes. My closet is lined with boots, sneakers, sandals, heels, slippers, and flats. One of my excuses for owning so many pairs of shoes is that certain styles can only be worn during specific times of the year. 
But as I continue to explore my passion for clothing and fashion, I've begun to let go of many of those old "rules" I've known, and followed, for so long. One such "rule" pertains to wearing ballet flats in winter. 
As it turns out, ballet flats don't have to be strictly warm weather shoes. In fact, they can be styled tons of different ways, all year long. If you're wanting to include ballet flats in your winter wardrobe, DO IT! And if you're not sure how, I've got you covered.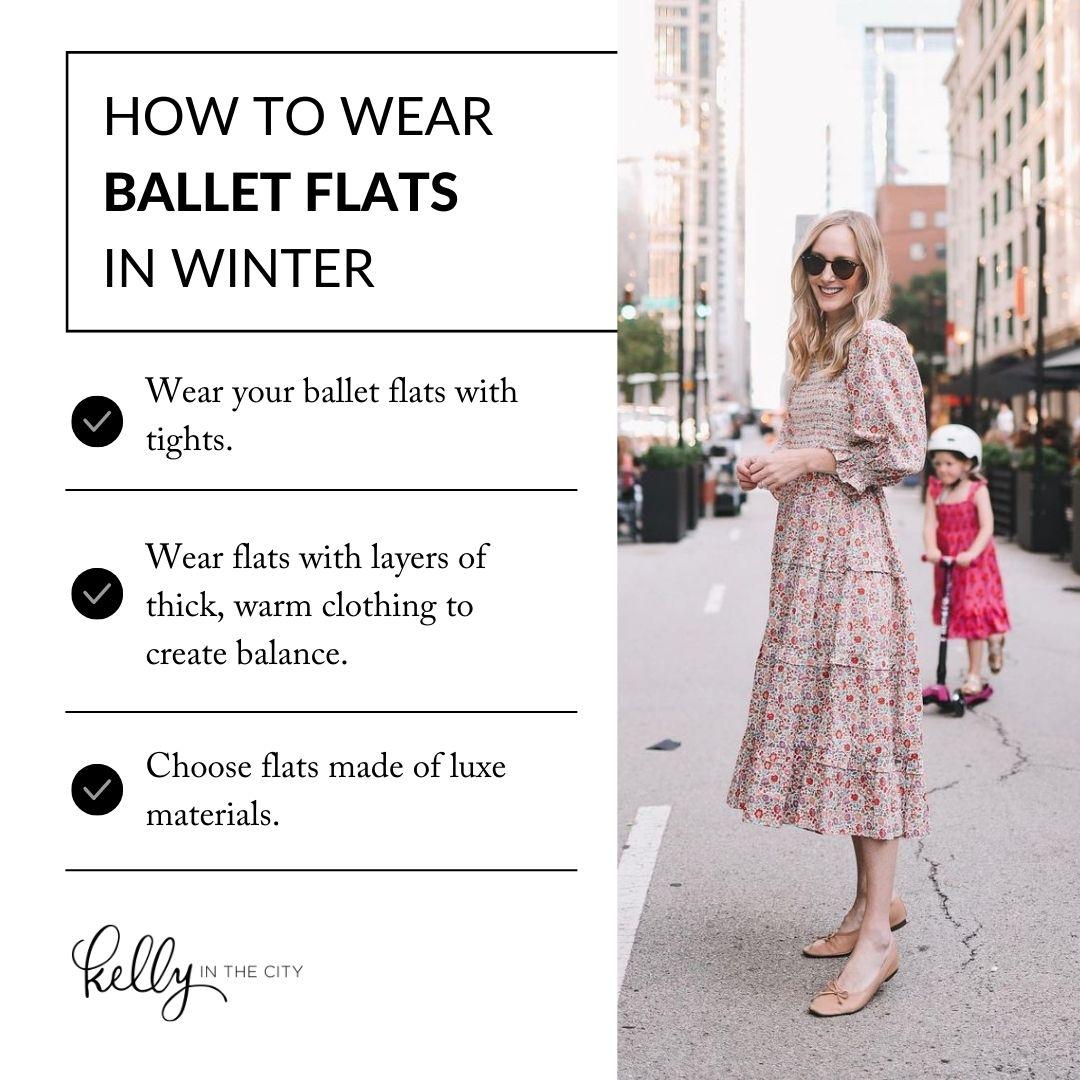 How To Wear Ballet Flats In Winter
Wear your ballet flats with tights.
A foolproof way to wear flats in winter without freezing is to wear them with tights. A pair of flats can look totally adorable with opaque tights, or even patterned tights. Tights add another layer of warmth to your outfit so you can even wear a dress and it won't leave your feet cold.
Wear flats with layers of thick, warm clothing to create balance.
You can offset the slight summery look of ballet flats by styling them with layers and thicker, heavier fabrics–think a wool coat and long pants. Or even jeans with a thick sweater blazer.
Ballet flats also look great with skinny jeans. You can make the look more cold weather friendly by styling them with a thick, oversized sweater. This outfit is a great example of how black skinny jeans and black flats can be worn with a cozy sweater for a stylish winter outfit. 
Choose flats made of luxe materials.
OK, so ballet flats will never be as warm as snow boots. But there are some flats that provide more warmth than others. Instead of flats made of thin, mesh fabrics or woven leather, go with a pair made of a fabric that won't let so much cold through. 
To keep you from freezing your toes off, I recommend flats made of luxe materials like suede, velvet, or leather. They're noticeably warmer and I think they look better with thicker, cold weather fabrics.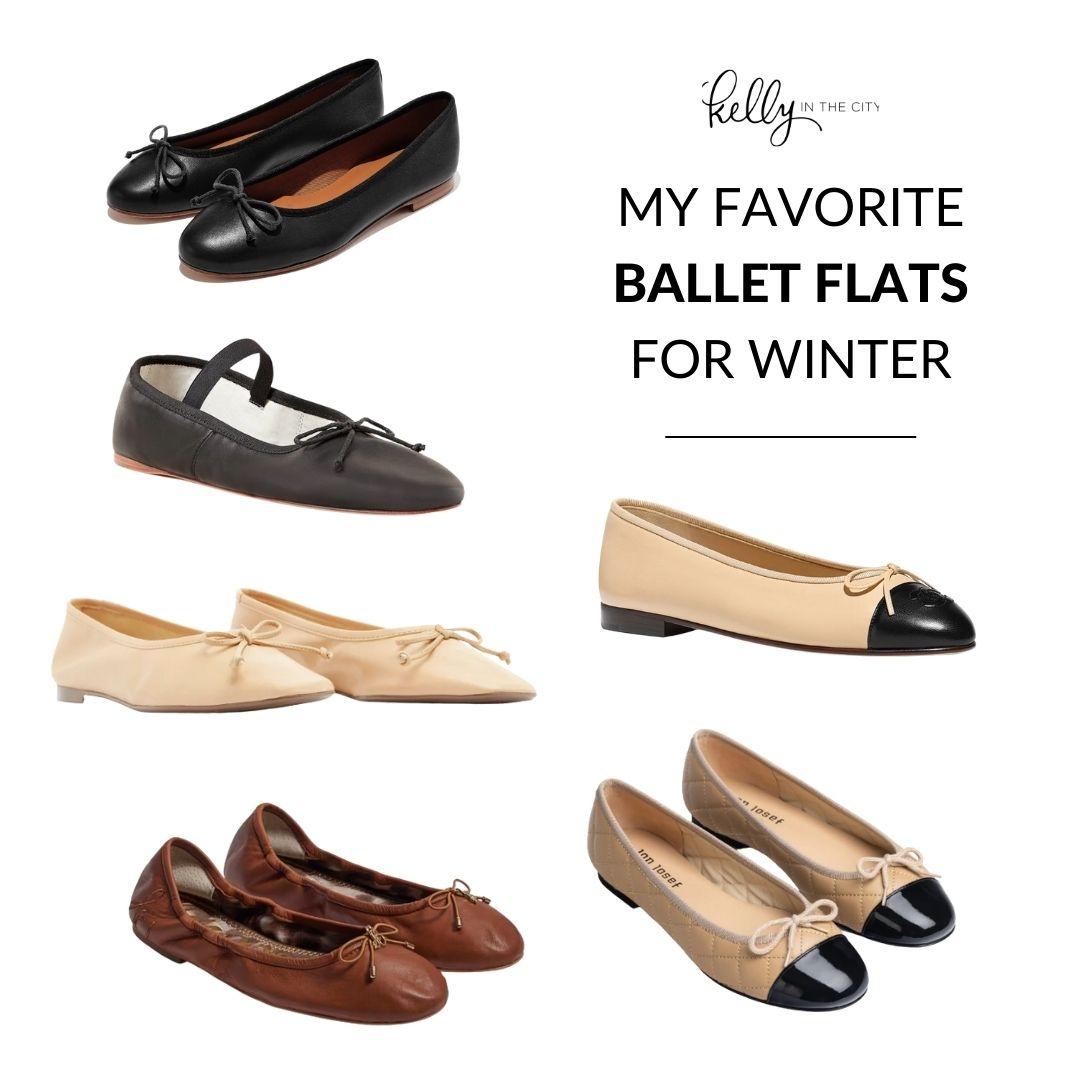 My Favorite Ballet Flats For Winter
These are the most comfortable ballet flats I've ever owned. The unstructured leather is ridiculously soft. So soft, actually, that you don't even have to break them in. Plus, they are super versatile. They look just as good with jeans as they do with dresses. 
These Ballerina Flats from Chanel have been one of my favorite pairs of shoes since Mitch gave them to me as a birthday gift a few years ago. I know they're not exactly the most affordable pair of flats, which is why I suggest looking at eBay to find a pair in like-new condition, at a much more affordable price!
It's impossible NOT to love these black ballet flats from Loeffler Randall. They're probably my favorite pair of flats to wear with black skinny jeans. The Leonie Black Ballet Flats are made of surprisingly soft calf leather. But it's the elastic bridge strap and subtle bow that place these flats a step above the rest. Pun intended :) 
Even Vogue is "obsessed" with The Demi flats by Margaux. How could they not be? Including these Italian nappa flats in your winter wardrobe is a total cinch. Plus they're soft and unstructured which means they're comfortable even when you wear them for the first time. 
I feel like I can't accurately describe just how much I love the Belle Quilted Ballerina Flats from Jon Josef. They're a timeless classic that never go out of style. The diamond-quilted pattern and patent cap toe add a unique touch, and the little bow is the perfect feminine touch. 
They're classy and elegant, but versatile too.They go great with practically everything in my closet. And it helps that they're super comfortable too. ;)
The Felicia Ballet Flat by Sam Edelman is another one of my favorite ballet flats that I recommend to anyone and everyone. I have them in red and wear them every chance I get. They're no longer available in red, unfortunately, but there are still 36 different colors to choose from. 
Once you try them on, you'll understand why I adore them as much as I do. They're crazy comfortable and because they have flexible elastic, they literally fit just right.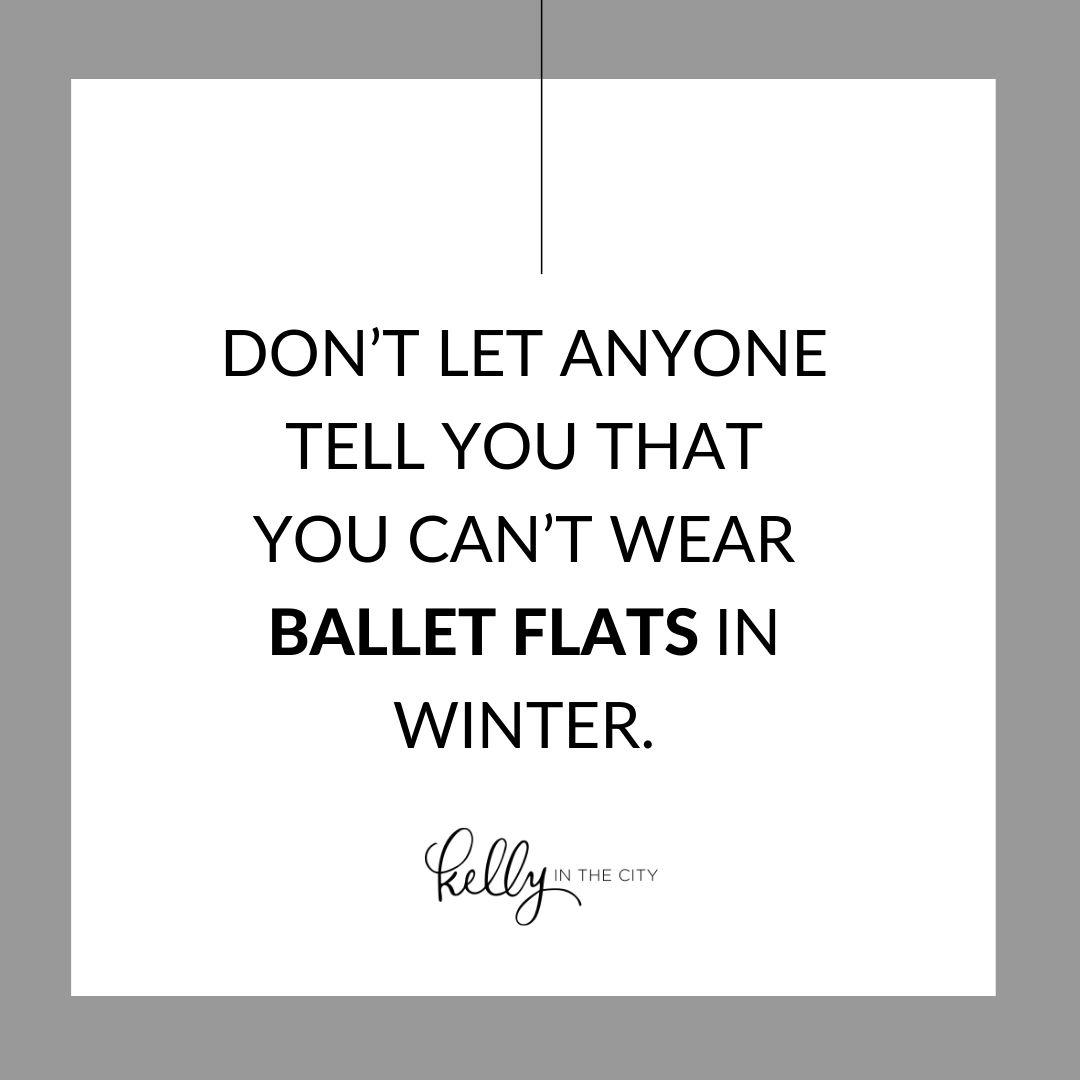 Don't let anyone tell you that you can't wear ballet flats in winter.
I hope, at the very least, this post proved that you can wear flats during the cold winter months. With a little creativity, you can create dozens of winter outfits styled around your favorite pair (or pairs) of ballet flats.
If I inspired you at all, I would love to know about it! Tell me in the comments how you feel about wearing flats in winter. 
You can find more fashion inspiration and style ideas on the blog!
Shop the Post: