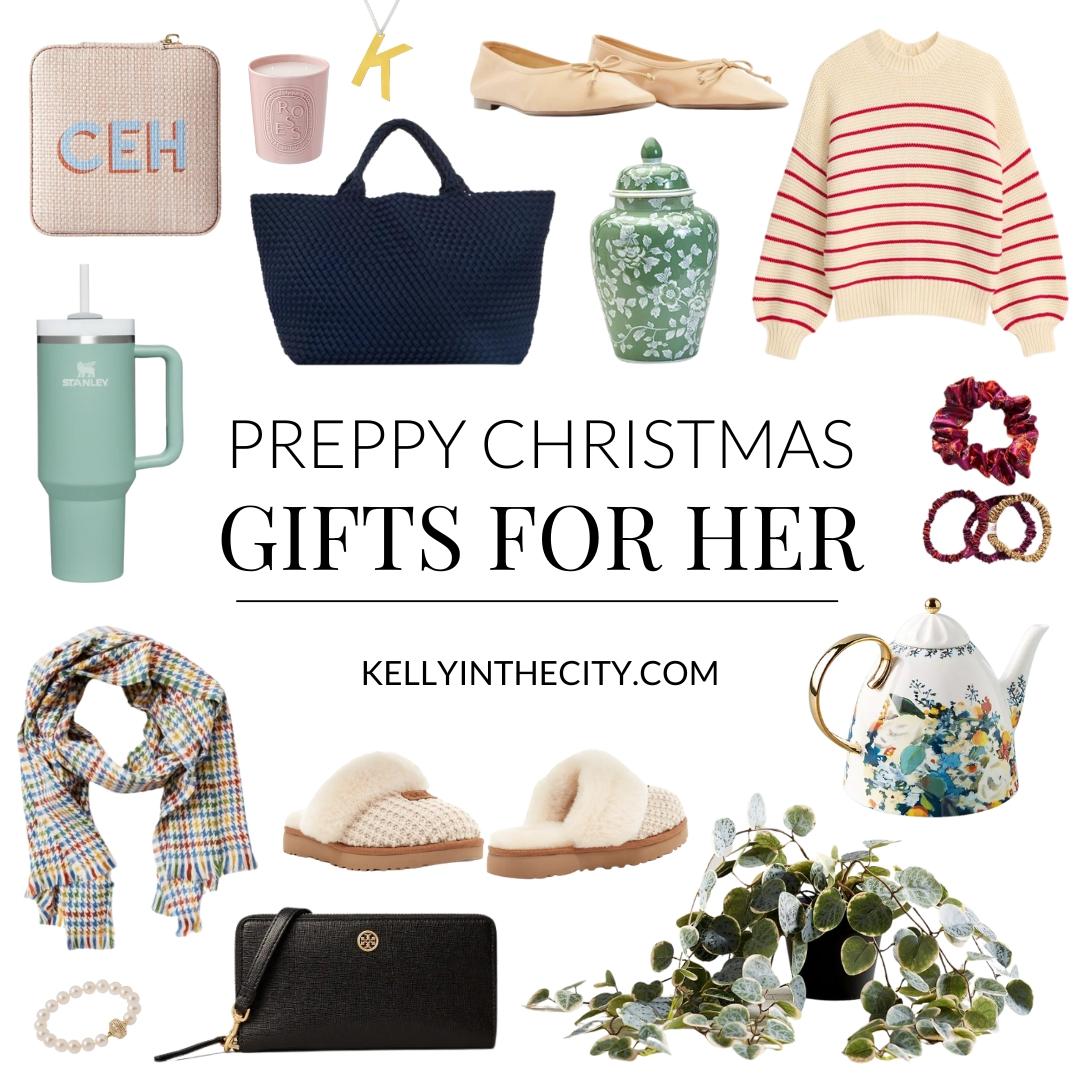 I can't properly express just how much I adore when two things I love come together. In this case, we're talking about Christmas and preppy style. As you begin your holiday shopping, consider some of my favorite items below. I've made sure to include my favorite preppy gifts so that you can surprise the prepster in your life with something they'll enjoy. 
Consider this your go-to gift guide for the best preppy gifts for your friends, family, and even yourself.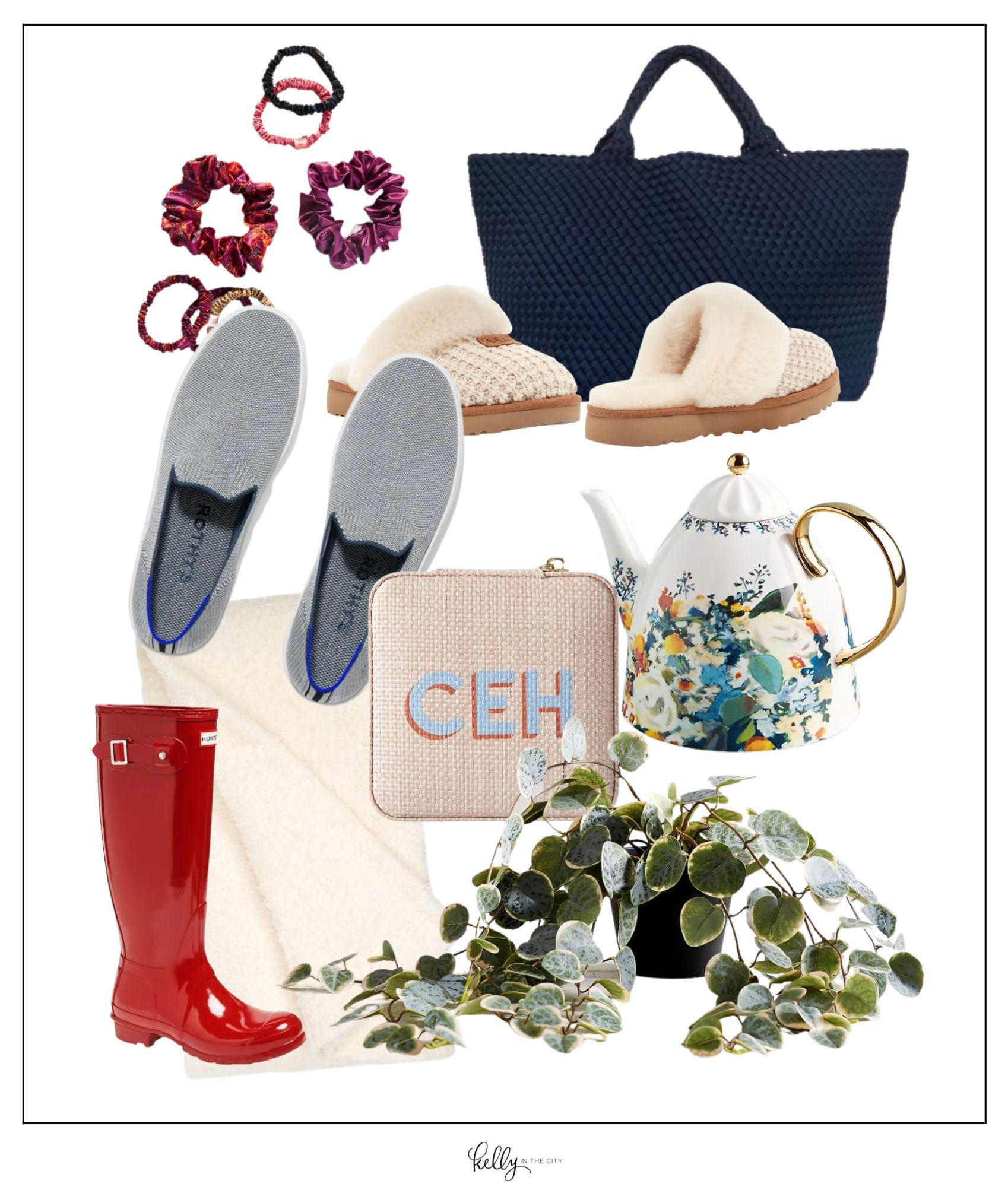 Preppy Christmas Gifts For Her
Such a fun gift exchange idea for ladies of all ages. These silk hair scrunchies are perfect for crease-free messy buns and ponytails. 
One of my most beloved and most used bags, this tote bag is perfect for anyone who wants to comfortably carry everything but the kitchen sink, right under their arm. I have the Ecru color, but there are a total of 10 different colors to choose from. 
These super cozy and soft slippers make the perfect gift, whether for yourself or for someone else. They're available in black, charcoal, and cream, but I'm partial to the cream. 
Hunter Boots via
Nordstrom
or
Amazon
– Additional Options
HERE
I wrote an entire guide to buying Hunter boots after receiving countless emails from readers about them. The Original Tall Rain Boots are practically a preppy girl must-have for rainy days, but with so many options to choose from, you could potentially get everyone on your list a different pair of Hunter boots.
These Slip On Sneakers from Rothy's are my favorite sneakers in my closet. There are 15 different colors and patterns to choose from. With these sneakers, effortless, comfortable street style has never been easier. Buy a couple pairs then give one as a gift and keep a pair for yourself.
I've mentioned this travel jewelry case by Mark and Graham as a great gift idea for Mother's Day, but it's just as wonderful as a Christmas gift for anyone who would love a chic way to take their accessories on the go. It comes in both small and large sizes and can be personalized for an extra special touch. 
A teapot is an easy gift for the tea-lover on your list. This gorgeous teapot is made from hand-painted stoneware and is beautiful enough to double as elegant kitchen or dining room decor. 
Are you looking for a gift for an unsuccessful green thumb? Someone who loves to fill their home with greenery, but can't seem to keep a plant alive? This is the gift for them. This Faux Trailing Variegated String of Hearts Houseplant looks real but requires no maintenance. 
This unbelievably soft throw was included in my post celebrating the beauty in the little things. Once you get your hands on it, you'll understand why. This throw is the perfect gift for the woman who is nearly impossible to shop for, because it's just too luxurious not to love. 
I adore my Tuckernuck Shirt Dress because it's just flowy enough without overdoing it. It's a great gift for busy moms or frequent travelers because of its forgiving silhouette.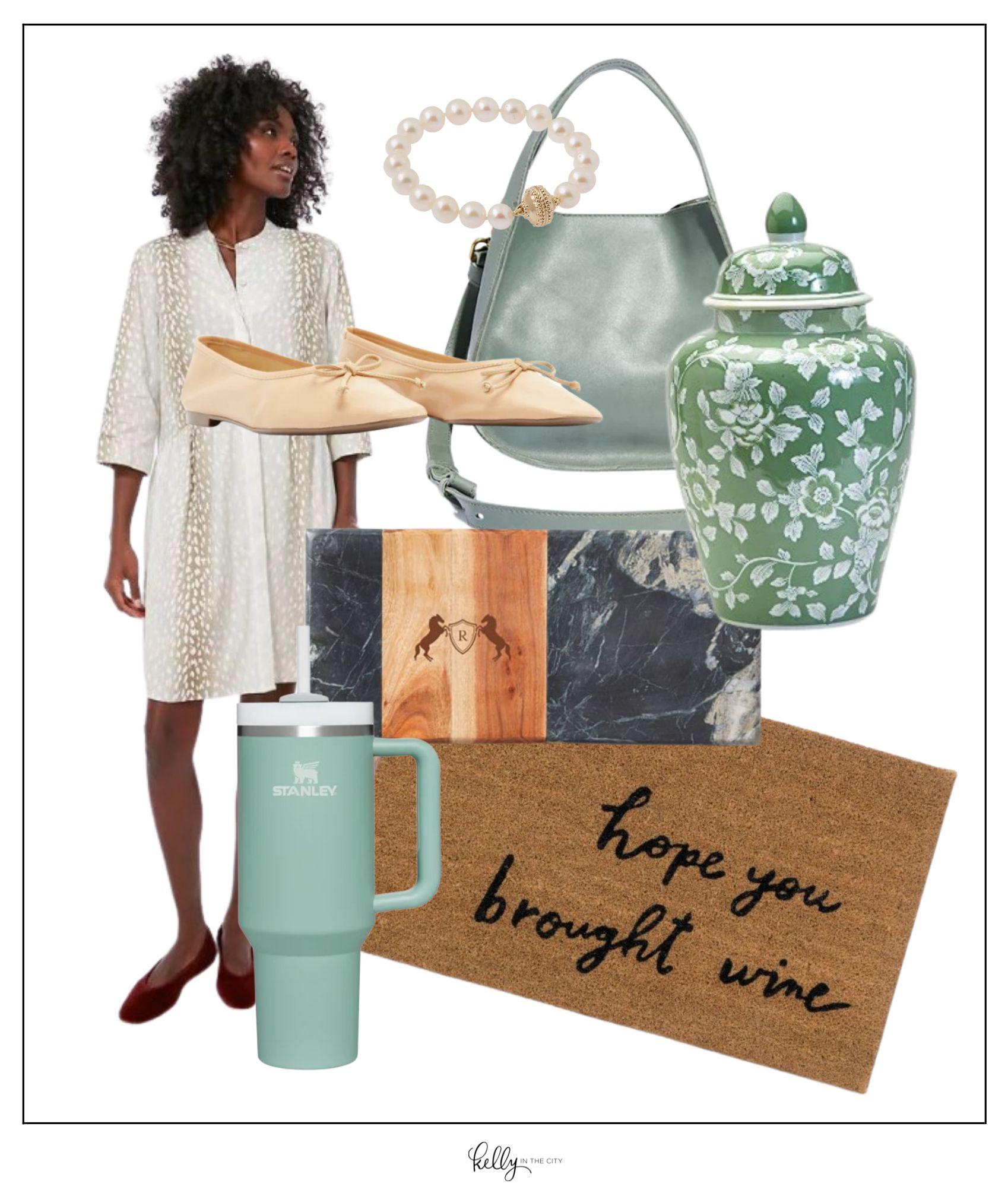 I love this classic white pearl bracelet. It's magnetic, so it's super easy to put on and take off. Plus it's just the right size to wear on its own or stacked with other bracelets. 
Seriously, these are the most comfortable ballet flats ever! They're made of super soft unstructured leather, so you don't have to spend time breaking them in (and hurting your feet). These are the ballet flats that allowed me to say goodbye to my other ones. 
This bag is another item that I can't say enough good things about. It comes in six colors (I have it in Burnished Caramel) so you can style it with practically anything. Plus, it's large enough to carry all your essentials. 
I still laugh when I think about the time the UPS guy brought a shipment of wine to our door while this doormat was laid out in front of it. You can imagine how excited he was. We love this inexpensive doormat and it makes for a great gift for the wine lovers on your list.
Nearly every preppy girl's letter to Santa will have a Stanley tumbler on it this year. The Stanley is this year's Hydro Flask. Personally, I like the cream color. But I'm willing to bet you'll do well to give the 40 oz Stanley in any of the seven colors. 
I wasn't exaggerating when I said this is the best ginger jar I've ever seen. It works great as a gorgeous vase, but it's stunning enough to display on its own. Personally, I think it's the perfect way to add some color to your shelves. 
ChappyWrap blankets truly are one-of-a-kind. They're ultra soft, machine washable, and dryer safe. Plus, they're super cute. Each member of my family has one! The Plaid and Merry Bows blankets are already sold out, but there are three other designs you can still purchase. 
I love this wood and marble cheese board as a gift idea for someone who loves to host parties. The wood and marble together looks so chic. Plus, you can personalize it!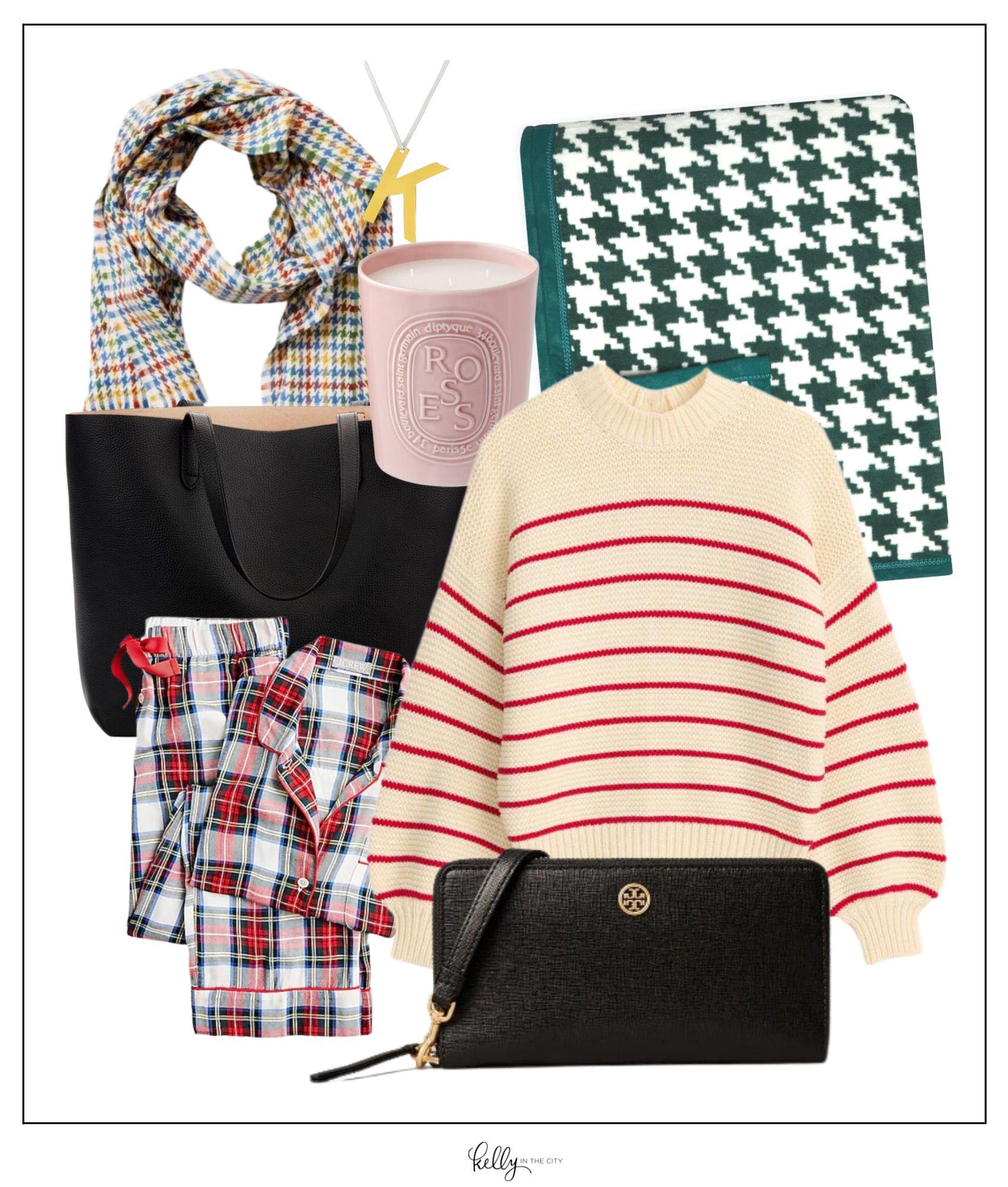 You can't go wrong with a beautiful Christmas ornament. How great are these initial ornaments from J.Crew? They shine with that simple, classic elegance and make a great, easy Christmas gift. 
A good scarf is another fantastic gift idea. I really like this Multi Plaid Houndstooth Scarf from Tuckernuck. It's such an easy way to add a touch of color to your outfit when styled with a neutral puffer jacket or wool coat. 
A good set of flannel pajamas is a winter essential, especially for those lazy days when you're snowed in and stuck at home. These best-selling pajamas from J.Crew are currently on sale, so you can get a pair for yourself and a pair to gift. 
A classic leather tote is a must-have for every season. This structured leather tote from Cuyana is one of my favorites because you can style it with just about anything. Plus, it's perfect for carrying to the office or on outings with the kids, with enough room to carry all your essentials. 
This striped sweater has been one of my favorite wardrobe staples since I purchased it last season. With buttons down the back and no tags, you can wear it as is for a unique look or reverse it to wear it as a cardigan. It's a great gift idea for the woman who loves functional, classic style. 
Roses Candle
from Diptyque via Nordstrom
You truly can't go wrong with a good candle and this Roses Candle is one of my favorites. It smells incredible and is an easy last-minute gift idea for even the pickiest person on your list.
A wallet that can double as a clutch? Yes please! I have a similar version of this wallet from Tory Burch and I love it. 
From petite nooks to grand interiors, the iconic and social-media-famous Gleaming Primrose Mirror is a preppy must-have that adds vintage-inspired elegance to any space with its exquisite details, elegant adornments, and a wide range of sizes, shapes, and finishes.
Add a touch of seaside charm to your home decor with Anthropologie's Coquille Mirror floor standing mirror, featuring a stunning shell-inspired frame that exudes elegance and sophistication.
Transform your space into a preppy haven with Anthropologie's bestselling Fern Wall Cabinet, featuring signature arched silhouettes, buttoned-up hardware, and charming ballooned feet that serve as both decorative display pieces and clutter solutions in a range of sizes and colors that guarantee to leave guests awestruck.
What preppy Christmas gift are you most excited to give this year?
With gifts this good, giving is even better than receiving. You'll love seeing the faces of your friends and family light up as they unwrap the gifts you've chosen for them. It might be impossible to choose just one, but I'd love to know what gift you are most excited to give this year! To hear more about the holiday gifts that I love to give the most, head on over to the blog.
Shop Preppy Christmas Gifts For Her: