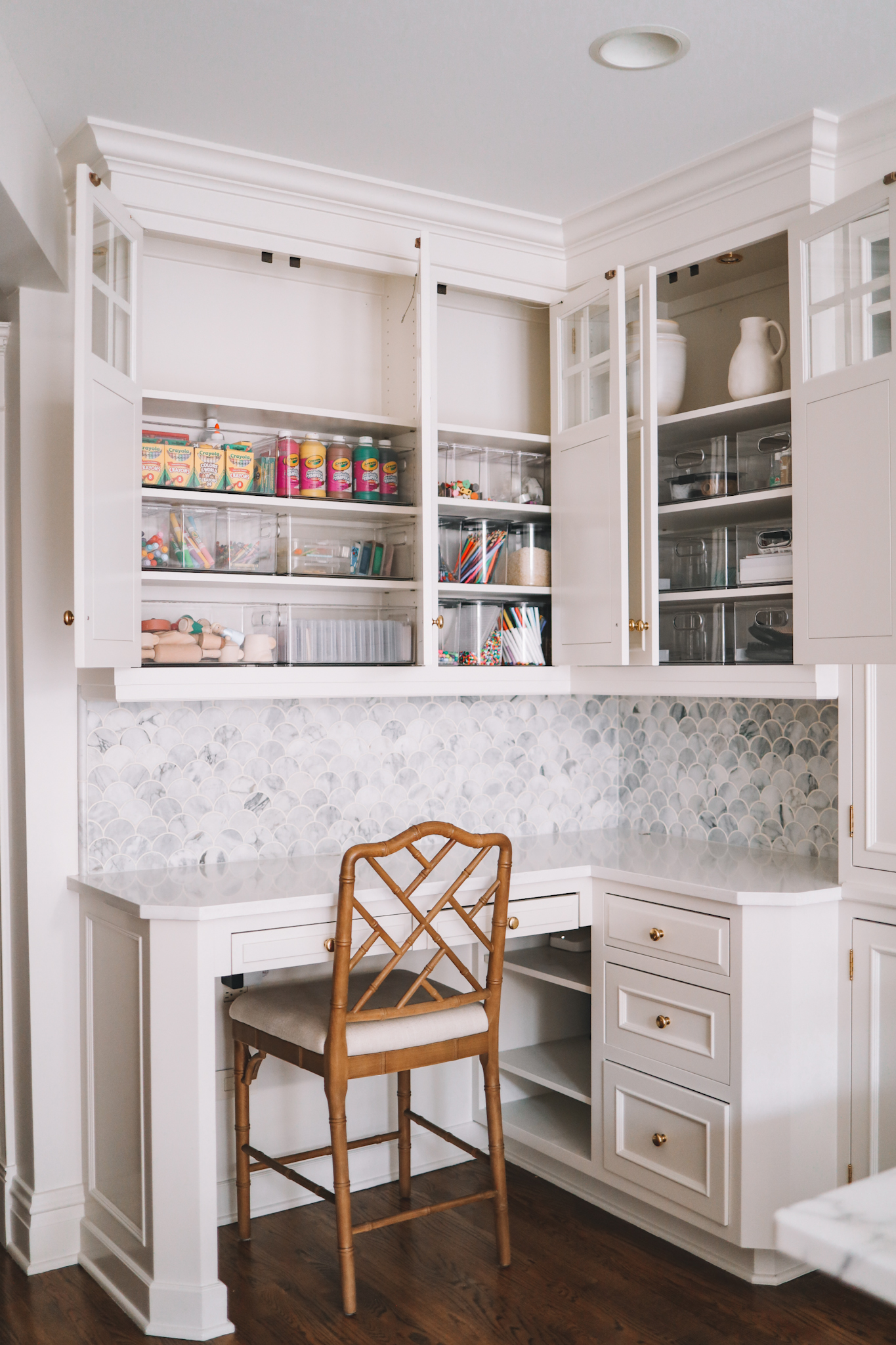 Home Edit Canisters / Home Edit Bins / Brilliance Containers
I finally did it! I tackled our kitchen desk craft cabinets, and I feel like a new mom. 😆
Because our girls are young, we keep all arts and crafts in the kitchen, where messes are easier to clean up. (And house damage is less likely to occur.) The desk area is the perfect spot; We simply move an island stool over there when both girls are working on projects. 
Before I decluttered and organized, things were—not surprisingly—very disorderly. It was hard to find anything, junk built up very quickly, and stuff routinely fell out when we opened the overstuffed cabinets. Not great! (And clearly this extended far beyond the craft cabinets. Scroll down to see, haha.)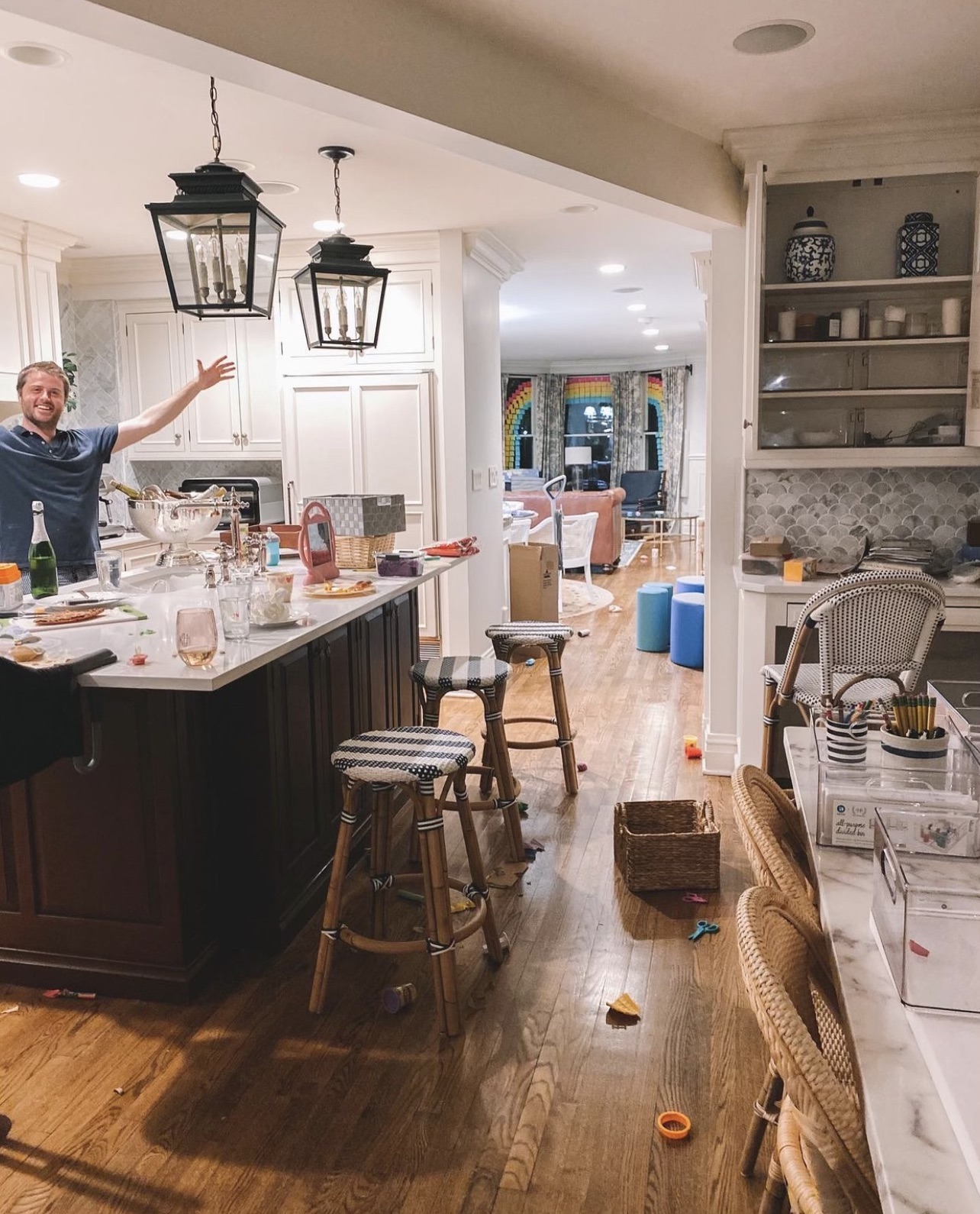 Before
This is the most drastic comparison photo I could find. 🙈 YIKES, right? Granted, this was in the thick of the pandemic during quarantine, and we were homeschooling and taking care of a baby and trying to keep our businesses afloat. I remember finally getting the girls down and Mitch and me looking at each other and hysterically laughing. "Not thriving, but surviving," we said. And then spent the next two hours cleaning. But still. Scary stuff, my friends. It's no wonder why I was so stressed all the time!

But with the help of The Home Edit (now available at Walmart!) I overhauled our lives.
I'll be honest here and say that buying containers didn't solve all my problems. I had to do some work before they did their work.
I learned that organizing doesn't personally doesn't work for me unless I actually edit things down first. Otherwise I'm just moving junk around the house. I also learned that if I'm having trouble maintaining an organization system, it means I have too much stuff. Maintenance shouldn't be difficult.
It's crazy, but looking at the above photo, nearly every bit of clutter I see has since left our home! (Btw: If you're interested in living a more minimalistic life, I used the Marie Kondo Method to pare down our possessions but I also adore Dana K. White and Shira Gill!) And now that we have less, the The Home Edit (and Rubbermaid Brilliance) products effectively help to contain what we actually do own. They prevent clutter (and situations like the one shown above), help us quickly locate what we need, and allow us to clean up fast.
Because everything has a place.
I love the results. "Love" is an understatement, actually. Opening the cabinets genuinely brings me joy 😜, and I find myself planning new creative projects to do with Emma and Lucy. And tidying takes only a few minutes as opposed to those one or two hours it used to take us! With that extra time (and mental clarity), I can now focus more on the things that actually matter to me, too.
Never.Going.Back.
Want to get started on an organizing project? Check out The Home Edit and The Rubbermaid Brilliance lines (which also works in pantries, fridges and freezers), now available at Walmart. Most products ship extremely quickly and arrive on your doorstep within three days, and the prices are fantastic. Great customer service, too. I should also note that the Free Assembly fashion line is incredible. So many preppy and classic pieces!
…What should I organize next? 😉
Shop the post:
Home Edit Canisters / Home Edit Bins / Brilliance Containers

This post is sponsored by Walmart; all opinions are my own. As always, thank you so, so much for supporting the partnerships that keep Kelly in the City up and running!