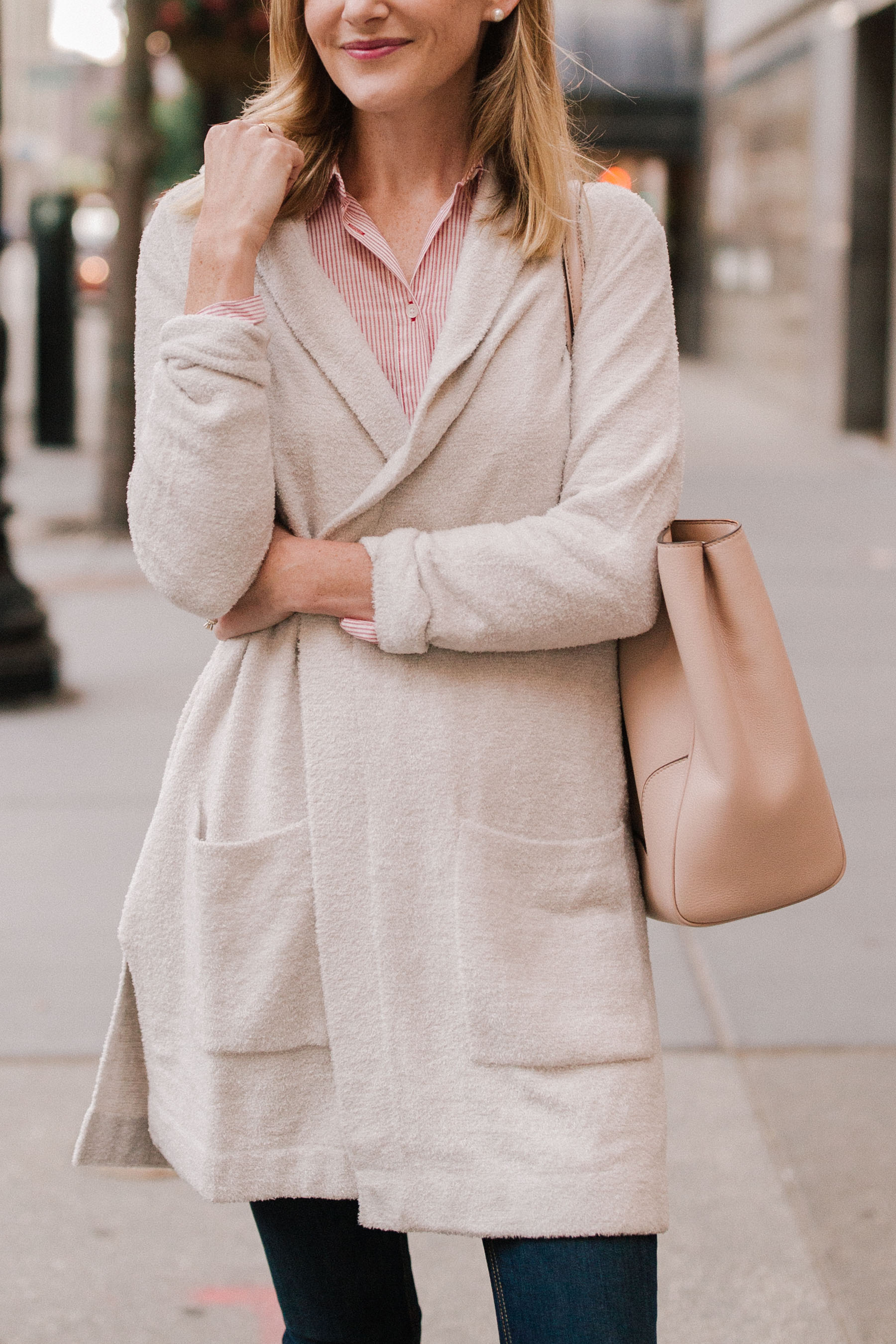 Barefoot Dreams Coastal Hooded Cardigan / Madewell Oversized Ex-Boyfriend Top / Tory Burch Flats (Here are the pumps! Both versions run totally TTS.) / Tory Burch Tote (Here's the mini version.) / Rag & Bone Ankle Skinny Jean
*Today's Question of the Day is in red at the end of this post. Answer to be entered to win $50 to shop the Nordstrom Anniversary Sale!*
We're back!
Surprise, surprise: We experienced three delays (in JFK, of course), and we arrived in Chicago much later than we had hoped. But we made it!
I'll admit that instead of working on the blog last night, I collapsed onto the couch with Mitch after putting Emma to bed. We ate frozen pizza and binge-watched "Sharp Objects" (eek!) for a couple of hours, and then promptly collapsed into bed. ;)
I know things have been a bit boring around here as of late, but I'm glad to be blogging "real time," starting today. I'm working on some fun stuff, and excited to share some more varied content. (Sorry about the excessive outfits posts, haha. Working and traveling at the same time has always been a disaster for me, so it seemed like a good idea at the time. 😂)
Anyway, thought I'd share some terrible photos of me in a GREAT sweater, which is part of the Nordstrom Anniversary Sale. (Prices go up on August 6th, so now's your time to pounce on some great deals!) It's part of the Barefoot Dreams sale collection, and it's a winner.
Barefoot Dreams makes the softest sweaters ever.
They're perfect for the fall. In terms of sizing, this particular one is like the others: it's generous but in a wonderful way. I'm wearing the XS/S here, which is what I'd normally order, and it's perfectly cozy. A bit oversized but not in a sloppy way!
Okay… we're off to pick up Noodle at my in-laws. (They're the best.) Emma can't wait, so I'll catch you back here tomorrow. Remember to answer the Question of the Day at the end of this post!
xx
Shop the post:
Barefoot Dreams Coastal Hooded Cardigan / Madewell Oversized Ex-Boyfriend Top / Tory Burch Flats (Here are the pumps! Both versions run totally TTS.) / Tory Burch Tote (Here's the mini version.) / Rag & Bone Ankle Skinny Jean
Answer the Question of the Day to be entered to win $50 to shop the Nordstrom Anniversary Sale: Where do you currently live and what do you like most about the location? (And if you don't like it, you can tell us where you're originally from… or you can totally use this as an opportunity to vent, haha. We've been there! Hang in there!)
Remember to leave your e-mail address in the following non-spammy format: kelly [at] kellyinthecity [dot] com.
Congrats to the winners thus far:
Lauren V.
Maggie P.
Kaitlin M.
Grace M.
Jeanne C.
Cindy G.
Nicole N.
Sophia K.
Alexandra N.
Grace L.
Holly S.
Diana C.
Libby M.
Bailey B.
Nicole M.