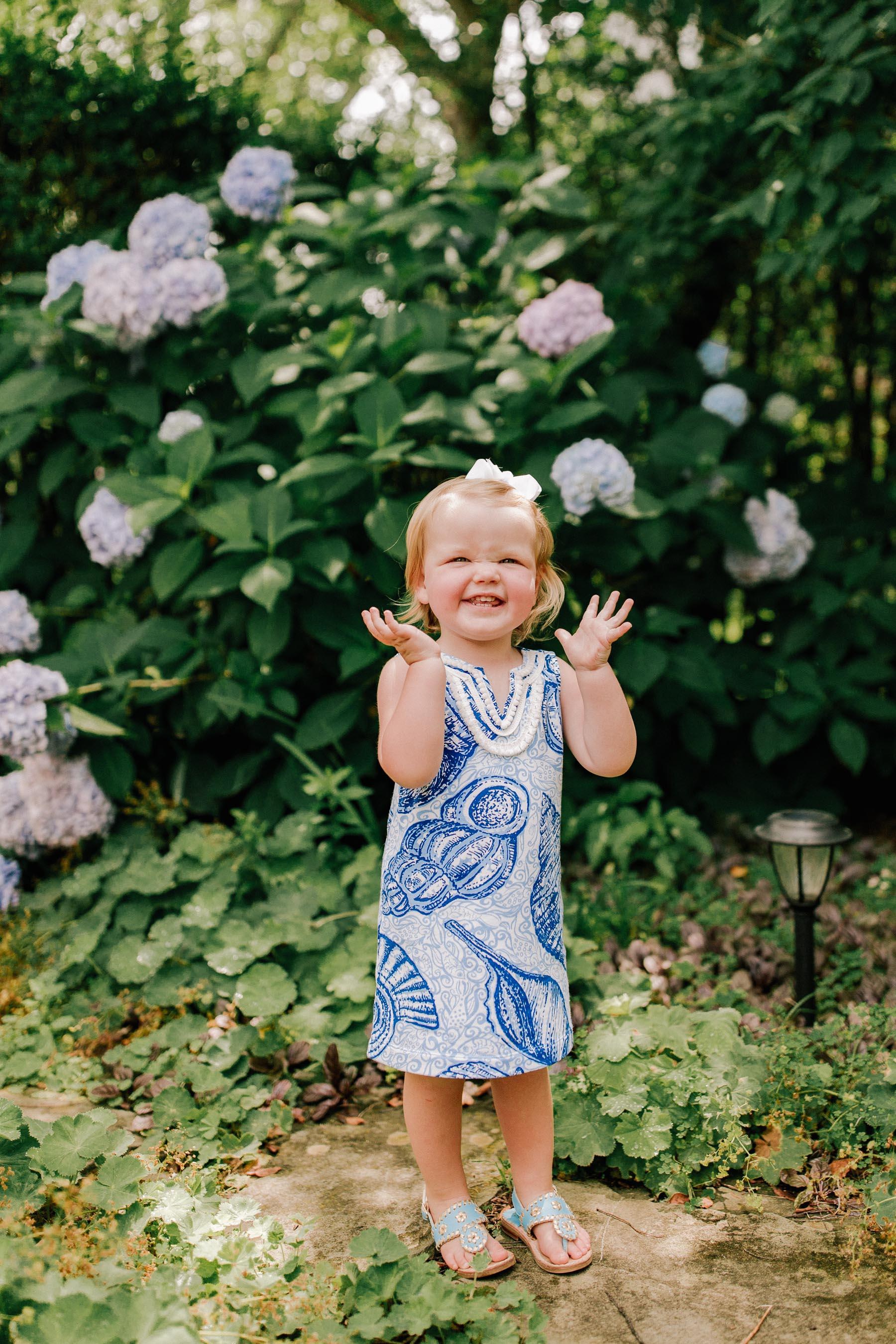 Lilly Pulitzer Shift Dress c/o / Jack Rogers (Currently $33!)
*Today's Question of the Day is in red at the end of this post. Answer to be entered to win $50 to shop the Nordstrom Anniversary Sale OR the Tuckernuck Sale, since it's payable via Venmo or Paypal!*
Today is a very special day. ☺️ Our Little Emma turns two! In lieu of an "Ode to Emma" post, I thought I'd share what we're doing to celebrate. Though I'm sure I'll be posting something far sappier in the next week, when I'm not running around the city like a madwoman trying to pull this thing off. ;) Anyway, here are the plans:
My parents and brother are flying into Chicago!

Which is the absolute cutest, no? I mean, Emma is two, which means that she doesn't really know what's going on. (Though it seems that she's starting to understand, as we've been making a big deal out of it, reminding her constantly that her birthday is coming up, haha.) The 'rents arriving sometime around 8 or 8:30 p.m., and we're going to try to keep Emma up so they get to see her and give her their present. (It's a stroller for her Bitty Baby!)

She's waking up to a ton of pink balloons.

We did this last year. She loved it so much that we've decided it's a birthday tradition. Can't wait to see her reaction this time around.

We're having a Little Mermaid day.

For a moment, I thought about doing her second birthday Pinterest-style, and making it all as beautiful as possible. But here's the thing: Emma doesn't want that. She doesn't care about how pretty things are; she wants to have FUN. And what's fun for this toddler right now? Anything "Little Mermaid." It's her current obsession, so we decorated the house to make it look like a scene from "Under the Sea," and we have bubbles, too. 😂 Her gifts–some from us, some mailed from family back on the East Coast–are wrapped in Little Mermaid paper, too. (One of them is an Ariel doll!) Oh, and her cupcakes are Little Mermaid-themed! Also, I should note here that I was crazed about The Little Mermaid as a kid, so all of this makes me SO happy. ;)

We're eating marshmallows.

It's her absolute favorite treat, so they're going in everything. Marshmallows in our pancakes; marshmallows on our pizza; marshmallows on top of the cupcakes. I'm going to make sure the little lady doesn't puke, but I need to be honest here: I'm going to not care about her marshmallow consumption today, because it's pure joy for her. (Side note: anyone shocked to find out that marshmallows are spelled "marshmallows" and not "marshmellows"? I was scolded for spelling it incorrectly when I was a reporter, and now I'll never forget it, haha!)

We're throwing a very last-minute birthday celebration.

And when I say very, I mean very. We spent Wednesday and yesterday at my in-laws because we went to pick up Noodle… so we didn't end up reaching out to people until we returned to Chicago. It'll be a small get-together, but that's totally fine. Last year, we went all out for her first birthday, but this year, we're trying to do less so Emma has more fun. She doesn't want a giant party with all of our friends there; she wants a Little Mermaid-themed playdate with her four buddies. So that's the plan!

We're riding bikes.

We ended up getting her this bike in pink, since we've heard such great things about it, and all Emma talks about is her friend's bike. I'm SO pumped to give it to her. (Bike joke.) Photos to come!

We're going to the American Girl store.

That's happening at some point this weekend with my parents. My mother-in-law gave Emma a Bitty Baby recently, and she adores it. I can't imagine she's going to think of the store! I'm definitely going to tear up. We lost the little onesie that Bitty Baby came in, so we kind of need to get her a new outfit, too. 😉

We're going to the splash pad or the pool.

It's the weekend, so it all depends on which location is less crowded. But Emma loves swimming and playing in/with water, so it's a must!

We're playing.

Emma could spend an entire day at the playground, so I think we're going to visit Maggie Daley Park. Click on the link. YES, it's that insane! :) We took these photos there last year.
Okay. With that, I'm going to pull the "Mom Card" right now and devote today to kid. (You can follow along on Instagram Stories in real time.) But soon, I'll share photos from the celebration and write more deeply about these last two years. Because holy goodness, Emma: you're our world. We love you!
~
Answer the Question of the Day to be entered to win $50 to shop the Nordstrom Anniversary Sale OR the Tuckernuck Sale: Tell us about a memorable birthday! Doesn't need to be yours, and it's entirely open-ended. Your response can be about anything birthday-related!
Remember to leave your e-mail address in the following non-spammy format: kelly [at] kellyinthecity [dot] com.
Congrats to the winners thus far:
Lauren V.
Maggie P.
Kaitlin M.
Grace M.
Jeanne C.
Cindy G.
Nicole N.
Sophia K.
Alexandra N.
Grace L.
Holly S.
Diana C.
Libby M.
Bailey B.
Nicole M.
Lili P.
Alexandra M.