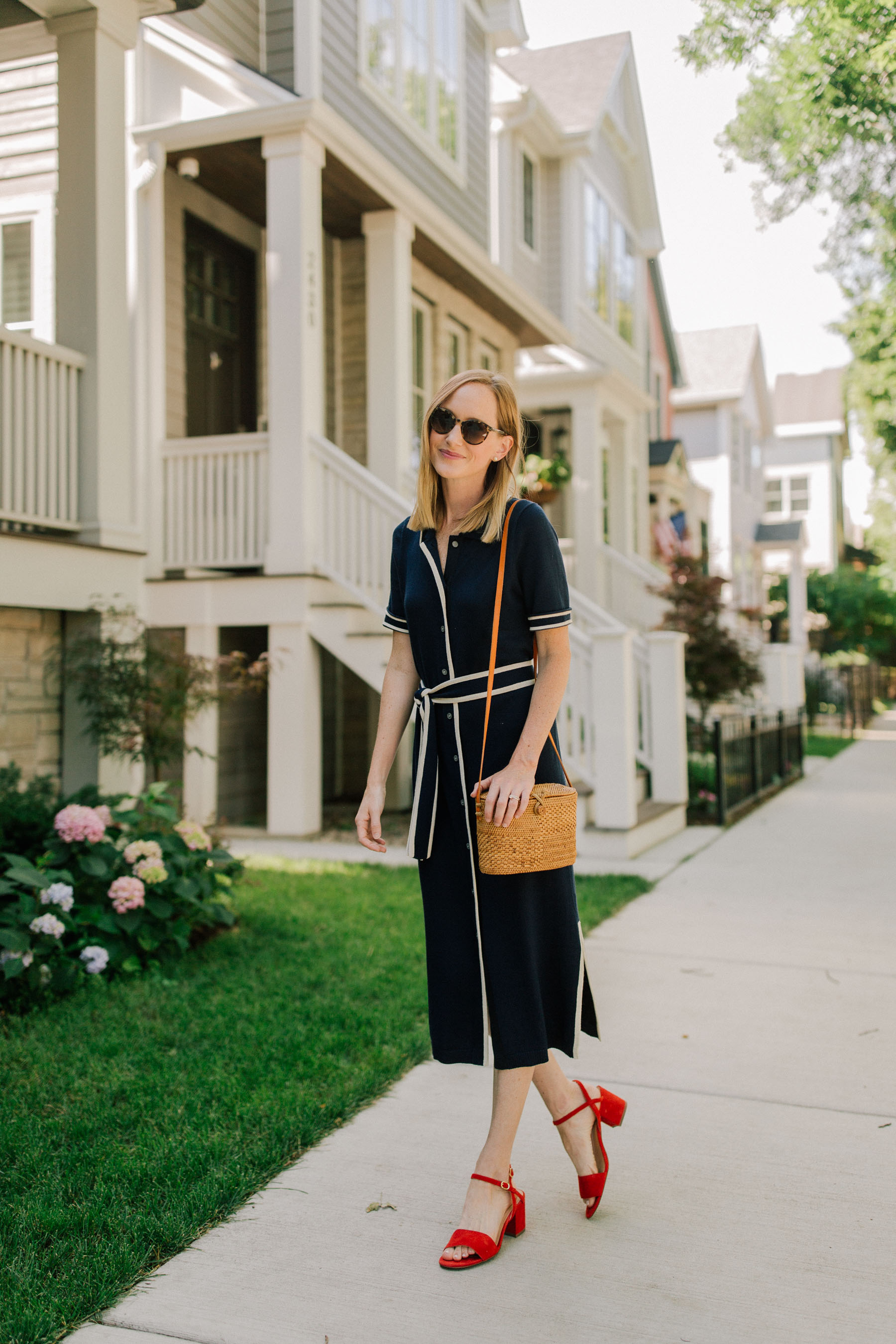 J.Crew Navy Shirtdress (Also love this one that has a bow (!) and this everyday one.) / Strappy Block Heel Sandals (Also at Nordstrom.) / Similar Sunglasses / Poppy + Sage Woven Bag c/o
*Today's Question of the Day is in red at the end of this post. Answer to be entered to win $50 to shop the Nordstrom Anniversary Sale!*
What's the over-under on how many flight delays or cancellations we'll experience today? ;) Pretty sure we'll get off Nantucket; just not sure whether we'll actually get out of NYC since there's a chance of thunderstorms. But we're prepared: I have toiletries, two changes of clothing for everyone, and an iPad packed in my tote bag. Give us your worst, JFK!
I'm joking. Please spare us. I'm completely terrified. 😂
Anyway, I'm really excited to start sharing photos and stories from our recent trips! We've had SO much fun over the last week here on ACK (and Martha's Vineyard), and there's nothing I love more than looking back on my camera cards/phone when I get home. :) It's been the most wonderful whirlwind, and since we packed so much into the trip, I'm thankful for the photos to help me remember all the magic. (I've posted a few from my phone on Instagram so far! You can see them here.)
A quick note on today's outfit:
This navy shirtdress, which has been backordered forever, is now shipping in a mere 11 days. I ordered it sometime in the spring, and it just recently arrived, haha… but I know it's going to be a dress that will always be in my closet.
It's a sweater dress, but I've worn it several times this past month–obviously during the summer, in the heat–and it's been great. Note: It's generous. It's belted, so that definitely gives it shape. But order your usual size or perhaps one size smaller. I'm wearing an XS (my usual size in dresses) here, and it's roomy. (Though I wouldn't have sized down.)
Off to bed for now; say a little prayer for the Larkins tomorrow. ;) ✈
Shop the post:
J.Crew Navy Shirtdress (Also love this one that has a bow (!) and this everyday one.) / Strappy Block Heel Sandals (Also at Nordstrom.) / Similar Sunglasses / Poppy + Sage Woven Bag c/o
Answer the Question of the Day to be entered to win $50 to shop the Nordstrom Anniversary Sale: First favorite song that comes to mind and why GO! (I say "first" because who has just one?!)
Remember to leave your e-mail address in the following non-spammy format: kelly [at] kellyinthecity [dot] com.
Congrats to the winners thus far:
Lauren V.
Maggie P.
Kaitlin M.
Grace M.
Jeanne C.
Cindy G.
Nicole N.
Sophia K.
Alexandra N.
Grace L.
Holly S.
Diana C.
Libby M.
Bailey B.