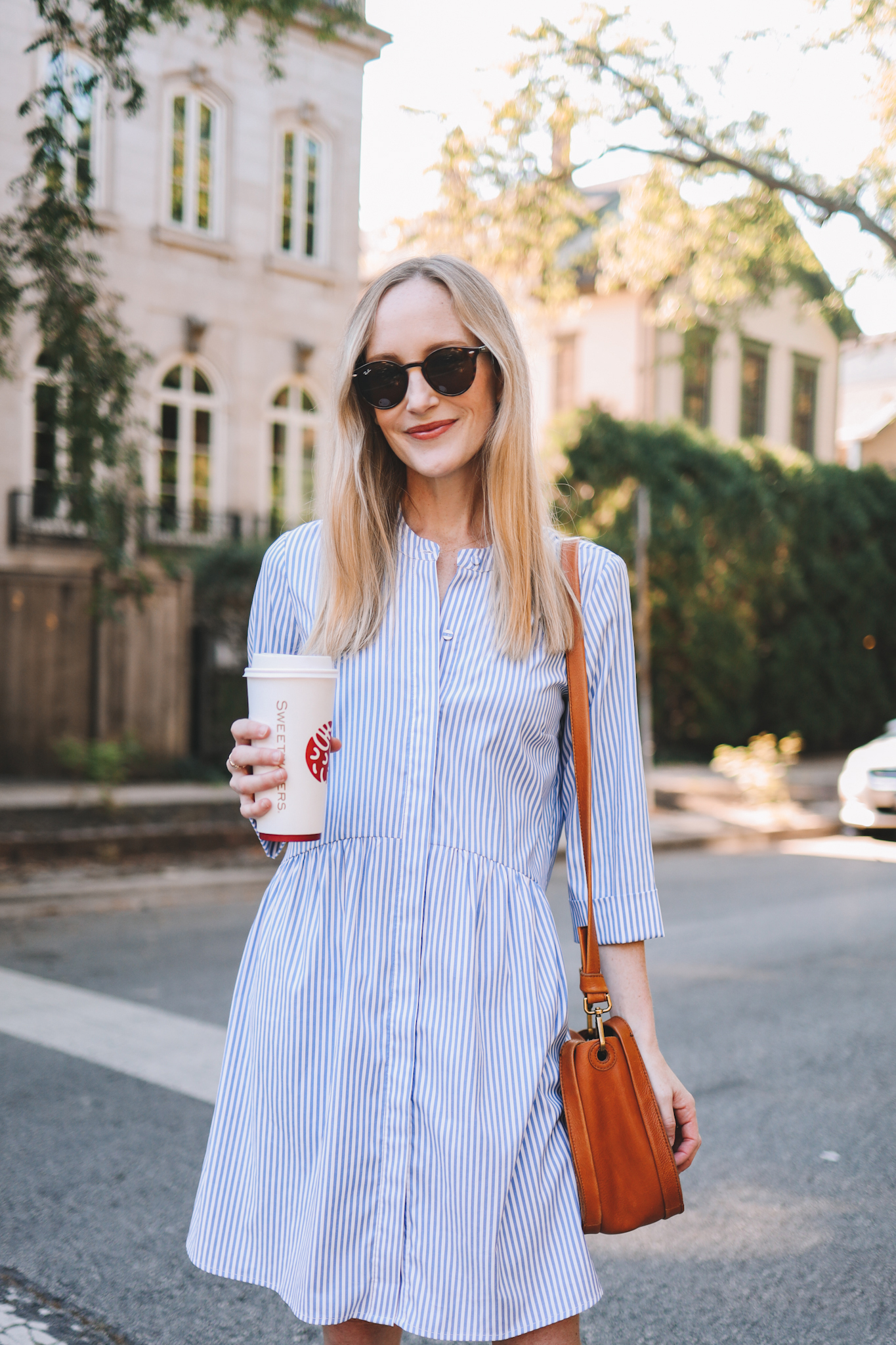 Tuckernuck Royal Shirt Dress (Use code "ENJOY" to take 20-30 percent off!) Black Version Here; Cotton Version Here. SAVE: Very similar here! Amazon Versions: Here + Here) / Leather Bag (Comes in six colors.) / Sneakers / Sunglasses / Dana Rebecca Necklace
Okay, guys. This is a dress everyone needs.Mine's been in my closet forever, yet I wear it at least once per week during spring, summer and fall. It's a timeless basic that I just always go back to. Here's why:

Wrinkle-resistant material: Boom. I do have a few pieces in my closet that require steaming. (Namely linen. Love linen.) But I'll be honest and say that I reach for them last, as much as I love them. Because they're not easy! As a mom on the go, I need clothing that's grab and go. The Tuckernuck Royal Shirt Dress (in polyester) requires absolutely no steaming; I just take it out of the wash and hang it up to dry. I can also carry a toddler on my hip and not look like a wrinkly mess for the rest of the day as a result. A+!
Versatility: On a related note, it travels exceptionally well. I loosely roll it and pack it in one of my packing cubes, and it arrives at my destination looking great. I love that I can dress it up or down, too. I'm wearing the dress with my favorite sneakers here, but It looks really cute with dressier sandals or even pumps. When traveling, I'll often wear it twice during a trip; one time casually and one time more formally.
Awesome fit: I should note here that the fit is generous, so if in between sizes, size down. I normally order dresses in a size small, for instance, but need to go down to the XS so the dress doesn't look like I'm swimming in it. But it hangs perfectly and is extremely flattering. 
Multiple colors and patterns: Find the black version here, which is an absolute must as well. And the cotton version is here, and it comes in a lot of different colors and patterns. Looking to save? Very similar here. Amazon has some cute takes on the dress here and here. I must say, though: Nothing beats the original. 😉

Great Alternatives


Shop the post:
Tuckernuck Royal Shirt Dress (Use code "ENJOY" to take 20-30 percent off!) Black Version Here; Cotton Version Here. SAVE: Very similar here! Amazon Versions: Here + Here) / Leather Bag (Comes in six colors.) / Sneakers / Sunglasses / Dana Rebecca Necklace
Amazon Alternatives:
Get the look: