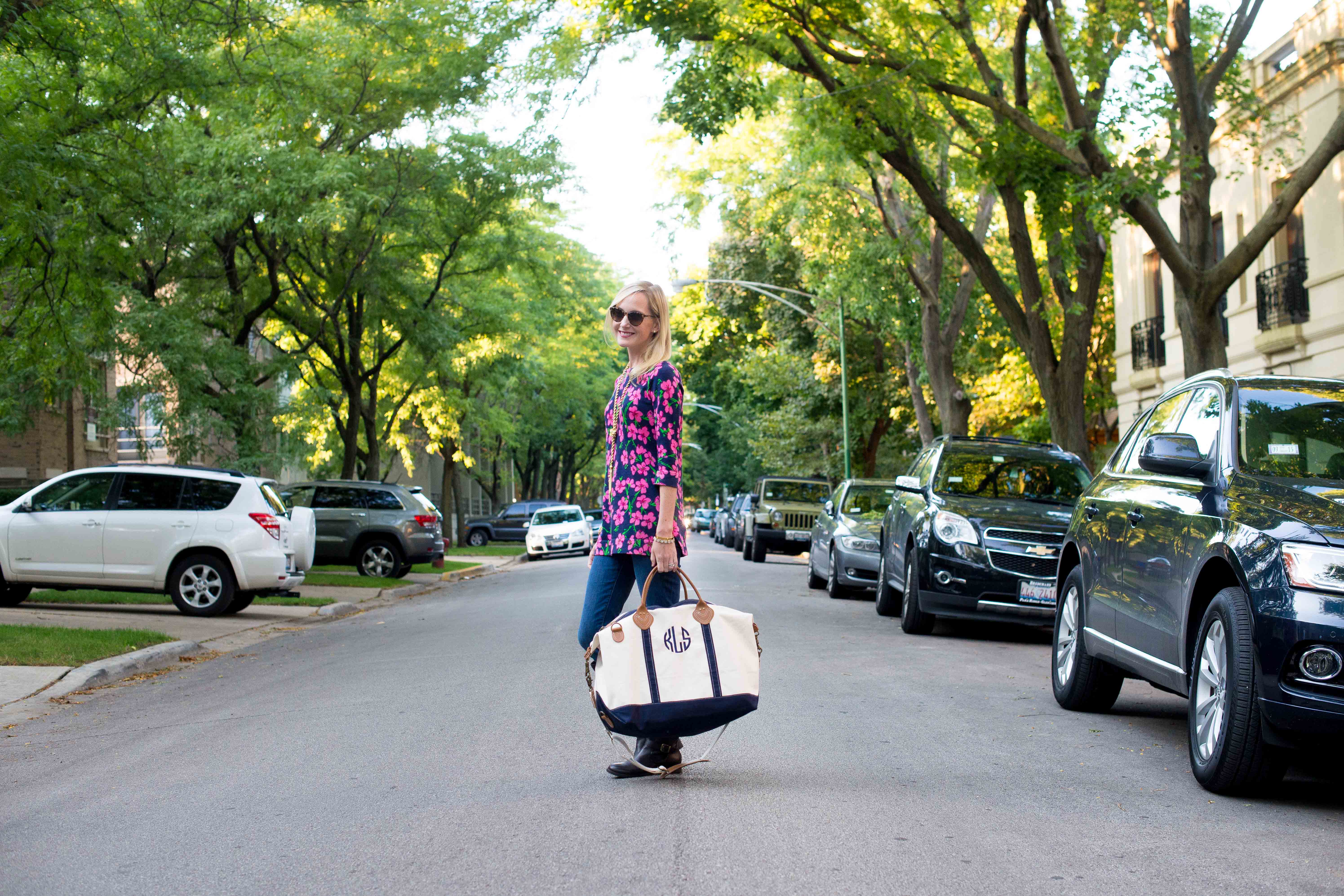 Monogrammed Duffle Bag (c/o The Pink Giraffe) / GH Bass Boots (c/o) / J.Crew Jeans (My favorite jeans. And they're on sale! And take an extra 30 percent off with code "EASYSALE") / Lilly Pulitzer Sweater (Old, but obsessing over this new Lilly zebra-print sweater!) / Benevolent Jewels Necklace (c/o) / J.Crew Pearl Earrings / Michael Kors Watch / Armed and Readi Pave Bracelet (c/o) / Kate Spade Sunnies (Old, newer styles here) / Kate Spade Bangle
How is it Sunday night already?! This weekend came and went MUCH too quickly. On Friday, Mitch and I headed down to Central Illinois to visit his parents and help Charlie, my brother-in-law, build a chicken coop inside a silo. (Mission successful! I can't wait until the chicks arrive. There are going to be 150 of them! Cuteness overload.) After a great boat ride around Lake Bloomington on Saturday, we drove back to Chicago and spent the night curled up under a blanket watching movies. (It's been so chilly!) Today, we got coffee, walked around Lincoln Park, and laid out by the lake. What a wonderful few days.
Mitch and I take a lot of weekend trips. (Probably one or two per month!) Because of this, good duffle bags are a must. Mitch uses a gorgeous leather weekender that his parents brought him back from Argentina. It's the perfect size, has a sturdy strap, and is easy to carry. But my bag–an old Vera Bradley duffle I've had since high school–has been on its last legs for at least two years now. Its handles are tearing, its zipper is broken, and its bottom has a bunch of dime-sized holes in it. And it's way too big.

Recently, though, The Pink Giraffe–a Nashville-based boutique that carries the sweetest personalized products–sent me this adorable CB Station weekender, and solved all my problems. I'm in love! My new bag, which also comes in pink and black, is easy to carry yet fits everything I need for a weekend getaway. (Which is saying a lot. I'm a notorious over-packer!) I love its beautiful leather handles and accents, its removable canvas strap, and its giant monogram. Finally, I love its price. At $89, it's significantly less than other monogrammed weekenders I've seen! I have quite a few trips planned for the next few months–at least five between now and the New Year–and this bag will be accompanying me on each one! :)
My other favorite products from The Pink Giraffe include the boutique's monogrammed sheets, tortoise cuff, bangle, ring, lampshade and pillow cover. So cute!