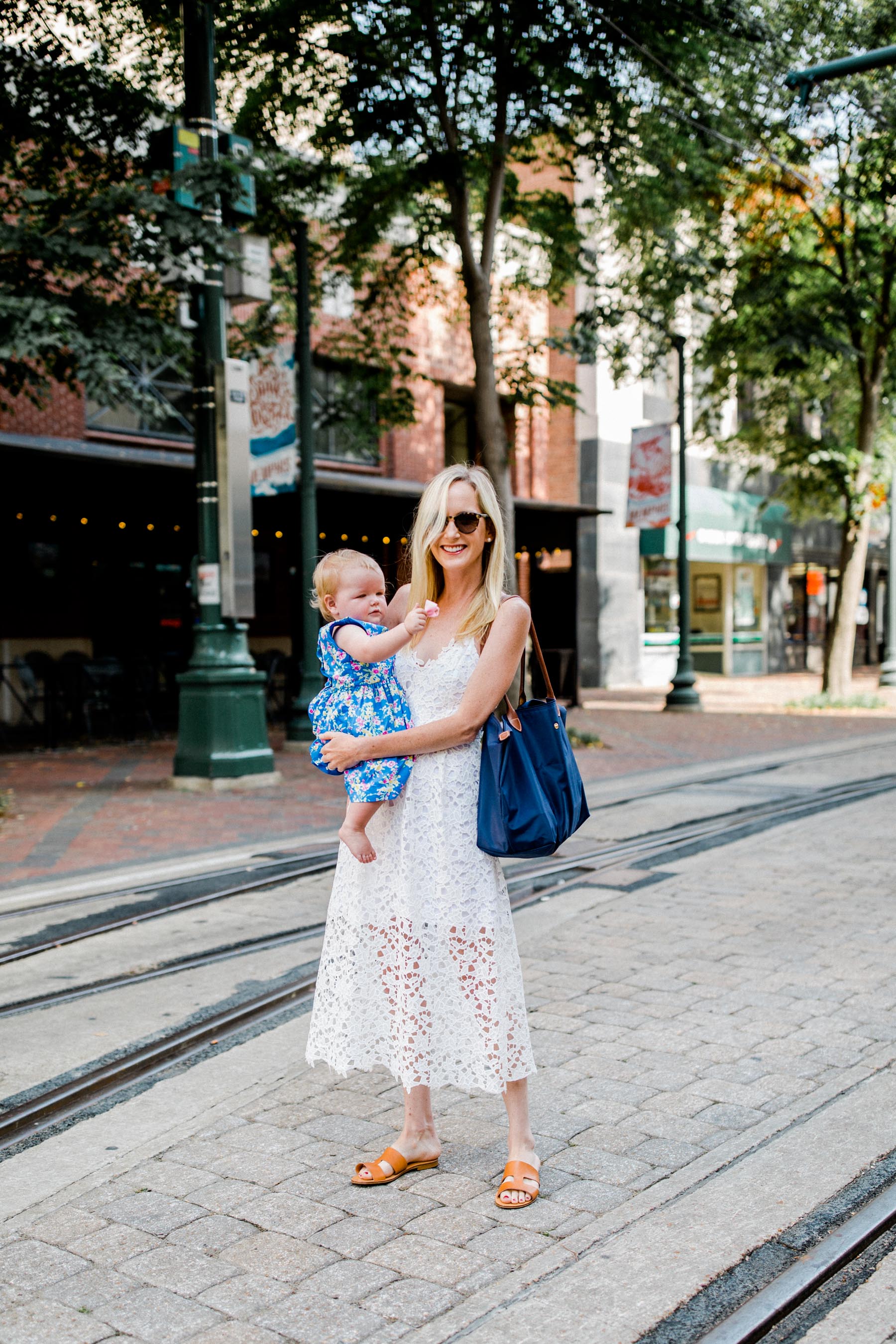 Lace Dress (Here's the original inspiration, which I LOVE in light blue. Here's a SUPER similar dress on sale, and here's one that's pretty close for under $80! Also: No one does the little white dress like Lilly Pulitzer does. Check 'em out!) / Everlane Sandals (Back in stock! Are you sick of seeing these yet? Ha! SO COMFY. Can't stop won't stop.) / Longchamp Tote (Don't travel without it!) / Replacement Sunglasses / Emma's Ralph Lauren Dress (On sale! Top and leggings and swimsuit also available in the print!)
A couple of weeks ago, the Larkin Family boarded a mid-afternoon plane to Memphis, and touched down in the land of the Delta Blues.
Bahahaha.
Do you get it?
Sorry. Couldn't help myself. But Mitch and I put together this little writeup on our trip to Memphis that we thought we'd share!
Memphis Trip
Why we went
We're partnering with Amy Howard at Home and Ace Hardware for a really fun project at the end of the summer, and I attended a workshop to learn more about Amy's artisan and furniture restoration products–and learn how to use them. (Amy's studio is in Memphis.) It was SO cool. I'd never been extraordinarily crafty, but I couldn't believe how easily we turned (what seemed like) junk into beautiful pieces I'd totally want in my home. Mitch and I have three "restoration" ideas up my sleeve, and we're bringing them to fruition at the end of the month. I can't wait to share!
Mitch and I had both never been to Memphis before, so we decided to make a family trip out of it. Note: We were only there for 2.5 days, so this was a quick visit! Didn't get everything in, but we'll just have to go back. :)
Where we stayed
The Peabody. <– Click. It's stunning. It was one of the most memorable hotel experiences of my life, mostly because of how cute Emma was with the ducks–who live there!
Okay, the story: In the 1930s, the manager of the hotel and his friend came back from a hunting trip a little tipsy and thought it would be funny to put their live duck decoys in the Peabody's lobby fountain. Everyone loved it, so they decided to keep them. Today, the daily "Duck March" occurs at 11 a.m. and 5 p.m. every day, and it's when the "Duckmaster" brings the ducks from their rooftop home down to the fountain. It is truly the cutest, and Emma loved every second of it!
The whole hotel is decorated in ducks. The bellhops hand out squeaky ducks to kids; the towels have ducks on 'em. There are ducks on the shampoo, conditioner and body wash; there are duck figurines in display cases. Ducks on napkins; ducks on your key card. Heck, they even serve Duck Decoy wine!
I'm having trouble thinking of more examples, but so many ducks, haha. Oh. And I should also note that the hotel was beautiful, and the service was off the charts. It really reminded me of the Union League Club in New York!
What we did
We walked Beale Street and listened to live music. Loved that, and it was extra fun that Mitch and I could walk down the street with (one) drink. It kind of reminded me of Bourbon Street, but obviously very different! We walked the Memphis Riverfront and saw the Mississippi River for the first time. So much bigger than I'd expected! We saw AutoZone Park. Loved that the ball field is right in the middle of the city. We visited the South Main Arts District. I wanted to take all the antiques home. Why do I always find the best stuff when I'm away?! We visited the Lorraine Hotel. This is where Martin Luther King, Jr. lost his life. We tried to visit the National Civil Rights Museum right next door, but Emma started screaming as we were walking in and we didn't want others to experience that. (#parenthood — So we'll just have to go back!)
Where we ate
Rendezvous: a super fun BBQ place across the street from The Peabody. My favorite because of the atmosphere!
Central BBQ: I think most people will tell you that this is the best BBQ in Memphis. It was incredible. This was Mitch's favorite.
A. Schwab Ice Cream: This is on Beale Street, and so old-timey! A much-needed break from the heat!
Flying Saucer Draught Emporium: Right near the Peabody, which was extremely convenient on our first night when we were starving. Great feel and great live music.
Keogh Cafe: We loved this place for breakfast and lunch. Such a lovely vibe! Definitely a girly spot, but Mitch really liked it, too. These photos were taken right outside, actually. :)
LYFE Kitchen: Funniest story about this place. Mitch and Emma visited when they were desperate to escape the heat. They wandered in, and Emma became best friends with the manager and bartender. I was in the workshop that day, but the following day, we went back. When Emma walked in, everyone was like, "Emmmmaaaaa!" We couldn't stop cracking up. Another gorgeous restaurant, and the staff is amazing!
Muddy's Bake Shop: I can't tell you how many people told me to try these cupcakes. I was a little apprehensive; could anything beat Buttercup Bake Shop on the Upper East Side? But let me tell you: they did not disappoint. Food-wise, this was my favorite! Their icing game is on POINT.
What I wore
Guys. It was SO HOT. I know sure how Memphians do it during the summer. I'm normally freezing in July, but woo-ee. I really couldn't handle being outside for more than an hour at a time. Because of the heat and humidity, I wore sundresses and sundresses only. On the first day, I wore this. On the second, I wore this lace dress. Here's the original inspiration, which I LOVE in light blue. Like, I really want to buy it, but I can't justify it. 😂 Here's a SUPER similar dress on sale, though, and here's one that's pretty close for under $80! Also: No one does the little white dress like Lilly Pulitzer does. Check 'em out!
Favorite white lace dresses

Lilly Pulitzer's little white dresses

In case you haven't noticed, I've been living in these Everlane Sandals. I mentioned this a while back, but they took a day or so to break in the leather… but once I did, BUTTER. They're definitely going to be my go-to sandals for the rest of the summer, and I can't believe they're back in stock! A helpful tip: if you get them, really bend the leather back and forth with your hands for a while before wearing them. I didn't do that, and I know they would have been a lot comfier upon first wear if I had!
One last note: I don't travel without this navy Longchamp. It's ideal because it folds up and takes up no space in my suitcase, and it can easily hold my gigantic camera.
Our happiest memory
EMMA WALKED IN MEMPHIS. Like, Walkin' in Memphis-style. Yes, she was holding onto a couch while she did it… but it was in Memphis, 10 feet off of Beale, that she did it, and I love that we'll be able to tell her that one day. Mitch and I screamed and made fools of ourselves when it happened. We probably won't be welcomed back to the city.
Next time
We'd like to:
Visit Mud Island
Eat at Blue City Cafe
Visit the Victorian Village
Visit the the National Civil Rights Museum
Anything else we missed?!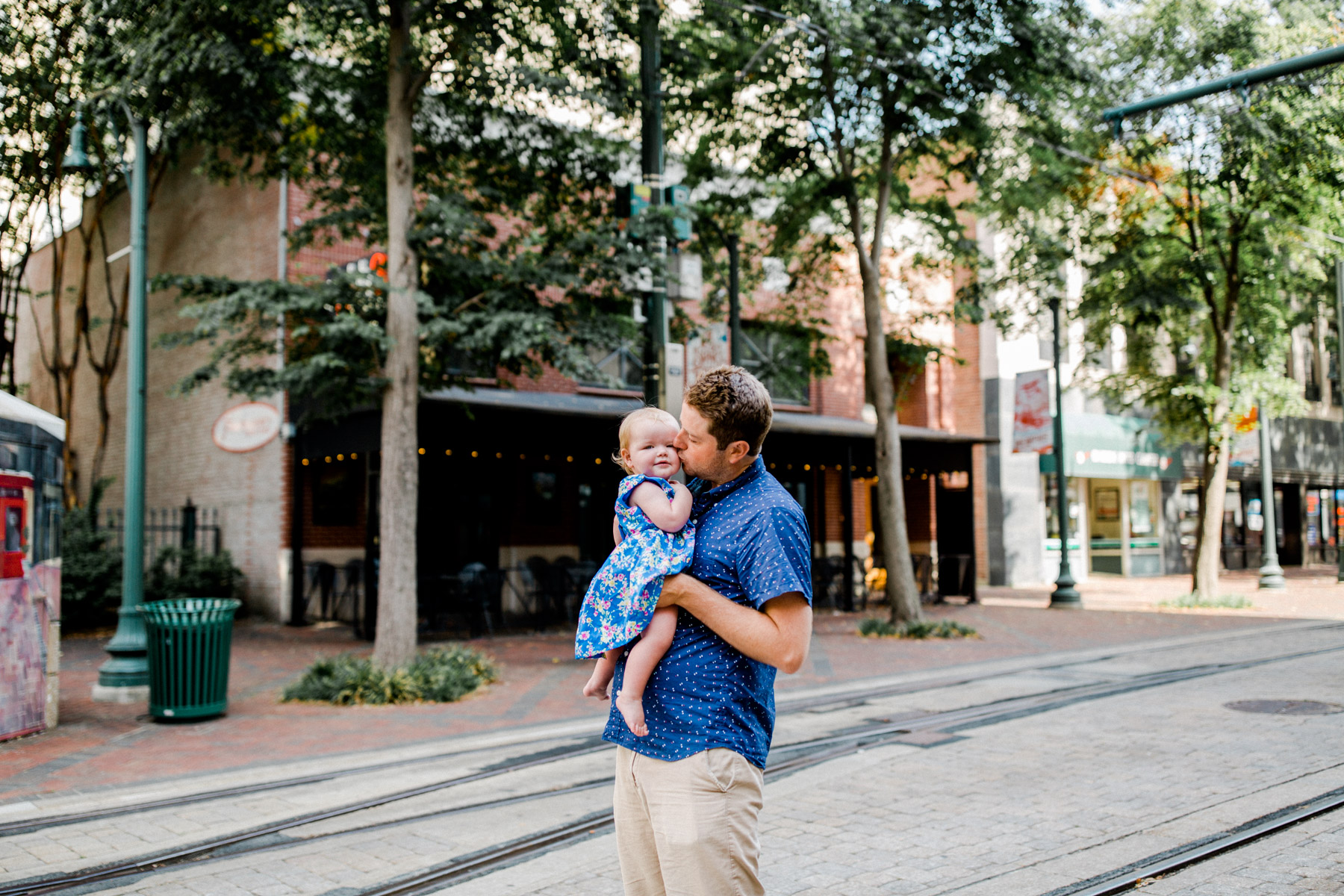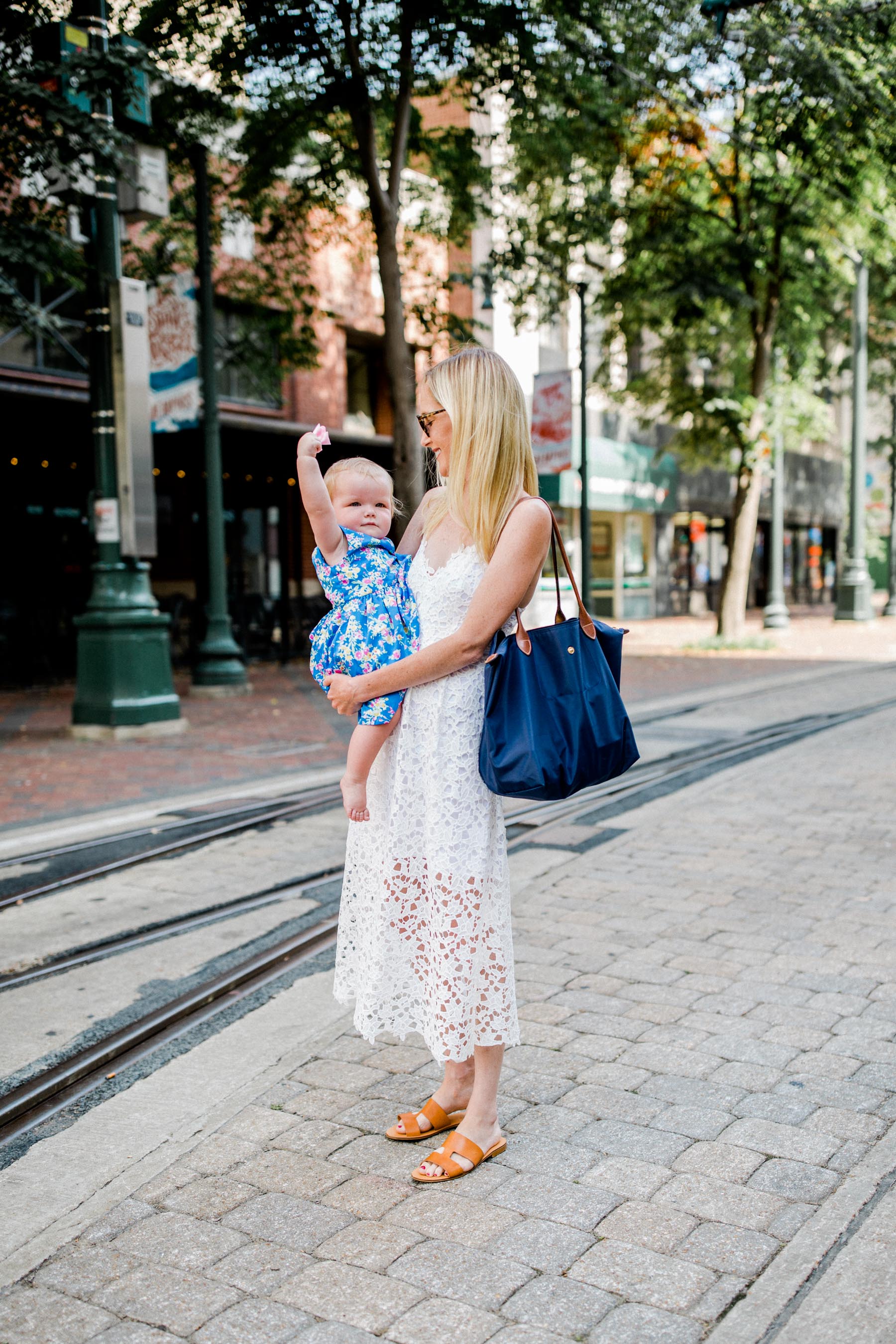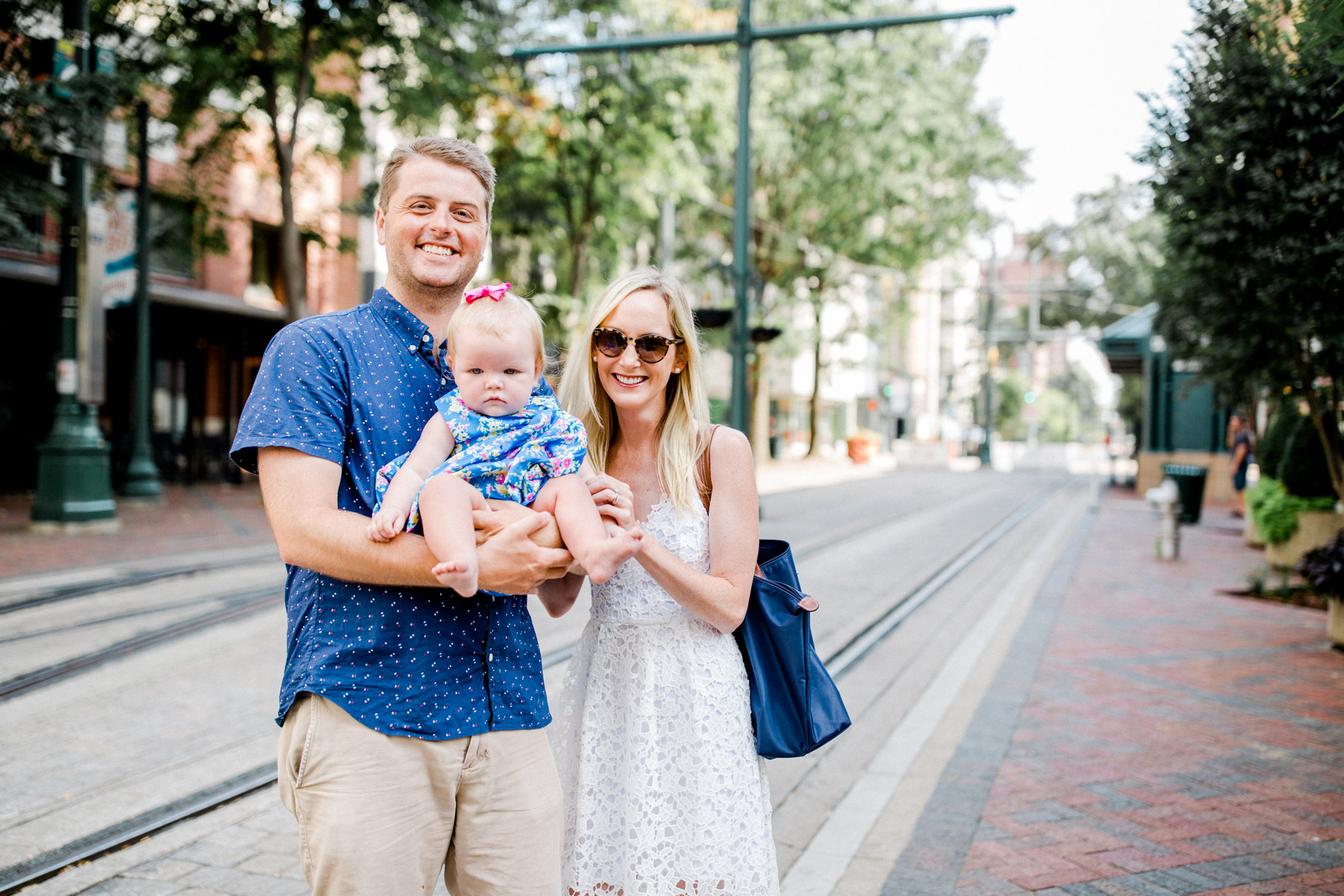 Shop the post:
Lace Dress (Here's the original inspiration, which I LOVE in light blue. Here's a SUPER similar dress on sale, and here's one that's pretty close for under $80! Also: No one does the little white dress like Lilly Pulitzer does. Check 'em out!) / Everlane Sandals (Back in stock! Are you sick of seeing these yet? Ha! SO COMFY. Can't stop won't stop.) / Longchamp Tote (Don't travel without it!) / Replacement Sunglasses / Emma's Ralph Lauren Dress (On sale! Top and leggings and swimsuit also available in the print!)
Favorite white lace dresses

Lilly Pulitzer's little white dresses

Shop accessories