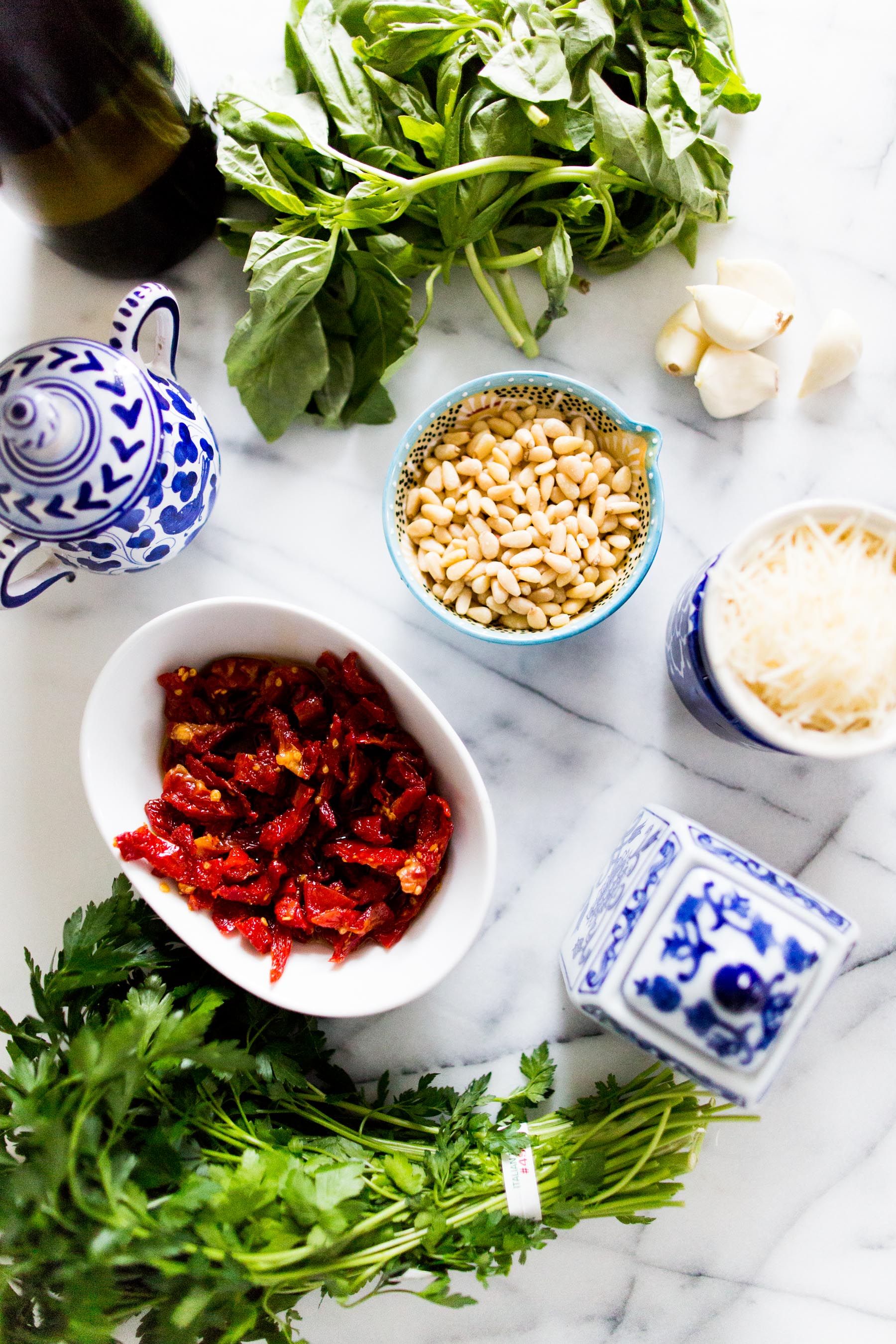 Chef Mitch here!
As a teacher on summer break, I'm embracing my full-time daddy responsibilities with open arms. My funny face game is on point. My monkey impression is unparalleled. When Emma pulls all her books off the shelf, I have 'em right back up in descending order with her favorites on the lower shelves per Mommy's instructions. I'm a bottle-filling, diaper-changing, story-reading, scary tickle-monstering sensation.
But with Kelly? She doesn't have the same luck right now. She's working double duty to catch up on everything she neglected over the last year and to try to get somewhat "ahead." She doesn't get nearly as much Emma time as she'd like, and to be honest, her monkey impression is terrible. (Hate to break it to you publicly like this… but you need to find another animal, KJ.)
I don't mean to alarm you. Kelly's having a great summer, and is definitely happy. But there are some days when she's working so hard that she forgets to eat. So in addition to Daddy Duty, I've taken on "Get Kelly to Eat Something Before She Breaks Down" Duty as well.
Any regular reader of this blog knows that this is no easy task. But if I'm able to insert her favorite ingredients in the right places (Mad Libs-style, if you will), we might experience success.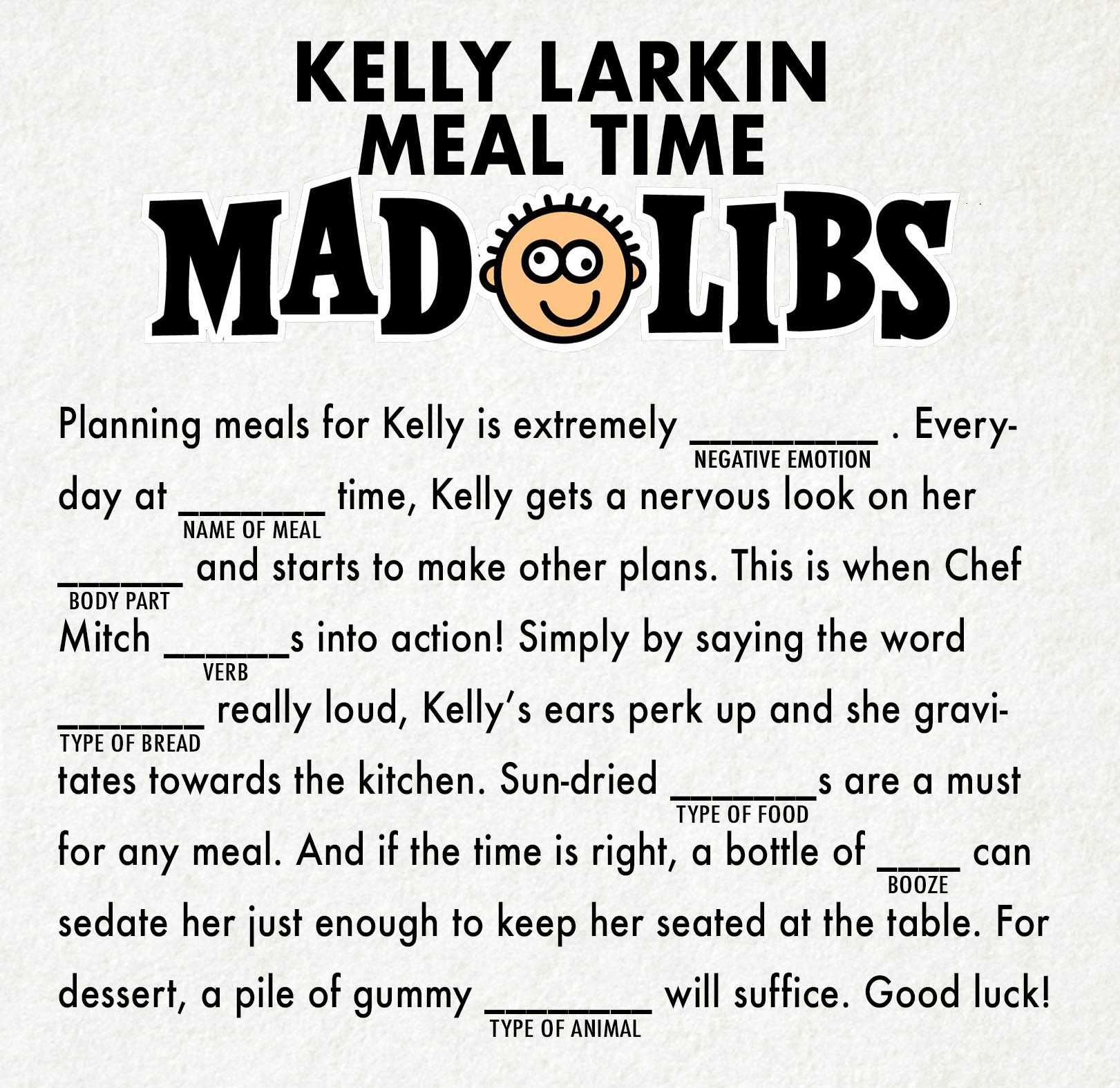 "Booze" obviously just means Chardonnay. Climb those mountains, girls!
Anyway, we recently spent the evening with our friend (and recent birthday girl) Kira of Kira David Design, and to prepare, I ran through the Kelly Larkin Mad Libs system and came up with this perfect Kelly Meal.
No Knead Bread and Sun Dried Tomato Pesto!
I'm not sure if bread and pesto qualify as a meal, but they check off three of the Kelly Food Pyramid groups, so I went for it! And–spoiler alert–Kelly ate the whole loaf. Which was kind of rude, actually.
But let's be serious: there's no way I'm kneading. I'm a needy person, but I will not knead dough. Basically, I feel the need! The need not to knead!
Kneading is just so tough! Dough really sticks to everything, and it gets all over the place. They say you need a "light dusting" of flour, but everyone knows that means like half the bag if you want to get the stupid dough to stop sticking and I can't stand this I give up!
But fear not. This recipe needs no knead! But it does require like a day's worth of waiting, which is tough for us, because we aren't the kind of people you would call planners. It also requires an extremely hot oven which is uncomfortable in August, but just think of the possibilities for fall football Sundays and winter soup bread bowls.
This bread is insane. Your friends and family will think you've been secretly getting up at 3 a.m. to work at a bakery your whole life. Honestly, it's better than the bread you'd find at a bakery. Better! I used to make it to impress people at parties.
Friends: Oh, hey! Mitch, great party. You are seriously the coolest!
Me: Yeah, I know. And guess what? I made the bread, too.
Friends: Say whaaaaaa?!
Sun-Dried Tomato Pesto!
You know the old expression "Don't fill up on bread"?
I ask you, though:
Why not fill up on bread?
The bread is always, without fail, the best part of a meal. I've been to the fanciest steakhouses in Chicago and New York (for weird reasons that thank god didn't include my own checkbook), and even though the steaks were divine, the bread was better.
But here's the thing. On this particular day at this particular table, the bread lost out. I know what you're thinking: that I should have kneaded the bread. But you're wrong! The bread lost fair and square to the pesto!
Man, sun-dried tomato pesto. Who would have guessed it? But here we are. As an added bonus, we used the pesto as a dip which gave us all the excuse to eat way too much of it. It didn't survive the night.
Peapod
Fans (fan, singular?) of Cookin' with Mitch have heard me praising Peapod before. Despite my Summer Break Teacher Status, I'm still busy! Typically, grocery shopping is the first chore I push to the bottom of my to-do list, which results in frozen pizza breakfasts and leftover frozen pizza dinners.
But Peapod solves this problem! It's a super simple and helpful app that makes grocery shopping as easy as:
Pushing pause on the TV
Tapping a few buttons on your phone
Pushing play on your TV
Peapod even analyzes your purchase history and autofills your grocery cart to minimize the time between pause and play! Peapod's groceries are of the upmost quality and they're competitively priced. Delivery times are also always convenient, and the delivery people are super helpful. My thanks to Peapod for sponsoring this post, too!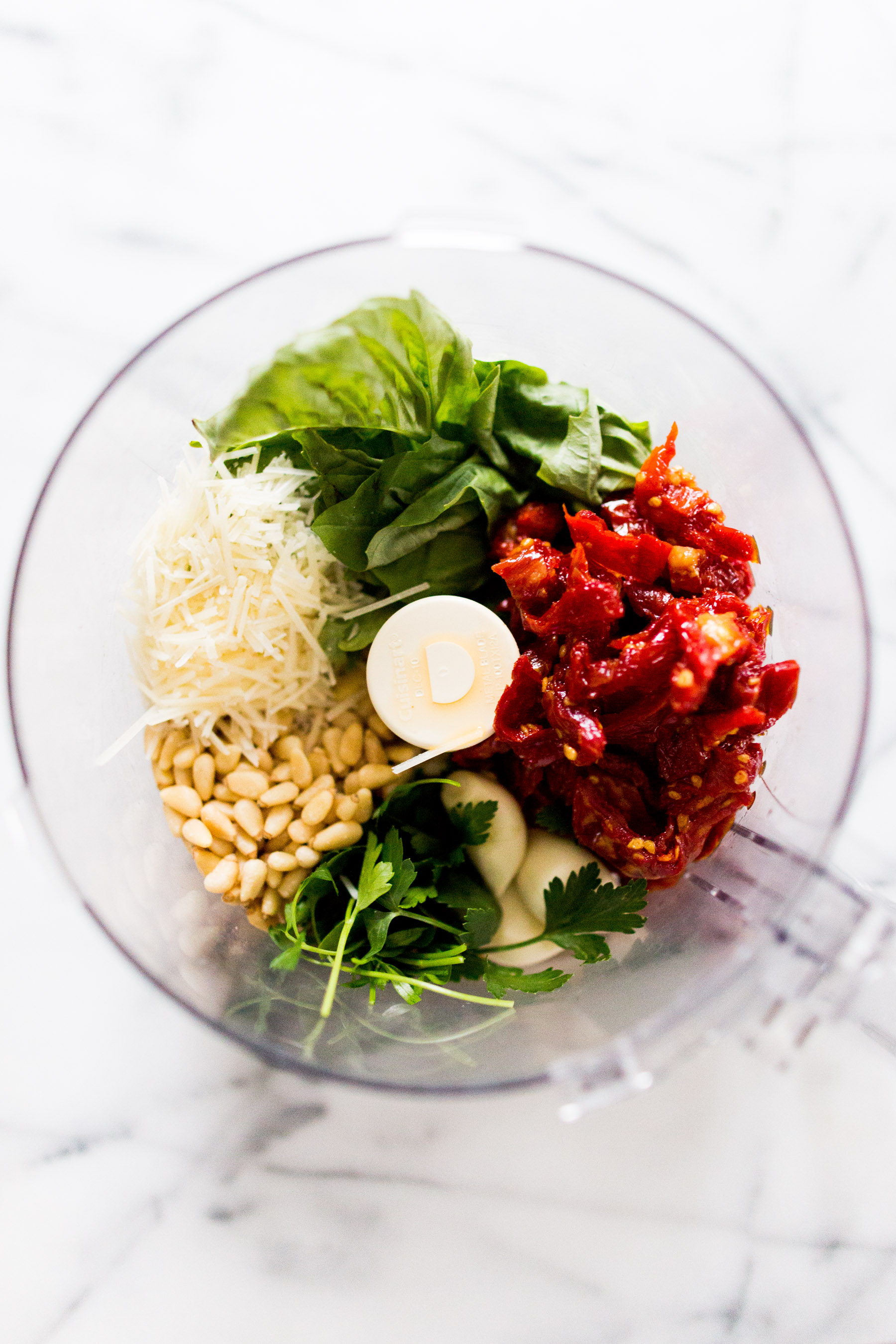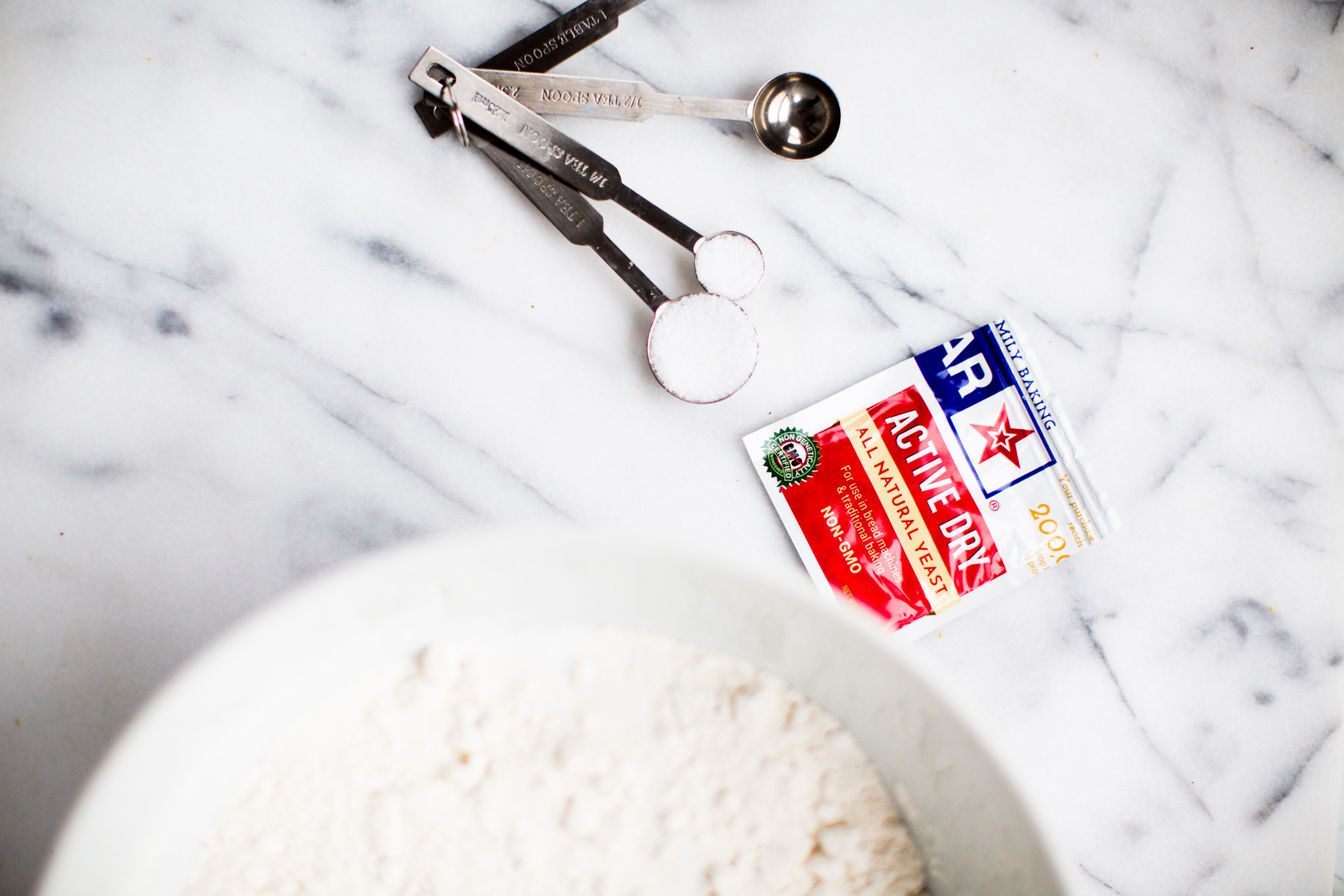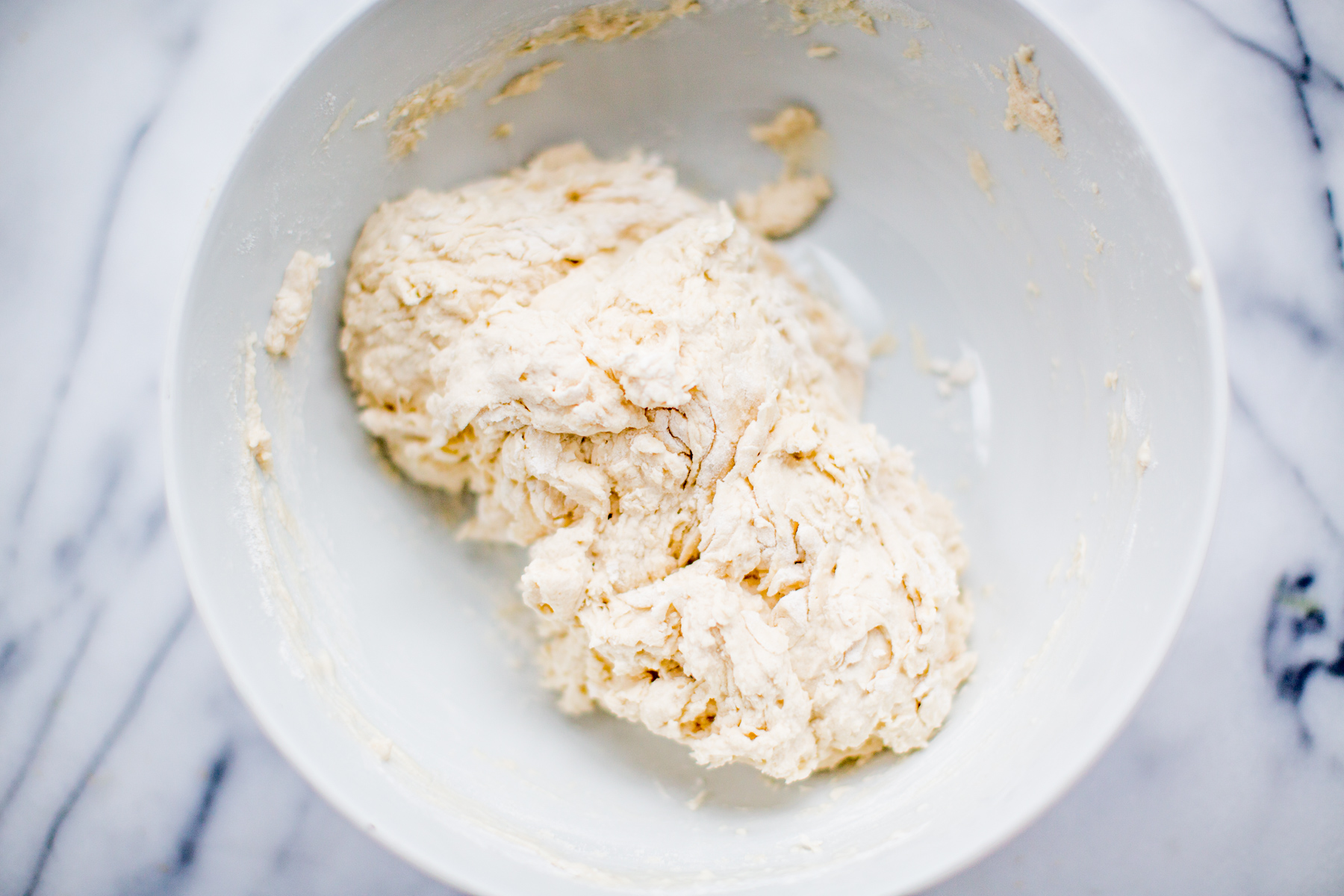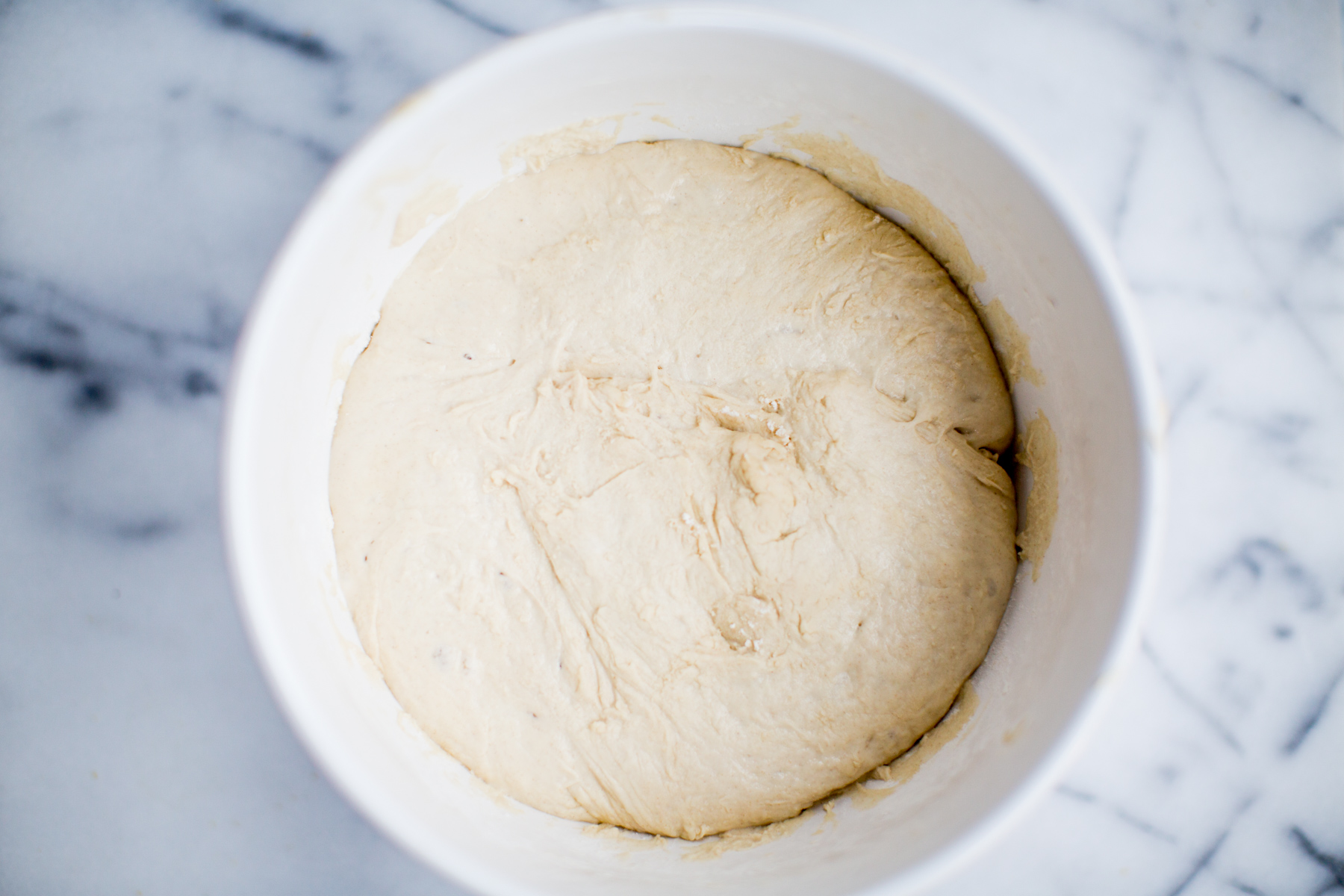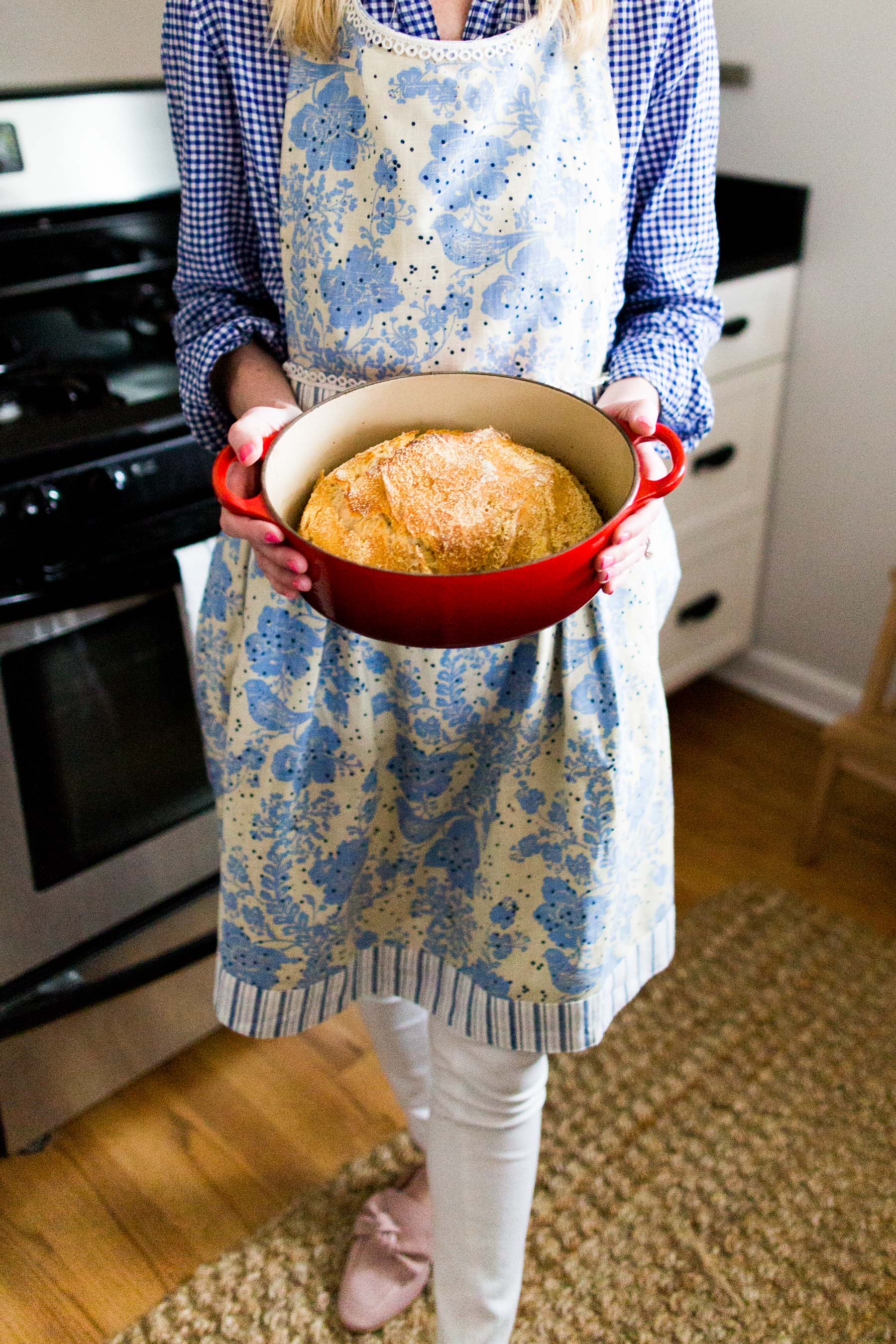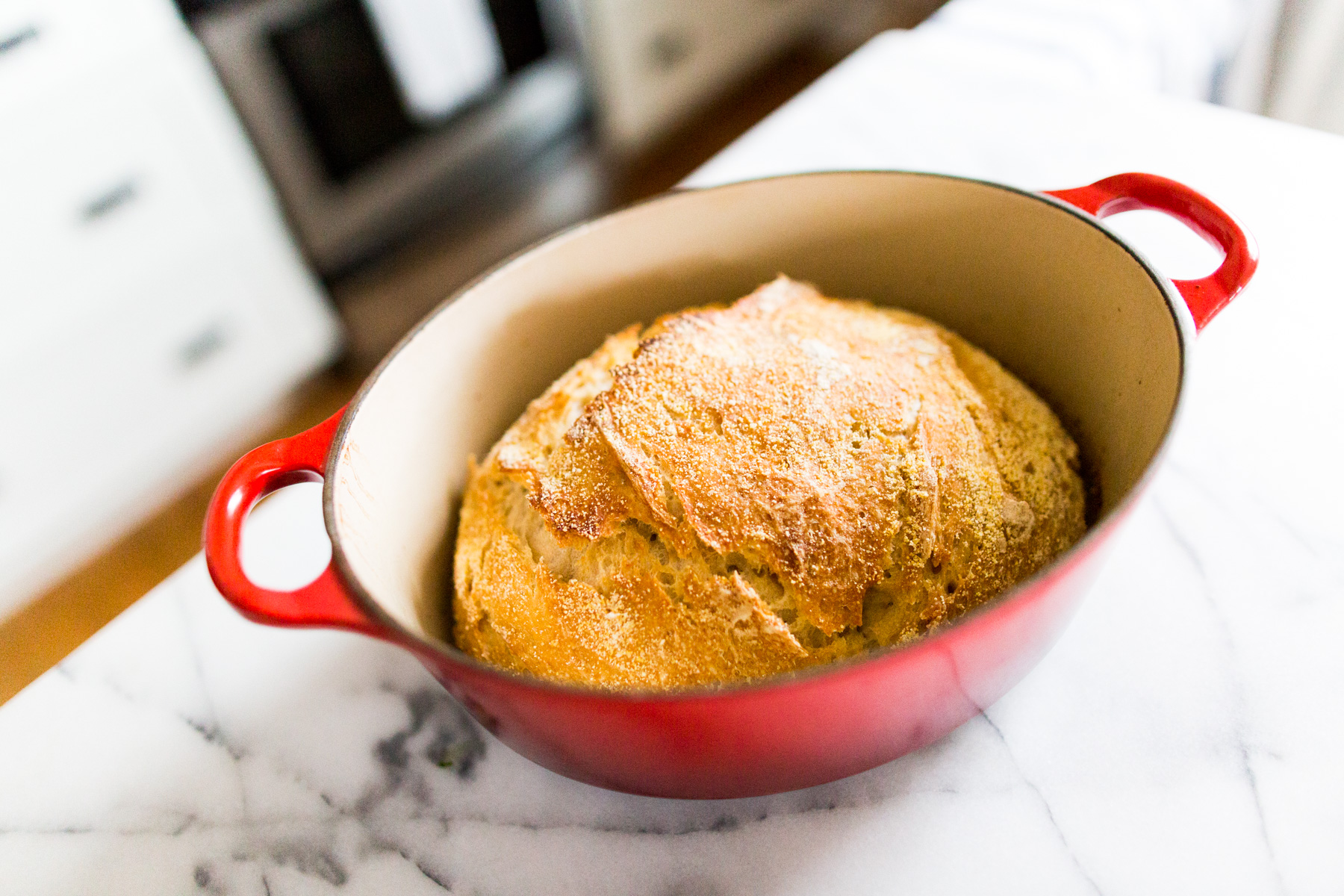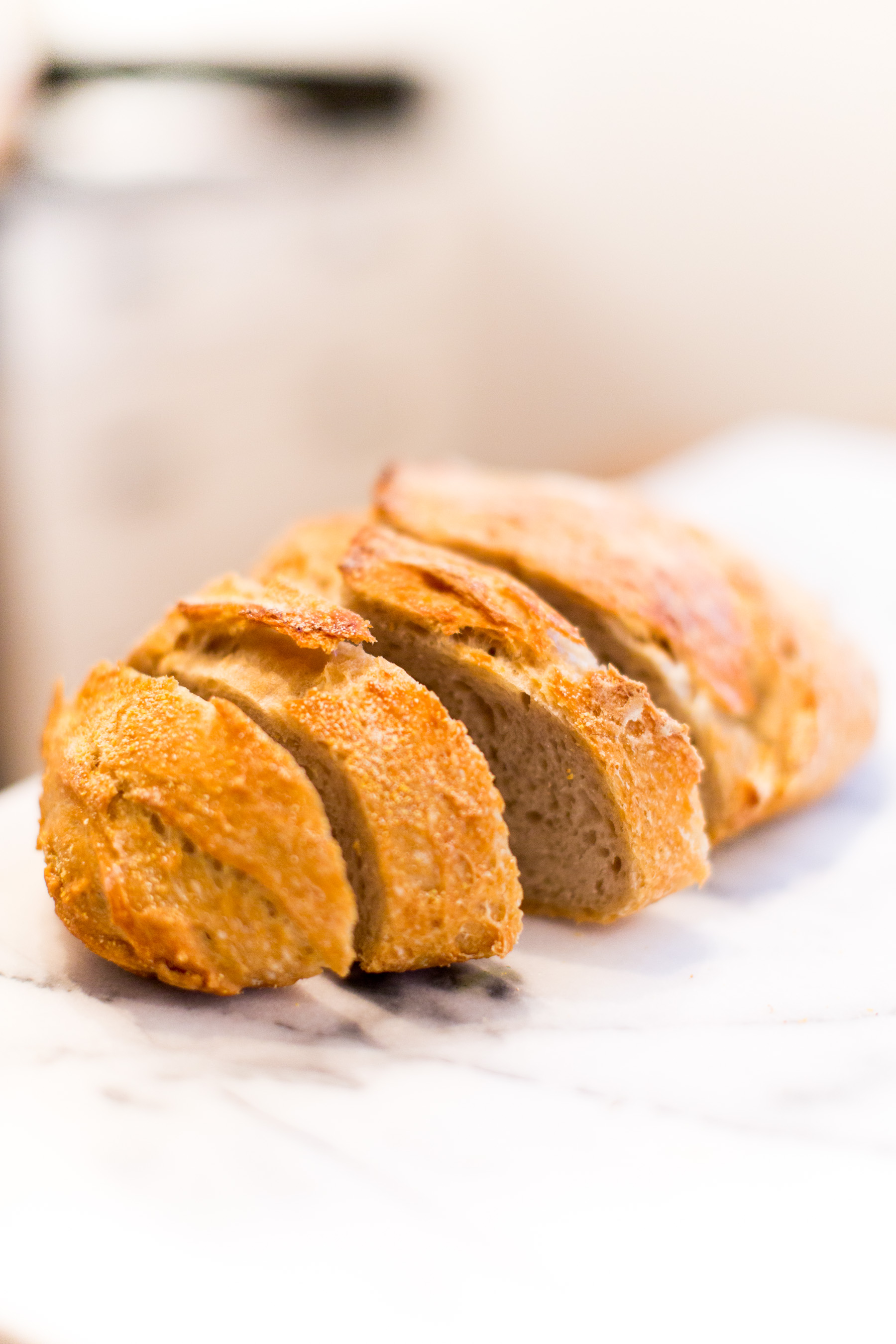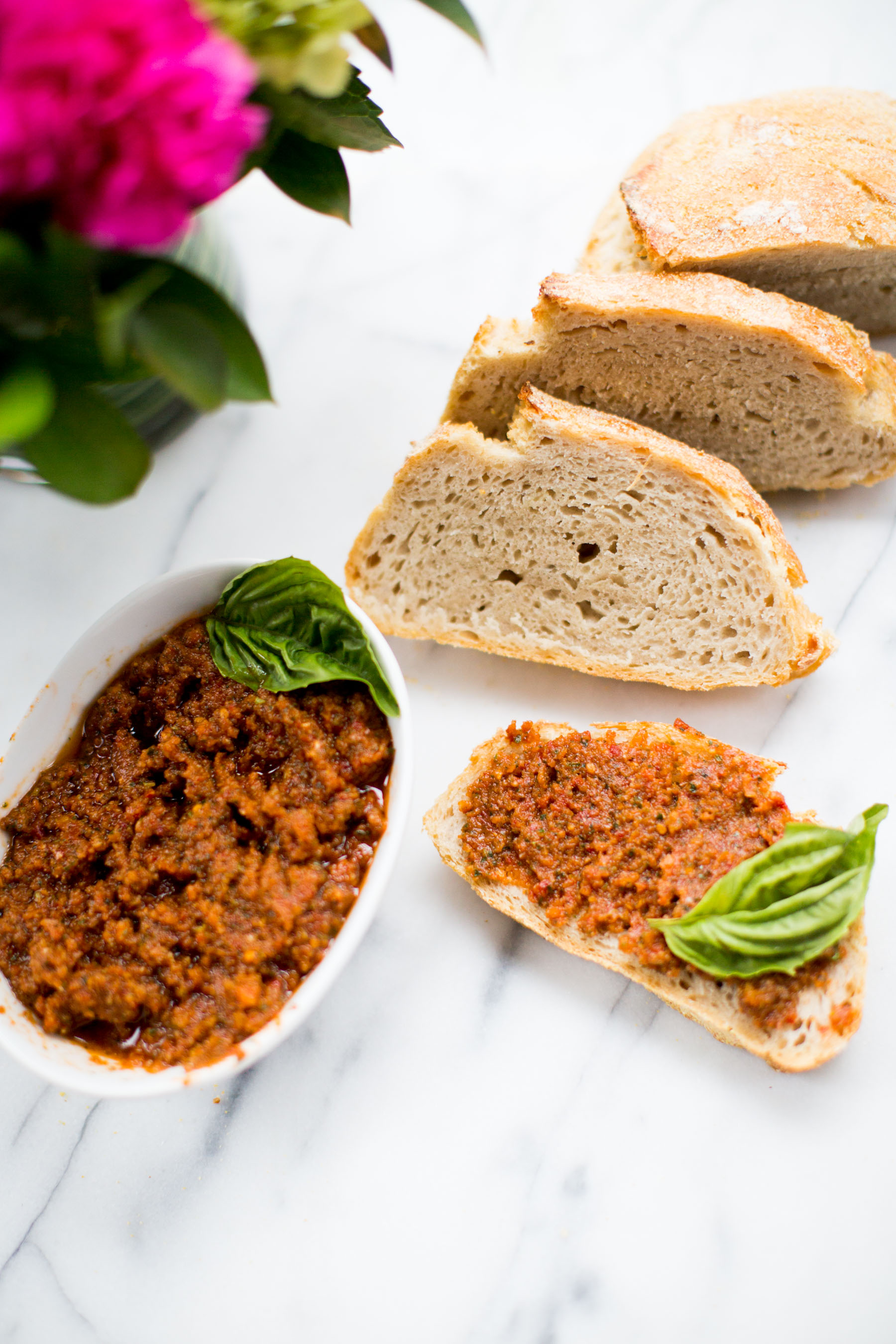 No-Knead Bread Recipe
Ingredients/Directions
Ingredients for bread
3 cups of all purpose flour
3/4-oz package of active dry yeast
2 teaspoons of salt
Non-stick spray
Cornmeal for dusting and non-stick
Ingredients for sun-dried tomato pesto
16 oz of sun-dried tomatoes, drained
1 cup grated parmesan cheese
2 oz fresh basil
1/4 cup parsley
3 large garlic cloves (or more to taste)
1/4 cup olive oil
2 oz pine nuts
Directions for bread
Combine dry ingredients (flour, yeast, salt) and 1 2/3 cups of water in large mixing bowl. Mix with large spoon until well mixed sticky dough emerges.
 Cover bowl with plastic and let rest for half a day.
Reshape dough into a ball and let rest for two more hours.
Pre-heat over to 450 and prepare a pot with a lid by spraying thoroughly with non-stick cooking spray and coating with cornmeal to prevent sticking.
Place dough in pot, cover with lid and bake in oven for 30 minutes.
Remove lid until bread has desired coloring. Usually about 15 minutes.
Directions for pesto
Place all ingredients in food processor and blend until pesto is evenly mixed.
Serve with fresh, hot crusty bread.
Chef Mitch. Out!
For more recipes, see plaid blueberry pie & Chicago style hotdogs!
SaveSave
SaveSave
SaveSave