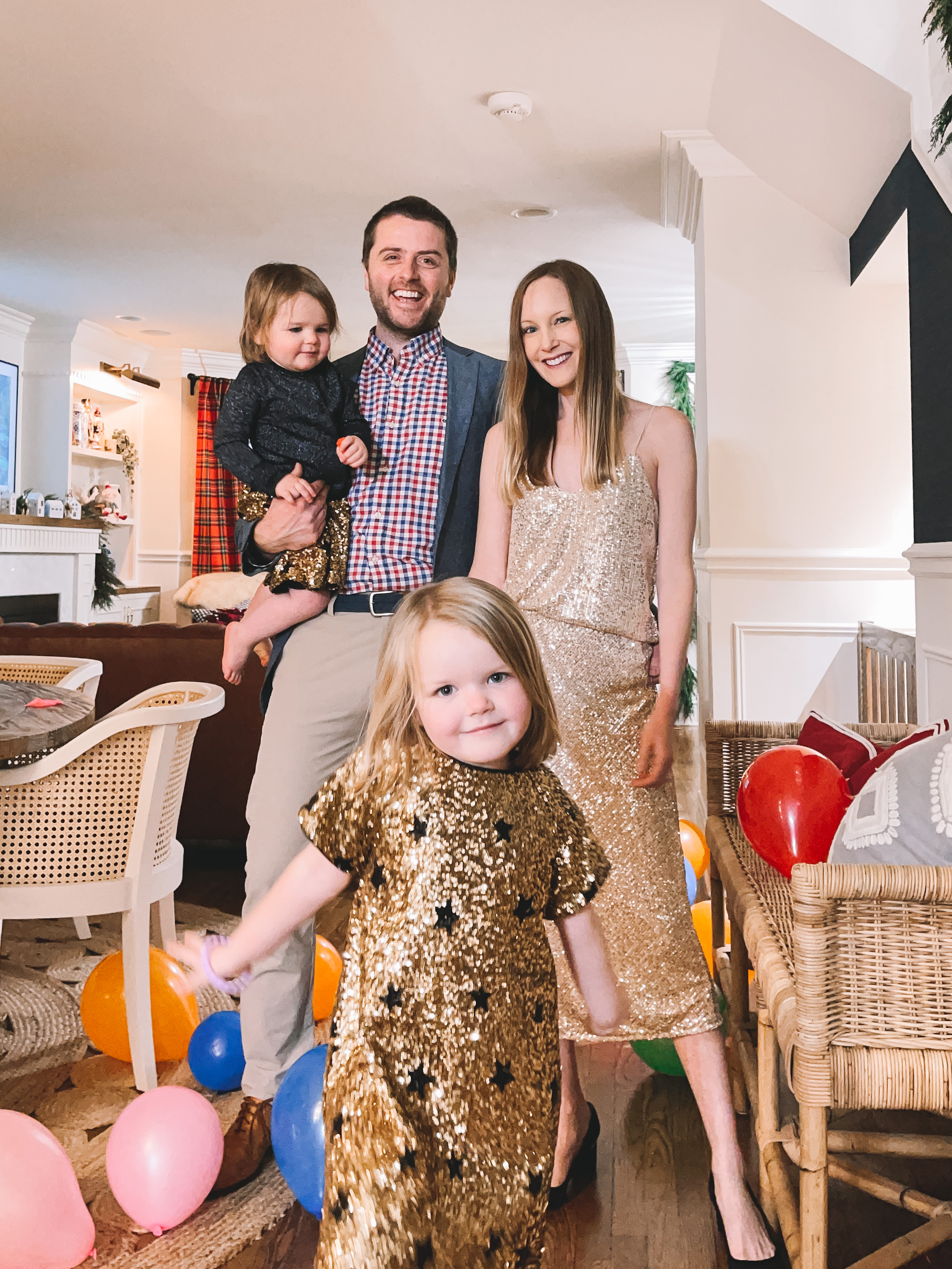 Sequin Camisole and Skirt / Black Pumps / Emma's Star Dress / Lucy's Star Skirt / Lucy's Cardigan / Jute Rug (On sale!) / Dining Chairs / Bench / Leather Couch / Plaid Curtains / Spool Chairs / Mitch's Performance Khakis (THE BEST. They don't wrinkle.) / Mitch's Blazer
Heeeeey, Friends!
Happy new year. Phew. ☺️ The blog's been on autopilot for a while, and I'm feeling quite rusty over here. But what better (i.e. easier 😉) way to jump back in than with a "10 Things" post?!
We made it to 2021. I'd be lying if I said I wasn't still very anxious, though I am hopeful and upbeat about the new year.

My brother and his wife were vaccinated before Christmas, and they receive their second doses this week. I can't tell you what a huge relief this has been for my family. It feels like a huge weight is slowly being lifted; the constant worry is fading. I'm in awe of everything Patrick and Kim did for others this year—all while caring for their newborn son—and the positive attitudes they were somehow able to maintain. They're true heroes, as are the countless other Americans on the frontlines every day, and I'm extraordinarily proud of them.
It also looks like Mitch's grandmother, who is in an assisted living facility, will be receiving the vaccine soon. So that's absolutely wonderful! (The girls actually got to see Gigi over Christmas break. I definitely got choked up but it was so special and it truly meant the world to all of us.)
Emma may be returning to Chicago Public Schools in a hybrid model mid-January. There's still a lot up in the air and we don't have very many details; so much seems to change on a daily basis. Either way, though, I'm really proud of our four-year-old. She's handled this year with such grace and understanding, even though her little life was turned upside down. Her school, friends and most of her favorite activities were taken away from her and yet she's still smiling and having fun. I honestly think my only goal for 2021 is to live life more like Emma!
We had a quiet celebration at home, just the four of us. We did a balloon drop like we did last year during our big party last year, and the girls loved it. I thought it might make me sad, but it actually served as a reminder that happier times with friends are around the corner. :)

Seems like a good place to segue into the fact that I'm not making any real New Year's resolutions this year. 😆 What's the point?! In all seriousness, though, I simply want to live life like Emma and focus on my family's happiness. 2020 put so much into perspective for me (as I know it did for most), and I felt like I was working on a painting of what my "ideal life" looked like in my head every day. And despite what a trying year we've had, I feel like I'm pretty close to it now. It was a journey, that's for sure. But whereas I used to wake up in the morning feeling overwhelmed, I now wake up thinking about my family's happiness and my personal happiness. What can we do today that'll make us happy? What can I do for my kids? My husband? Myself? Such a simple mind shift, and one that's undoubtedly been made possible by a clear calendar. Still, I'm determined to keep with it.
On a lighter note, I finished my predictable New Year's cleaning spree. Yes, I'm a walking cliché—but the laundry is done, all surfaces have been wiped down, all rooms have been vacuumed, and everything is in its place again… AND IT FEELS GREAT! I have a few organizational projects that I'm excited to get started on—namely garland and playroom toy storage—but as a whole, the house is tidy, and I feel a (relative) sense of calm when I open my eyes every morning. Huzzah! (Btw: I bought these very affordable small bins and their medium-sized older sisters for the playroom. They were recommended by one of my favorite Chicago moms. The idea is that the kids take out one or two bins to play with, and they need to clean up and put them away before moving on to another activity. It's a simple concept but it apparently works, and both teaches responsibility and manages clutter.)
Also very predictably, I'm reading a book and watching a TV show. Because it's January, haha. If you need a quick-and-easy page-turner to ease back into reading—anyone else delighted that they remember how to read?! 😜—I highly recommend The Guest List by Lucy Foley. Mitch and I also just finished "Schitt's Creek" for the first time (!), and we're starting "The Undoing" tonight.
I'm head over heels in love with this puffer coat. It's truly worth every penny. The weather here in Chicago was been bitter cold as of late, and this thing has been getting me through! Before I go any further, I must note that it runs very large. Definitely go down one size! (My normal size was WAY too big, and I'm really not one to size down in coats.) But once you get the fit right, it's phenomenal. It has the most gorgeous gold detailing, cinches at the waist for a more feminine look, has tons of pockets, and has a detachable hood lined with shearling. It's spectacularly comfy, and without a doubt the best puffer that J.Crew has ever made! I think the black and olive colors are the most versatile, though the orangey-red and the hot pink make these dreary days a whole lot brighter.
Lucy is so close to talking. I can't wait to hear what she has to say! She's already so full of personality and is such a fun kid. It's going to be a blast!
I built a LEGO Friendship Bus. Hahaha. This was the #1 toy that Emma wanted for Christmas, and it took forever to put together. I swear it came with 250+ pages of directions. I do love LEGOs, though. They're awesome for kids' fine motor skills and they foster imaginative play. They're also a great bonding experience for parents and children. An activity that everyone enjoys! (But I cannot recommend the Friendship Bus. 😆 Ugh, I miss the days of Duplos.)
Remote playdates have been a lifesaver. We can last no more than an hour outside these days due to the freezing temps, so we've resorted to FaceTime playdates with Emma's little fiends. They've been fabulous. The kids decide to play something—like LEGOs, for example—and they'll literally sit and chat while playing with their blocks for hours. At first I was a little apprehensive about how much time Emma was spending on FaceTime, but it's had a wildly positive impact on her. It's really just providing her with companionship and socialization, and it actually encourages her to forget about the TV. Thank god for modern technology! (Note: We simply set her up with an Apple ID on her remote learning iPad. It was a cinch!)
I'm excited to get back to content planning. Like I mentioned before, this site has been on autopilot for a while so I could enjoy the holidays with my family. It was great, but I've really missed blogging! I can't wait to sit down in my (clean 😉) office at some point on Monday and put some stuff on the editorial calendar and go through emails. I'm inspired. (If there's anything you'd like to see here, please let me know, as now's the time!)
The January Lilly Pulitzer After Party Sale has been announced. The After Party Sale begins Monday, January 4th around 8:00 am(ish) EST and will run through 11:59 pm EST on Tuesday, January 5th. I'll share more details tomorrow, but get ready!
Speaking of awesome sales, the Serena & Lily Tent Sale is on, and looks great! My favorites are below.